Going to the Toilet, Sleeping & Autism: Big Kid Diapers, Supplies and More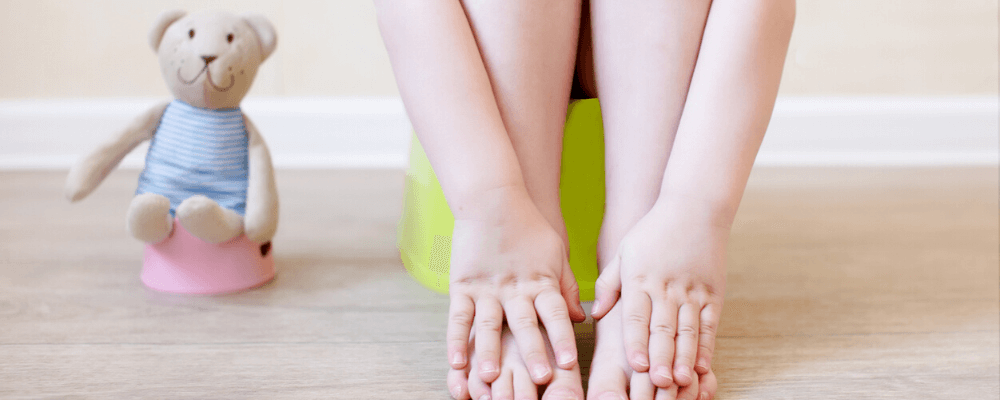 Managing incontinence can be difficult at any age, but helping a child with a condition such as autism who has leaks can be especially challenging. Autism is considered a spectrum disorder brought on by a dysfunction of the central nervous system. It is usually, but not always, diagnosed in the first three years of life.

According to the National Association for Continence (NAFC), children with autism experience impairment of common social skills (making eye contact, interacting with other people or reading social cues), communication difficulties (delayed language development or complete lack of speech), and behavioral challenges (stereotyped and repetitive body movements, extreme attachment to routines, unusually intense or focused interests, and sensory sensitivities to environments including sounds, light, smells and textures).
Potty training and toileting someone who has autism can be difficult. Here are some tips and suggestions that may help.
Tips for Potty Training
According to Parents.com, potty training can take up to one year and if you have a child with autism, it may take longer. One reason is children with autism may not be able to recognize if and when they have to use the bathroom. Also, many autistic children have communication challenges and limited verbal skills, making it difficult to communicate their needs.
According to Autism Parenting Magazine, positive reinforcements, visual aids and Social Stories (see below) are essential to successful potty training. Using the right youth diapers and wipes are also helpful for those just-in-case moments and peace of mind. It is very important to be patient and consistent during the potty training process. Speak with your child's pediatrician about realistic expectations and whether a toilet training routine would be beneficial. In this article, we'll explain helpful tips on toilet training along with information on sleep so you can ensure your child is prepared for success.
Positive Reinforcement & Rewards
Offering positive reinforcements – verbally as well as physically – can go a long way to making toileting a more positive experience for everyone.
Suggested Phrases:
"Great job letting me know you have to use the restroom, Matty"

"I love how well you washed your hands, Gabriella!"



Other Ways to Show Positive Reinforcement
Allow designated times for your child to play games

Give a fun sticker and place on a toileting chart

Offer your child a favorite snack



Visual Aids
Children with autism spectrum disorder (ASD) often experience significant social, communication and behavioral challenges and tend to be visual learners. So, visual aids in the bathroom may help reinforce key steps when using the toilet.
Picture Exchange Communication System (PECS) can be used to help children with autism communicate without relying on speech. The use of pictures, symbols, words and/or photographs can help represent and reinforce desired tasks or actions.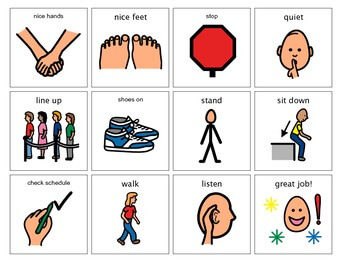 Social Stories™ can help children with autism understand socially appropriate behaviors and responses during specific situations. The stories are usually written in the past, present or future tense and include photos and illustrations.
Learn more about Social Stories™, which may be helpful during toilet training.
Nighttime Tips to Consider
According to the American Academy of Pediatrics, close to half of children diagnosed with some form of autism have significant issues with sleep. A common problem for children with autism is insomnia. It's important for parents to understand the challenges associated with nighttime issues as it may affect their child's sleep, potty training and overall well-being. SpectrumNews.Org states children with autism may have difficulty falling asleep, staying asleep and wake up in the middle of the night. What can parents do to help their child have a better night's rest?

According to StartSleeping.org, the following tips may help provide a more restful night for your child:
Create a calm and consistent bedtime routine

Avoid stimulants before bedtime, including food and beverages with caffeine and sugar

Talk to your child's pediatrician about incorporating melatonin supplements

Incorporate natural light therapy early in the day to produce serotonin and melatonin


As your child is adjusting to toilet training, accidents may happen in bed or on the way to the bathroom. It may be helpful to have the right supplies on hand to keep your child comfortable and dry of leaks.
Products and Supplies
If your child is currently experiencing incontinence during the day or at night, as well as leakage, you may want to consider getting the best-fitting, highly absorbent product supplies.

NorthShore Care Supply has been providing 'big kid diapers' and other items for nearly 20 years, with our heavy-duty quilted wipes available in many Buy Buy Baby retail stores across the U.S.
'Big kid diapers,' as many parents call them, are typically larger than a child's size 6 but smaller than a small adult diaper. These types of diapers offer a variety of absorbencies to keep the skin dry while being comfortable to wear.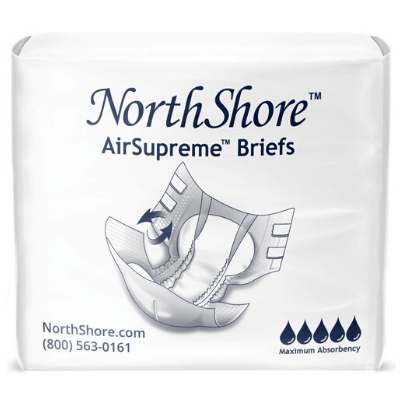 These breathable tab-style briefs are ideal for containing heavy voids. Many parents who use these for their children appreciate the super-absorbent capacity, fit and adjustable tabs. The AirSupreme Briefs are the most absorbent, breathable diapers offered by NorthShore.
Available in size XS, fitting waist sizes 16 to 25 inches

High-absorbency brief with a capacity of up to 20 ounces

Contain heavy urine and bowel voids

Feature a breathable exterior that allows the skin to breathe and stay cool

Hook and Loop tabs allow adjustments as needed

Tall leak guards offer added leak protection

Ideal for side sleepers

Latex-free

Easy-to-read wetness indicator on the front of the brief

Elastic waistband in the rear for more flexibility during activities
AirSupreme Customer Reviews:
"Amazing product. Keeps my son who is autistic dry during the night." – Martha C., Montana resident and NorthShore Customer
"My mother suggested I check out NorthShore products for my son, who has a complex medical condition. He has issues with nighttime leaks and I was constantly washing his sheets and bedding every single morning. He has outgrown diapers and pull-on underwear but is not yet big enough for adult products. I had no idea there were products out there to meet his unique needs until I contacted NorthShore. We now all sleep a little better." – Kelly T., Illinois resident and NorthShore Customer
Summary of AirSupreme Briefs
The AirSupreme Briefs are the most absorbent diapers we carry in the x-small size. They offer the best protection for urinary and bowel containment in this size and style of diaper. The special Microsorb lining wicks away wetness from the skin. The breathable backsheet helps keep skin cool and comfortable.
Other Potty Training & Toileting Supplies
Cleansing wipes can be essential for potty training and toileting. Autism Parenting Magazine advises having wet wipes on hand because they can be helpful for kids with sensitive skin. A top-selling brand is NorthShore's Supreme Quilted Wipes.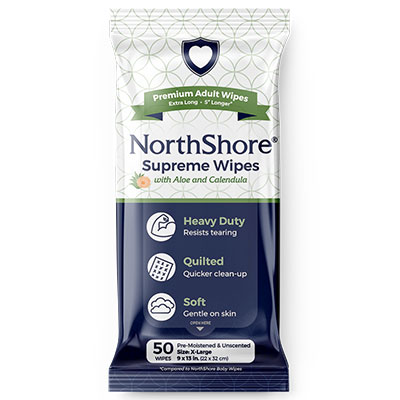 Heavy-Duty – resists tearing

Extra Long – 5" Longer than NorthShore Baby Wipes

Quilted – for quicker clean-up

Soft – gentle on the skin

Unscented

Hypoallergenic

For use on face and body
Supreme Quilted Cleansing Wipes also include aloe and calendula to keep skin clean and moisturized.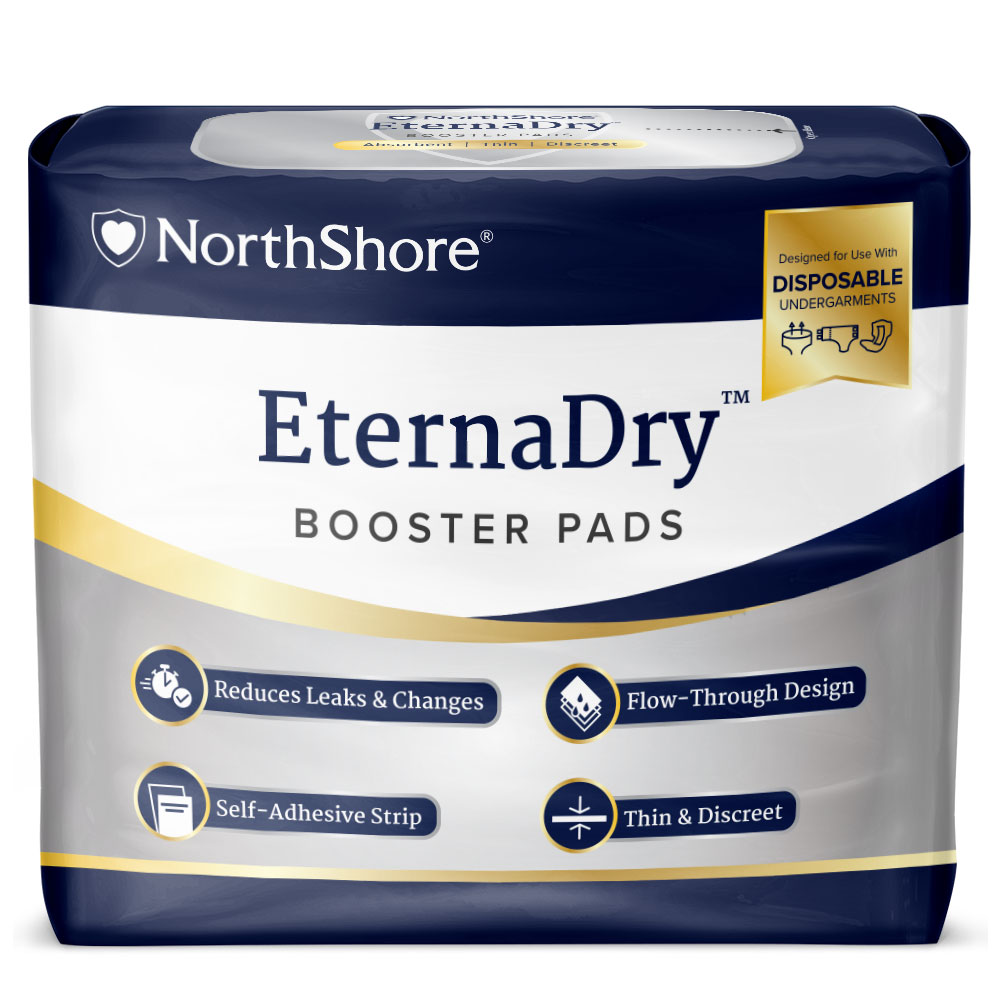 Booster Pads/Diaper Doublers add absorbency to disposable undergarments. When filled with liquid such as urine, it flows through into the diaper or brief. NorthShore's Booster Pads offer higher absorbency than leading store brands as well as a variety of sizes from XS to 2XL. They are also slim, soft and super absorbent with an adhesive backing that holds it in place. Multiple booster pads can be stacked for added protection.
Looking for the right sized booster pad for your tab-style brief or pull-on underwear? View our Booster Pad Sizing Guide.
A high-quality underpad that protects beds, chairs or other surfaces from leakage may be a helpful addition to potty training and toileting routines. NorthShore Premium Blue Disposable Underpads are highly absorbent and available in smaller and larger sizes depending on the amount of surface area to be covered. They are the most absorbent standard blue chux available and feature a latex-free diamond embossed quilt pattern with a quick-drying coverstock.
Stay up-to-date on new advances and features in incontinence products that may help your child during potty training, sleeping and toileting. Familiarize yourself with your child's bathroom habits and take note of any changes and when they are not engaged so you can make helpful adjustments to routines if needed. Being patient and using positive words goes a long way to helping children feel relaxed and comfortable. Always talk to your child's pediatrician regarding specific questions or concerns.
As a parent, you want your child to be comfortable, dry and happy. If you are concerned about potty training, toileting and leaks, there are options to manage short-term as well as longer-term incontinence.
Measuring to find the best size is key in finding the right products for your child. Use our Measuring Guide or call our Customer Care & Service team for recommendations at (800) 563-0161. We also offer an Online Product Finder that offers personalized product recommendations with five quick questions.

This content is not intended to be a substitute for professional medical advice, diagnosis or treatment. Always seek the advice of your physician or other qualified health provider with any questions you may have regarding a medical condition.

Shop Popular Youth Incontinence Products
Please login to access your saved items list. If you don't have an account, create one today to start your list.