The Hidden Benefits of Plastic-Backed Adult Diapers: Second Chance Tapes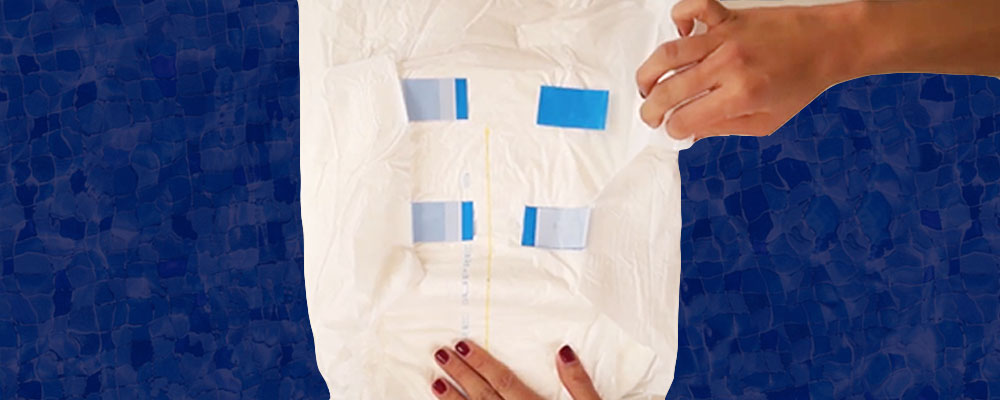 Levi's. Diesel. Wrangler. These are some of the most popular brands of jeans today. How familiar are you with the features of your favorite pair of jeans? Do you notice the smaller pockets that seem to have no real function? Well, back in the 19th century, these small pockets were used to store … pocket watches!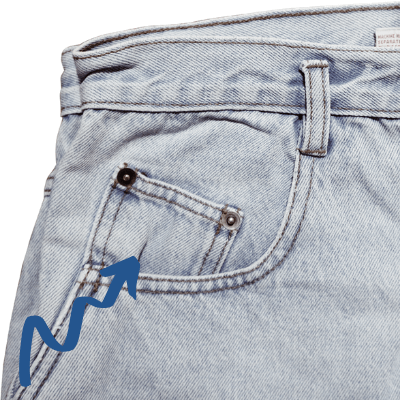 And those copper rivets located near the pockets? In the 1800s, miners wore jeans regularly and struggled with their pants ripping at the seam of the pockets. These studs kept their jeans intact longer without tearing, just as they continue to do so today.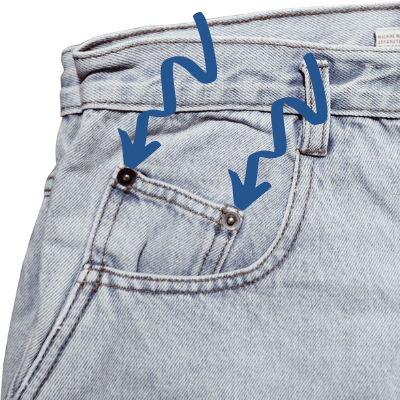 Second Chance Tapes
Functional, hidden features, like these, don't only apply to jeans. They also appear on incontinence products such as adult diapers with tabs. Plastic-backed adult diapers have functional hidden features, including second-chance tapes. Second-chance tapes are typically blue and are a feature in select, premium adult diapers.
Typically, adult diapers may only offer one set of tape tabs to make adjustments, but some adult diapers offer an additional set of tape tabs, known as second chance tapes.
Second chance blue tapes and the original white tapes have the same adhesive qualities, so the wearer experiences an enhanced, more personalized fit. Individuals have the option to place the second chance tapes anywhere on the front of the brief.
Once the wearer selects the area where the blue tapes are going to be placed, he or she can then attach the white primary tapes over the front of the diaper. Without second chance tapes, the front of the brief can experience substantial rips, which cause the material in the diaper to be exposed.
If you use plastic-backed, tab-style diapers and are tired of experiencing rips to the front of your briefs, you may want to consider briefs with second-chance tapes. Below are steps on how to apply the second chance tapes on adult diapers along with a helpful 'how-to' video.
5 Steps to Applying Second Chance Tapes
Individuals who experience moderate to heavy bladder leakage or bowel leaks may find themselves replacing booster pads or needing to use the restroom often. Second chance tapes allow the user to re-adjust as needed without having to use an entirely new adult diaper.
Luckily, today there are briefs that offer maximum absorbency and are able to hold large amounts of liquid while keeping the wearer dry.
1. Lift both sets of tapes and place over the brief, these are typically blue and separate from the tapes on the brief
2. If you need to adjust, simply grab the top white tapes only
3. Keep the blue second chance tapes on the brief
4. Place the white tape over the second blue second chance tape
5. You're all set!

Watch our video to view each step in action:
NorthShore Briefs that Offer Second Chance Tapes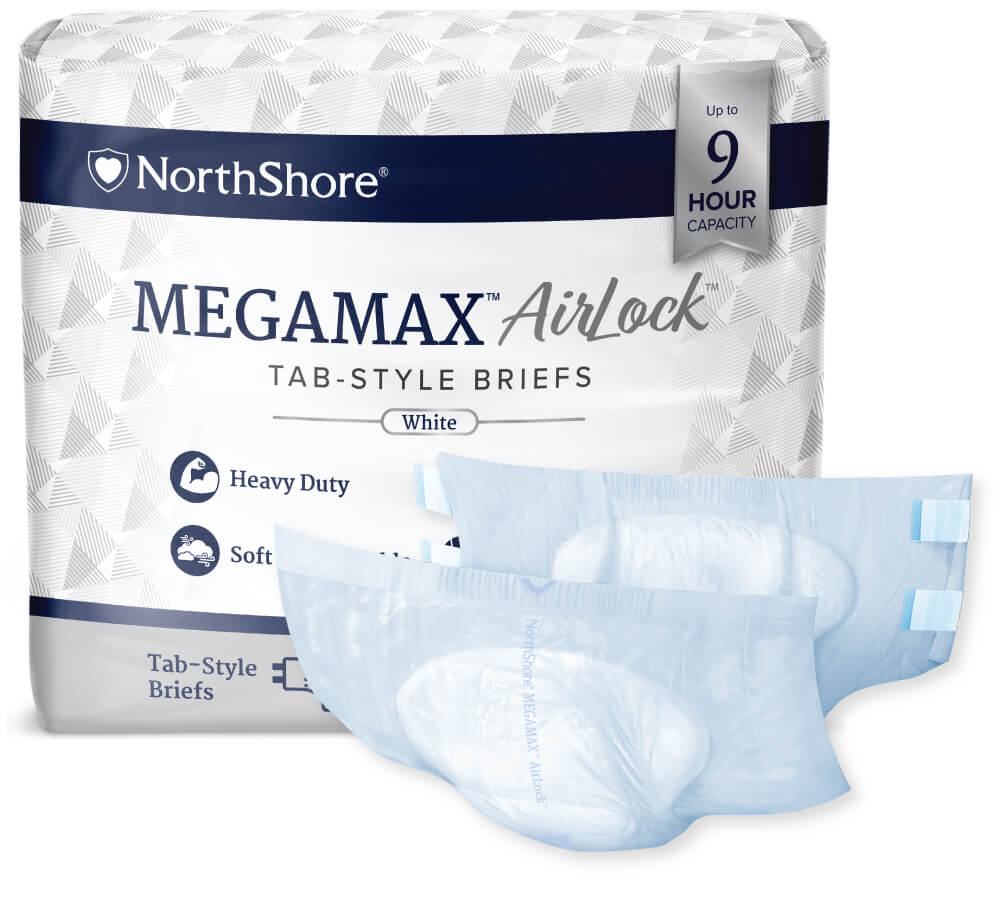 Offering up to 9 hours of protection, NorthShore MEGAMAX AirLock Briefs are ideal for moderate to heavy urine leaks and bowel incontinence.
The briefs are offered in a variety of sizes, from SM to XL, in white or black.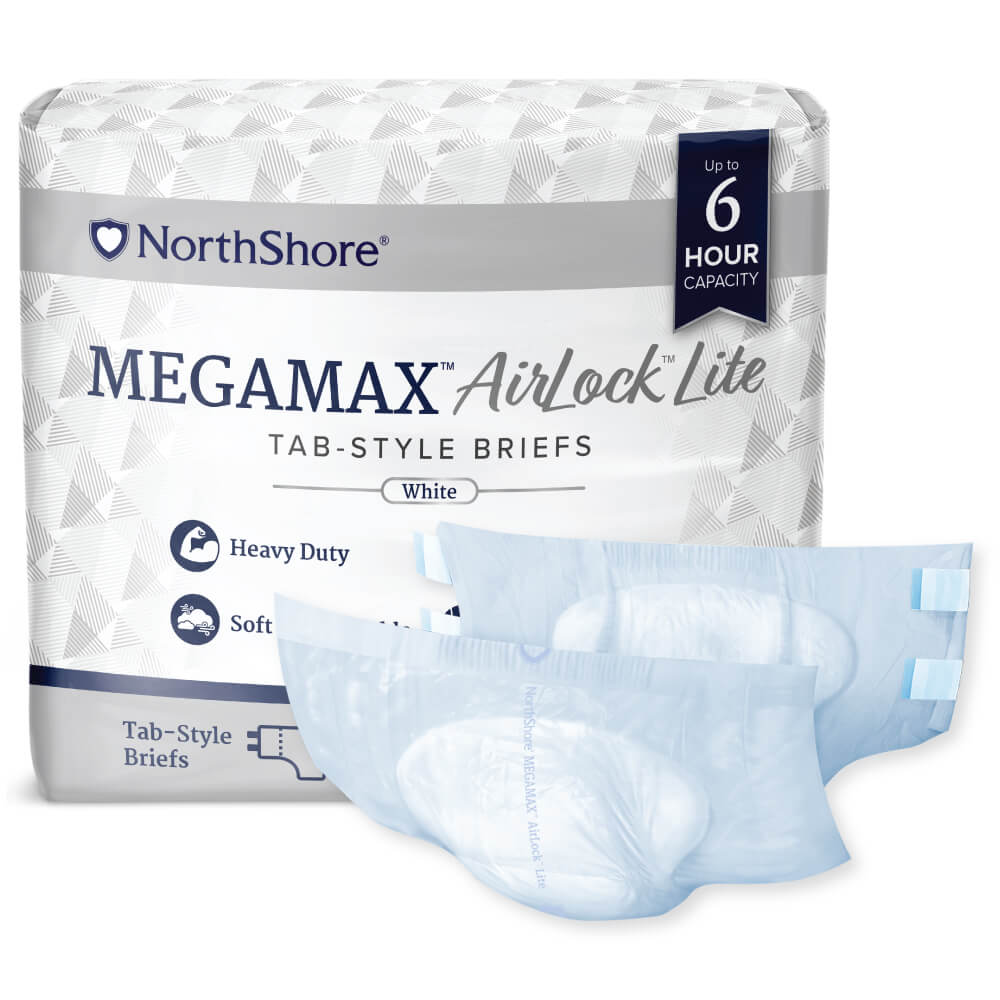 With up to 6 hours of protection, NorthShore MEGAMAX AirLock Lite Briefs are ideal for individuals with moderate urinary and bowel incontinence.
Offered in sizes from small to x-large.
Other Brands Offering Second Chance Tapes
NorthShore Care Supply offers its own private label brands like those listed above as well as other popular name brands, including:
If you prefer to use plastic-backed adult diapers and you find yourself changing frequently, you should consider shopping for briefs that offer second-chance tapes. Like the pockets and rivets located on your jeans, these second tapes also serve a purpose. They protect the front of the brief from ripping and also allow you to make additional adjustments as needed.
When shopping for incontinence supplies, it's important to find a product that works for your needs and fits comfortably. Learn more about absorbent products on the NorthShore Product Page or call (800) 563-0161.


Starting at $13.50 FSA/HSA Eligible
Starting at $0.00 FSA/HSA Eligible

Please note: It is never advised to wear a wet or messy diaper or brief for too long, as this can lead to rashes, infections and irritations.

Please login to access your saved items list. If you don't have an account, create one today to start your list.