"NorthShore is the Caring Company."
- Missy Lavender
CEO Renalis, Health and Wellbeing Expert
"Incontinence is Very Common, Often
Treatable, and Regardless, Very Manageable."
- Adam Greenberg
President and Founder of NorthShore Care Supply
NorthShore Incontinence Products Top Sellers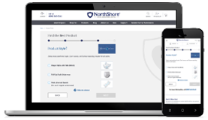 Try Product Finder Today!
Answer 5 quick Questions to Receive
Personalized Product Recommendations
Our Story

Empowering Individuals
Managing Incontinence
Watch Video
Since 2002, NorthShore has helped 2.5 million individuals manage incontinence with reassuringly strong life-changing products. We are committed to providing peace of mind to those managing moderate to severe incontinence. Live life worry-free by staying dry with NorthShore.

Up to 3x Leak Protection
Of Leading Store Brands

Reassuringly Strong
Super-Absorbent Products

Peace of Mind
Stay Confidently Dry

FedEx Secure Pickup
Request packages be delivered to a
safe and convenient location

Same Day Shipping
Order by 7pm Central Time to have
orders ship the same day
Northshore Blog - Resources, Tips and Articles
Please login to access your saved items list. If you don't have an account, create one today to start your list.