NorthShore's MEGAMAX Line of Tab-Style Briefs
Up to 12 hours of protection with tab-style adult diapers for when all else fails! Now in both plastic and breathable cloth-like backsheets, all with a smooth frontal landing zone and ultra-secure adhesive tabs.
Reassuringly Strong Protection
Discreet Delivery
Auto Ship & Save
Hassle-Free Returns
LET'S GET DOWN TO THE CORE...
Quilted Topsheet
Oval embossing provides comfort and quick
absorption of fluid.
Distribution Layer
Transfers fluid from the top layer
to the core of the brief.
Super-Absorbent Core
Heavy-duty material that absorbs fluid
and locks in wetness and odors.
Last Defense
The extra protection layer that quickly absorbs
any leftover fluid for leak free protection.
Backsheet
Quiet, soft exterior sheet prevents sagging and
helps contain contents within the product.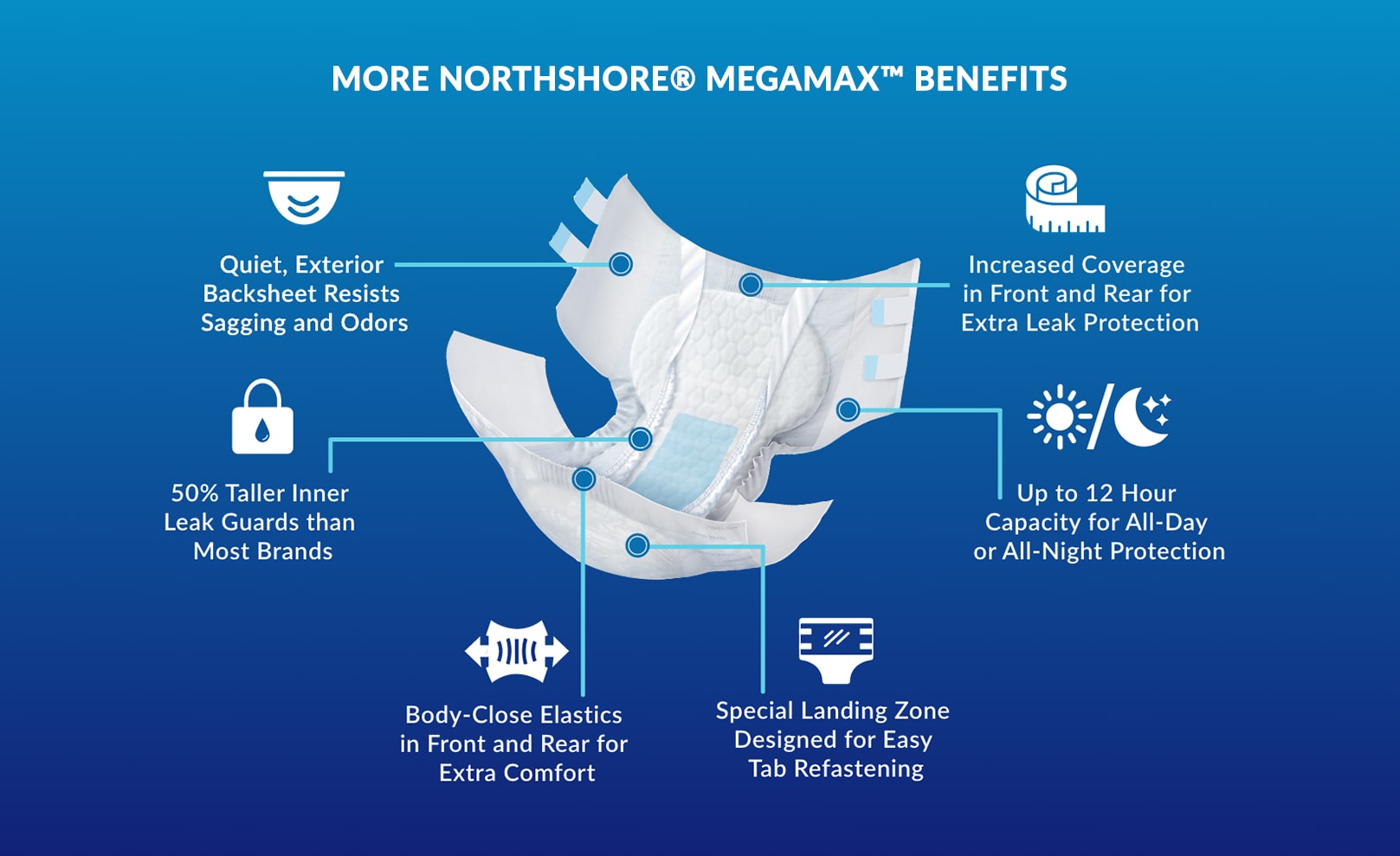 Looking for an Extra Boost of Protection?
NorthShore EternaDry Booster Pads Diaper Doublers
Starting at $3.99
A Booster adds absorbency to a disposable undergarment. When filled with liquid, it flows through into the diaper or brief. NorthShore® EternaDry® Booster Pads have higher absorbency, more sizes & lower cost than most other brands. Slim, soft & super-absorbent. Has adhesive backing that holds it in place and enables you to stack multiple boosters.
READ MORE
Other Products that Complement MEGAMAX Tab-Style Briefs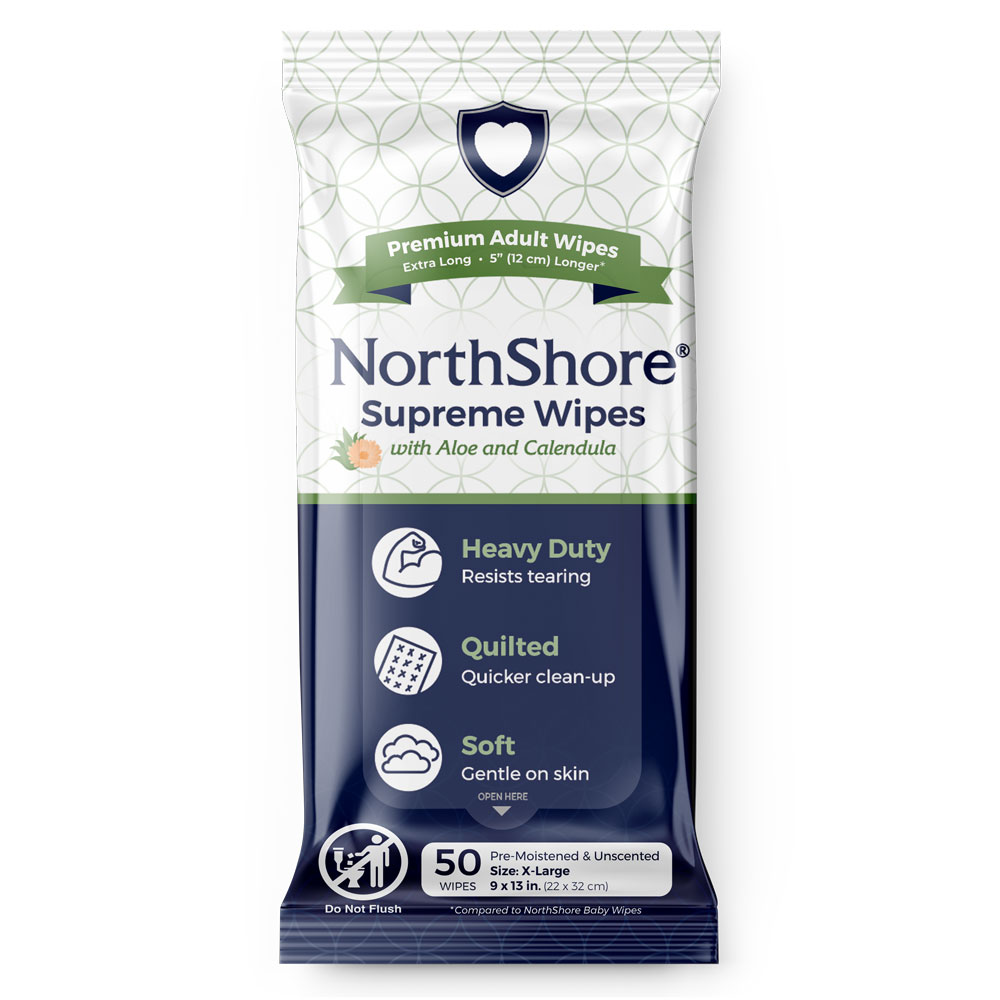 NorthShore Supreme Heavy-Duty Quilted Wipes, X-Large, Pack/50
Starting at $6.99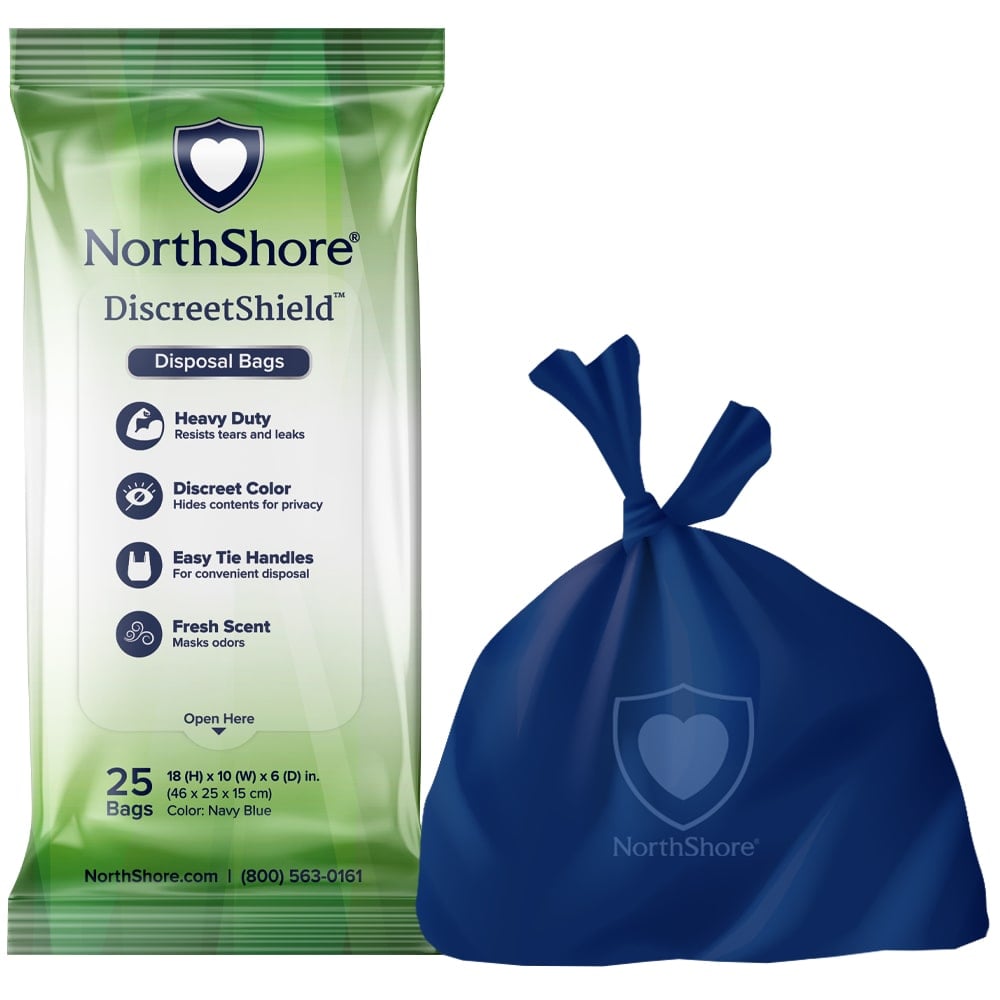 NorthShore DiscreetShield Disposal Bags, Pack/25
Starting at $6.99
NorthShore Tab-Style Brief Comparison Chart
Which one will you choose?
Adhesive Tapes with Plastic Front Landing Zone (2XL - Hook & Look Tabs with Frontal Landing Zone)
Adhesive Tapes with Plastic Front Landing Zone
Adhesive Tapes with Plastic Front Landing Zone
Refastenable Second Chance Tape Tabs
Common Questions Related to Tab-Style Briefs
Who Should Use Adult Diapers With Tabs?
Adult diapers with tabs can be a helpful incontinence product for both wearers and caregivers. These products provide a quick and efficient solution for various situations, including when you and your caregiver or loved ones are on the go. The tabs are fastenable, making them easy to open, apply, remove and discard.

Briefs with tabs and pull-on protective underwear have several differences. While pull-up options are convenient in many situations, the wearer needs to be partially undressed to pull the underwear on and up to the correct position. In cases when such action is challenging, like when traveling, or when discreetness is a concern, adult diapers with tabs simplify the process by letting users easily put on the product or take it off without removing clothing.
READ MORE
Browse Adult Diapers or Contact NorthShore Today
For people or caregivers looking for incontinence briefs with tabs, NorthShore Care Supply has a variety of styles, sizes, and products. Browse our selection of Adult Diapers today to find a product that works best for you or your loved one. Please contact NorthShore if you would like more information about our adult diapers with tabs or any other product.
Please login to access your saved items list. If you don't have an account, create one today to start your list.