Incontinence Liners Vs. Booster Pads: Which One Should You Use To Manage Leaks? Find Out If You're In the Right Product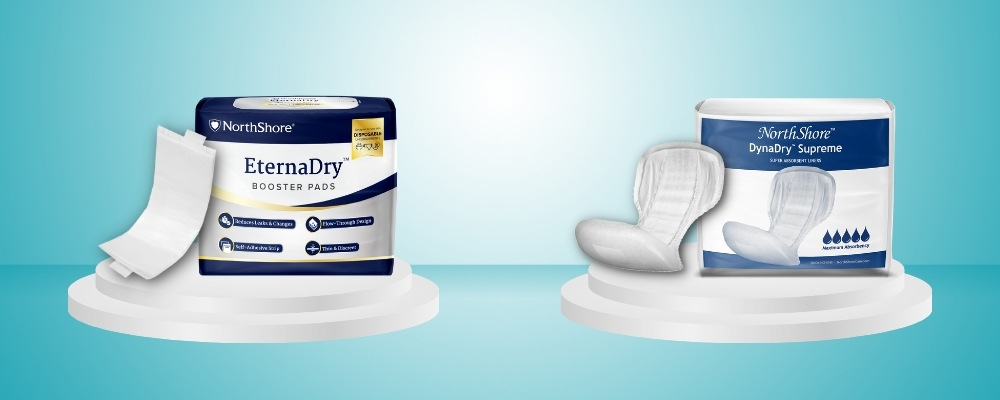 Are you using the best pad for your needs? Do you leak using a diaper or incontinence liner? Using the wrong product could result in more leaks.
For many, it can be overwhelming to find a product that works. It can be even more challenging to learn how each product works. We understand. That is why we want to educate you on the differences and features between two popular pads - liners and booster pads.
More education can help you better understand how products work. When you use a product that works, fewer leaks happen. Fewer leaks can help you feel more confident.
Liners and booster pads may look similar, but they are not.
Here is the main takeaway: Use incontinence liners in regular underwear and booster pads in disposable products (adult diapers or pull ups).
We will break down the differences and features of each, so you can better understand how these products work.
What Are Incontinence Liners?
Incontinence liners are heavy-duty pads that contain urinary leaks. Incontinence liners help adults who may have urge incontinence and overactive bladder. Some heavy-duty incontinence liners can absorb bowel leaks too. Bowel incontinence liners have wings in the rear to contain diarrhea or small bowel movements.
Incontinence liners have a waterproof backing to contain leaks. Booster pads work a little differently.
Features of Incontinence Liners
Many adults are familiar with Always, Poise, and Tena. These brands may be suitable options for some, but not all. Men and women looking for more protection should consider NorthShore liners.
NorthShore incontinence liners have
Tall leak guards for added security

A strong adhesive backing that secures into regular underwear

A super-absorbent lining from the front to the back to wick away wetness
NorthShore liners are unisex, latex-free, and waterproof. Some liners contain urinary and bowel leaks. The best incontinence liner for heavy urinary and bowel leaks is DynaDry Supreme Liners.
DynaDry Supreme Liners are available in larger sizes, ideal for people looking for a more durable product. Supreme Liners are one of the few incontinence pads on the market that can contain urinary and bowel leakage. Liners are for people who may require more protection and do not want to wear a diaper.
"Best I have found. DynaDry Supreme Liners provide leak-free protection longer, approximately 25% more than any other brand."
Bruce L., Verified NorthShore Buyer
What Are Booster Pads for Adults?
Booster Pads, also known as "diaper doublers," are a type of pad that must be worn with an adult diaper or pull up. Booster pads boost the absorbency of a disposable product.
Urine absorbs into the booster pad and flows into the absorbent product. Booster pads do not have a waterproof backing, so use them only when wearing absorbent products. If you use a booster pad with regular underwear, then the liquid will flow through.
Features of Booster Pads
Booster pads are great for the group of people who do wear absorbent products. Booster pads boost the absorbency of the undergarment.
The added absorbency from the booster can extend the life of the diaper and save on changes.
Note: It's important to change when the product is soiled. We do not recommend wearing a soiled product for extended periods.
EternaDry Booster Pads are reliable and absorbent pads to use day or night for added absorbency.
EternaDry Booster Pads:
Offer a special MicroSorb lining to wick away liquid and odors

Are available in sizes X-Small to 2X-Large

Have contoured shapes (in X-Large and 2X-Large sizes)

Have a flow-through design
"I bought these to use with Depends Fitted Briefs. I've got to say these are game-changers. Not a single leak has occurred since using the boosters, and they are incredibly comfortable. They protect in all the right places. I will be getting these from now on!"
James R., Verified NorthShore Buyer
NorthShore Incontinence Liner and Booster Pad Comparison Chart
Here is a comparison chart of NorthShore incontinence liners and booster pads, to help you remember the differences. To find the best pad for your situation, consider your needs, size, and level of incontinence.

If you still have questions, watch our instructional videos. Both booster pads and incontinence liners help in managing heavy leaks.
Incontinence liners, such as DynaDry Supreme Liners, are absorbent and can be used in regular underwear. Booster pads, such as EternaDry Booster Pads, provide extra absorbency to disposable briefs or incontinence underwear.
There are options available to individuals managing incontinence. Depending on their specific situation and preference, there are pads they can use to stay free from leaks. Using the wrong product can cause added leaks and frustration. We are here to make sure that does not happen.
Do you still have questions? Call us at (800) 563-0161, and our care team will be happy to help. You can also request samples online.
Please login to access your saved items list. If you don't have an account, create one today to start your list.