Best Incontinence Products: Liners vs Boosters ... Which is Better for Containing Bladder Leaks?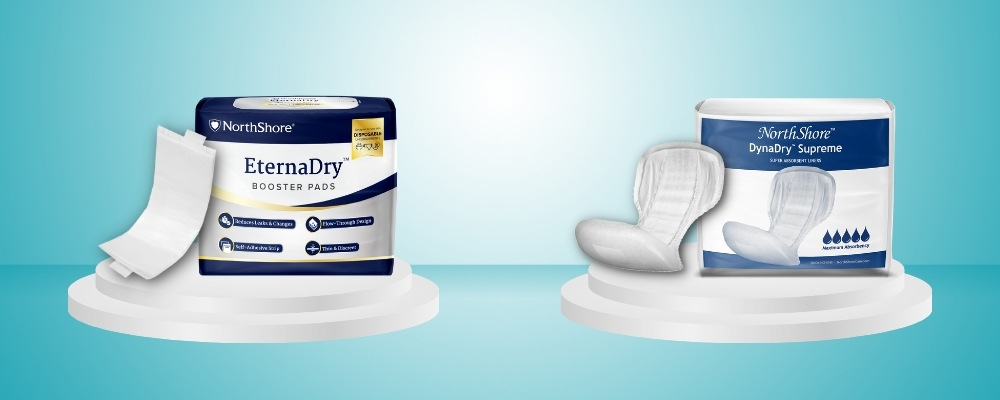 Liner or Booster Pad … what is the difference between these popular incontinence products? Surprisingly, more than most people think. A liner absorbs a large amount urine as well as bowel leaks. They also can serve as an alternative to wearing protective underwear because they really are that absorbent. Booster Pads, also known as diaper doublers, are similar but without plastic backing and must be used with another incontinence product such as an adult diaper or pull-on underwear. Booster incontinence pads are designed to 'boost' the absorbency of a disposable undergarment and are not meant to be used alone.
Key Features
Each product offers key features that make them useful in addressing incontinence symptoms. Watch the 'Liners v Boosters' How-To Video for more helpful information, including how to use them to get the most out of the products.


Both Booster Pads and incontinence Liners are effective in managing symptoms associated with incontinence such as urinary leaks, uncontrollable bowel movements, bladder issues and more. NorthShore's Booster Pads provide more absorbency since they are added to a tab-style brief or protective underwear while liners such as DynaDry Supreme Liners by NorthShore are lighter weight and can be used in regular underwear.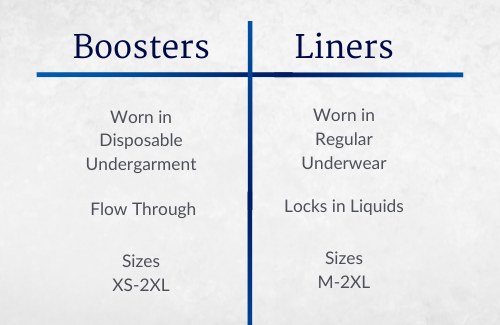 The booster pads and liners offered at NorthShore.com are highly absorbent and some of the best on the market for consumers, based on their ingredients as well as high customer ratings. Live life to the fullest while being confidently dry with the products and supplies needed.
Shop Now or call (800) 563-0161 for personalized recommendations and caring customer service.


Products Featured in This Article
Top Seller
Starting At: $27.75 FSA/HSA Eligible
Top Seller
Starting At: $13.25 FSA/HSA Eligible
New
Starting At: $15.99 FSA/HSA Eligible
Please login to access your saved items list. If you don't have an account, create one today to start your list.