MEGAMAX: The All in One Adult Diaper with Style & Protection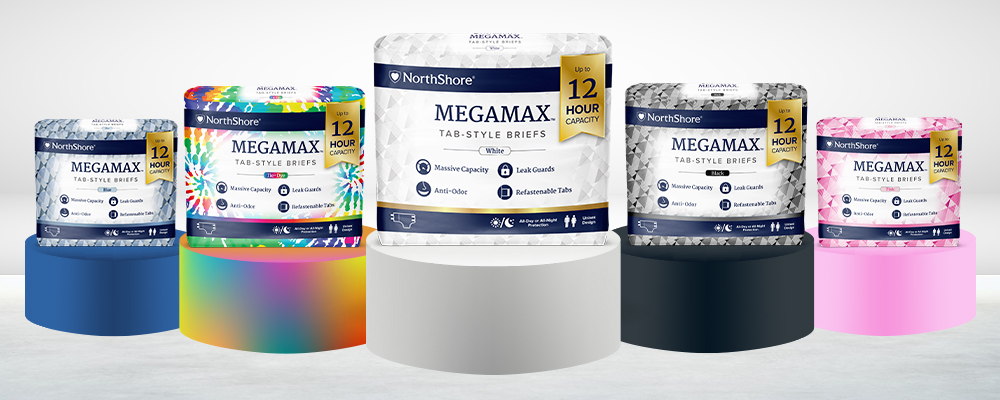 One of NorthShore's most absorbent and top-rated adult diaper, MEGAMAX, is available in five colors - pink, blue, white, black and tie-dye. Since its launch in 2019, MEGAMAX has been one of NorthShore's most popular tab-style brief with MEGA protection...up to 12 hours, in fact.
Learn why you or someone you care for should consider MEGAMAX Briefs to stay dry while managing heavy to total bowel and/or urinary incontinence.
Leak-Free
Customers who use MEGAMAX often refer to them as a 'leak-proof' thanks to an extra-wide, extra-long core. The product also gets high marks for being one of the best overnight diapers for adults.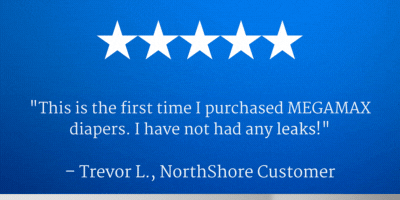 All-Day and All-Night Protection
Many people choose MEGAMAX for day, as well as nighttime use. The fast-wicking core, tall leak guards and reassuringly strong leakage protection are what sets it apart from other tab-style briefs.
Additional features include:
Extra-wide coverage

Refastenable tabs

Strong backsheet for odor reduction

Full landing zone

Elastic waistband in the front and back
And, MEGAMAX is latex-free and waterproof.
The brief offers individuals a more customized and comfortable fit. Tabs can be applied to the brief's "landing zone," offering wearers the opportunity to adjust tabs as needed without ripping the exterior of the brief.
Adjusting the brief's tabs helps prevent leaks and provides a more secure fit around the waist. For individuals managing bowel incontinence, having tall leak guards reaching to the back of the brief can help contain anal leakage.
MEGAMAX's extra-long absorbent core offers full coverage protection with super-absorbent polymers (SAP) to absorb and wick liquid away quickly. Due to its high-absorbent capacity, individuals usually find they can save money by not having to use added incontinence supplies such as waterproof covers or booster pads when wearing MEGAMAX Briefs.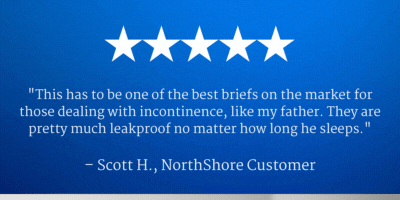 MEGAMAX Briefs offer maximum protection along with a variety of sizes XS-2XL and a choice of colors to empower individuals managing incontinence feel confident, stylish and protected at the same time.
The MEGAMAX Color Collection symbolizes how NorthShore envisions customers feeling when wearing it's best-selling brief with tabs.


Blue symbolizes Loyalty, Intelligence and Confidence
When wearing blue MEGAMAX, individuals may feel more confident.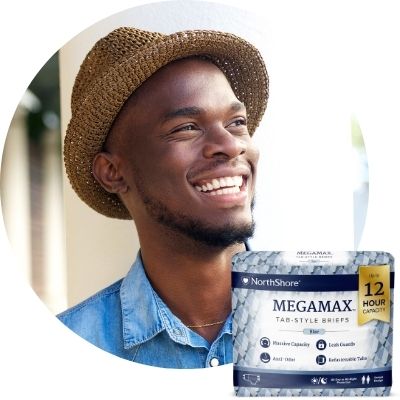 White symbolizes Cleanliness, Freshness and Protection
A white brief is always a classic option.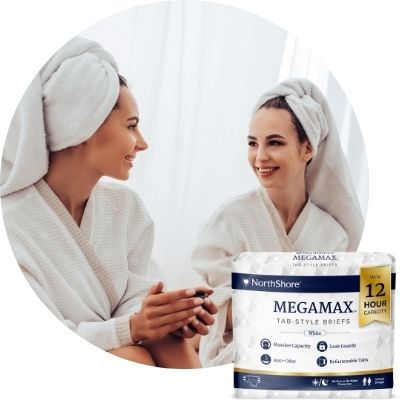 Pink symbolizes Happiness, Love and Kindness
A fun pop of color, pink can help wearers feel more social.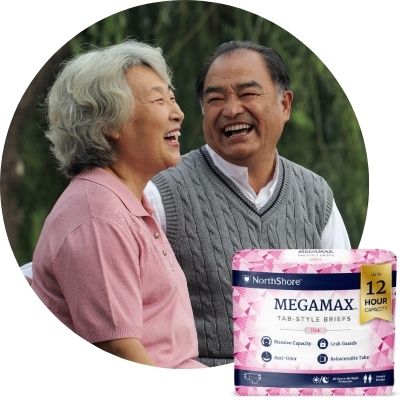 Black symbolizes Certainty, Authority and Sophistication
People who wear black briefs may want to feel mysterious and powerful.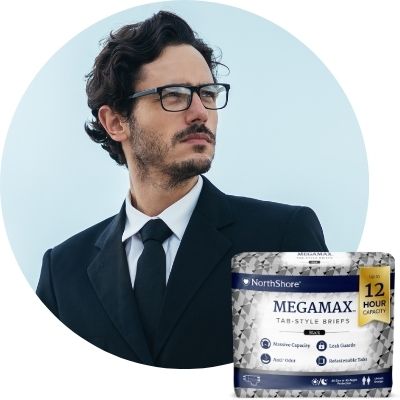 Tie-Dye symbolizes Comfort, Popularity and Creativity
Feel adventurous and fun wearing tie-dye.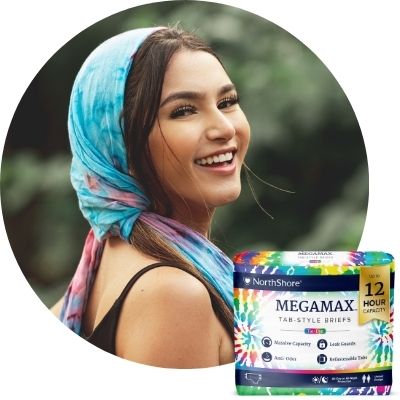 Which color will you choose?
A Drier Experience
When individuals managing incontinence and their loved ones find a product that allows for more sleep, more freedom and peace of mind, it can be life-changing.
Still unsure about MEGAMAX?
Thinking of the product you or your loved one is currently using:
Are leaks common throughout the day and/or night?

Could the fit be improved?

Is the skin wet while wearing it?

Is odor control an ongoing issue?
If the answer is 'yes' to one or more of these questions, then the MEGAMAX Collection is one you should highly consider to help manage incontinence.
MEGAMAX briefs are designed to:
Provide individuals with confidence when out in public and/or at home

Reduce the number of leaks

Offer a comfortable, adjustable fit

Keep skin drier for longer periods
Managing urinary and bowel incontinence can be a challenge, but as WebMD states, there are many different styles of products to help individuals manage moderate to severe symptoms.
Finding a product that works doesn't have to be difficult. MEGAMAX is the all-in-one brief now offering maximum protection for urinary incontinence and bowel leakage, in an array of sizes and color choices. It is the tab-style diaper with style and protection.
NorthShore's Customer Care & Service Team is passionate about helping individuals find the right products for their needs and offering kind, caring service. Shop MEGAMAX Tab-Style Briefs or call (800) 563-0161.

Thank you so much for reading our blogs!

Did you know NorthShore has helped millions of people manage incontinence with life-changing absorbent products? It's so amazing to hear their stories.

We also want you to know we have trained product advocates that provide a personal experience by working with each customer to find the best product for their situation.

Find out for yourself today!
To get in touch, simply provide your contact details below and your personal product advocate will reach out.


---
More Blogs You May Be Interested In
Please login to access your saved items list. If you don't have an account, create one today to start your list.