7 Best Ways to Comfortably & Discreetly Wear Absorbent Tab-Style Briefs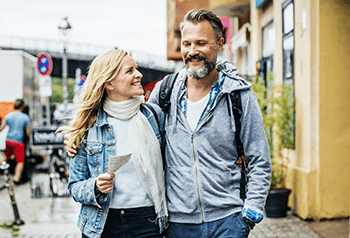 When using absorbent bladder or bowel leakage products like adult diapers, it takes trial and error to manage the situation the best way possible. We learn all about the exterior, the absorbent capacity of the products, but what about how to properly wear them with regular clothing? Have you grasped the best way to comfortably and discreetly wear your disposable undergarment? We will explain the best tips we have for you to use starting today.
Helpful Products to Wear Adult Diapers Discreetly
Make sure you use the right size brief – this blog will help you measure yourself correctly for the best size diaper.

Shift the core (the absorbent area between the legs) before you leave the house. If the diaper you're using is highly absorbent, it will be heavily padded. It may take a couple of seconds to adjust but you can actually shift part of the diaper to accommodate to your body so that there isn't too much padding in the front, back or crotch.

Wear 4Care Unisex Bodysuit Diaper Covers for additional discretion –this bodysuit keeps the diaper in place. The black and navy colors are great at covering up diapers with bold colors or prints.

Use a GaryWear Active Briefs for added protection. These covers are breathable and can be used as an additional layer of protection. They come in 6 color options that will match any outfit.

Wear dark pants or jeans to cover white diapers or printed diapers.

For ladies, wear loose-fitting, flowy dresses or long sweaters for the discretion of a heavier brief for bulkiness in the rear.

For men, wear loose-fitting slacks or jeans whenever possible. This will prevent bulkiness in the front and rear.
Other Tips to Help Wear Diapers Discreetly:
Drink water - Staying hydrated is key, even with a leaky bladder. It can get warm for some people wearing tab-style briefs, especially if they have a plastic-exterior.

Smooth the plastic material (for plastic backed briefs) - Smooth down the front area of the brief before zipping up jeans to avoid the zipper catching in the zipper's teeth.

Sample the product in all situations- You should never feel uncomfortable when you're wearing tab-style briefs. Meaning you shouldn't feel any cutting into the leg or upper thigh area when you are sitting, lying down, or in any other position.
These are just some of the tips we think will help you along the way with your journey using tab-style briefs. There are products that will help with discretion such as the Care4 Unisex BodySuits and the GaryWear Active Briefs. We also suggest wearing darker color clothing just in case.

If you have any other tips we didn't mention and would like to share them with us please send us an email and we may feature it in a future blog! As always if you have questions regarding these products please don't hesitate to call us at (800) 563-0161. We're always happy to help!