Getting the Best Fit and Measuring for Adult Incontinence Products - Adult Diapers and Pull-Ons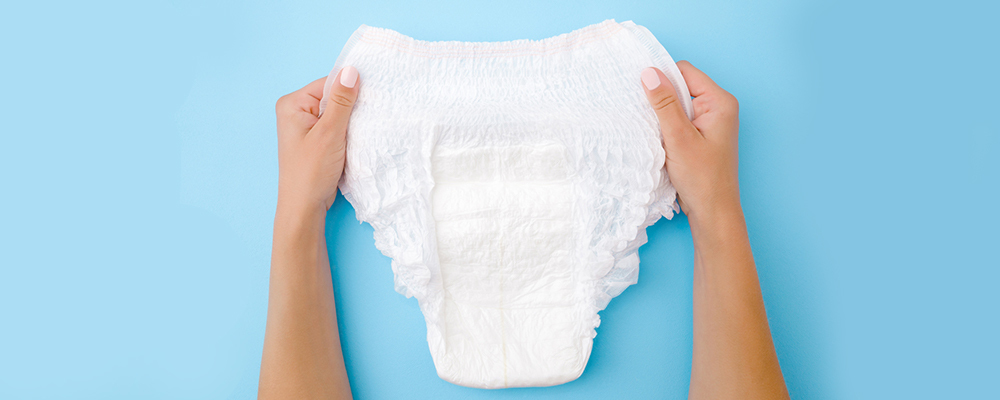 No one likes the feeling of something not fitting correctly, especially when it comes to personal care products and absorbent undergarments like tab-style briefs and protective underwear.

Finding an adult diaper and/or pull-on with the right features to ensure a good fit to stop leaking urine is essential. Whether seeking help for bowel or urinary incontinence for yourself or someone else, measuring correctly for the right product is key.

We'll explain helpful product tips and features to look out for to find the best fitting, reliable product for you or your loved one's needs.
Adult Diaper Sizes for Men and Women
NorthShore offers a wide range of incontinence protection specially designed for men and boys as well as women and girls, including male guards, pads, liners, tab-style briefs and pull-on absorbent underwear. Generally, men will need larger sizes to fit their measurements and may find certain products more comfortable.
Incontinence Protection for Different Body Sizes
Certain products and styles will fit different body sizes more comfortably, so relying on diaper sizes by weight alone can lead to a poor fit. For example, those with thinner thighs may find that tab-style briefs provide better protection than pull-on underwear and vice versa. Some styles also have leg gathers for extra security.
In addition, some people may have larger belly sizes than hip or waist sizes, so only measuring one part can lead to selecting the wrong size of adult diapers or pull-on underwear. Our measuring guide below shows how to measure for the right fit.
Common Myths About Adult Diaper Sizes
Before exploring measuring tips, it's important to discuss some misconceptions about how a diaper should fit.
Bigger Means Better - A lot of people think bigger is more absorbent. Adult diapers, pull-ons, liners and pads are designed to manage specific capacity levels and types of incontinence. No matter the size – X-Small to 3XL – a product that features high absorbency can handle heavy voids while keeping users dry and comfortable. Well-made products have technology that pulls liquid away from the skin, known as "wicking," which keeps the skin dry and helps control odors.
Loose is Okay - Liquid finds the path of least resistance. If the leg area of the product is not snug enough, urine can flow through the gaps. The best incontinence products pay close attention to the leg opening areas. A simple way to ensure a secure fit is to run a finger lightly underneath the elastic around both legs. If the opening is snug – not too loose or overly tight – it usually indicates a comfortable and leak-free fit.

Double Up - When managing incontinence, doubling up on products for extra protection is not always the best solution. Using just a pad or liner is helpful for light incontinence or what some call "stress incontinence." Liners and pads are designed with a waterproof backing that secures to regular underwear with an adhesive strip. But when doubling up on pads while wearing adult diapers or pull-up style underwear, the backing can cause added leakage.
Adult Diaper Size: Guide to Measuring
A closer look at individual sizing charts reveals that brands differ in their sizing, but once you've confirmed the measurements for you or your loved one, you'll be able to find the right product. Each NorthShore product page has an individual sizing chart to help find the correct size for measurements.
For instance, a small Supreme Tab-Style Brief fits waists between 22-32 in. (56-81 cm), whereas a small MEGAMAX Tab-Style Brief fits waists 24-34 in. (61-86 cm) It's always best to measure before making a purchase.
Measuring Guide
First, decide which is most comfortable: standing or lying down. Then, using a tape measure, take the following steps: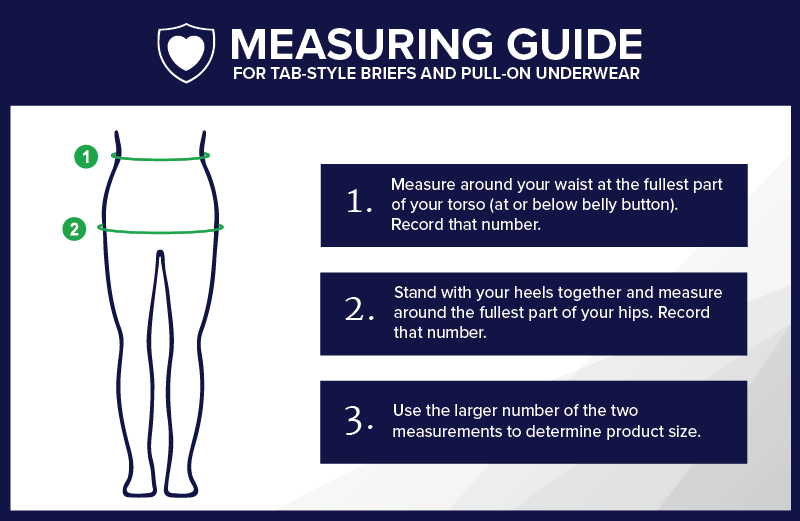 Keep in mind, products that are too large tend to leak at the legs, so start with a smaller size. And if there's been significant weight gain or loss, measure again.
How Should an Adult Diaper Fit?
Incontinence protection should feel comfortable and secure, but not tight to the point of creating red marks in the skin or reducing circulation. The waist should fit without sagging or gaps and the wearer should be able to move freely without creating gaps in coverage.
Signs of a Ill-Fitting Product
1. If the sides split or tabs in brief come undone, consider a larger size. For products with tabs, try readjusting the tabs to fit more comfortably.

2. If the waist sags, consider a smaller size or a snug waterproof cover to contain leaks if changing sizes isn't an option.

3. Check if movement is restricted in the waist, legs or other areas. Incontinence underwear and briefs should fit closely against the body without causing discomfort. If frequent changes are needed, consider a higher-absorbency product or add a booster pad to increase absorbency.

4. Looseness or gaps around the legs, particularly when lying down, could cause leaks. Consider another product or size, or request a free sample from NorthShore to determine if a product provides the coverage needed.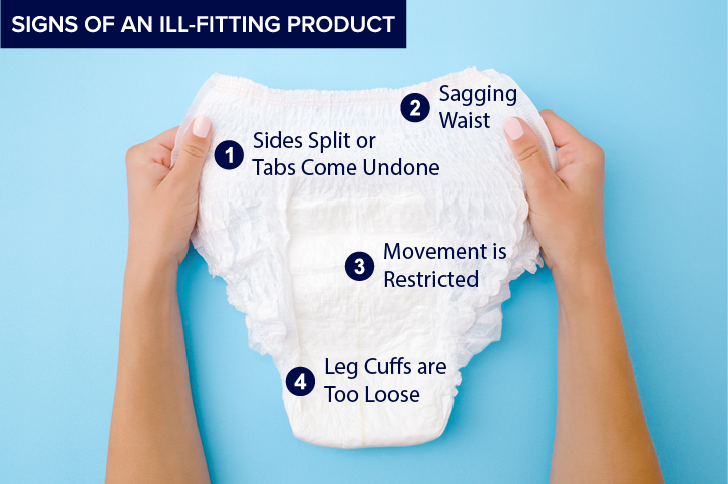 Request a Free Sample from NorthShore
Each person's incontinence needs are unique, so finding the right product and size may take time. Always seek the medical advice of a professional for help and assistance with medical conditions, including nocturnal enuresis, urge incontinence, overactive bladder, bladder muscle control issues and uncontrollable urges to urinate.
NorthShore provides individuals managing incontinence with a choice of premium, high-absorbency products and supplies to manage different types of bowel and urinary incontinence. From briefs with tabs and pull-up style to pads and liners, identifying items that provide the most coverage and best fit are important.


Not sure what to order? To help everyone find their best incontinence protection, NorthShore offers

Free Samples

and an

Online Product Finder

tool

. Or call

(800) 563-0161

for personalized assistance and recommendations.



Thank you so much for reading our blogs!

Did you know NorthShore has helped millions of people manage incontinence with life-changing absorbent products? It's so amazing to hear their stories.

We also want you to know we have trained product advocates that provide a personal experience by working with each customer to find the best product for their situation.

Find out for yourself today!
To get in touch, simply provide your contact details below and your personal product advocate will reach out.


Please login to access your saved items list. If you don't have an account, create one today to start your list.