Urinary Incontinence & You: Living a Full Life with Loss of Bladder Control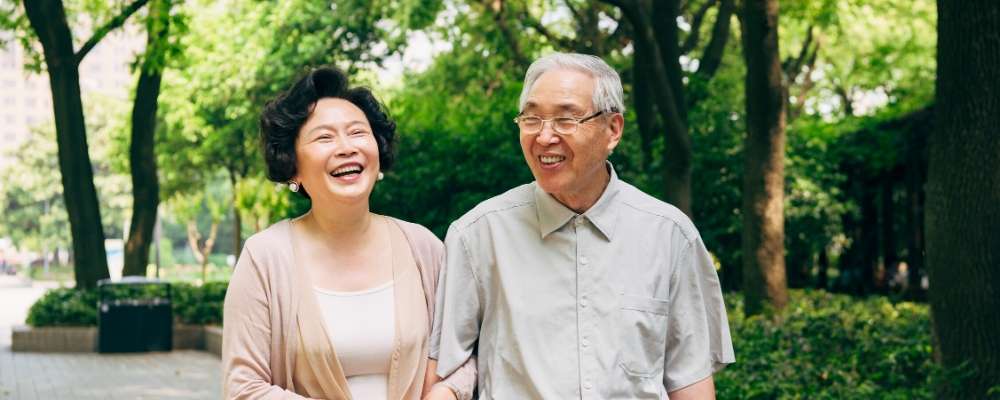 Did you know the bladder is the size of a large grapefruit? It is usually about 2 inches long but can stretch up to 6 inches when full. Usually, it can hold between 10-17 fluid ounces but the urge to urinate occurs when the bladder is only about 1/4 full.
Millions of Americans have bladder control issues, known as urinary incontinence. Common types of urinary incontinence include Stress Urinary Incontinence (SUI), Overactive Bladder (OAB), Overflow Incontinence and Mixed Incontinence.
Incontinence is not a disease, but usually a symptom of other health issues. Such medical conditions may include, but are not limited to:
Urinary Tract Infections (UTIs)

Constipation
Diabetes

Stroke

Multiple Sclerosis (MS)

Enlarged prostate

Childbirth
Fortunately, there are treatments to address the chances of leakage. According to Urology Care Foundation, these can include lifestyle changes, Kegel exercises, physical therapy, surgeries, among others

Learn more about facts surrounding bladder leakage at the infographic provided by Urology Care Foundation.

Individuals often rely on adult incontinence products to contain leaks. Today, there is an array of discreet pads, absorbent underwear, liners and tab-style briefs. At NorthShore.com, we provide individualized recommendations for top-selling items ideal for containing moderate to heavy urinary incontinence.
Liners
Individuals looking for a smaller-sized pad to manage urinary incontinence should consider the NorthShore DynaDry Supreme Liner. This figure 8 liner offers stand up leak guards, a waterproof backsheet and comes in various sizes such as medium, large, XL and 2XL.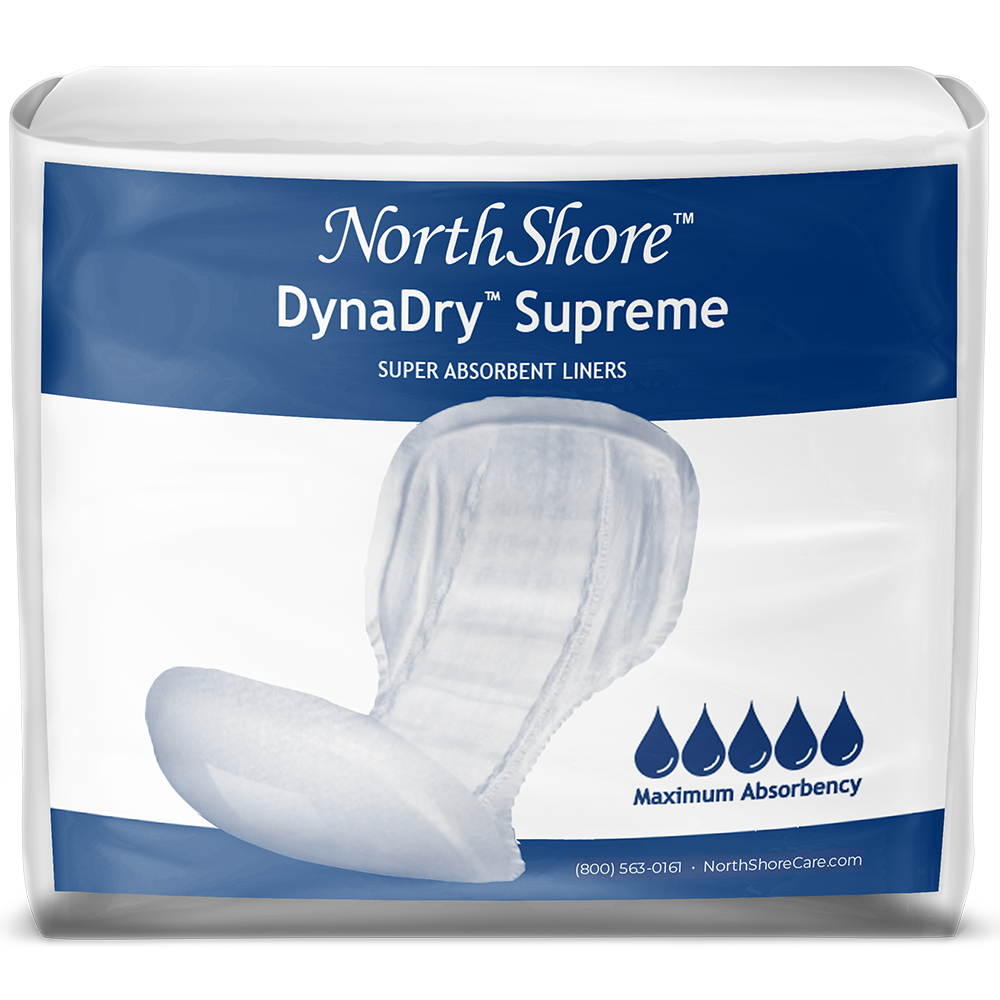 Shop DynaDry
Absorbent Underwear
Managing heavier bladder leaks requires a super-absorbent product with an extra-long contoured lining such as the NorthShore GoSupreme Pull-On Underwear. This pull-on offers a discreet fit, comfortable waistband and improved leg elastics to prevent leaks. Available in sizes small to 2XL, this pull-up style underwear offers up to 8 hours of absorbency.
Tab-Style Briefs
Tab-style briefs (adult diapers with tabs) come in two common backsheets: plastic and cloth-like. Depending on the user's preference, NorthShore offers both to help contain heavier bladder leaks.

NorthShore Supreme Lite Briefs have a smooth plastic backsheet to help with odors and sagging. They offer a quick-wicking Microsorb lining, wide coverage and stand-up leak guards for added security.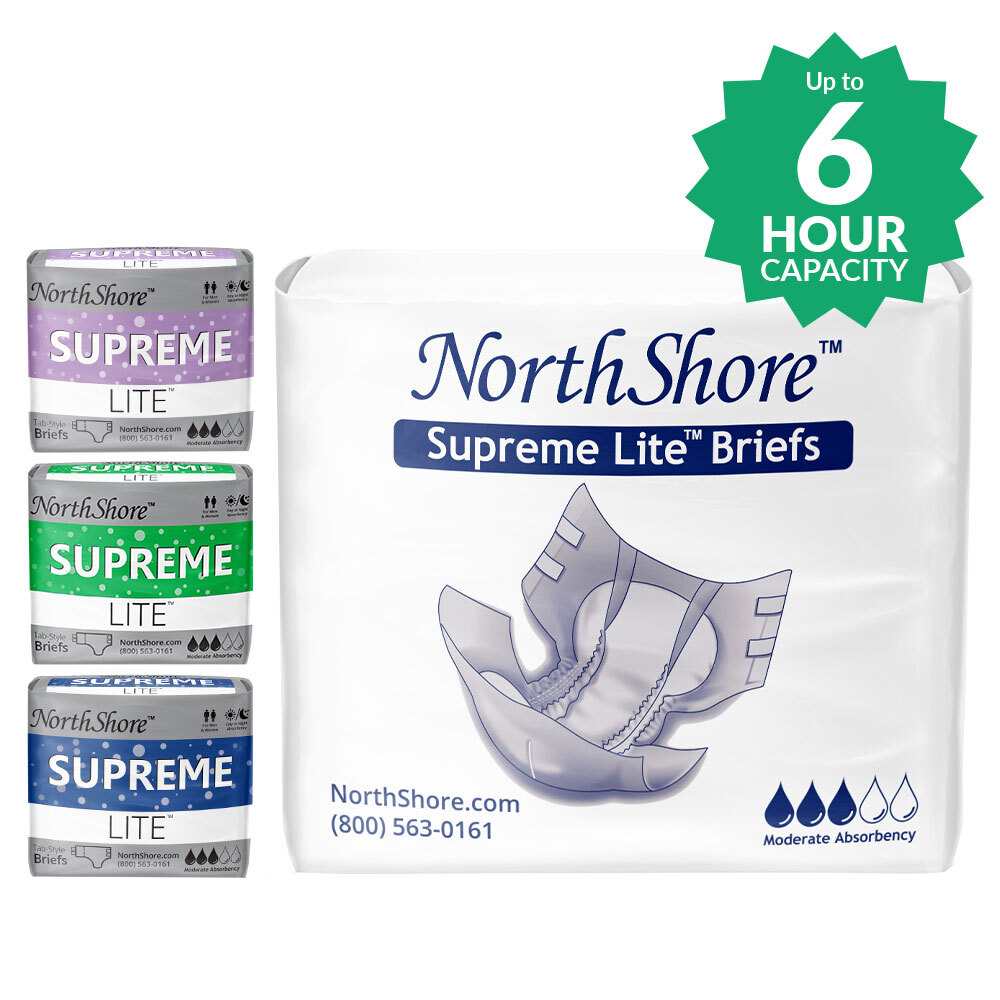 Shop Supreme Lite

NorthShore MEGAMAX Air Briefs have a cloth-like exterior, ideal for individuals with sensitive skin. They offer up to 9 hours of protection and large, heavy-duty refastenable tabs keep the brief snug for a comfortable fit. They also include an extra-wide, extra-long absorbent core for added protection.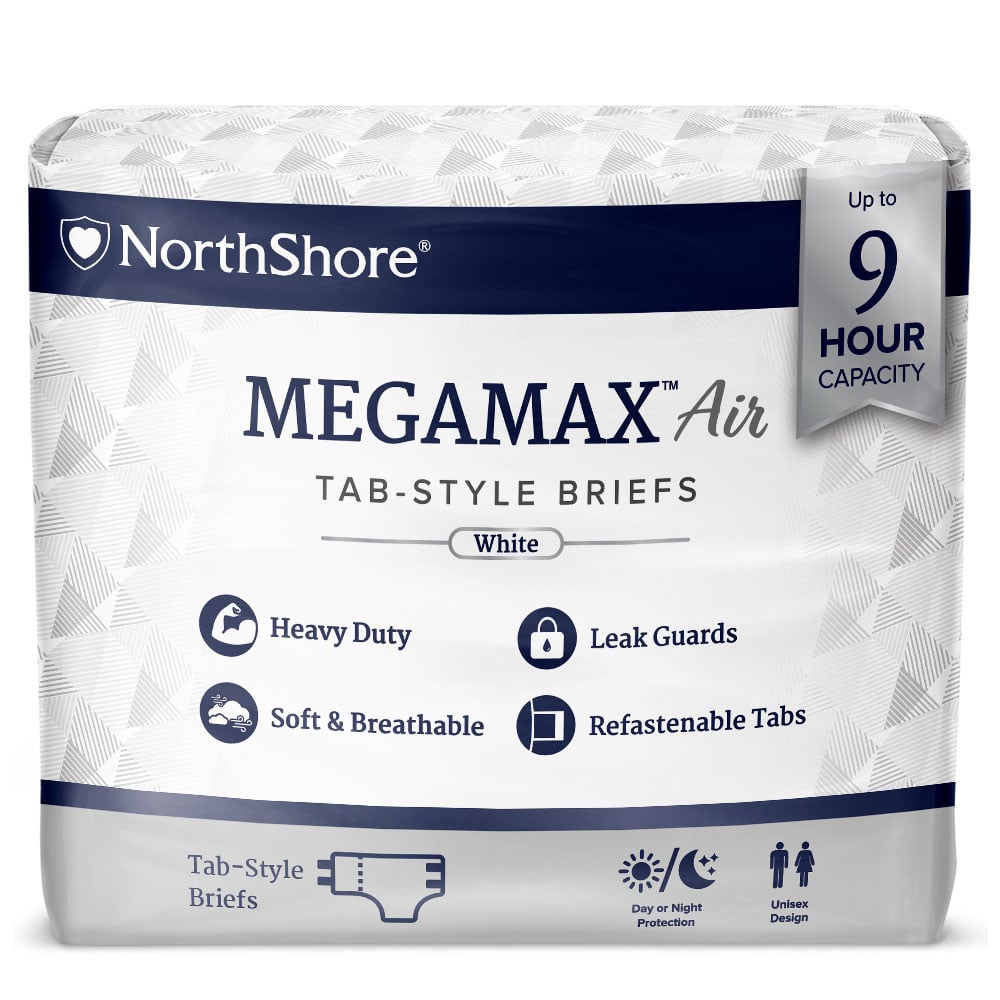 Shop MEGAMAX Air

There are many options for individuals managing urinary incontinence. NorthShore's incontinence products and accessories are available in a variety of styles, sizes and absorbency levels.

As trusted experts in the industry since 2002, we recommend individuals new to managing incontinence call one of our Customer Care & Service team members at (800) 563-0161 for a personalized consultation. Caring experts will offer product suggestions based on each customer's unique needs and situation.

Once individuals find a product that works, many say it is life-changing. Taking a walk with the dog, enjoying a sunset outside with a loved one, or visiting a friend are some of the activities people who are able to manage their incontinence can more easily do. For many, finding the right absorbent product can be the key to peace of mind and a more full life.


Please login to access your saved items list. If you don't have an account, create one today to start your list.