Ultimate Holiday Guide for Managing Incontinence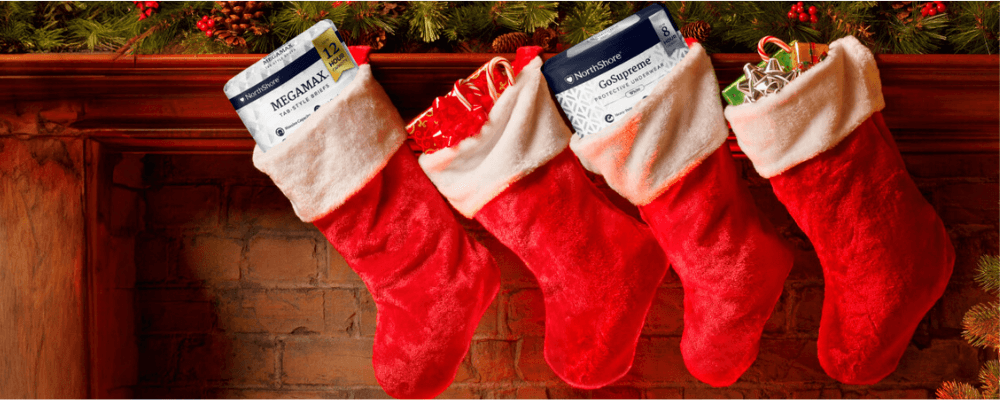 As the weather turns colder many look forward to celebrating the season with friends and family. But for people managing urinary or bowel incontinence, cold weather can also mean extra stress. Seasonal travel and more social activities with family and friends add complications to managing incontinence.

Everyone deserves to enjoy the holidays, so NorthShore is here to provide our top tips for managing incontinence while traveling, visiting with friends and family and creating memorable holiday memories.
Wintertime Tips for Traveling with Incontinence
Urinary leaks can be more frequent in frosty temperatures. The University of Iowa Hospitals & Clinics reports increased cold-weather incontinence related to urge incontinence and overactive bladder. Wintertime trips can require a little extra planning.
Choose the Right Adult Diapers for Travel
When preparing for a long trip, whether traveling by car, train or airplane, incontinence products with extra protection can help with staying dry during delays or between rest stops.
NorthShore Care Supply products provide up to 3x the leak protection of popular store brands. MEGAMAX Briefs are the most absorbent adult incontinence briefs that NorthShore offers.
Because they offer up to 12 hours of protection and resist sagging and odors, MEGAMAX can be used for long flights and drives when bathroom breaks are not always possible. Plus, the moisture-wicking technology can help keep you comfortable even if you're sitting for a while.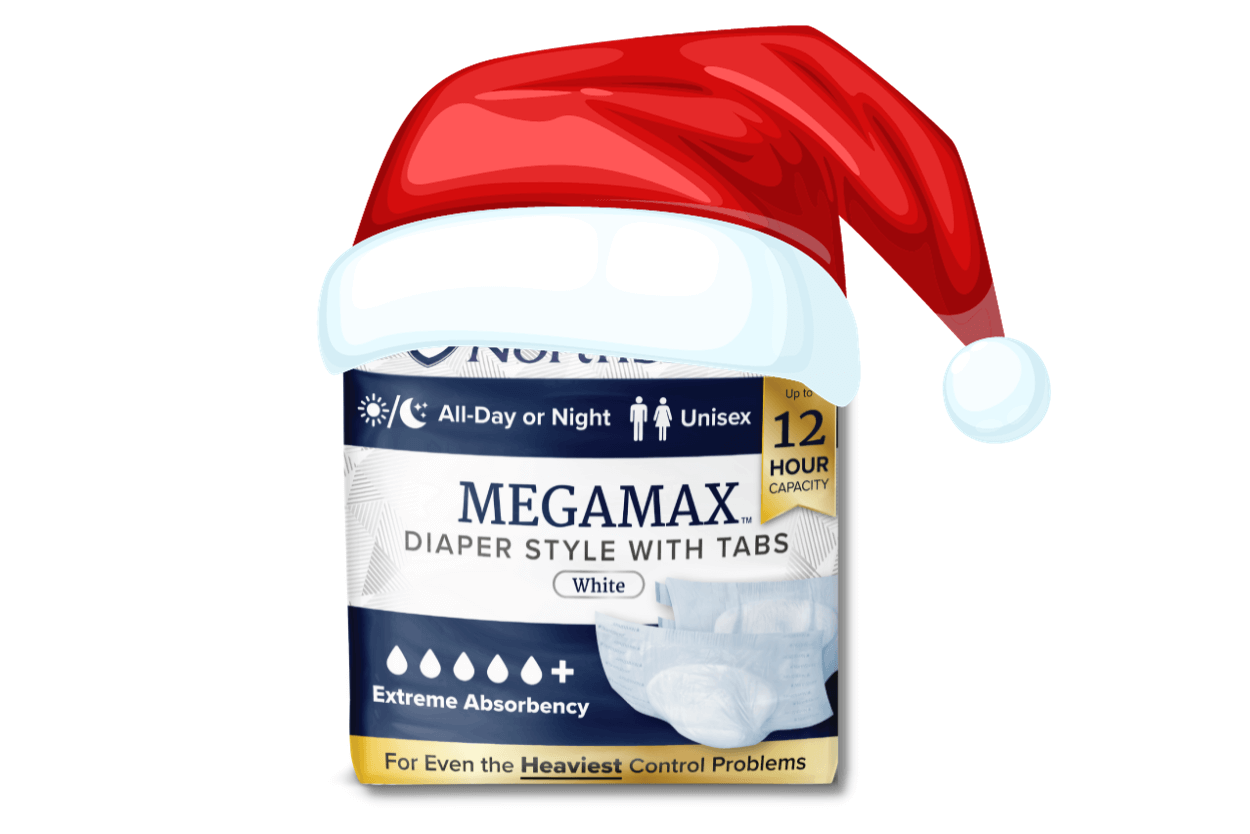 Pack a Travel Bag for Incontinence
If you're visiting airports or making stops on a road trip, put together a special "bathroom bag" that only contains incontinence supplies—such as absorbent briefs, protective underwear, wipes and disposal bags—to avoid having to bring a purse, backpack or luggage into bathrooms. One of the best items to pack in a portable incontinence kit is a box of DiscreetShield Disposal Bags. Experience discreet disposal of soiled products before placing them in trash receptacles. And always remember the protocol for proper handwashing. The Centers for Disease Control (CDC) recommends scrubbing hands for a minimum of 20 seconds and drying with a clean towel or air drying.
Boost Your Protection for Extended Wear
If you'd rather avoid dealing with changes in an airport bathroom, gas station, or rest stop, consider adding EternaDry Booster Pads to your absorbent products. These flow-through pads are designed to provide extended leak protection. The adhesive backing holds the product firm in your favorite diaper or pull-on adding more absorbency and extending your wear time.
Looking for more travel tips? NorthShore has a helpful blog on tips and products for traveling while managing incontinence. Learn the best ways to prepare for holiday travel plans.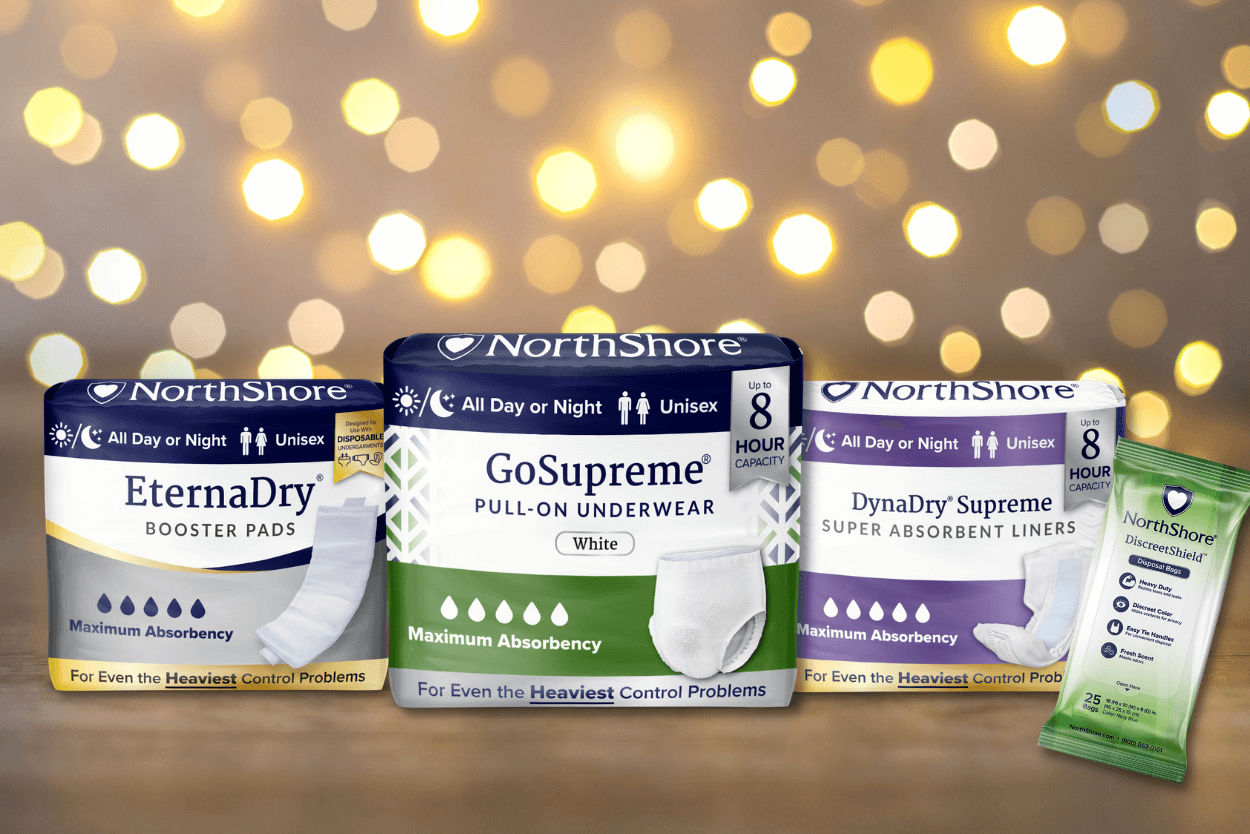 Avoid Bladder Irritants
What you eat and drink can have a significant impact on your urinary health. Some food and beverages can irritate the bladder causing more urgency and frequency. You'll want to avoid the holiday cocktails and limit your caffeine intake – both are diuretics, so they'll increase urine production. Keep an eye out for citrus fruits and spicy foods, both can irritate the bladder lining. You don't have to give up these foods completely, but it's important to understand how they may effect your bladder and plan accordingly, especially when traveling.
Prevent Urinary Leaks During Holiday Gatherings
Holiday visits can always feel a little bit tricky if you or someone you love has incontinence. The National Association for Continence (NAFC) recommends packing extra incontinence products when visiting for the holidays, including disposal bags and odor-neutralizing sprays.
There are alternatives to standard adult diapers for men and women that can be worn under special holiday outfits without any feelings of "bulk." One excellent option is NorthShore DynaDry Supreme Liners. These are long-shaped incontinence pad liners instead of traditional incontinence briefs, and they're designed for more activity and movement. Be more comfortable laughing, dancing, and hugging at a holiday gathering.
DynaDry's design gives users a real confidence boost by providing extra-long and extra-wide protection in the rear via stand-up leak guards and adhesives. They provide a secure fit that covers the back for getting up from chairs.
Overnight visits, especially during the holidays, can cause worry over leaks and odors. When staying the night away from home, an overnight product like GoSupreme Underwear provides all-day and all-night protection. Featuring body-gripping elastics that can handle tossing and turning, these pull-on adult diapers provide dual leak guards near the legs and a super absorbent core to handle heavier leaks. For extra confidence overnight, add MagicSorb Air Disposable Underpads to ensure that sheets and mattresses stay dry!
Let Loved Ones Help
Above all else, remember that this season is about kindness and love. Your friends and family can be a great source of support when managing incontinence. Don't be afraid to open up and ask for help. With a little bit of planning and support you'll be able to confidently celebrate this season. Whether your holiday gatherings are big or small, local or long-distance, please know that your friends at NorthShore are wishing you the merry best!


Products Featured in this Article
Please login to access your saved items list. If you don't have an account, create one today to start your list.