Ultimate Holiday Guide for Managing Incontinence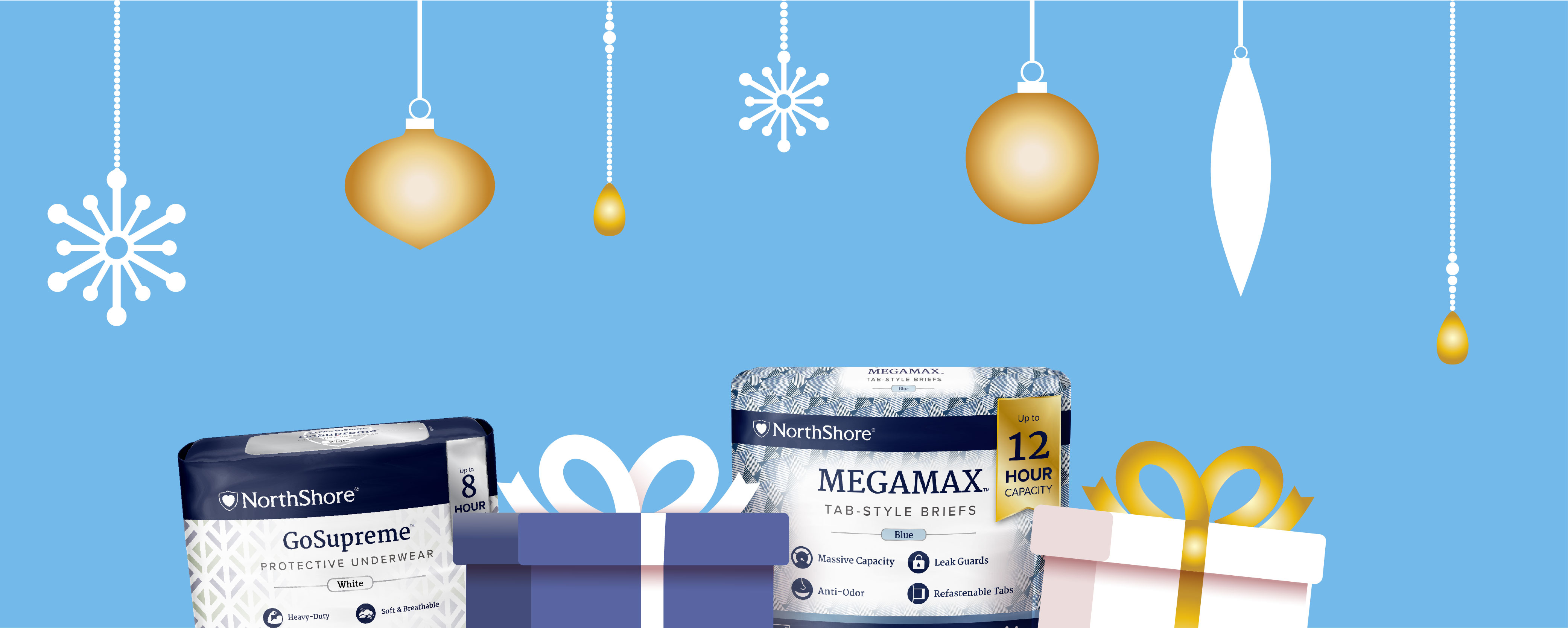 That nip in the air means holiday cheer and winter beauty are on the way! But for people managing bowel or urinary incontinence, cold weather can also mean extra stress related to long trips and more social activities with family and friends.

In addition, it can feel like urine leaks are more frequent in frosty temperatures. The University of Iowa Hospitals & Clinics reports increased cold-weather incontinence related to urge incontinence and overactive bladder. Plus, drinking more alcohol, hot cocoa, coffee or tea than usual can irritate the bladder and cause more frequent leaks. Armed with the right knowledge, you or someone you care for can enjoy the spirit of the season with confidence. Plan ahead with NorthShore Care's top tips for managing incontinence while traveling, visiting with friends and family and creating memorable holiday memories.
Wintertime Tips for Traveling with Incontinence
NorthShore has a helpful blog on tips and products for traveling while managing incontinence, and wintertime trips just need a little extra planning. Learn the best ways to prepare for holiday travel plans.
Are There Travel Diapers for Adults?
When preparing for a long trip, whether traveling by car, train or airplane, incontinence products with extra protection can help with staying dry during delays or between rest stops.
NorthShore Care Supply products provide up to 3x the leak protection of popular store brands. MEGAMAX Briefs are the most absorbent adult incontinence briefs that NorthShore offers.
Because they offer up to 12 hours of protection and resist sagging and odors, MEGAMAX can be used for long flights and drives when bathroom breaks are not always possible. Plus, the moisture-wicking technology can help keep you comfortable even if you're sitting for a while.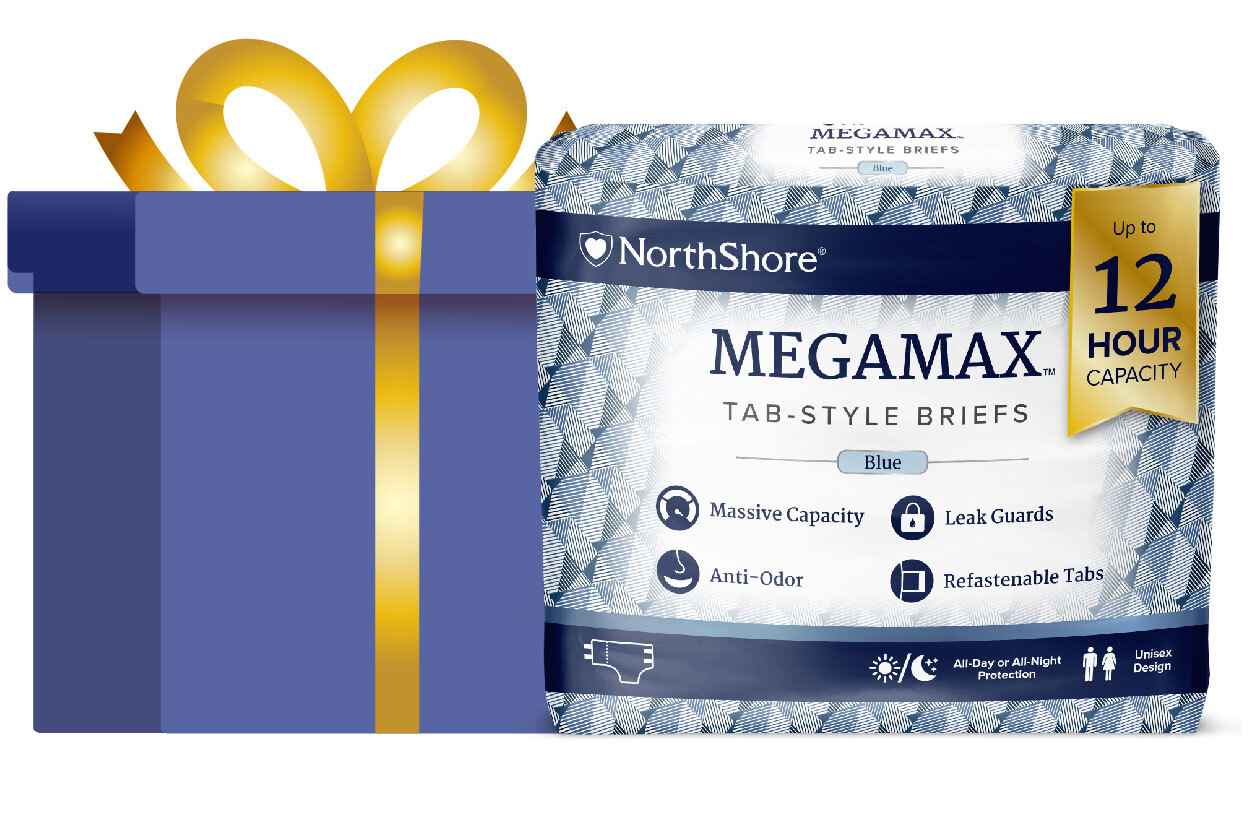 Pack a Travel Bag for Incontinence
People managing incontinence may spend more time in bathrooms than others, so you may be more worried about the increased risk of cold, flu and coronavirus. These viruses can live for hours or days on surfaces, depending on the type of material, and coughing or sneezing can worsen stress incontinence.
One way to avoid exposure in public toilets is to wear long-lasting products for urinary leaks and bowel incontinence. If you're visiting airports or making stops on a road trip, put together a special "bathroom bag" that only contains incontinence supplies—such as absorbent briefs, protective underwear, wipes and disposal bags—to avoid having to bring a purse, backpack or luggage into bathrooms. This can significantly reduce the number of contact items have with restroom surfaces. One of the best items to pack in a portable incontinence kit is a box of DiscreetShield Disposal Bags. Experience discreet disposal of soiled products before placing them in trash receptacles. And always remember the protocol for proper handwashing. The Centers for Disease Control (CDC) recommends scrubbing hands for a minimum of 20 seconds and drying with a clean towel or air drying.
Prevent Urinary Leaks During Holiday Gatherings
Once you arrive at your destination, you may be staying in someone's house where you could feel worried about leaks and odors. Holiday visits can always feel a little bit tricky if you or someone you love has incontinence. The National Association for Continence (NAFC) recommends packing extra incontinence products when visiting for the holidays, including disposal bags and odor-neutralizing sprays.
There are alternatives to standard adult diapers for men and women that can be worn under special holiday outfits without any feelings of "bulk." One excellent option is NorthShore DynaDry Supreme Liners. These are long-shaped incontinence pad liners instead of traditional incontinence briefs, and they're designed for more activity and movement. Be more comfortable laughing, dancing and talking at a holiday gathering.
DynaDry's design gives users a real confidence boost by providing extra-long and extra-wide protection in the rear via stand-up leak guards and adhesives. They provide a secure fit that covers the back for getting up from chairs.
If you or someone you care for feels insecure about changing undergarments during a visit, travel sprays or essential oils can help leave a bathroom smelling pleasant. Tea tree oil, lavender and lemon oils are great for neutralizing the smell of urine. When staying the night away from home, an overnight product like GoSupreme Underwear provides all-day and all-night protection. Featuring body-gripping elastics that can handle tossing and turning, these pull-on adult diapers provide dual leak guards near the legs and a super absorbent core to handle heavier leaks.
With travel and overnight stays handled, what can you do about the extra holiday stress many of us deal with?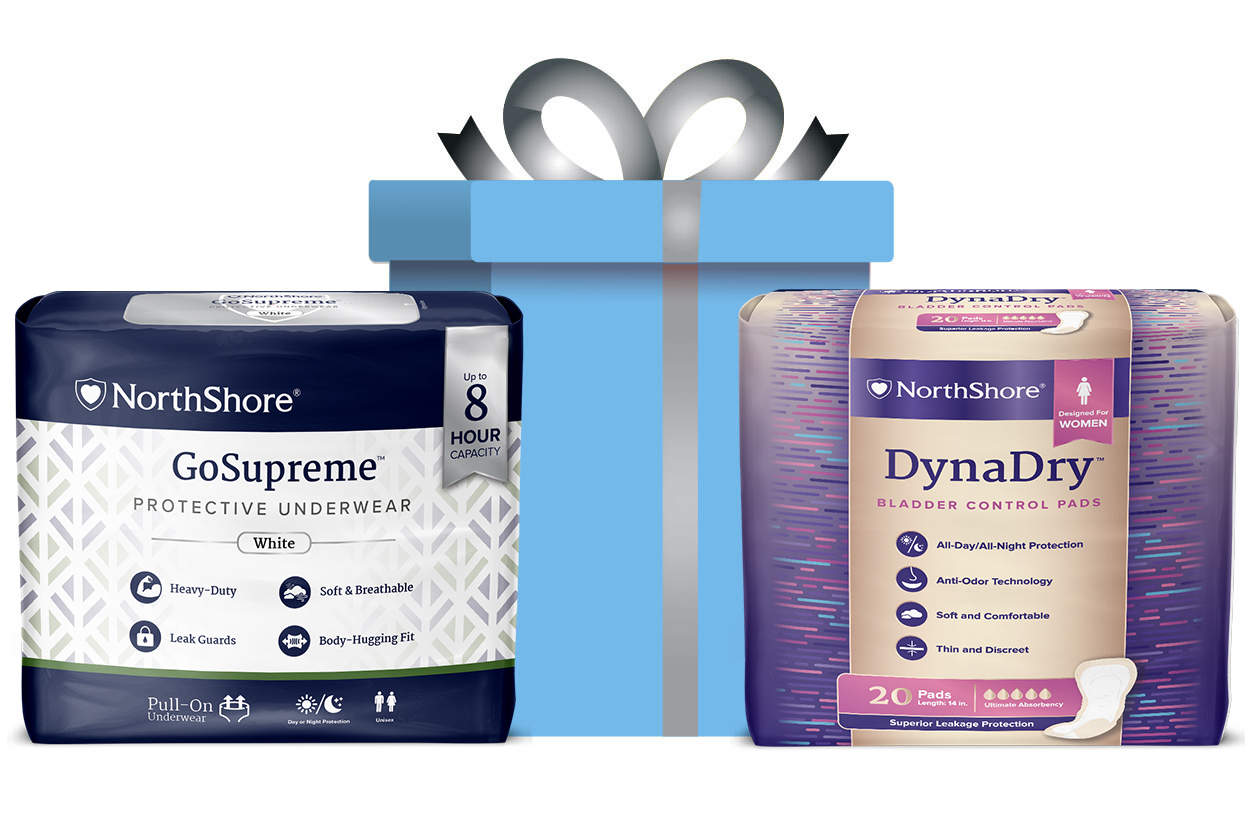 5 Ways to Stay Less Stressed Before the Holidays
If you're feeling overwhelmed during the holidays, you're not alone! Increased stress around the holiday season is common, and "festive stress" is real.
We want to share some practical tips and sources so you can try to minimize the stress that often accompanies the holidays.
1. Take Time for Yourself
Practice deep breathing exercises – Breathing exercises can reduce tension, heart rate and even blood pressure. Learn about recommended breathing exercises from WebMD that you can do to help relieve tension and stress.

Make time for yourself – Self-care techniques can include meditation, journaling, reading a book, taking a bath, doing yoga and meeting up with friends. Try giving yourself some quiet time, without the phone.


2. Take Care of Your Health
Drink lots of water – The Stress Management Society recommends drinking a glass of water to feel more energized and better address stressful situations. Dehydration can result in higher cortisol levels, which can lead to mild headaches and fatigue as well as more severe symptoms.

Get a good amount of sleep – This is the peak season for colds and other illnesses. Making sure to get a good night's rest can help strengthen the immune system.

Stay active if possible – Simple and quick activities, such as working out for 30 minutes, can boost mood and energy levels.


3. Plan Ahead as Much as Possible
Create a budget – "Why we stress-spend during the holidays and how to stop" is a useful article from NBC News on the reasons people overspend and five ways to stay strong against stress spending.

Plan your holiday meal ASAP – Put together your menu and shopping list and get all of the necessary items for each dish ahead of time if possible. Grocery stores get busier, and more stressful, as the holidays approach.

Ensure timely delivery of products and supplies – Make sure you order early enough to get items when you want them. If you use incontinence products and/or supplies, consider NorthShore's Auto-Ship program to handle your supply orders. This subscription program automatically ships your orders on your schedule. Call NorthShore to set your frequency, products and quantity and we'll handle the rest.

Skip the lines and pick up your orders if delivery is not an option – Like many companies, NorthShore now offers the option of order pickup at participating FedEx Hold-at-Locations as well as grocery stores nationwide. If you have questions on how to plan your supply orders during the holidays, call NorthShore at (800) 563-0161.


4. Keep Open Communication with Family and Friends
Plan ahead – To ease the stress of holiday preparations, have a discussion with family members and friends whom you will be spending the holidays with to go over, ahead of time, expectations about meals and activities.

Talk it out – Talk to friends and family members about the stress you're going through. Most people will respond in a supportive manner.

Delegate tasks and responsibilities – It's all right to share responsibilities by asking others to help.

Reduce gift-giving – It may seem drastic but not giving gifts can reduce stress and save a lot of time. Instead, think about donating to a charity that's important to your family.


5. Say "No" or Reschedule Meetups
Prioritize your time – Overcommitting to connecting with family and friends can cause unnecessary stress. Schedule your time so you can have fun and push other get-togethers to after the holidays.

Rethink the office gift exchange – Office parties and Secret Santas can be fun, but if you feel like it's going to be too much to shop for the perfect gift, consider not joining in this year.


Many of us experience some level of stress during the holidays, but self-care, exercise and setting priorities are some easy ways to manage this hectic time of year. Lists, reminders and budgets are also helpful tools to save you time.
Now that you've whittled down your gift list, what sort of holiday presents are great for people managing incontinence? Explore our gift guide recommendations.
Gift Guide for Adults Managing Incontinence
Walk three or four steps into the entrance of any mall in the U.S. and you'll instantly feel the holiday spirit upon you. It's not only the vibrant holiday decorations dangling over the railings of each floor that announce the holiday spirit. If you take a good look, you will also probably notice the immense amount of "Sale" signs posted in store windows. The pressure to shop can be stressful for many of us who don't know what to get our loved ones.
Gifting experiences may create more joy for both the giver and the receiver. We've included some experience gifts as well as other ideas for a meaningful holiday season.
Top Incontinence Gift Ideas
Experience Gifts – Treat your loved one to the ballet, a concert or musical performance. Booking an aisle seat can be helpful so your loved one has easy access to the exit and restroom if necessary.
Mini Getaways – If your schedule and finances allow, take a mini getaway for a day or two. Pick a destination that's an hour or two away so you or someone you care for isn't uncomfortable on a long car or plane ride. A change of scenery can be a lot of fun. Check out our travel tips above to prevent extra stress.
Virtual Events – Sign up for online events and stay connected and safe without having to leave the house. Bingo nights, trivia, architecture tours and much more are all available. You could also purchase a book and an invite to a book club to socialize stress-free.
While the holidays can be stressful, they can be made easier with a little planning. Perhaps packing an incontinence travel bag before a trip can be a small way to ease worrying about possible leaks. You could also pack a homemade basket with adult diapers and personal care supplies for use day and night.
If you're looking for confidence-boosting incontinence products that can be delivered discreetly right to your door, shop the

NorthShore Collection

or call 1-800-563-0161. All products offer same-day shipping when orders are placed by 7 p.m. Central Time, so you can start preparing for a confident winter season without delay.
Know someone who would love this article? Share it with them on social media. #NorthShoreCares
Products Featured in this Article
Please login to access your saved items list. If you don't have an account, create one today to start your list.