4 Reasons Why You Should Never Double Up on Adult Diapers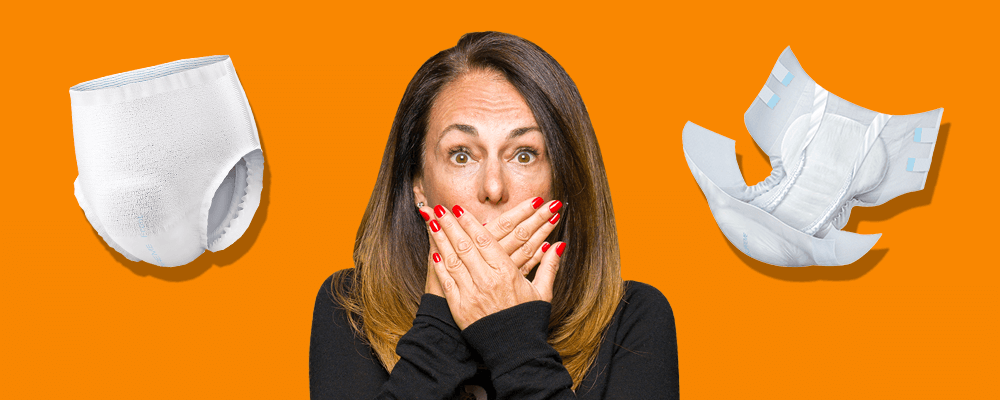 Desperate people do desperate things during desperate times. When faced with uncontrollable bladder or bowel leakage, life can get stressful very fast. A quick fix for many individuals, as well as caregivers, is to double up on diapers.

A lot of people think layering absorbent products on top of each other will stop liquid from seeping through, right? Wrong.

Next time you or your loved one is leaking and you need a solution, here are four reasons why should reconsider doubling up on absorbent underwear or tab-style briefs:
1. Waterproof Products are not Intended for Doubling Up - Many people think that if the current diaper isn't holding enough liquid for their loved one, then they can use another one on top of it. This is a common misconception. All adult diapers with tabs and/or absorbent underwear have a waterproof lining. When the product reaches the full amount of liquid it can hold, it leaks and spills out onto the diaper below, adding additional bulk and possibly odors.


Takeaway: Do not double up any product with a waterproof backing because it's just going to leak onto the next product. The only product to double up is a booster pad because it does not have a waterproof backing; liquid easily flows into the pad and flows out into another absorbent product.


2. Size Matters - The wrong size tab-style brief can result in an uncomfortable fit and leakage.

Takeaway: The bigger the size, the more likely the brief will leak and smell.


3. Using a Pull-On When a Brief is Needed - The right product means the difference between comfort and protection and leakage and odors. The wrong style may not offer the best leak protection around the back or leg area. Doubling up with the wrong product can lead to all sorts of additional issues.
Takeaway: Leakage increases in a product that is not best suited for a person's needs.


4. It Costs More - Doubling up may seem like a good short-term solution but it can cost more in the long-run. It's obvious that the more you double up on incontinence products, the more you're going to use and ultimately spend. Instead of doubling up, consider a heavier-absorbency product to get the job "done." Don't spend more money than needed by choosing the right product.
Takeaway: While it may seem like using 2 pull-ons and/or diapers is a temporary fix for leaks, it's costing more money and result in more discomfort.

Next time you are dealing with heavy incontience and leaks, remember to look for a product that offers what you or your loved one needs. Avoid doubling up as much as possible and find the right size and style.

Sample products to see how they work. Request Free Samples online or call us at (800) 563-0161.

Kind, caring experts are always happy to help!