Why You Should Never Double Up On Adult Diapers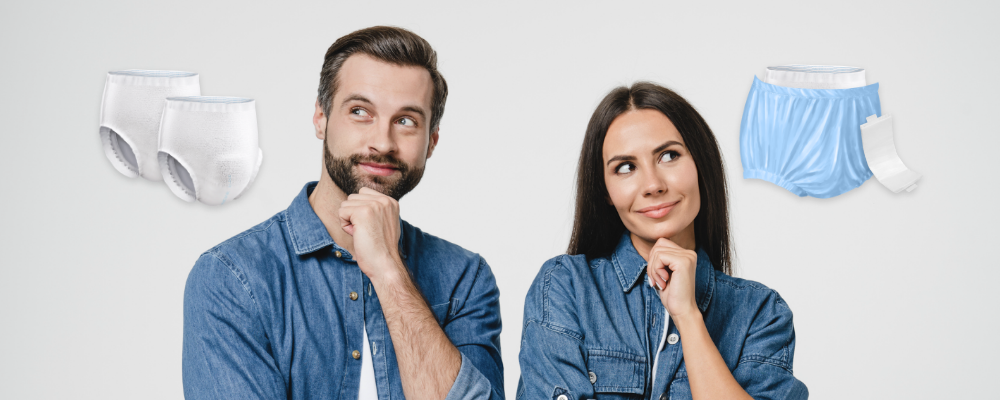 Desperate people do desperate things during desperate times. People eat fast food when they are stressed. They run through a red light when they are running late to work.
Desperation happens to all of us at one point or another. When faced with emotional challenges managing adult incontinence, desperation can kick into gear too.
A common misconception when managing leaks is to double up on adult diapers.
People think doubling up absorbent incontinence products will stop leaks. This is far from the truth. Layering actually causes more leaks.
Don't fall victim to this mindset. Be prepared and educated on how these types of products work. The more you know how they work, the better you will be in managing leaks.
We will explain why you should never double up on adult diapers and how to save on product costs.
At NorthShore, we want to help you find a product that works for your needs and controls leaks. Simple as that.
Adult Diapers Are Not Designed to Double Up
Should you double up on adult diapers? No. Many people think that if their diaper isn't holding enough liquid, they can add another one over it - this is a common misconception.
Remember that disposable diapers can absorb only so much liquid - they have their limits.
All disposable adult diapers have a waterproof lining. When doubling up diapers, any liquids that escape, will leak into the next possible area. In other words, leaks simply transfer from product to product. Wearers who double diapers end up with more leaks to clothing and added frustration.
Instead of doubling, we recommend using a higher quality, super absorbent adult diaper with tabs, such as MEGAMAX. Higher absorbency diapers can hold more liquid, so you don't have to worry about layering diapers over one another. You should only need to wear one diaper at a time, for comfort and sanitary purposes.
Booster pads are the only type of incontinence product that are meant to be doubled. These flow-through pads go inside adult diapers to boost their absorbency. NorthShore EternaDry Booster Pads come in various sizes and can fit into all diapers.
Takeaway
Do not double up on adult diapers because it will cause more leaks.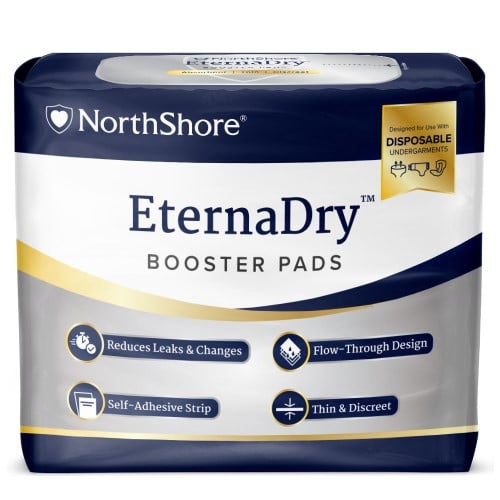 The Size of Your Adult Diaper May Cause More Leaks
If you are wearing an adult diaper in the wrong size, it can result in more leakage when doubling. If there is too much space near the leg areas or in the rear, this increases the chance of leaks. How do you prevent unwanted leaks?
Measure yourself with a tape measure. Waist sizes run differently among diaper brands. A small in one brand could mean a medium in another.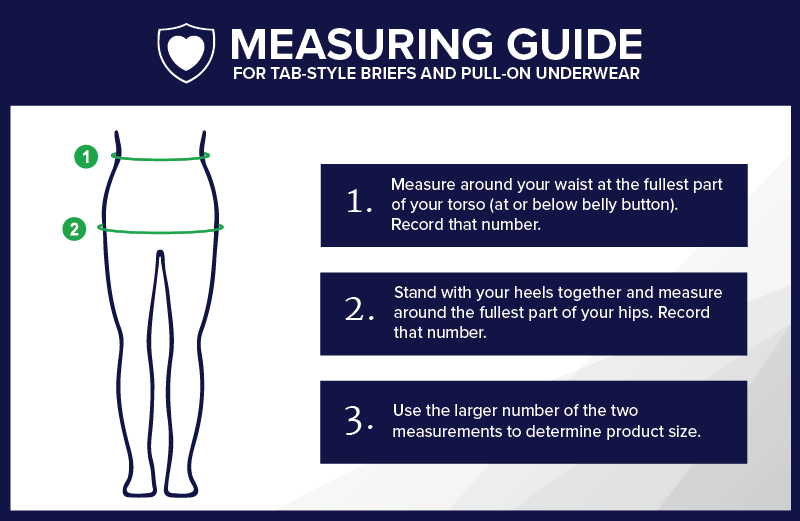 Guessing your size is risky when using adult diapers and other incontinence supplies. Oftentimes it causes more returns and stress.
Takeaway
Avoid using products that do not fit properly. Leakage happens when the fit is incorrect, especially when doubled. Find your size and use better-fitting products that contain leaks and feel comfortable.
Consider NorthShore's protective underwear with extra leakage protection. GoSupreme Underwear is designed for individuals with slim legs and offers smaller leg openings to prevent leaks.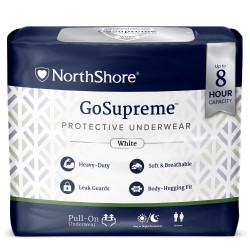 Using the Wrong Style of Adult Diapers May Cause More Leakage
Individuals wearing adult diapers or pull ups should feel comfortable and protected. Discomfort while moving, indicates the product is not the right style for your body type.
Individuals who manage bowel incontinence may want to consider Supreme tab-style briefs. These tabbed adult diapers offer a more secure fit around the leg areas and a strong plastic exterior to contain odors. The tabs and plastic backing give a closer fit and reduce odors.
Adults who prefer pull-on style products or who manage urinary incontinence, should consider GoSupreme. The underwear offers up to 8 hours of protection and a comfortable fit.
Takeaway
Wear a style that works for your incontinence needs and body type.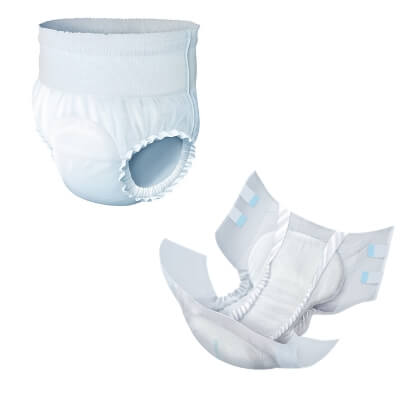 Doubling Up On Adult Diapers Is Costly
The more you double up on adult diapers, the more you ultimately spend. Calculate how many diapers you typically use and how much you spend. Chances are, if you are doubling up, you are spending more than you need to. There are ways to find out how many diapers you are using and ways to save.
Remember that when you double up, you're not using the entirety of the second diaper. Only a small percentage of that diaper is being used to its full capacity.
We recommend using a more absorbent product, a booster pad, or diaper cover to prevent leaks.
These products are designed to be layered. You save more on product costs and are more comfortable.
Takeaway
While it may seem like using multiple diapers is a solution for leaks, it is costly. Instead, use products that are designed to be layered such as booster pads and diaper covers.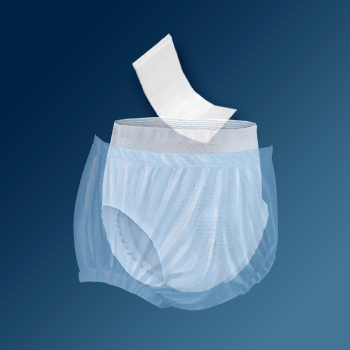 Bottom line - consider using super absorbent adult diapers rather than doubling up on flimsy products.
When using high-absorbency adult diapers, doubling up is not necessary.
If you are managing leakage from your current diaper, consider changing the fit, style, and absorbency.
Doubling up causes more leaks and added costs.
Use absorbent products like the GoSupreme or FlexSupreme Underwear that offer protection for longer periods of time. MEGAMAX Briefs are the most absorbent tabbed adult diapers and offer up to 12 hours of protection!
Our products contain features that help with locking in the heaviest leaks. The product's quick-wicking technology keeps people drier and gives them peace of mind.
Avoid doing things out of desperation. There are adult diapers available to help you feel your best. When you use quality adult diapers, you do not need to double up.
Learn about our tab-style adult diapers and pull-ons and prevent future leaks and nighttime changes.
Products Featured In This Article
Please login to access your saved items list. If you don't have an account, create one today to start your list.