MEGAMAX, The Most Absorbent Adult Diaper Ever – MEGA Protection, Stays Dry for Up to 12 Hours!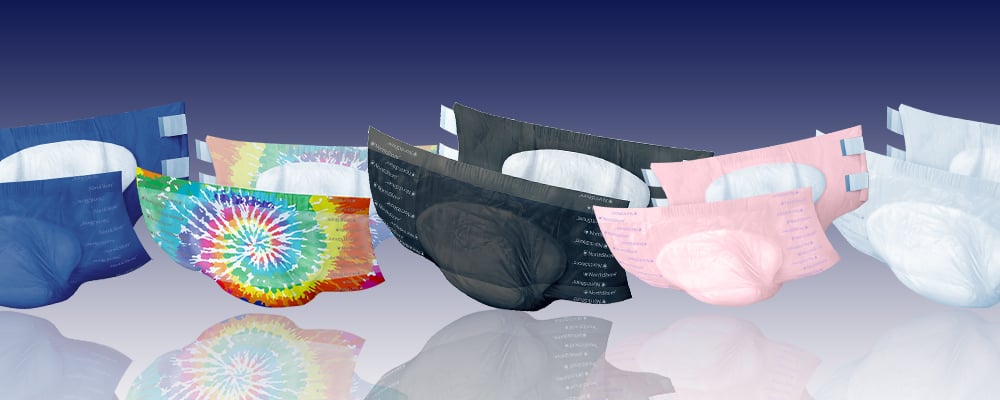 It's the day you leave for a trip to Italy. You are waiting to board the plane. Flying time is nine hours and 38 minutes. Boarding passes are in hand.
You manage heavy urinary and bowel incontinence.
You used to double diapers and worry about leaks when traveling long distances. But not anymore.
Now you wear the MEGAMAX diaper, the most absorbent adult diaper, and can travel carefree.
You no longer have to get up from your seat and change your diaper in the middle of the flight.
You can sit back and relax and listen to your favorite podcast.
Incontinence does not need to be stressful when you use the most absorbent adult diaper. No matter where you are on your journey, there is a diaper that can keep you feeling protected.
Learn more about MEGAMAX and why you should consider using it.
MEGAMAX, The Most Absorbent Adult Diaper
MEGAMAX adult diapers offer total protection from leaks, floods, and odors. The absorbent core has an absorbency of 6500ml. MEGAMAX is the first 12-hour adult diaper with tabs.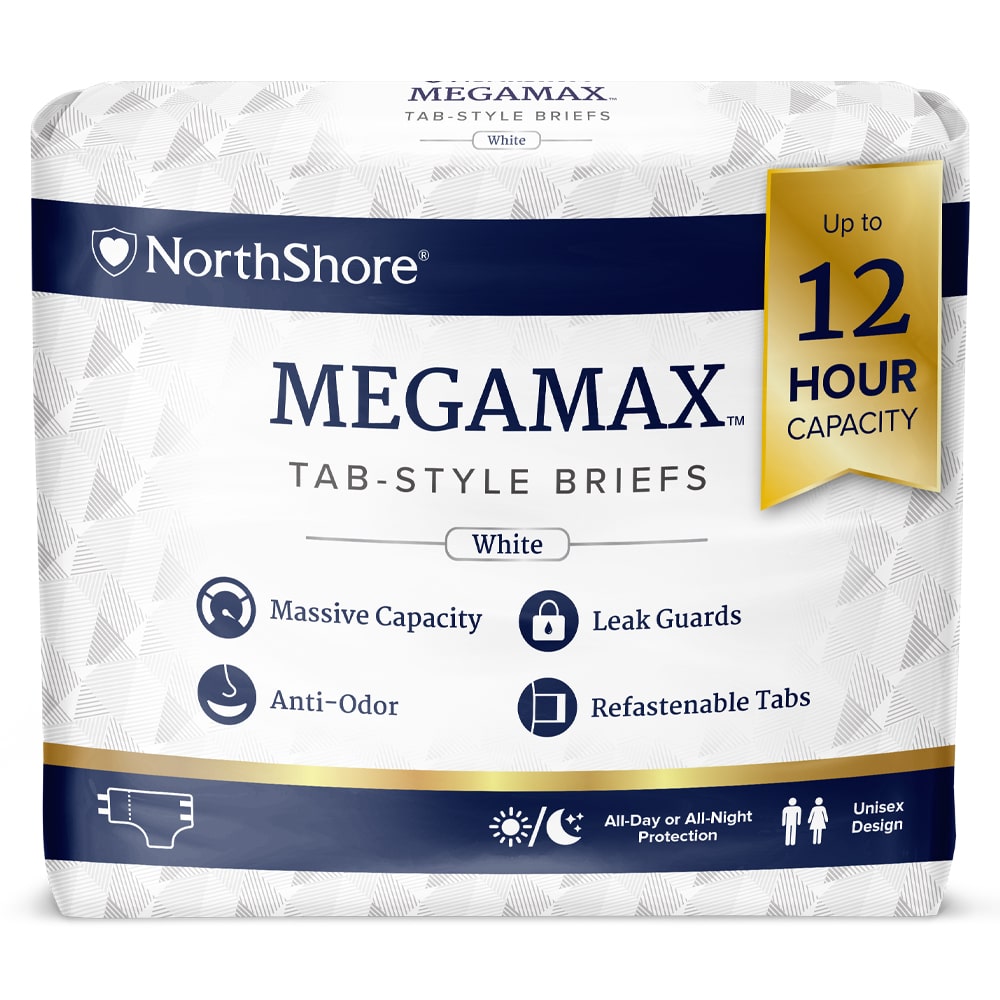 MEGAMAX can help people manage:
IBS (Irritable bowel disease)

IBD (Inflammatory bowel disease)

Total urinary/bowel incontinence

Crohn's disease

Bowel leakage
MEGAMAX Features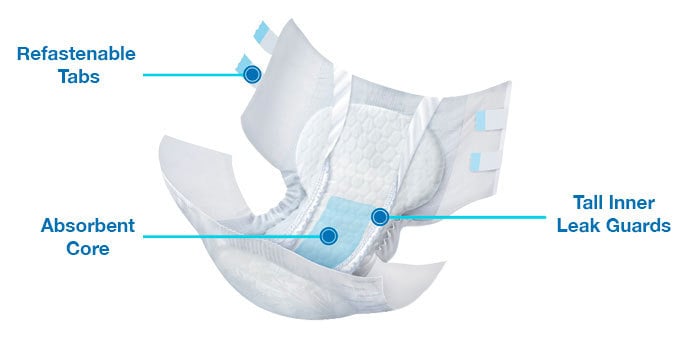 Security. Comfort. Peace of mind. Super absorbent adult diapers should offer all these to individuals. Think of the last time you wore an adult diaper. How did you feel wearing it? Did you feel secure? Did you feel protected? If the answer is no, the product is not the right product.
There may have been leaks on clothing, odors, or smells. Now there is an adult diaper that can prevent that.
Incredible Diaper Wicking
The Microsorb lining contains super-absorbent polymers. The polymers wick away liquid from the body and keep the user dry. Moisture can cause adult diaper rash. With MEGAMAX, the skin stays dry and prevents irritation to the skin.
Enhanced Leak Protection
Tall leak guards work as an extra barrier to prevent urine leaks. The guards prevent heavy bowel movements from escaping the brief. The guards are ideal for side sleepers and people who move around in bed at night.
Heavy-Duty Tabs
MEGAMAX diapers have larger tabs than average plastic-backed adult diapers. The tabs prevent the diaper from sagging and are strong enough that wearers can adjust during restroom changes.
"The MEGAMAX is the very best adult diaper on the market today. They have a very nice absorbent and comfortable lining with excellent tapes and backing, and nice elastic leg gathers which provide a comfortable fit and give me security when I need it most!"
-Cheri P., NorthShore Customer
Stylish Color Options
MEGAMAX not only offers ultimate leakage protection, but it also comes in colors. Adult diapers don't always need to look boring. Wearers can choose from blue, white, black, pink, and tie-dye.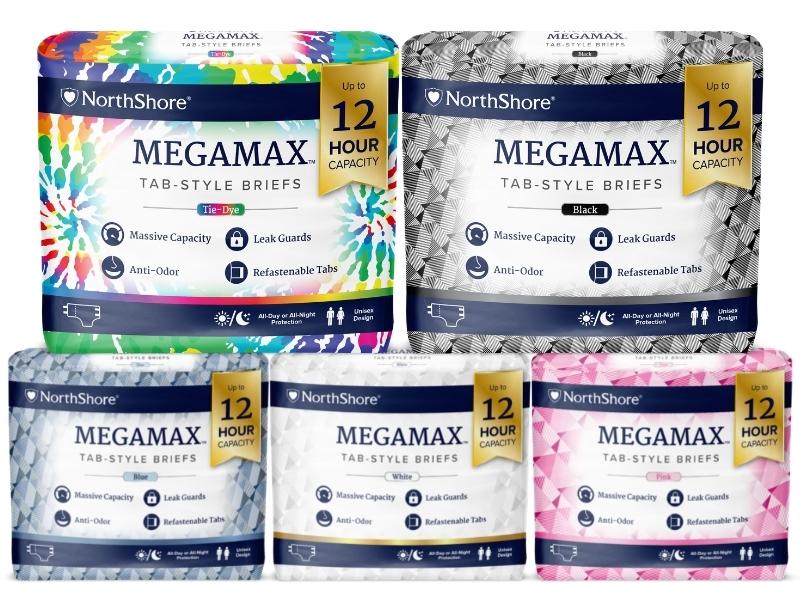 Choose a color that makes you feel good!
"Best overnight tab briefs ever! Rarely an accident overnight which saves on laundry. Love the Pink color."
Rose, NorthShore Customer
Individuals can enjoy a night of sleep without worrying about leaks. The brief also helps individuals caring for loved ones with incontinence.
Massive Absorbency (12-hour protection)
MEGAMAX is ideal for individuals looking for that one adult diaper they can wear to bed at night and wake up dry.
"I am incontinent at night, and these have been the best overnight diapers I have ever tried! They literally give you peace of mind all through the night. Thanks, NorthShore!"
-Dan T., NorthShore Customer
Here is how much MEGAMAX can hold: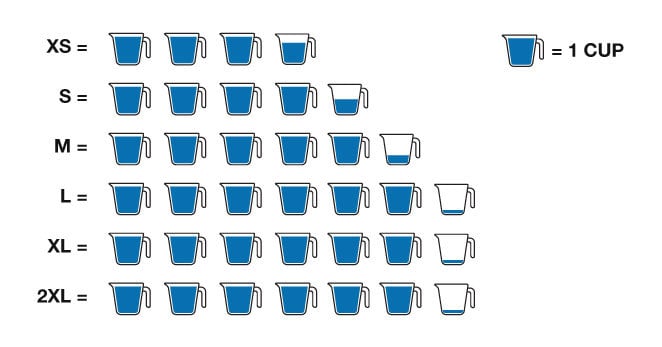 XS =30 oz or 3.75 cups
S =36 oz or 4.5 cup
M =42 oz or 5.25 cups
L =49 oz or 6.12 cups
XL =49 oz or 6.12 cups
2XL =49 oz or 6.12 cups
Absorbent Adult Diapers Caregivers Love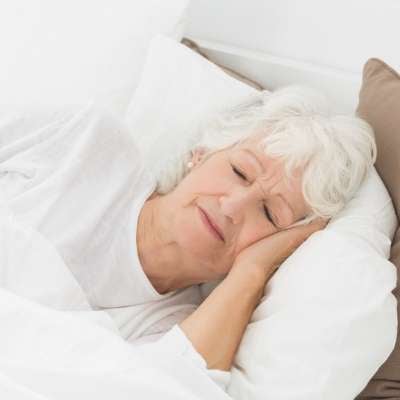 Caregivers know that dryness and comfort are a top priority when caring for relatives. Caregivers can now use the most absorbent adult diaper that will last all night.
How else do MEGAMAX adult diapers help caregivers?
Savings on the cost of adult diapers

Decrease in nighttime product changes

Fewer linen changes

Increased mood and quality of life for loved ones

Improved skin health
"NorthShore diapers have allowed many of my patients to sleep uninterrupted due to fast-wicking and have better absorbency than other diapers. The big game-changer is patients use fewer diapers, and they have to change less, allowing the patients to rest more comfortably. The MEGAMAX is the best diaper out there."
-Wanda F., NorthShore Customer
Find Out If MEGAMAX is the Diaper For You
Curious if MEGAMAX is the diaper for you? Take our product finder quiz to find out.

The most absorbent adult diaper is here. MEGAMAX offers adults of all ages peace of mind and protection that no other diaper offers. MEGAMAX is the first of its kind offering total protection for the heaviest leaks.
Start living life leak-free. Shop MEGAMAX diapers online or call (800) 563-0161.

Thank you so much for reading our blogs!

Did you know NorthShore has helped millions of people manage incontinence with life-changing absorbent products? It's so amazing to hear their stories.

We also want you to know we have trained product advocates that provide a personal experience by working with each customer to find the best product for their situation.

Find out for yourself today!
To get in touch, simply provide your contact details below and your personal product advocate will reach out.


---
Top Seller
Starting at $13.99 FSA/HSA Eligible
Please login to access your saved items list. If you don't have an account, create one today to start your list.