Managing Bowel Leaks? Learn the Best Men's Diapers for Fecal Incontinence. Stay Dry and Confident.
It's a crisp, fall Sunday afternoon. A group of men meet at a nearby stadium to watch a football game. A player kicks and makes a point. The sound of the crowd fills the stadium. During the first quarter, one of the men feels sharp cramps and gets up from his seat. He runs through the aisle to get downstairs. He rushes past a crowd of football fans and finally reaches the men's restroom.
Men managing IBS or other bowel incontinence may experience situations like this often. Fecal incontinence can result from other health issues or recent prostate surgery.
Many men stay at home, worried about leaks to avoid embarrassing situations. Some men detach from outings and events with friends. This does not have to be you. You can have an active life with friends while managing bowel incontinence.
Men's incontinence products include tab-style briefs, pull-ons, and pads. These products can help contain leaks and smells. Best of all, they help men feel more confident. There are trusted products that help men stay connected with friends without having to cancel on plans. Learn about the best bowel incontinence products for men NorthShore.com.
Men's Incontinence Products
What products can men wear for incontinence? Today, there are briefs, underwear and pads available to contain leaks of all sizes. The key is selecting a product in the right style, size, and absorbency. When managing bowel leaks, men should consider products that offer enough coverage in the back. We will discuss those specific products below.
Tab-style briefs offer a tighter fit around the legs and can adjust as needed. Protective underwear resembles regular underwear. Men who may not need as much protection may enjoy using absorbent pads. What style is best for your situation? We hope to help you answer that question with the tips and information in this article.
Fecal Incontinence Products for Men: Things to Consider
Men should consider their type of bowel incontinence when selecting products. Are bowel movements large or small? Solid or watery? How often are bowel movements? This information helps find the right bowel incontinence product.
Tab-style briefs and pull-ons are the most absorbent products. They offer more protection for bowel leaks. Men looking for a premium product should first consider briefs (adult diapers with tabs).
Other things to keep in mind:
Plastic-backed briefs are best for containing odors and preventing sagging
Men's Diapers for Bowel Incontinence
If you are looking for a tab-style adult diaper, consider MEGAMAX Briefs. They are ideal for containing total bowel voids. Their waterproof, heavy-duty plastic exterior helps with odors from bowel movements. How powerful are they? They provide total lockdown protection from leaks, floods and odors.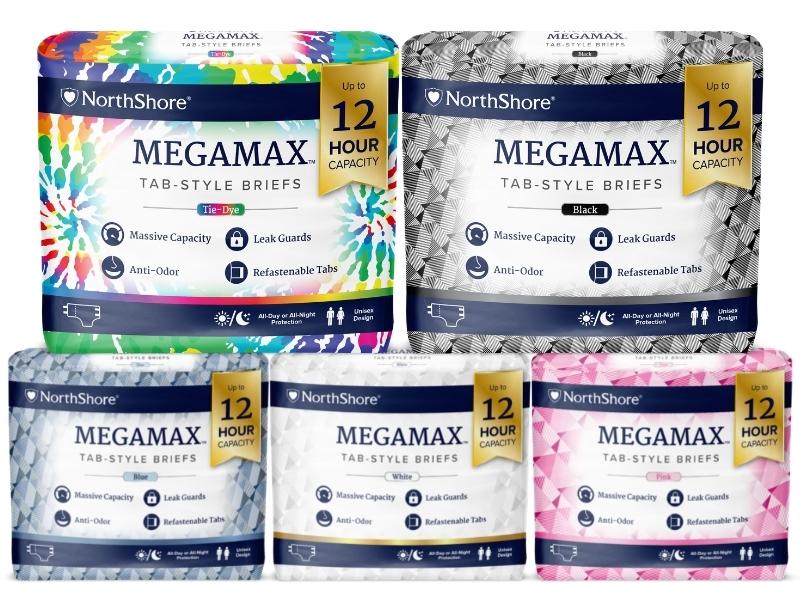 Other features of MEGAMAX:
Super-strong, refastenable tabs
Tall leak guards for added security against leaks
Large, wide core for heavy bowel leakage
Body-close elastics in the front and rear
Up to 12 hours of protection
Great for:
Men with heavy bowel movements
Men managing IBS, IBD, or Crohn's disease
Managing frequent diarrhea or loose stools
"The MEGAMAX Briefs are the only product I have found that completely holds bowel and urine incontinence through the night."
-John P., Verified NorthShore Buyer
Is pull-on style your preference? If so, GoSupreme protective underwear is a trusted option. GoSupreme is the top pull-on for adults managing heavy bowel incontinence. GoSupreme offers a more snug fit around the legs and waist, so protection is top-notch! With some pull-ons, the waistband can fit loose. GoSupreme's unique sizing provides comfort and protection for men with bowel incontinence.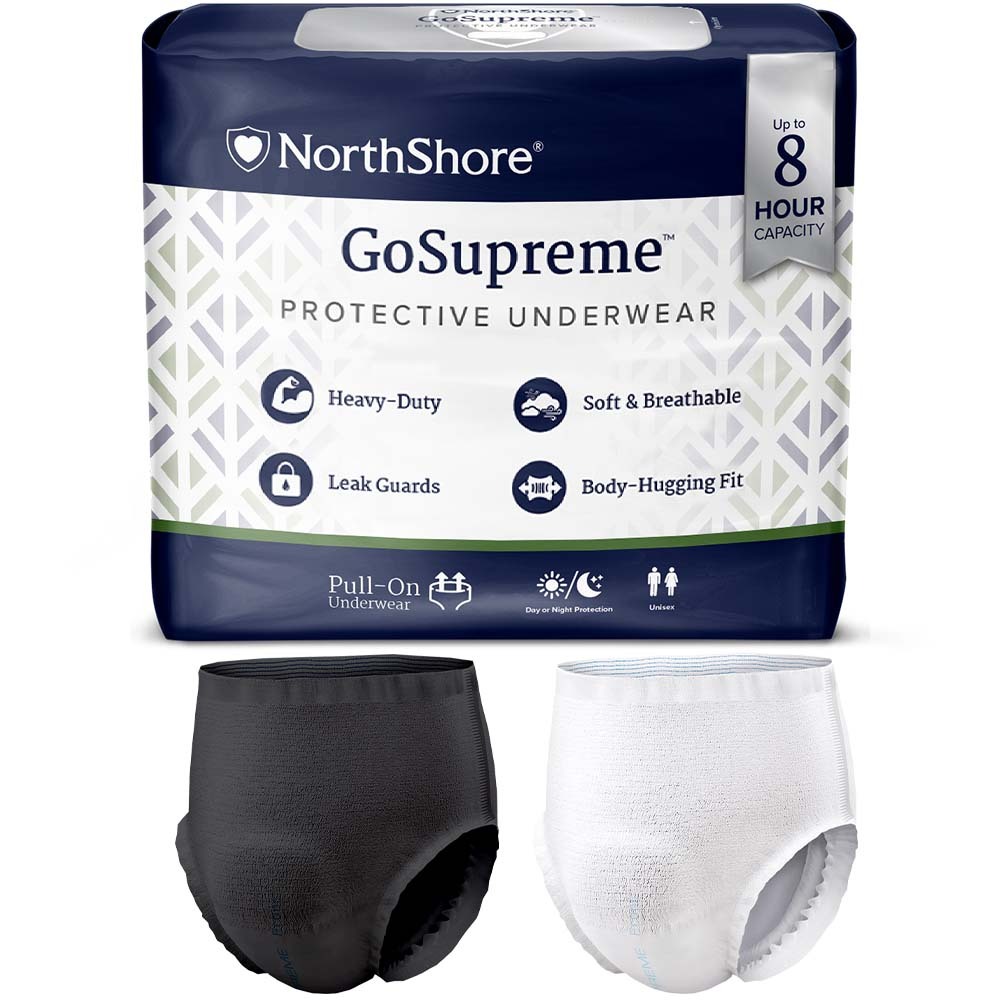 Other features of GoSupreme:
Dual leak guards for added leakage protection
A cloth-like but waterproof exterior
Narrow leg openings - ideal for men with thinner legs/thighs
Extra coverage in the front and rear
Up to 8 hours of protection
Great for:
Men who want the best bowel protection but prefer a pull-on
Managing light to moderate bowel leakage
Men who have thinner legs and thighs
"GoSupreme is snug and fits perfectly under my clothes. The absorbency is amazing and keeps you dry. Ten times better than thin Depends."
-Shawn L., Verified NorthShore Buyer
MEGAMAX and GoSupreme are the most reliable men's diapers for bowel incontinence. Compared to other brands like Abena and Tranquility, they are much more absorbent. Request samples if you are unsure which one to try.
Men's Pads for Bowel Incontinence
What about men who only need pads? There is a product for them too. Most bowel incontinence pads today are unisex, except for male guards. But pads for bowel incontinence are easy to use and super absorbent. Men can use pads in regular underwear.
DynaDry Supreme Pads are the only pads that protect against urinary and bowel leaks. They are extra long and wide enough to contain moderate bowel voids. DynaDry Supreme Pads offer a secure backing that fits snugly in briefs. Note that pads work best with close-fitting underwear.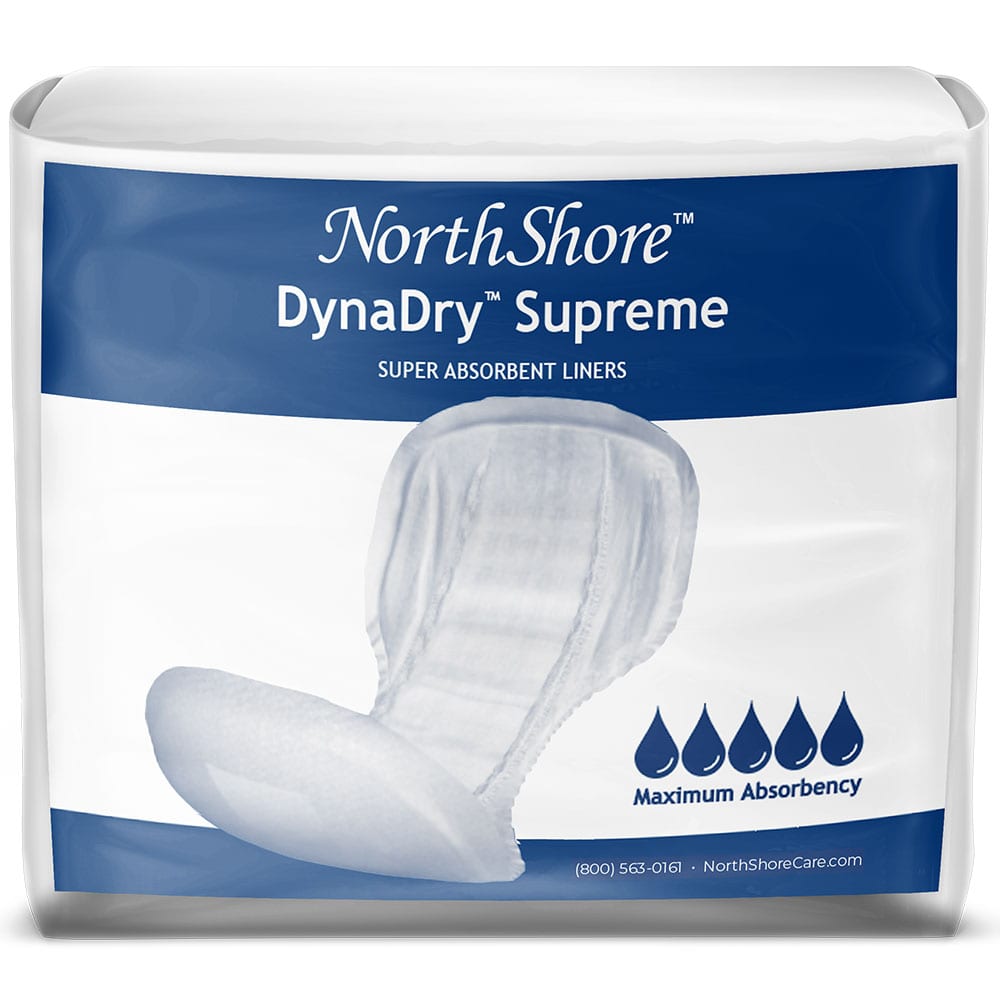 Other features of DynaDry Supreme Pads:
Rustle-free material for discretion
Figure-8 shape contours to the body
Available in sizes Medium to 2XL
Great for:
Men with light bowel leaks
Men who are interested in using a product with their regular underwear
"Best I have found. Provide leak-free protection longer, approx. 25%, than any other brand."
-Bruce R., Verified NorthShore Buyer
Men have options when selecting reliable and leak-proof products. NorthShore's free sample program is available to help men find a product for their needs. Men can get peace of mind when using their incontinence products. There is no need to feel shame or embarrassment managing bowel leakage. There are products to keep men doing the things they love, like attending social events with friends, without the leaks.
Learn more about NorthShore's male incontinence products or call us at (800) 563-0161.


Thank you so much for reading our blogs!

Did you know NorthShore has helped millions of people manage incontinence with life-changing absorbent products? It's so amazing to hear their stories.

We also want you to know we have trained product advocates that provide a personal experience by working with each customer to find the best product for their situation.

Find out for yourself today!
To get in touch, simply provide your contact details below and your personal product advocate will reach out.


---
Products Featured In This Article
Top Seller
Starting at $13.99 FSA/HSA Eligible
Top Seller
Starting at $8.99 FSA/HSA Eligible
Top Seller
Starting at $4.99 FSA/HSA Eligible
Please login to access your saved items list. If you don't have an account, create one today to start your list.