5 Products to Help Manage Irritable Bowel Syndrome (IBS)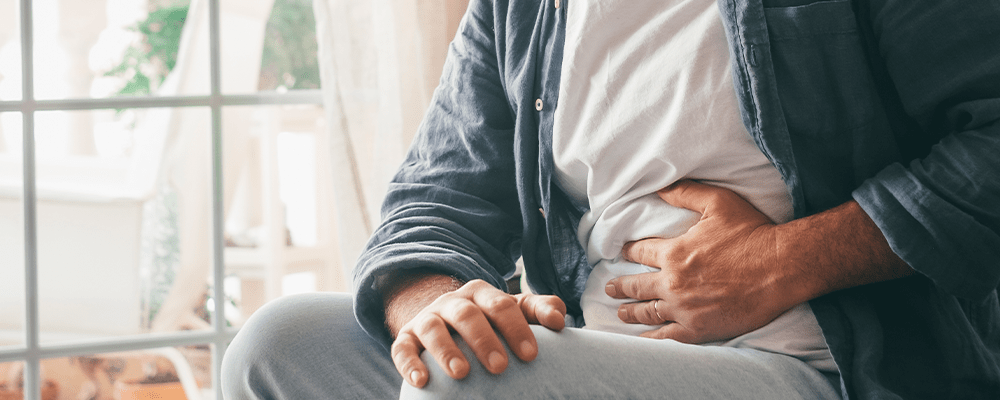 Cramps. Diarrhea. Gas. Lack of energy. Symptoms such as these can be associated with IBS. Bowel incontinence can also be a symptom of IBS. Whether you are managing light or heavier stool, there are diapers for you. Products that help with containing leaks and odors, so you can feel less worried when you are out in public.
If you are managing leaks and have not found a product that works, consider NorthShore's adult diapers for IBS. Adult diapers offer individuals peace of mind and protection. Some diapers can offer a better fit around the legs and thighs, where leaks usually occur.
The right products can make all the difference. Quality products should protect against leakage and provide comfort and dignity. The best adult diapers for IBS are ones that feel comfortable and contain leaks.
Discover products that provide protection and comfort for individuals managing IBS.
Adult Diapers for IBS (Tab-Style)
When selecting adult diapers for IBS, consider tab-style briefs. Adult diapers with tabs allow the wearer to adjust the fit. Tab-style briefs have a cloth-like and plastic backing. For managing bowel leaks, we recommend selecting a brief with a plastic exterior. The plastic shell helps contain any odors from diarrhea and solid bowel movements.
Supreme Briefs are a customer favorite. The absorbency and fit allow individuals managing bowel incontinence more security. Supreme Briefs offer protection for up to 8 hours, making them a great day or nighttime option.
Supreme Features include:
Coverage in the front and rear
Tall stand-up leak guards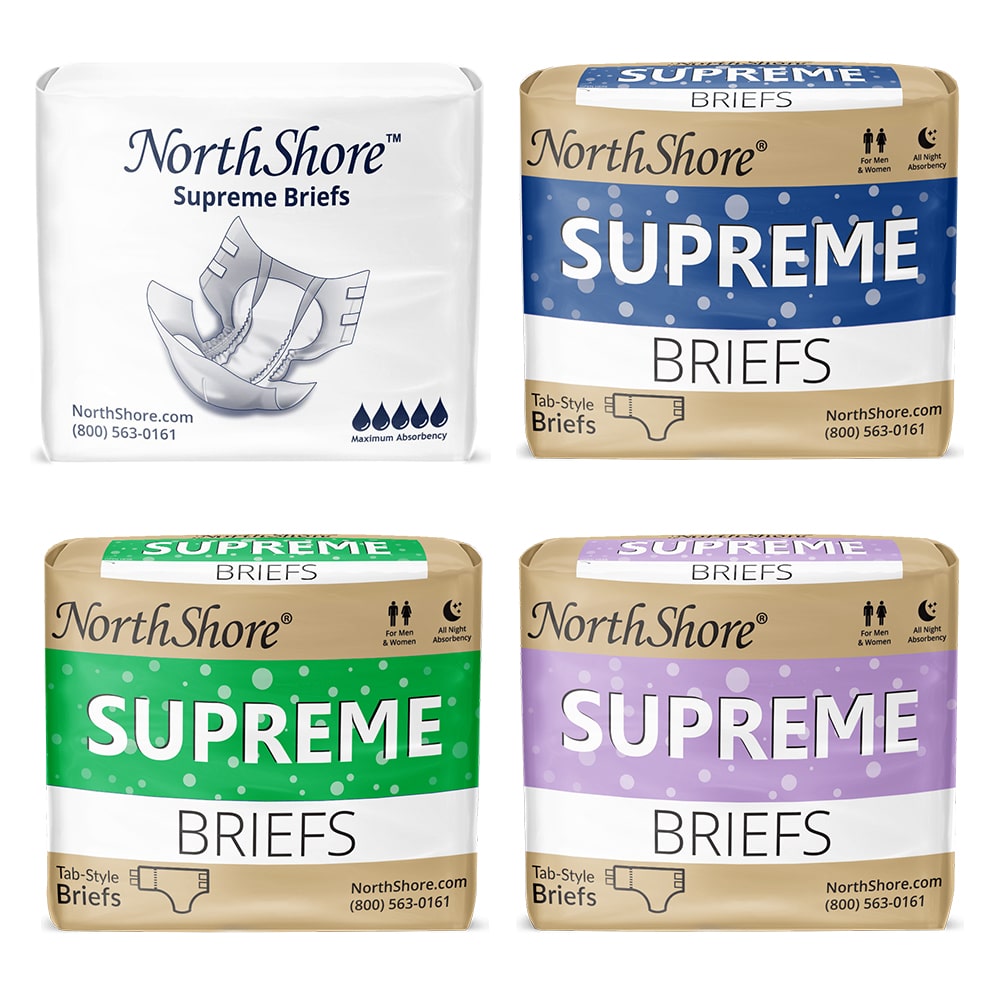 "The tall leak guards help prevent urine leaks, and on the rare occasion I have a bowel accident, they hold everything safely inside. The rear waistband also prevents rear BM blowouts. I'm very active and these do everything I need an adult diaper to do. I feel so confident when I'm wearing Supremes, I love them."
-Ian, F. Verified NorthShore Reviewer
NorthShore Supreme Lite Briefs
Supreme Lite briefs are 20% lighter than Supreme briefs. They still feature premium protection for bowel containment. If you are looking for a daytime diaper, consider this product.
Supreme Lite Features: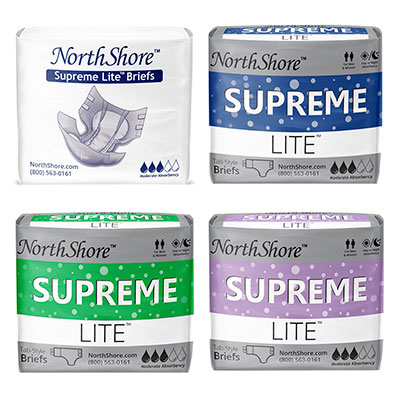 "I have heavy urinary incontinence, and occasional bowel accidents, so I have to wear diapers. When that need arises, I turn to the Northshore Supreme or Supreme Lite depending on how much capacity I need (time between changes, severity, frequency of accidents, etc.). They are the most comfortable, absorbent, and reliable disposable diapers I've used."
-Mike, T. Verified NorthShore Reviewer
These are the most absorbent briefs on NorthShore. MEGAMAX has MEGA absorbency. MEGAMAX offers up to 12 hours of total lockdown protection day and night. If you are managing heavy bowel leaks, this brief is for you.
MEGAMAX Features:
An extra wide absorbent core
Strong plastic (for odor control)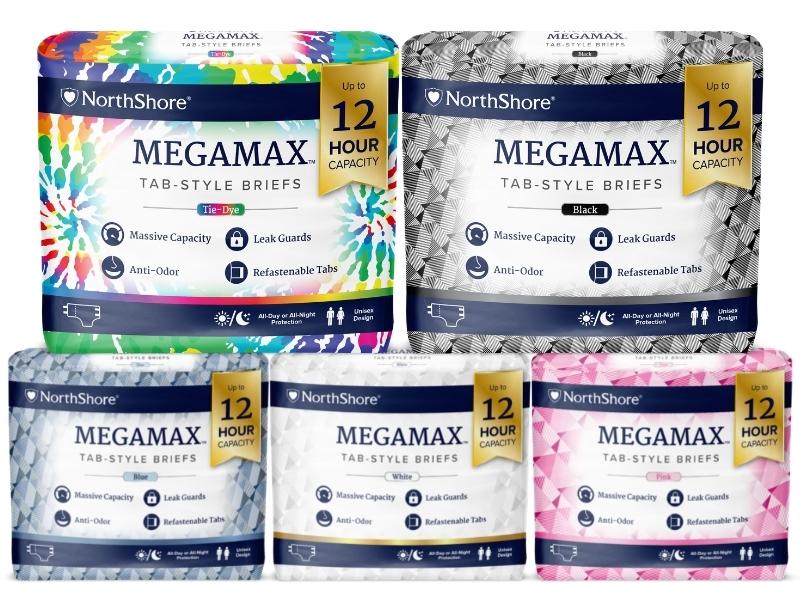 When individuals use quality products, managing IBS is more manageable. Pull up style underwear is another option for individuals managing IBS.
Underwear for IBS
Adult pull ups can help in managing bowel leaks from IBS. Incontinence underwear is only offered in a cloth-like backing. The cloth-like exterior can effectively contain urine and loose bowel movements.
GoSupreme Protective Underwear
What is the best underwear for IBS? GoSupreme. GoSupreme offers up to 3x the absorbency of leading store pull ups. GoSupreme Underwear provides top-of-the-line comfort, absorbency, and fit. Coverage in the front, rear, and sides of the product help to contain leaks.
GoSupreme Features: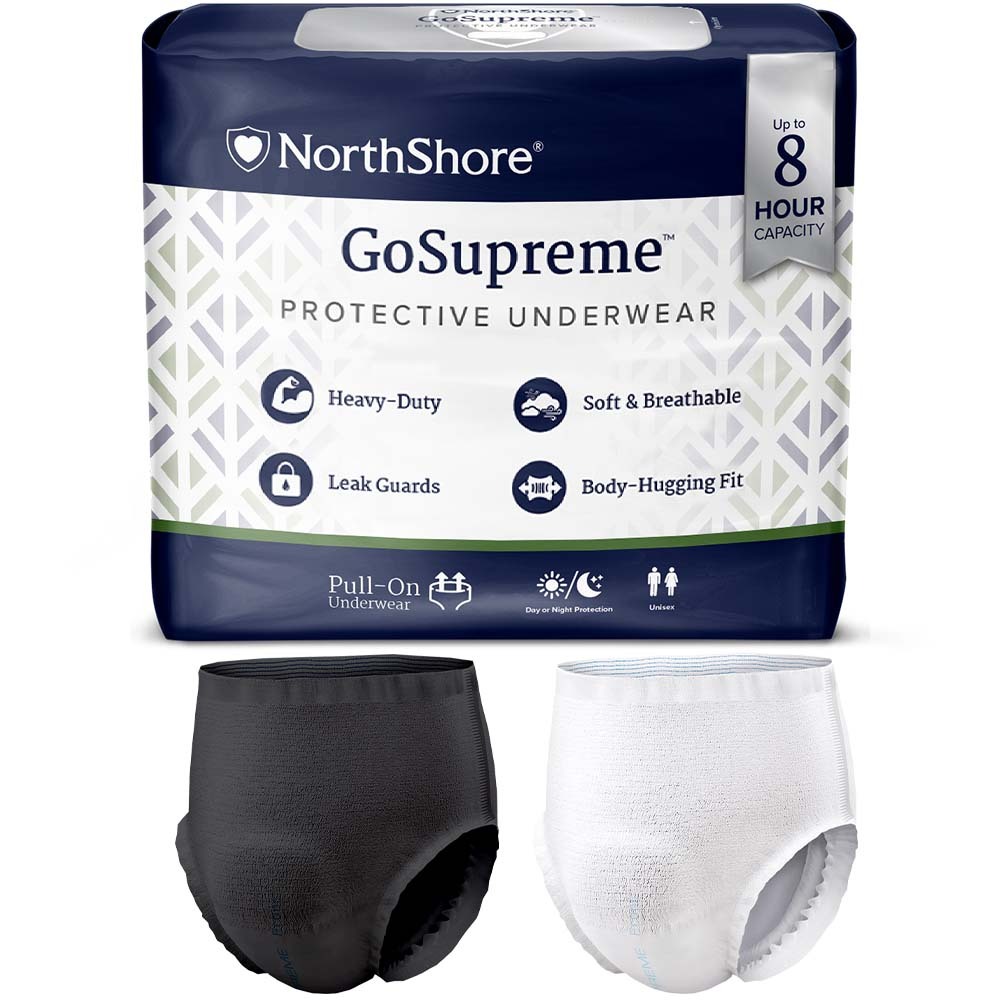 "I was looking for a quality pull up for loose bowels and the representative suggested GoSupreme Pull-On Underwear. The double leak guards and longer padding up back are key. I found the underwear to be very comfortable in size and discreteness. The product works well. The sizing for me was perfect."
-Dave, R. Verified NorthShore Buyer
Incontinence Supplies for Managing IBS



When managing bowel leaks, supplies can help with more protection. Learn about booster pads and covers to use any time of the day.
Booster pads add a layer of absorbency to a diaper. Boosters can extend the life of a diaper by absorbing more liquid. The contoured size provides coverage in the back for loose stools and bowel movements.
EternaDry Booster Pads provide more absorbency than most other brands. You can also stack boosters for extra protection. Booster pads are not only for absorbing urine.
Check out the Booster Pad Sizing Guide to find the right pad for you or your loved one.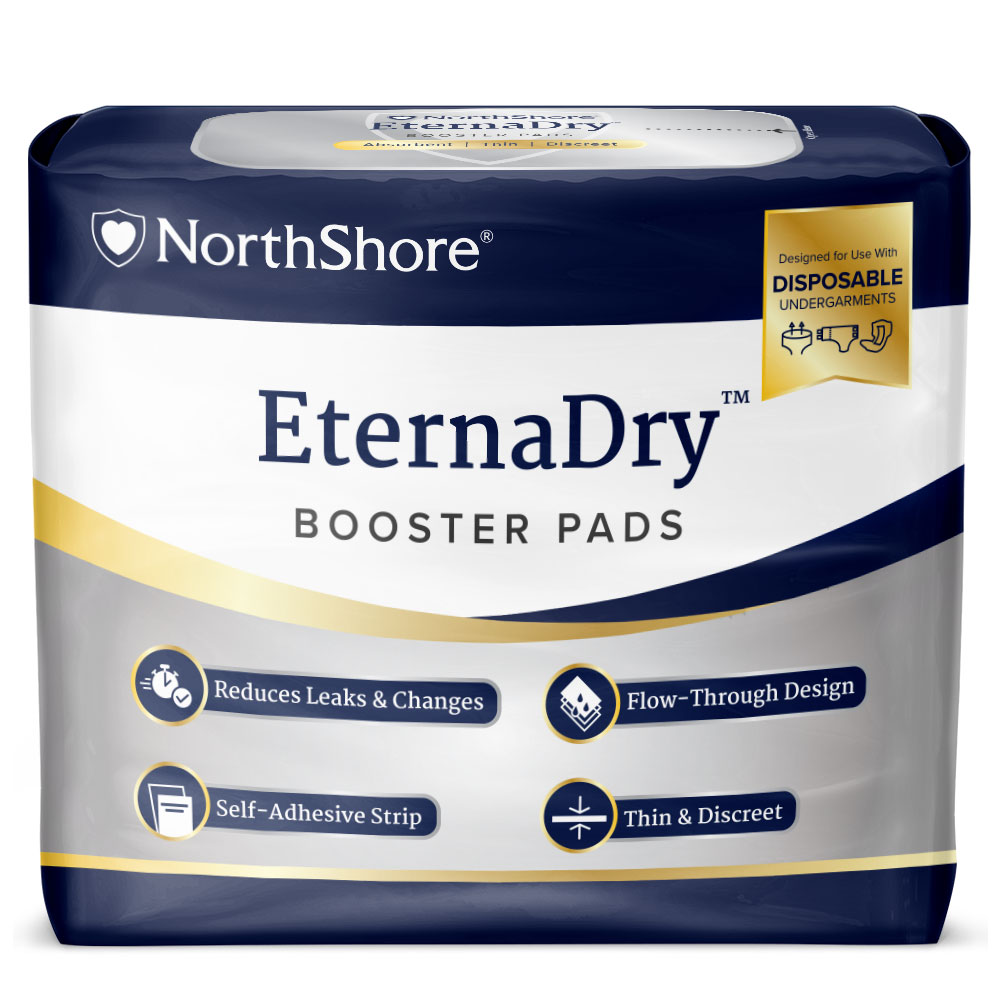 What is another way to protect against bowel leaks? Diaper covers. Covers act as an additional leak-proof barrier when wearing adult diapers.
TRIFECTA covers are made with polyurethane laminated polyester. The breathable material keeps the skin cool. TRIFECTA covers are waterproof, washable, and latex-free. Diaper covers are a great way to prevent bowel leaks from getting onto clothing. Measure accordingly. The size of the hips and thighs matters when selecting this product.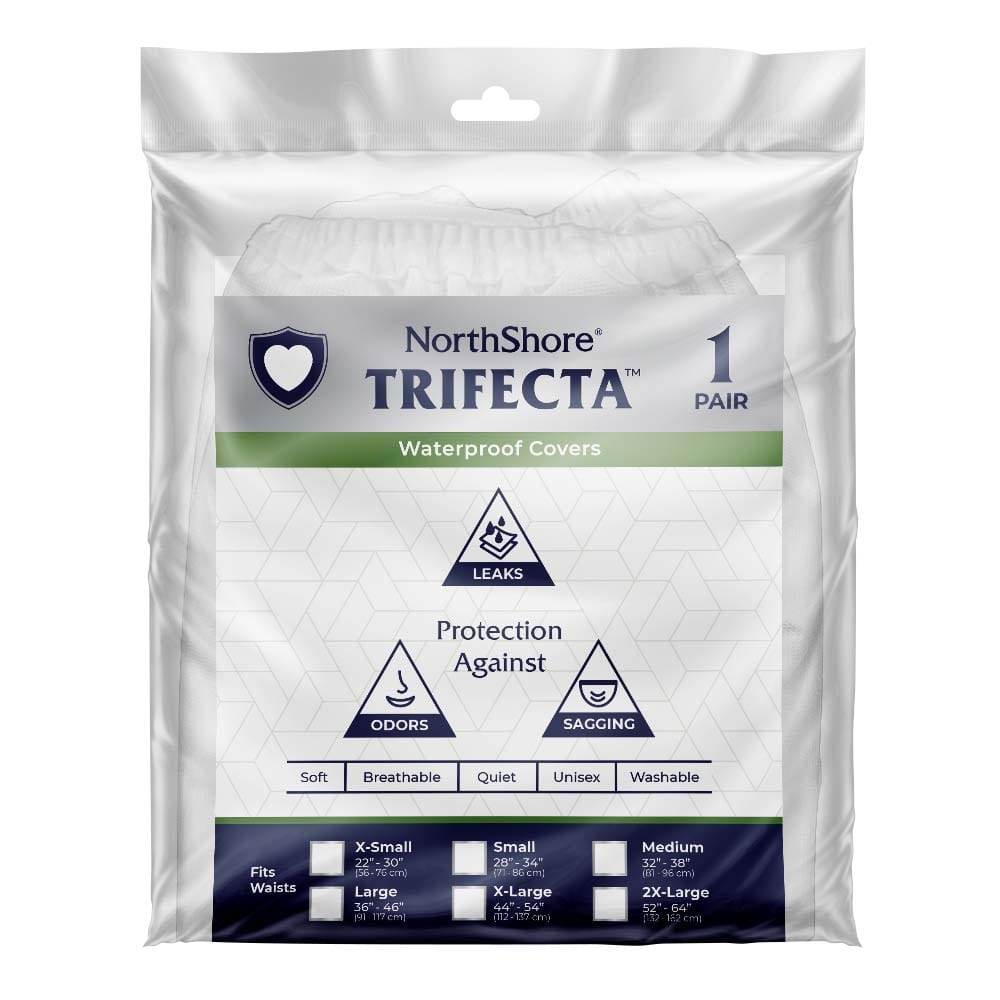 Bowel leakage can be challenging for the individual managing IBS. Use the most reliable adult diapers for IBS. Supreme and MEGAMAX provide the most security and protection. Their absorbency and ability to wick wetness from the body help individuals leak-free. No matter where you are on your journey with IBS, NorthShore has products to help you stay protected.
Shop the best adult diapers for IBS on
NorthShore.com
or call us at (800) 563-0161.

Thank you so much for reading our blogs!

Did you know NorthShore has helped millions of people manage incontinence with life-changing absorbent products? It's so amazing to hear their stories.

We also want you to know we have trained product advocates that provide a personal experience by working with each customer to find the best product for their situation.

Find out for yourself today!
To get in touch, simply provide your contact details below and your personal product advocate will reach out.


---
Shop Incontinence Products
Please login to access your saved items list. If you don't have an account, create one today to start your list.