Adult Diapers for Women That Actually Work, Contain Leaks, and Feel Comfortable During Any Time Of Day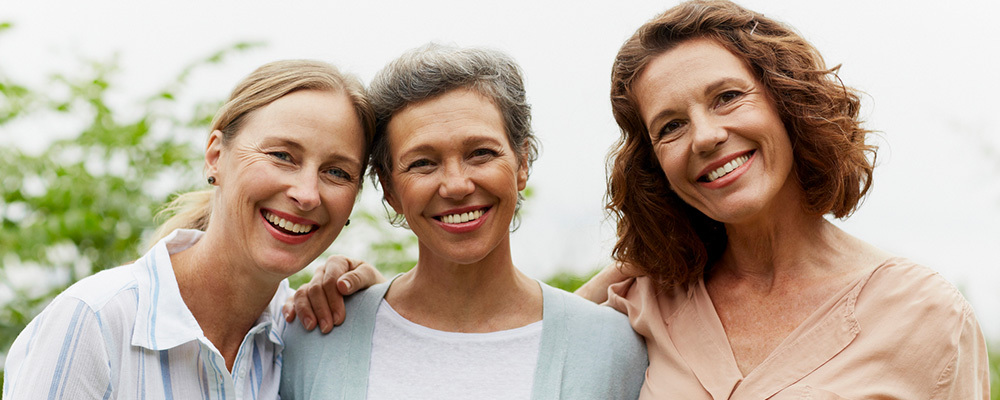 Ladies, have you had to leave early from an outing because you were afraid of leaking in public?
It goes something like this. You and your girlfriend meet up at a local cafe. You order your food and find a table near the bathroom. When you sit down, something doesn't feel right. You start to panic and think of an excuse to leave.
Moral of the story? Wearing the right women's diapers matters.
When products don't contain leaks you feel anxious. You stress about going out in public. You calculate how many hours you think you have before a leak happens.
What can you do?
Use better quality, form-fitting women's diapers. Diapers that fit your body and contain leaks. You may have tried other women's diapers. The truth is most of the options at your local Kroger, Rite Aid, or Walgreens don't offer the best protection.
Why? Because those brands focus on women who have lighter or stress incontinence. That's why those products don't hold as much liquid.
So if you are not happy with these brands, then it's time to use more absorbent adult diapers. Diapers that keep you feeling confident and less worried about leaks.
In this article, we will talk about our best adult diapers for women. Women's disposable pull up diapers.
We will explain features and what to consider when shopping for these products. The more information you have, the closer you are to finding a leak-proof product. Are you ready to say goodbye to leaks?

Tips to Consider When Selecting Women's Diapers
Diapers for women come in different sizes and absorbencies. You want to select a product that fits and offers enough absorbency.
Take notes on the following questions to help you find your best product.
Incontinence level - How heavy are your leaks? Moderate or heavy?
Incontinence type - Are you managing urine or bowel leaks too?
Sizing - Take measurements of your waist to get the best sizing.
When do you need protection? Day, nighttime, or both?
Note: If you manage heavy bowel incontinence, you may want to try adult diapers with tabs. Tab diapers give you a tighter fit around the leg areas.
These answers will help you find the best diaper and save you time and money.
Did you know there are women's diapers that offer up to 8 hours of incontinence protection? GoSupreme Underwear is a unisex diaper, but thousands of women use it. GoSupreme offers quality leakage protection with comfort in mind. Are you a woman who sleeps on her side? Leak guards inside the product can help keep sheets dry. Women can enjoy feeling comfortable and dry with GoSupreme - day and night.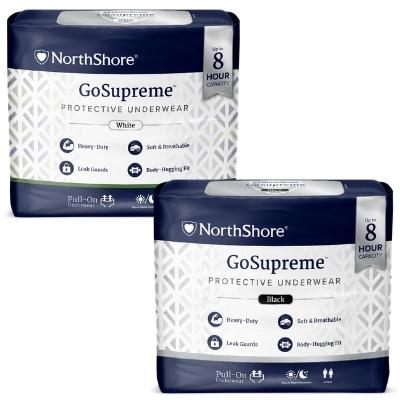 GoSupreme Underwear offers:
A comfortable, body-gripping waistband
Smaller, form-fitting leg openings
Premium protection for heavy urinary and bowel leaks
"GoSupreme absorbs a lot of urine and works well overnight. They fit comfortably and do not leak. The best underwear I've found for all-day use."
-Kathryn K., Verified NorthShore Buyer
Well-known women's disposable incontinence underwear comes in pink with feminine designs. They appear to look and feel like regular underwear. Yet, most of the time, these diapers lack absorbency. Luckily, FlexSupreme Underwear is available. FlexSupreme offers up to 8 hours of leakage protection. The underwear is breathable and waterproof. Women can use FlexSupreme day and night.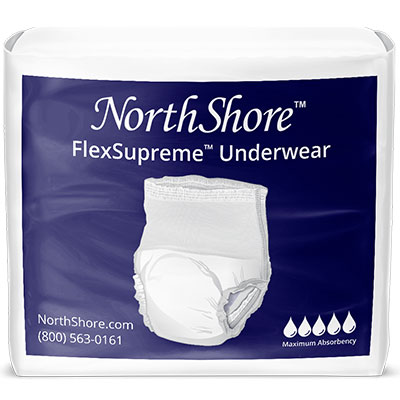 FlexSupreme offers:
A comfortable, body-hugging waistband
Protection for heavy urinary leaks
"Best underwear for comfort, dryness as well as fit and sturdiness. I tried a trial pack first and then ordered."
-Jeanne T., Verified NorthShore Buyer
GoSupreme Lite Underwear
Women who want a lightweight pull up should consider GoSupreme Lite. It offers the same great qualities as the GoSupreme without the bulk. GoSupreme Lite Underwear offers up to 6 hours of protection, making it a great daytime pull on.
GoSupreme Lites offer:
A low-profile, secure fit
An array of sizes - Medium to 2XL
Comfortable elastic near the leg openings
Protection for moderate urinary and bowel incontinence
"I use GoSupreme Lites for urge incontinence when I am not going to be close to a restroom for a while. They are comfortable, breathable, and keep me dry. They also work well while exercising - they are not in the way when hiking or on a long-distance run."
-Mariella F., Verified NorthShore Buyer
Are you not sure which product to try? Review the comparison chart below.
Women's Diapers Comparison Chart

At NorthShore, we are passionate about helping individuals find a product that works. We want our customers to live life to the fullest while managing incontinence. The comparison chart reviews the top features of each underwear. If you are unsure about which one to buy, request samples online.
Effective women's diapers contain heavy leaks and feel comfortable. Simple as that. You'll know the product is successful when you feel less stressed. You also won't worry as much about leaking when you're outside the house. There are pull ups that you can use any day. Depending on your situation and what type of protection you need, there are options for you.
Ladies, it's time to use better quality products. The next time you go to a cafe, you won't have to worry about leaving early. You can sit and enjoy catching up with your friend. What other wonderful things can you do with leak-proof adult diapers? Travel to see a family member, walk around your neighborhood, or play pickleball. The options are endless.
Start living life with confidence, use absorbent women's diapers! For questions on these products visit
NorthShore.com
or call (800) 563-0161.


Thank you so much for reading our blogs!

Did you know NorthShore has helped millions of people manage incontinence with life-changing absorbent products? It's so amazing to hear their stories.

We also want you to know we have trained product advocates that provide a personal experience by working with each customer to find the best product for their situation.

Find out for yourself today!
To get in touch, simply provide your contact details below and your personal product advocate will reach out.


---
Products Featured In this Article
Top Seller
Starting at $8.99 FSA/HSA Eligible
Starting at $0.00 FSA/HSA Eligible
Staff Pick
Starting at $7.25 FSA/HSA Eligible
Please login to access your saved items list. If you don't have an account, create one today to start your list.