Incontinence & Anxiety: 7 Ways to Reduce Stress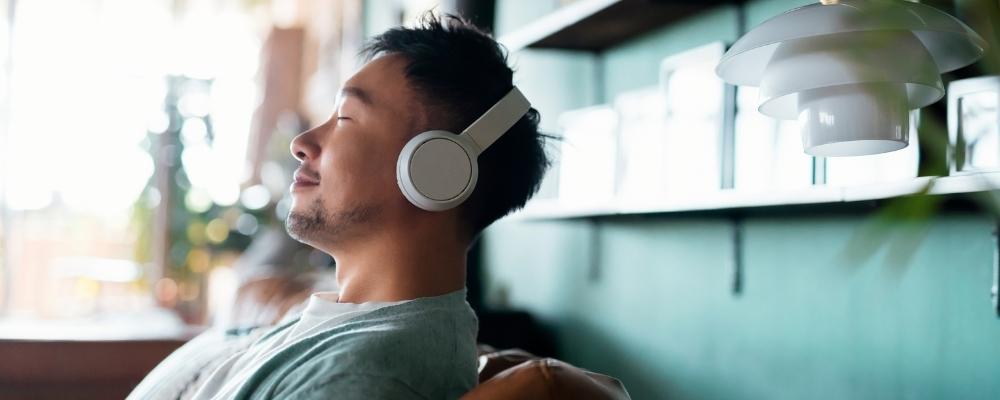 Sweaty palms. Racing heartbeat. Dry mouth. These are some of the more common side effects of anxiety. Although everyone experiences stress differently, it is almost a certainty people will feel it at some point in their lives.

According to Healthline, anxiety is usually caused by genetic and environmental factors. Major life events, loss of a family member and issues at work are at the top of the list as reasons why individuals may feel anxious. Anxiety is a common problem and one of the most prevalent forms of medical illness among adults age 60 and older, according to Harvard Medical School.

Anxiety and urinary incontinence are a two-way street, according to the National Association for Continence (NAFC). They interact and exacerbate each other with anxiety being a risk factor for developing stress incontinence.
The same appears to be true with other mental health issues, including depression, which is also a risk factor for developing incontinence. Several studies have linked depression to bladder leaks among women in particular. And, people with pelvic floor disorders are three times more likely to experience depression than the general population.

While it is impossible to remove all stressors in life, learning how to de-stress and addressing issues can be helpful. Identifying the cause of anxiety is usually a good first step.
Common Causes of Anxiety
Chronic health issues

Issues at work and/or home

Concerns with children

Trouble sleeping

Medication side effects
For Seniors
Poor and/or failing health

Decline in memory

Pain

Lack of sleep

Medication administration
When left untreated for long periods of time, anxiety can be very harmful to the mind and body. That's why it is important to try and lessen the stressors in our lives as much as possible.
7 Ways to Reduce Stress
Exercise - This is one of the most effective ways to relieve stress and anxiety. Calming exercises have proved to be beneficial in relieving anxiety. Low-impact physical activity such as walking can be just as beneficial as high-impact alternatives. The Anxiety and Depression Associaton of America (ADAA) also recommends practicing breathing exercises: Take some slow and even breaths for immediate relief. Mental exercises such as counting can also relieve stress. Count from 1-20, focus on breathing steadily and repeat a few times. Yoga is another gentle form of exercise that is recommended.



Start a Hobby - Read a book, listen to a podcast series, fish, play an instrument or start gardening. Hobbies tend to bring joy to people's lives and help relieve anxiety. Listening to soothing music is yet another great way to relax and calm an over-anxious mind.



Hire a Cleaning Service, Caregiver or Helper - If a 'to do' list is causing stress, consider getting someone to help around the house or run errands like picking up groceries if a delivery service is not an option. If you are someone caring for a loved one, hiring a caregiver could be a big help in getting some much-needed rest and support.



Get Organized - Setting routines and being organized has been found to have a calming effect. A cluttered schedule or home makes people anxious, according to Psychology Today. Clutter can lead to feelings of guilt about all of the things that should be organized and embarrassment when appointments are missed or home is messy.



Get Social Support - Loneliness is one of the prime causes of anxiety, in addition to physical ailments, diminishing mental health and chronic illnesses. Social isolation is often the result of someone not feeling good about themselves or their life. Individuals with incontinence may especially avoid socializing and physical activity outside the home, which can lead to a debilitating withdrawal from loved ones and living life to the fullest. Maintaining connections with friends and family can lead to increased happiness and fulfillment.



Seek Professional Help - When the activities above do not help and someone feels too overwhelmed, depressed and uninterested, seek professional help. Call a health care professional to get the care and attention needed to live life to the fullest.



Use Reliable Incontinence Products - Adult diapers, absorbent underwear and other incontinence supplies include special absorbing technology to wick away wetness and keep individuals dry. Managing incontinence can provide peace of mind and ease tension and stress about urine leaks and other incontinence issues.


Adult Diapers & Other Incontinence Products
NorthShore MEGAMAX Briefs – Ideal for those who have heavy and moderate to total bladder and/or bowel incontinence. These briefs are our most absorbent briefs with tabs and are available in a wide range of sizes.
Extra-wide, extra-long absorbent core

Smooth backsheet helps with odor containment

Refastenable tabs with full landing zone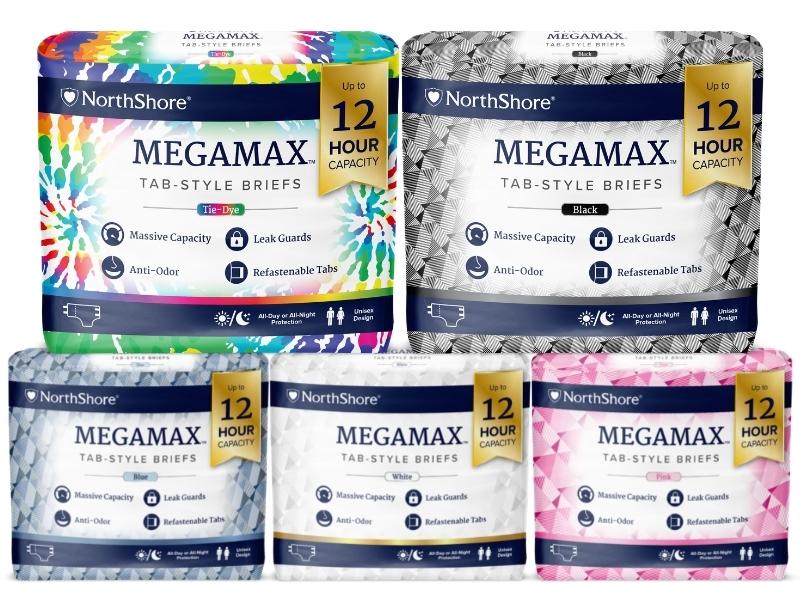 "These are my daily go-to product. They are the only briefs that give me peace of mind all day."
- Jarred T., NorthShore Customer

NorthShore GoSupreme Underwear – A form-fitting, super-absorbent adult pull-on designed for individuals managing moderate to heavy bladder and bowel leakage. The less bulky fit is ideal for more active individuals.
Dual Leak guards for added leak protection

Body-gripping elastics offer a comfortable fit

Low-profile design allows for discreet wear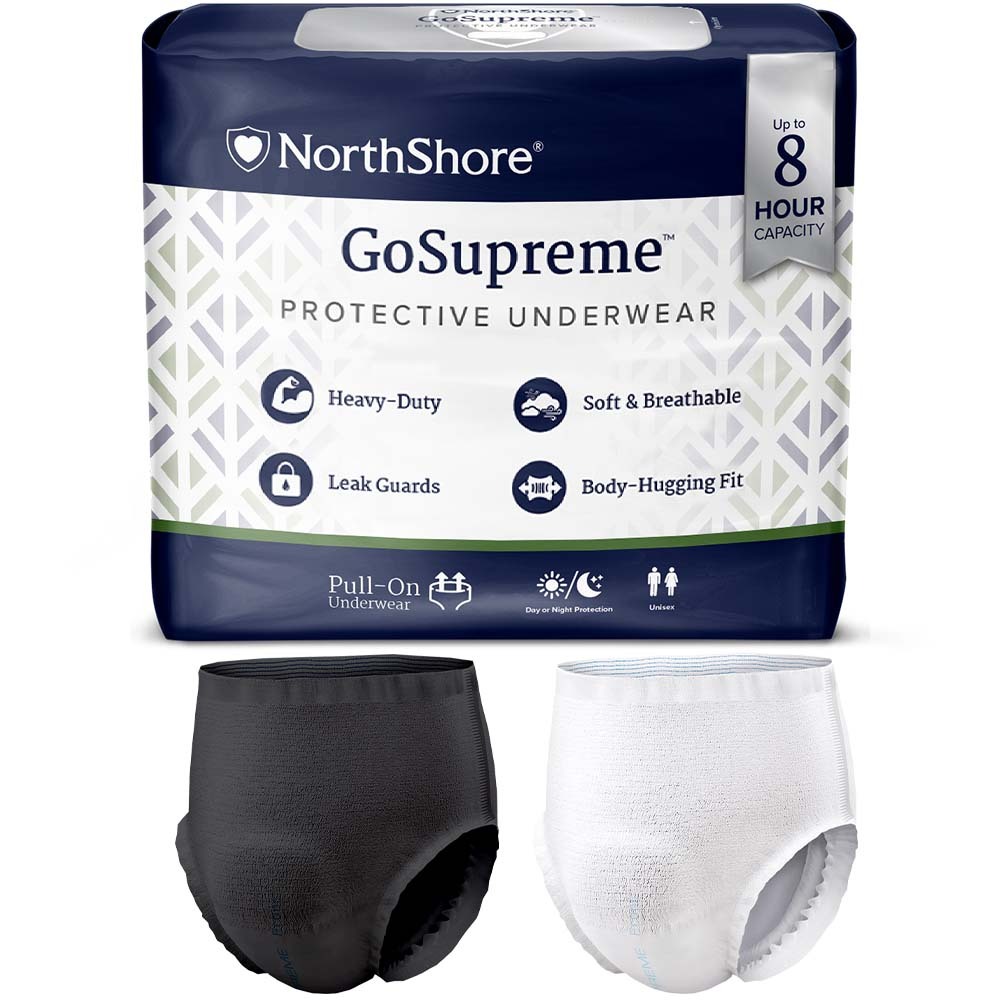 "The fit is far better than any other pull-on I have tried! Thanks for a dependable product!"
- Margaret J., NorthShore Customer
NorthShore Supreme Lite Briefs – A great option for managing moderate urinary and bowel leaks during the day or night. The absorption rate and discreet fit offer individuals comfort and peace of mind when out in public.
Full coverage in the front and rear

Stand-up leak guards

Microsorb lining for quick wicking of liquid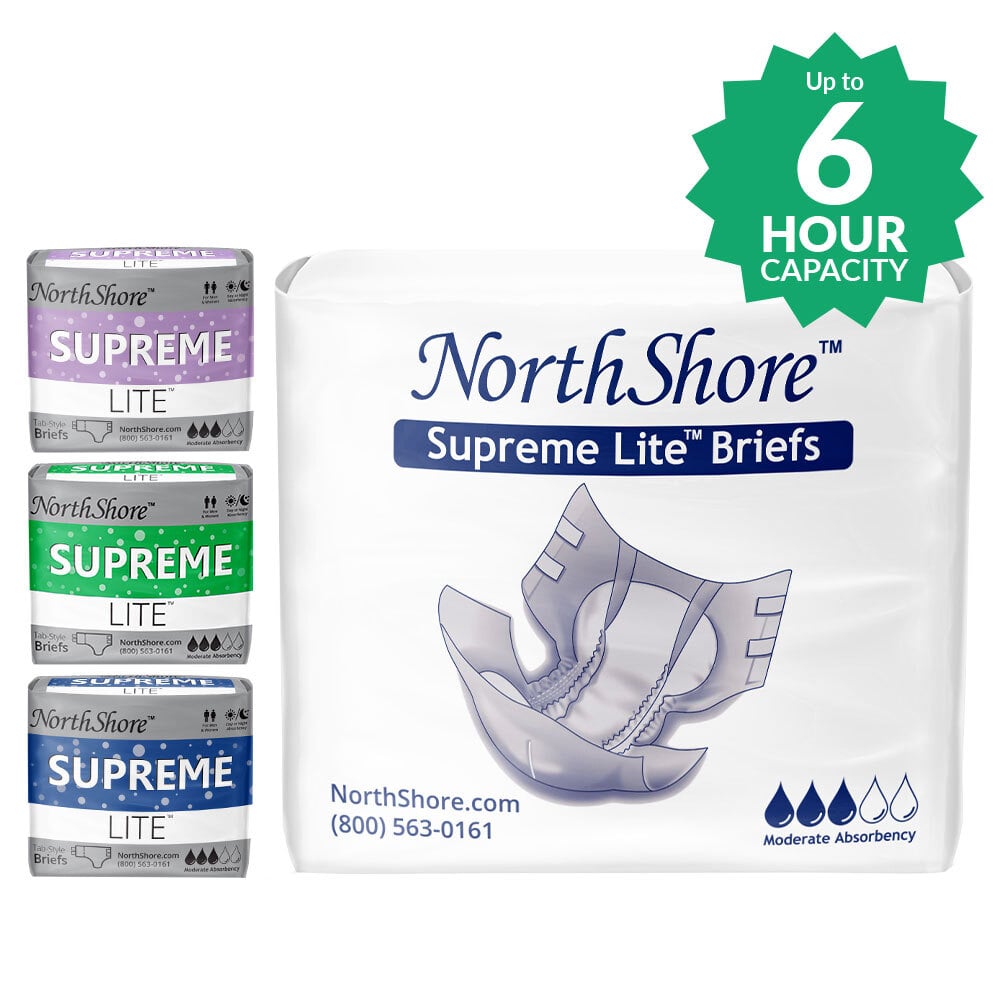 "Supreme Lite Briefs are perfect for me. Discreet, super-absorbent and they're simply the best fitting diapers I've used."
- Rodney B., NorthShore Customer


Keeping anxiety at bay is not always possible, but exercising, reading a book and getting professional help if needed are great ways to help alleviate stress. When managing incontinence, using absorbent products also help to add peace of mind to day-to-day stressors. MEGAMAX, GoSupreme and Supreme Lite offer protection and comfort needed to address a variety of stressful situations.


Stay less stressed with reliable incontinence protection. Browse trusted and top-rated products on our Incontinence Products Page or call (800) 563-0161 for personalized assistance.
Please login to access your saved items list. If you don't have an account, create one today to start your list.