Adult Diapers with Tabs: How to Find the Best Ones For Managing Heavy Incontinence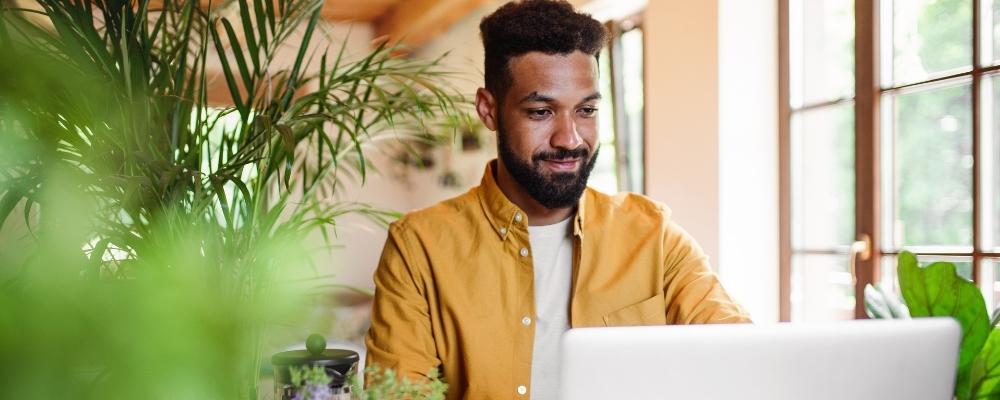 Are you using the best adult diapers to manage incontinence? It can be challenging to decide which brand will work for your situation. Using the right style can help you stay active and manage leaks. Adult diapers with tabs can be the solution to preventing leaks and added stress. Learn about the benefits of using adult diapers with tabs and the top sellers on NorthShore.com.
Adult Diapers with Tabs: Why You May Want to Use This Style
Adult diapers with tabs benefit people looking for a more secure fit. What is the purpose of tabs on diapers? Tabs give a tighter fit around the leg areas. Adult pull ups do not offer the ability to adjust.
If you are someone who wants the ability to adjust your adult diaper, then tab-style diapers are for you. Additionally, if you are caring for someone who is bed-bound or uses a wheelchair, tab-style briefs also help. You can change the product without having to remove clothes.
Plastic Backed Vs. Cloth-Like Adult Diapers
Adult diapers with tabs come in plastic-backed and cloth-like exteriors.
Plastic-backed adult diapers help reduce the smell of odors. The plastic shell contains odors better than diapers with a cloth-like exterior.
Plastic-backed briefs have tape tabs. Cloth-like briefs have hook and loop tabs, which can be adjusted as needed.
Plastic-backed adult diapers offer more protection for people managing bowel and urinary leakage. The outer plastic shell and the brief's durability are game changers for adults managing heavy leakage.
"The plastic is strong and doesn't stretch out, so the diaper doesn't sag, even when very wet.
The leg gathers and leak guards are great at containing messy accidents. I've even had multiple messes and nothing leaked out." - John, Current NorthShore MEGAMAX adult diaper user
Cloth-like briefs, on the other hand, offer a breathable exterior. This backsheet is beneficial because it does not rustle during movements. It also helps people who have sensitive skin. The technology allows air to flow and allows the skin to breathe. The cloth-like backing allows any humidity to evaporate. Cloth-like diapers help maintain healthy skin for individuals with bedsores, skin allergies, or pressure sores.
NorthShore offers many options of adult diapers with tabs. Learn about our top-selling briefs in both the cloth and plastic-backed options.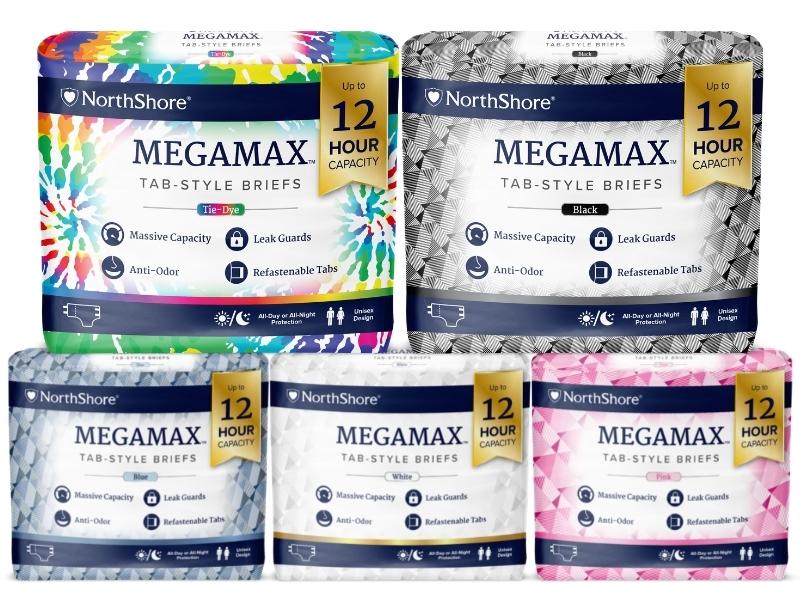 MEGAMAX is the most absorbent adult diaper with tabs at NorthShore. The super-absorbent capacity is ideal for adults managing total bladder/bowel incontinence. MEGAMAX is a heavy-duty brief made to withstand the heaviest voids.
"I have tried almost all of the major adult diaper brands. MEGAMAX diapers are the ones I choose. These diapers hold up well. They give me peace of mind that I am protected no matter what. " - Harvey W., NorthShore customer.
Extra-wide, extra absorbent core

Massive wicking ability

Strong plastic backsheet

Durable tabs

Up to 12 hours of protection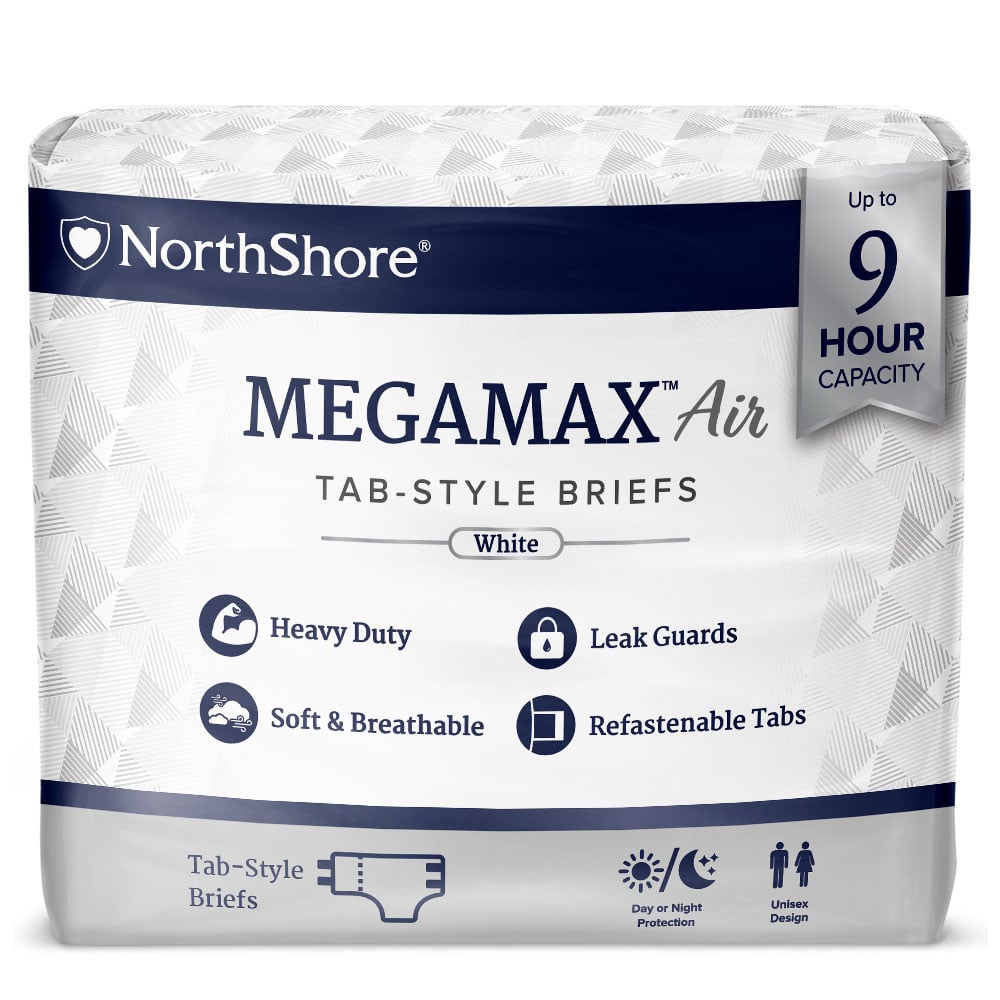 NorthShore MEGAMAX Air is the most absorbent cloth-like adult diaper. The brief's design is ideal for heavy urinary and bowel incontinence. Individuals who want a breathable diaper they can wear to sleep or during the day should consider the MEGAMAX Air.
Extra-wide, extra absorbent core

Massive wicking ability

Soft, breathable exterior

Refastenable hook and loop tabs

Up to 9 hours of protection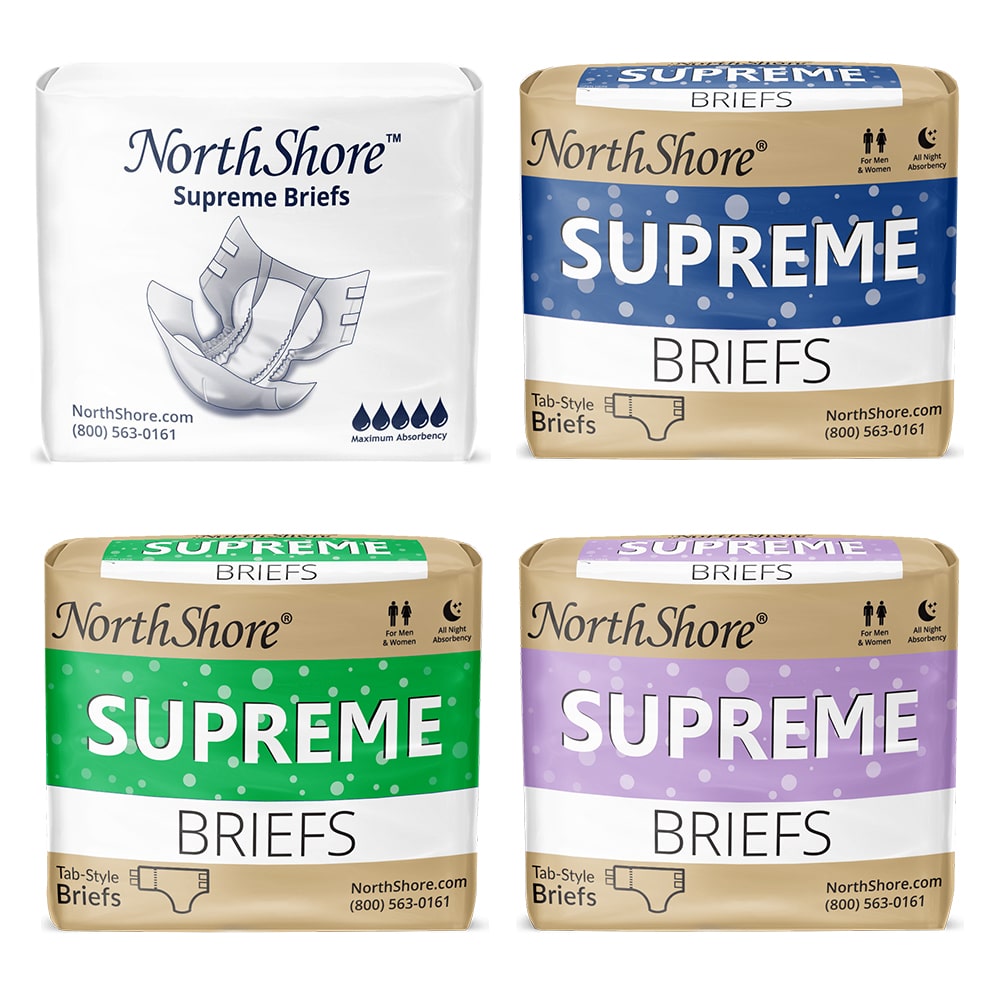 Supreme Briefs are plastic-backed briefs that offer style and protection! Supreme Briefs offers reliable incontinence protection. They are a trusted option for adults managing heavy urinary leaks. Wearers can choose white, blue, green, purple, and white options.
Extra-wide coverage

Stand-up leak guards

Elastic in the rear waistband

Durable plastic backing

Up to 8 hours of protection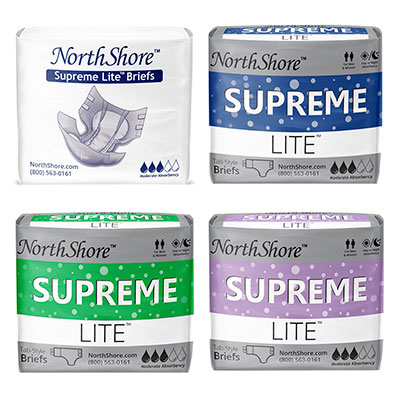 Shop Supreme Lite Color Collection
Supreme Lite Briefs are the lighter version of the Supreme Briefs. Supreme Lite Briefs offer moderate protection for urinary and bowel leakage. Like Supreme Briefs, they are available in white, blue, green, purple, and white. Take the quiz to find out your best color! Who says adult diapers aren't fashionable?
Extra-wide coverage

Stand-up leak guards

Elastic in the rear waistband

Durable plastic backing

Up to 6 hours of protection
Now you know more about adult diapers with tabs. The backsheet of the brief makes a difference. Find a style that works best. You have options to choose from on NorthShore. MEGAMAX, Supreme Briefs are quality products that customers love. Take advantage of samples and find your best product today!
Shop Briefs Featured In This Article
Please login to access your saved items list. If you don't have an account, create one today to start your list.