MEGAMAX AirLock: Our Most Absorbent Breathable Brief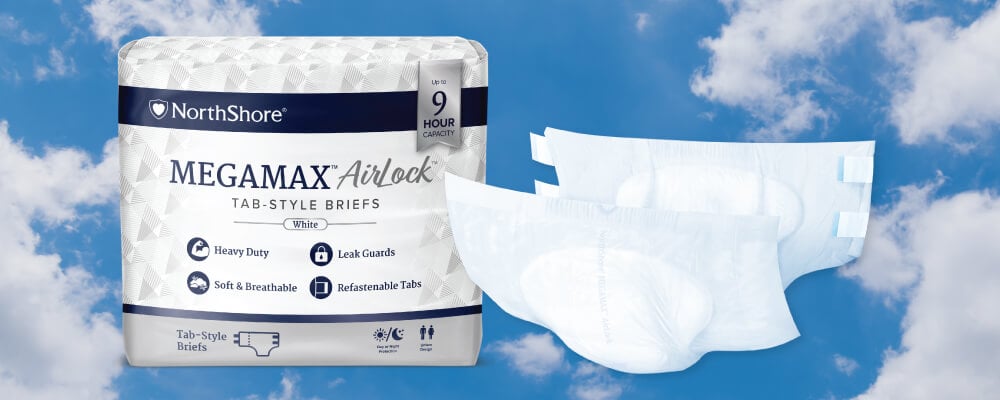 MEGAMAX AirLock is the newest tab-style brief from NorthShore. While our MEGAMAX collection offer the most extensive protection of our tab-style briefs, MEGAMAX AirLock incorporates long-term wear with breathability.
These tab-style briefs feature a breathable, cloth-like exterior that keeps wearers comfortable throughout the day. Even with its soft and light material, MEGAMAX AirLock offers top-tier absorbency. The cloth-like fabric is waterproof to protect against leaks, and the extra-wide and extra-long coverage protects wearers for busy days and throughout the night.



What Makes MEGAMAX AirLock Different From Our Other Tab-Style Briefs?
MEGAMAX AirLock products are similar to our standard MEGAMAX tab-style briefs, but there are some key differences. MEGAMAX AirLock products set themselves apart with their:
Absorbency: MEGAMAX AirLock tab-style briefs offer protection for up to nine hours, which is unlike any tab-style incontinence product we offer. While standard MEGAMAX products protect up to 12 hours, our other tab-style briefs provide eight hours or less of protection. MEGAMAX AirLock works well for all day or all-night protection.

Breathable material: Thick fabrics are common in high-level absorbency products. MEGAMAX AirLock tab-style briefs use a soft and light cloth-like material. Our other lightweight and breathable products offer similar comfort but can only offer six to eight hours of protection. With MEGAMAX AirLock, you or your loved one can enjoy the cool comfort of breathability without losing long-term absorbency.
The Benefits of MEGAMAX AirLock
Stay protected and comfortable all day long with features like enhanced breathability and extra-wide coverage. Our new MEGAMAX AirLock briefs provide a range of benefits like:
Breathability: The cloth-like fabric promotes breathability and supports healthy skin.

Long-term protection: With up to nine hours of protection, wearers can use fewer tab-style briefs throughout the day and night. Fewer changes save time every day and make every package more cost-effective.

Maximum coverage: MEGAMAX AirLock tab-style briefs have extra-wide and extra-long coverage to support absorbency during all types of activities. These incontinence products offer absorbency and leak protection even during a night of sleep.

Improved sizing: These right-sized briefs fit better and suit a broader range of body types thanks to strong elastic in the front and rear waistbands. A better fit protects against leaks and promotes comfort. The adhesive tabs also encourage a snug fit.
Shop MEGAMAX AirLock Tab-Style Briefs
NorthShore Care Supply provides a wide range of incontinence products to support those who need them. The MEGAMAX AirLock tab-style brief is our newest product that offers many beneficial features. When you need an incontinence product that is equally breathable and absorbent, MEGAMAX AirLock is an excellent option for you or your loved one.

Thank you so much for reading our blogs!

Did you know NorthShore has helped millions of people manage incontinence with life-changing absorbent products? It's so amazing to hear their stories.

We also want you to know we have trained product advocates that provide a personal experience by working with each customer to find the best product for their situation.

Find out for yourself today!
To get in touch, simply provide your contact details below and your personal product advocate will reach out.


Shop MEGAMAX AirLock Today
New
Starting at $13.99 FSA/HSA Eligible
Top Seller
Starting at $13.99 FSA/HSA Eligible
Please login to access your saved items list. If you don't have an account, create one today to start your list.