GoSupreme: The One-of-A-Kind Protective Underwear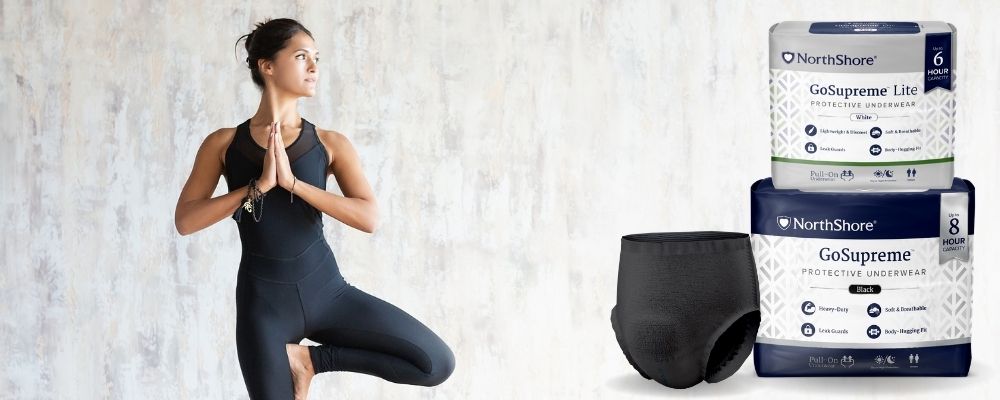 Incontinence underwear isn't quite like regular underwear. There are more features to pay attention to when selecting the right one. Individuals new to managing urge incontinence or other types of urinary incontinence are looking for protective underwear that offers just the right amount of absorbency and protection.
According to Harvard Health, the urge to urinate can make it difficult for individuals to reach the bathroom in time. Using the right absorbent underwear can help prevent accidents at home, work and in public.
Adult incontinence products are not one size fits all. It can take time and research before finding something. And, it usually involves more than just going to a local store and picking just any product. If you or someone you love is managing moderate to heavy incontinence, you may find the products on most retail shelves do not offer sufficient absorbency to manage leaks.
Today, there are options for incontinence products with more absorbency for men and women managing moderate to heavy incontinence.
Pull-Up Style Underwear
Today's adult pull-ons are discreet and absorbent. While many people managing incontinence worry about leaks and bulges under clothing, today there are plenty of discreet choices without the bulk.
Incontinence supplies do not need to be bulky to be effective. Absorbent technology and the right design allows products to perform without unnecessary heaviness.


GoSupreme Underwear
GoSupreme is the most absorbent pull-on underwear offered at NorthShore.com. It is highly rated by customers for both daytime and overnight use. Customers also like the choice in sizes, from small to 3XL, the largest pull-on NorthShore offers.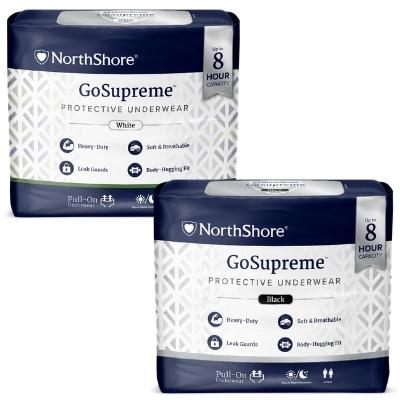 NEW! GoSupreme Black Now Available

Features include:
Maximum Absorbency – Offering up to 8 hours of protection

Advanced Leak Protection – Dual leak guards help prevent leaks in the leg areas

Less Bulky – Built-in elastics provide a closer fit to the body and help reduce the bulk

Comfortable Waistband – Grips the body and prevents sagging

Full Coverage – Extra-long contoured lining provides extra coverage
Ideal for individuals:
Looking for adult pull-ons in a variety of sizes, including larger choices

Managing heavier bladder and bowel incontinence

Looking for less bulky absorbent overnight underwear

Requiring at least 8 hours of protection
Customer Reviews
"Absolutely has everything I need in underwear. It is the best on the market in my opinion." - Pamela T., Wyoming Resident, NorthShore Customer
"I have probably tried every pull-on there is and GoSupreme is by far the best for me." – Tom F., Washington Resident, NorthShore Customer

The average adult pull-up style underwear can hold anywhere from 15 to 20 ounces but GoSupreme exceeds this with an impressive capacity of up to 38 ounces. For a lighter alternative, GoSupreme Lite Pull-On Underwear offers most of the same features with less bulk and just slightly less absorbency.

GoSupreme Lite offers a low profile and secure fit

If you are looking for an incontinence pull-on you can trust, consider GoSupreme Underwear. GoSupreme and GoSupreme Lite stay in place, offers tear-away side seams for easy removal, mimics regular underwear in shape and usually results in fewer changes.

Watch our video to learn more about GoSupreme!
Stay active with one of the most absorbent underwear offered on NorthShore.com. Learn more by browsing the GoSupreme Product Catalog or call (800) 563-0161.


Shop the GoSupreme Collection
Top Seller
Starting At: FSA/HSA Eligible
$8.99 Now $8.09 Save 10%!
FSA/HSA Eligible
Staff Pick
Starting At: $7.25 FSA/HSA Eligible
Please login to access your saved items list. If you don't have an account, create one today to start your list.