How to Talk to Someone with Incontinence the Most Genuine Way Possible
"There is something I want to tell you. It's something I'm embarrassed about." Sometimes simple statements start meaningful conversations. How do you talk to someone about incontinence? Individuals who manage incontinence may feel embarrassed telling a significant other. Whether you are a friend or significant other, there are ways to handle the conversation with compassion and grace.
How to Talk About Incontinence
Talks around incontinence are challenging for many people. Incontinence can be embarrassing to discuss with friends and family. Many people feel shame and guilt when talking about incontinence. Remember that incontinence is common amongst adults. Incontinence is usually a side effect of other medical conditions. The good news is incontinence is manageable with treatment and quality incontinence supplies.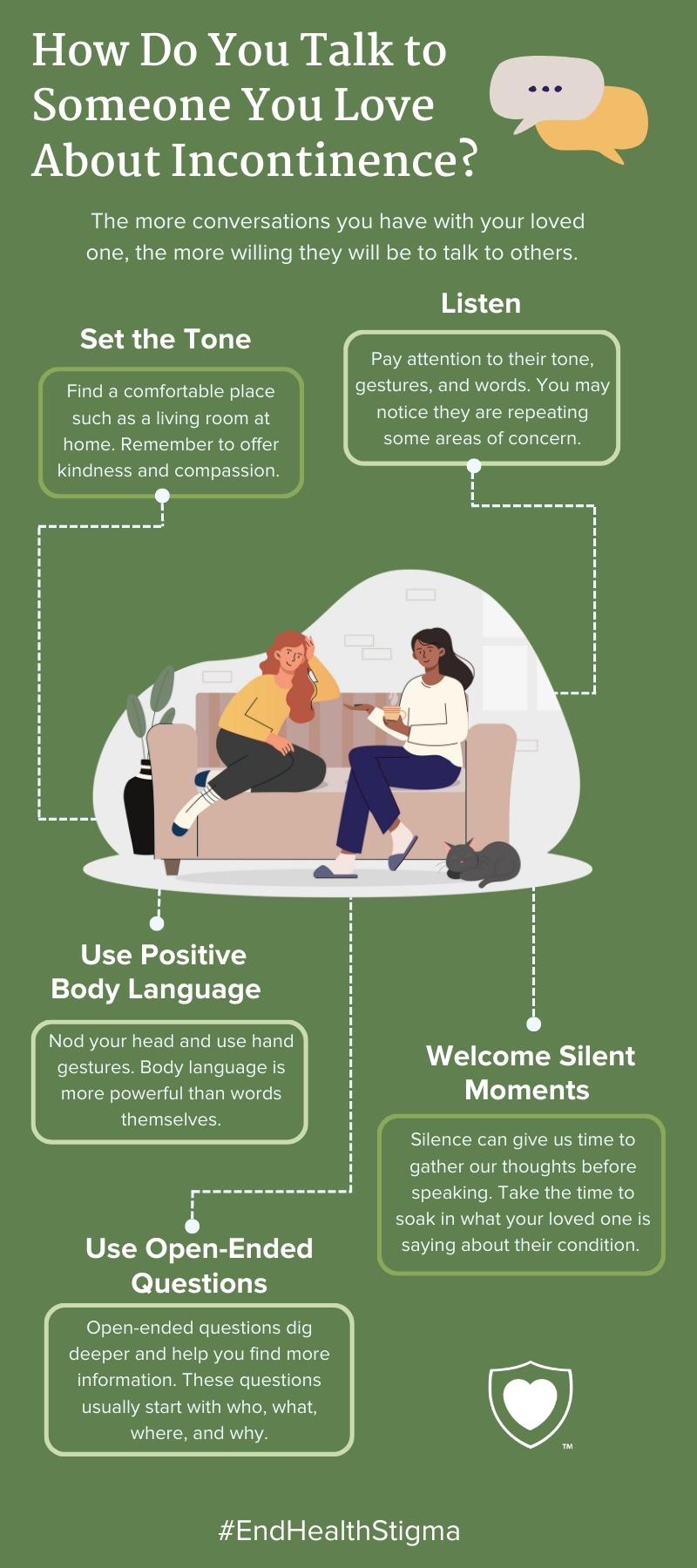 Studies show that quality conversations can benefit you and your loved one. Deep conversation can also help them feel less alone in managing incontinence. When you have more meaningful conversations, your loved ones will trust you. Sharing can help them get better treatment, feel supported, and help them live a happy life.
Examples of Open-Ended Questions
Consider these questions when you talk with your loved one. These questions usually start with who, what, where, and why.
When did your leakage start?

How do you feel about managing this condition?

How can I support you during this time?

Where were you when you first experienced a leak?

What incontinence products are you using? How are they helping?

Who else knows about your incontinence?
Remember that your loved one may be more sensitive to topics than others. Remind them that you are here for them and there is no judgment. There are many treatments and support groups available for people managing incontinence. The Simon Foundation for Continence offers a peer-to-peer community for individuals managing incontinence. Their online support community brings in over 3.5 million users. Members can share a story or get help with a challenge they are experiencing.
The more conversations you have with your loved one, the more willing they will be to talk to others. Help #EndHealthStigma by creating a safe space for your loved one. Encourage your loved ones to get the support they need. Help them have more conversations with healthcare professionals. NorthShore is here for individuals managing incontinence with quality adult diapers and supplies.
Please login to access your saved items list. If you don't have an account, create one today to start your list.