8 Most Popular Questions (with Answers) for Beginners to Incontinence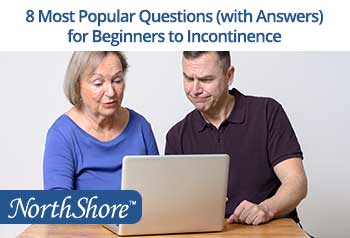 You don't need to know the hard stats to understand that incontinence effects many people out there. If you walk through any drugstore you'll notice the number of incontinence products has grown just by looking at the shelves. If you are new to incontinence you probably have questions that aren't always so obvious. There are many questions that arise to newcomers to incontinence and we want to give you the answers to 8 popular questions with answers from the experts, that we think will make life a little easier for you along the way.
Incontinence Product Related Questions with Answers from Our Experts
Question 1: Will insurance cover my diaper costs?
Answer from Andy:
NorthShore is a private pay company and we do not accept any form of insurance at this time. We recommend contacting your insurance provider to see if your plan covers incontinence supplies and if so, ask if a prescription is needed and a list of the authorized vendors.
Question 2: What's the difference between adult briefs and underwear style diapers?
Answer from Cathy:
The term, "brief" in the incontinence world usually refers to a disposable undergarment that has tabs on each side that open and close, which makes them easy to change without removing shoes and pants. These are also referred to as tab-style briefs, fitted briefs, or adult diapers with tabs. Diapers referred to as underwear or pull-on, pull-up style, absorbent underwear is attached at the sides and needs to be put on like regular underwear.
Question 3: What are the most absorbent diapers at NorthShore?
Answer from Ashley:
Pull-on style underwear: NorthShore™ GoSupreme™and NorthShore™ FlexSupreme™ Underwear
For fitted briefs (tab-style briefs): NorthShore™ MegaMax™ Briefs NorthShore™ Supreme Briefs, NorthShore™ AirSupreme™ Briefs
Question 4: Which style of absorbent undergarment is better?
Answer from Julia:
There is no better option, per se, it really depends on your needs, type of incontinence, body type, mobility, and lifestyle. Feel free to contact us and we can asses your needs and make a personalized recommendation.
Question 5: Which style works best for my type of leakage?
Answer from Janet:
Tab-style fitted briefs are generally preferred when a caregiver is needed to assist with changing and/or when leakage is very heavy, especially at night since they have tabs that can be tightened more securely than pull-ons.
Pull-on underwear style diapers are generally preferred for moderate to heavy urinary incontinence where the user is able to make changes themselves and has the dexterity to pull-on underwear over their feet. For bowel leakage, the considerations are similar except that high absorbency diapers are not generally needed, rather, look for features such as leak guards and more coverage in the rear.
Question 6: How do I measure myself for adult diapers?
Answer from Cristina:
We recommend getting a measuring tape and measure around the widest part of your hips and waist, use the 2 numbers and plug them into the size chart for the product to find your best size. If the size chart only lists one set of measurements then use the larger of the hip or waist measurement for comparing to the size chart. We also have a blog here that explains step by step.
Question 7: How do I find my size if I am plus sized?
Answer from Sandra:
We still recommend measuring with measuring tape, if you can. If you don't have a tape measure call us and provide us with information on your current product and we can help you find a comparable or better option. You can also use a household string or other ribbon and measure around you. Match the length of the ribbon with a ruler at home if you have one to find the inches. Remember we offer free adult diaper samples!
Question 8: How many briefs/underwear should I use a day?
Answer from Alicia:
There is no magic number as to how many you should use because everyone is different. This will take trial and error with products first and a couple day/nights to find this out. Generally, higher absorbency products will reduce the number of changes, especially at night, which can also reduce costs. Limiting changes will result in heavy diapers and may require the assistance of a diaper cover to hold in place. If the diaper is rated for high absorbency, then it will have lots of super-absorbent polymers in the lining that will lock away wetness and keep the skin dry and pH balanced. However, a diaper must always be changed right away if there is any kind of bowel movement to reduce the risk of infection.
We understand that it can be stressful and difficult to determine what product will work for your needs. We hope these questions and answers helped clear up some questions you have. Remember it may take time to find your product. NorthShore's care experts are happy to discuss your needs over the phone and provide samples to help make the process easier for you. Call us today at (800) 563-0161 so we can help you today!