Older Adult Health, Fitness & Exercises: How Much, How To & Tips for Seniors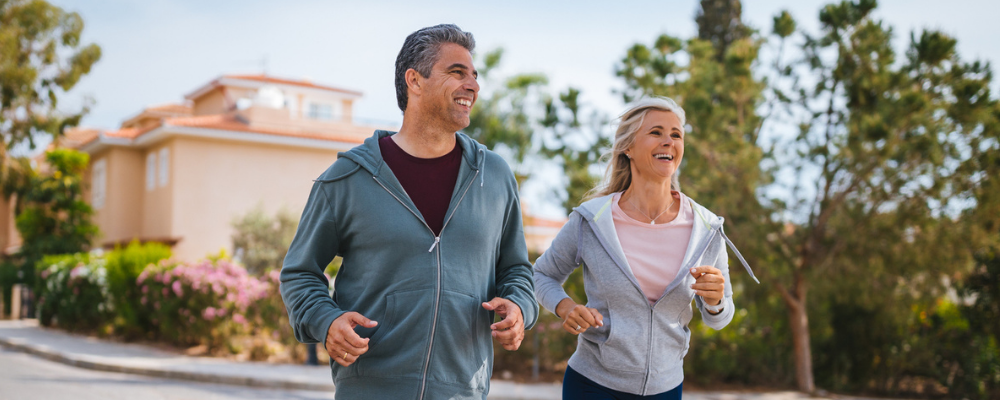 Regular exercise can help older adults maintain health and strengthen muscle, and certain exercises may also help seniors managing incontinence. But it can be difficult to know where to start.
September is Healthy Aging Month so there's no better time to kickstart a fitness regimen. There are a few things older adults should keep in mind before starting an exercise regimen.
Discover what to know before starting a fitness program, simple exercises to help manage incontinence and comfortable incontinence supplies to make physical wellness an easier-to-accomplish goal.
What should I know before I start a fitness program?
The first step is to discuss exercises with a doctor or healthcare provider. Aging Life Care Association (ALCA) shares three important questions to ask a doctor before starting. It's critical to assess current health and medical conditions, as well as any exercises older adults may want to do, to lower the risk of injuries.
Next, think about goals. These may be simply to become more active on a day-to-day basis, improve mobility, increase muscular strength or others.
Consider why these goals are important, too. For example, would more mobility help lengthen play time with grandchildren or friends? Build strength to help protect against falls? Goals are helpful, but not required.
Finally, consider how much exercise per week is feasible and recommended. This depends on current fitness level and will likely be included in the initial discussion with a doctor or healthcare provider. The Centers for Disease Control and Prevention (CDC) has great tips and advice for physical activities for older athletes. For adults aged 65 and older, the CDC recommends 150 minutes of moderate intensity aerobic activity a week, and two or more days a week of muscle-strengthening activity.
For those just beginning, 15-20 minutes three times a week is a great starting point - with a physician's approval. For those already incorporating some form of physical fitness in their lives, 30 minutes five times a week or every day can help build a strong routine.
Remember to ease into a new fitness program to help prevent injuries. It's more sustainable and healthful to lightly exercise 10-15 minutes twice a day to build up strength and endurance than to immediately push for 30 minutes with no rest and recovery in between.
What are some simple exercise routines I can start with?
Improve mobility, strength and overall fitness with a few beginner exercises. Explore if there are senior workout programs locally or online to make it a social event and stay motivated. Prefer to work out with family or friends? Invite them to join along. Start with a set of 10 repetitions, and work toward three sets per workout day as strength improves.

Wall Push-Ups
With arms straight out in front and legs together, place palms shoulder-width apart against a wall. Keeping the back straight, bend the elbows and lean toward the wall. Return to the original position to complete one repetition. Mix it up by closing the distance between your palms or spreading the feet apart.


Work with Resistance Bands
For those who want or need to stay seated, an effective exercise is to wrap a resistance band across your upper back, with an end in each fist. Sit or stand straight, then push your arms directly in front of you and hold at shoulder height. Return to the original position to complete one repetition.


Bicep Curls with Weights
Whether sitting or standing, good posture and form are both important to get the most benefit out of these. With 5- or 10-pound weights, sit or stand with your back straight and weights to the side of the body. This helps ensure only the biceps get focused on instead of rolling the shoulders. With elbows in a fixed position, slowly raise the weights up to your shoulders and back to the sides.


Walking, Hiking, Light Jogging or Cycling
In addition to weight training to build strength, aerobic exercises help maintain a healthy heart and increase endurance and mobility. Aim for 10 minutes at a time, and gradually increase the amount of time and level of intensity. If biking outside, wear a helmet and enjoy the scenery while working toward 30 to 60 minutes of cycling.
Not a fan of regimented workouts? Digging and shoveling in the garden help build muscles, while raking and mowing the lawn add a cardio component.
Can exercise help urinary incontinence?
Both men and women can perform Kegels and squats to help strengthen bladder and pelvic floor muscles.
Kegels
One of the best exercises for seniors managing urinary incontinence are Kegels. To find these muscles, imagine that you are stopping the flow of urine. Identifying these muscles while on the toilet once is okay, but the bladder should be empty before starting Kegel exercises, to help avoid urinary tract infections.
When the muscles are identified, contract and hold for 3-5 seconds, and then rest for 3-5 seconds. Work up to completing 10 repetitions in a set each day at first. As this becomes easier, increase to three sets, and gradually increase the time of holding and releasing for up to 10 seconds.
Squats
These engage and strengthen the pelvic floor muscles, but keeping good posture with a straight back is important during this exercise. Stand with feet shoulder-width apart, then bend the knees until the thighs are parallel with the floor. (Tip: Keep the arms straight out in front to assist with form.) Then straighten the legs to complete one repetition.
Start with 10 reps, and increase to three sets a day. For additional training, wrap a resistance band around the thighs before starting.
Which incontinence supplies are best for exercising?
There's no need to be uncomfortable while exercising. NorthShore offers a number of products to keep seniors managing incontinence dry and secure during fitness routines. NorthShore DynaDry Supreme Liners provide heavy protection that can be worn with regular undergarments. The adhesive strip holds the liner securely in place during activities, and the soft, comfortable lining wicks liquids away from the body. Plus, leak guards protect any spills from the sides. For full security with 4-strand leg gathers, check out NorthShore AirPremium Tab-Style Briefs. These are less bulky than other heavy-absorbency options, so they're discreet under exercise clothes.The briefs have tall leak guards to help prevent side leaks, and the soft, cloth-like exterior is waterproof and rustle-free during movement. Plus, extra-wide protection keeps everything secure even in the most demanding situations, and the air-breathable quality promotes healthy skin with anti-odor protection as well.
For a maximum absorbency pull-on, NorthShore offers GoSupreme or the lighter GoSupreme Lite protective underwear. Offering a choice of up to 8 or 6 hours of protection, respectively, they feature a super-absorbent lining locks in wetness and odors, extra coverage in front and rear, heavy-duty leg elastics for a secure fit, ulta-soft breathable design, body-hugging fit and anti-leak leg cuffs. Both GoSupreme pull-up style underwear complement a wide variety of body shapes.
Ready to get fit?
We hope this article has provided information needed to kick off years of health on National Fitness Day. Want more details on any of the products listed above or other absorbent

NorthShore incontinence supplies

? Call (800) 563-0161 to talk to a customer care expert today.
This article is not intended to substitute professional medical advice, diagnosis or treatment. Always speak to your doctor or other qualified healthcare provider with any questions or for advice regarding a medical condition.
Please login to access your saved items list. If you don't have an account, create one today to start your list.