Are You a Young Adult Managing Incontinence? Find More Options at NorthShore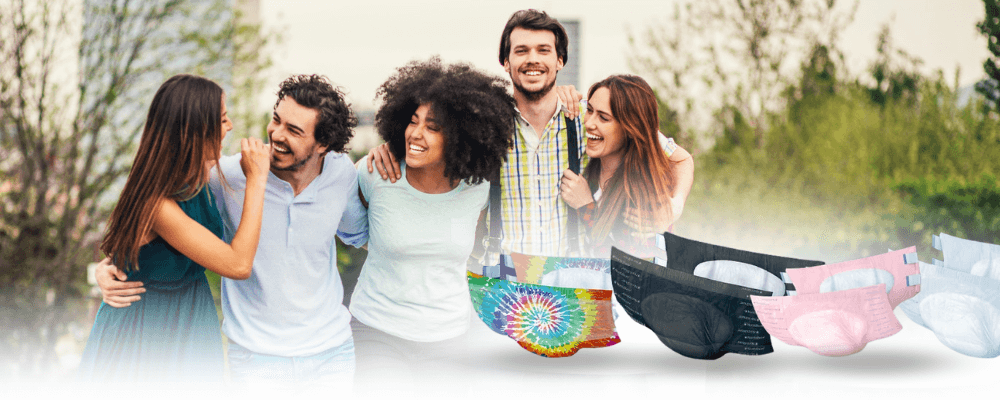 Paying off student loans and working in a meaningful career are top concerns for Millennials.
For young adults managing incontinence, finding quality products to manage leaks can be a top priority too.
Grandma or grandpa are not the only ones managing leaks. According to the National Library of Medicine, 16% of women younger than 30 years of age manage incontinence. There are not hard numbers on the prevalence of incontinence in young men, but they are out there. Incontinence affects both men and women. Stress, lifestyles, and underlying medical conditions can result in incontinence.
Twenty or thirty-year-olds may not think of having to wear adult diapers. But, depending on the severity of their incontinence, diapers may be an effective solution.
The good news is that there are modern and discreet diapers for young adults. Diapers are available in many sizes and styles to prevent embarrassing leaks.
Learn about NorthShore's adult diapers that can help you enjoy life without leaks. There are trusted products in styles that can help you stay protected.
Understanding Adult Incontinence
Incontinence isn't typically from one specific cause. It can result from surgery, childbirth, or other underlying medical conditions. Spinal cord injuries and birth defects may also cause incontinence.
What are the most common types of incontinence?
Urge incontinence, stress incontinence, and mixed incontinence are the most common. Urge incontinence is the urgent need to urinate. Stress incontinence is when urine leaks out when the bladder experiences pressure.
Mixed incontinence is a combination of urge and stress incontinence. Symptoms include frequent urination, difficulty holding urine, and leakage during physical activities.
Bowel incontinence can result from nerve damage, childbirth, and digestive tract disorders. Types of bowel incontinence are more severe than others. Adults may leak diarrhea, while others have full bowel voids.
Managing incontinence of either one is possible with medical treatment options and absorbent adult diapers. It's important to talk with your doctor on the best treatment plan for your situation. In terms of products, the best ones control leaks and feel comfortable.
Benefits of NorthShore Adult Diapers
When you hear the word adult diapers, what comes to mind? Thick, white, padded products? While that is how some look today, adult diapers have evolved. Today, there are more styles, colors and absorbencies. Whether you manage moderate or severe incontinence, NorthShore has products for you to choose from.
Reliable Protection
NorthShore incontinence products are 3x more absorbent than retail brands. Our wicking technology contains leaks and keeps your skin free from moisture. Our diapers have extra padding or polymers which helps wick away heavier urinary and bowel leaks. Think of our diapers as 'heavy duty.' NorthShore's products are more absorbent than retail brands such as Depends and Tena.
Our tab-style and pull up diapers also offer built-in leak guards. Leak guards, or cuffs, help to contain side leakage when sleeping.
Backing Styles
We have diapers available in a cloth-like (breathable) and plastic backing. The cloth-like exterior helps with preventing skin breakdowns. The plastic helps contain odors and prevents the diaper from sagging.
Tab and Pull-On Styles
We offer tab-style and pull up styles to accommodate each individual's unique needs. NorthShore diapers also come in larger sizes. AirSupreme Briefs, our cloth-like diapers, come in sizes XS- 2XL.
What if you prefer adult pull-ups? GoSupreme is our most popular. We offer pull ups up to 3XL in our GoSupreme Underwear. Our pull-ups offer anywhere from six to eight hours of protection. Our adult pull ups are unisex and latex-free. Protective underwear resembles regular underwear. They offer discreet wear when wearing jeans or leggings.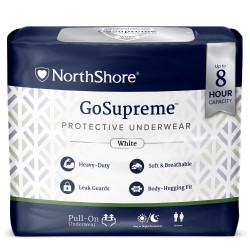 Colored Adult Diapers
Features of adult diapers help in containing leaks, but like clothing, the look and feel also matter. Colors play a role in how adult diapers perform for many people. Why do colors matter when selecting adult diapers? Because colors are a way to express yourself. Colors can evoke emotion and affect our moods. For example, color psychology says pink symbolizes love, whereas green symbolizes contentment.
When managing leaks, darker color diapers tend to be more desirable. Blacks and blues mask leaks and resemble regular underwear. Customers like the black-colored GoSupreme Underwear because it helps them feel more confident.
"Black increases my confidence as a younger disabled adult, and it's a very good product. Only criticism is neither size fits me perfectly; but it's comfortable enough that I can manage most of the time. Doesn't always hold my full bladder."
- Samantha
MEGAMAX Briefs are available in a variety of colors and tie-dye. They offer reliable protection for heavy incontinence while offering stylish color options.
"Megamax are super absorbent diapers, probably the most absorbent available. They come in cute cute colors and the really cool tye dye print. Highly recommended. Can be worn for anytime or when you feel in a playful mood"
- Paul
If you want to feel better about wearing adult diapers, try selecting ones with colors! You might love how certain colors look! Which NorthShore diapers are available in colors? We'll explain this in the infographic below.
NorthShore Color Diapers
When it comes to wearing adult diapers, you should feel protected and love how you look. Our mission is to provide customers with quality products that offer premium leakage protection with stylish options. Learn which NorthShore diapers are available in colors.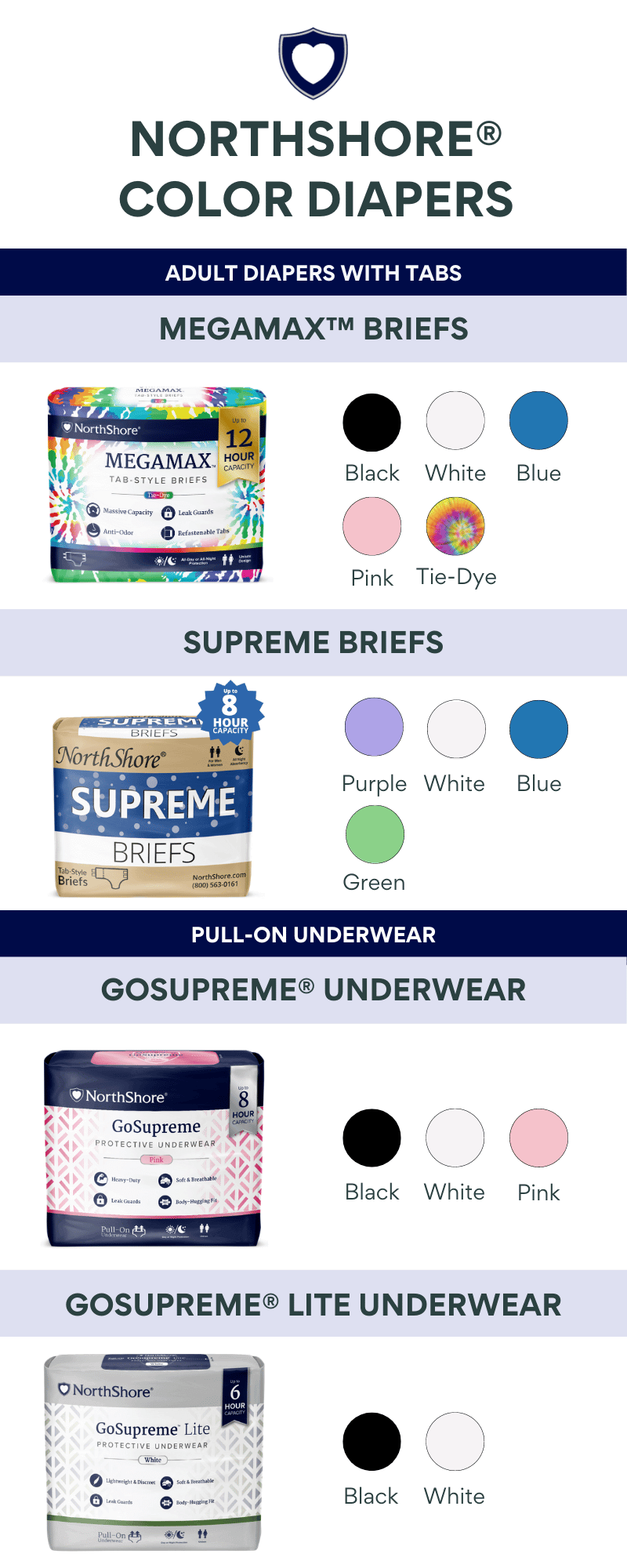 MEGAMAX diapers are the most absorbent tab-style diapers on the site. MEGAMAX offers up to 12 hours of protection and is available in white, blue, pink, black, and Tie-Dye.
Supreme Briefs are available in white, blue, green, and purple.
GoSupreme Underwear is available in white, black, and pink.
GoSupreme Lite Underwear is available in white and black.
No matter your situation, there are incontinence products to choose from. Gone are the days of 'old school' diapers that lack absorbency, style, and expression.
As a young adult, you have a lot on your plate. Finding a work-life balance and landing your dream career can be a lot to handle. Incontinence can be challenging too, but there are products to help make life a little easier. Products that can help you stay social with friends and family. Best of all, products can help you stay less stressed and more confident in managing incontinence.

Thank you so much for reading our blogs!

Did you know NorthShore has helped millions of people manage incontinence with life-changing absorbent products? It's so amazing to hear their stories.

We also want you to know we have trained product advocates that provide a personal experience by working with each customer to find the best product for their situation.

Find out for yourself today!
To get in touch, simply provide your contact details below and your personal product advocate will reach out.


---
Products Featured in This Article
Please login to access your saved items list. If you don't have an account, create one today to start your list.