A Complete Guide to the Different Types of Male Incontinence Products
About 80 million adults in the U.S. suffer from incontinence. For men, in particular, this subject remains taboo, and the embarrassment associated with incontinence prevents them from exploring the different products and treatments available.
In fact, a wide range of male incontinence products exist. They can make a great difference to the comfort of those affected, as well as enable them to lead more active lives.
So just what are the incontinence products for men out there?
Keep reading for more information about the different men's incontinence products available. We will also look at how each one can help with managing incontinence.
Male Incontinence Briefs
First up, tab-style briefs are a popular choice for men dealing with incontinence issues. The adjustable tabs prevent leakage from the sides as well as from the leg openings, which are smaller compared to other types of men's diapers.
These are a great option in particular for men with thinner legs. They tend to fit this body type sometimes better than pull-up style underwear. And, NorthShore briefs offer up to 2 to 3 times more leak protection than other brands.
At NorthShore, there are several different briefs with tabs available. One of our most popular, MEGAMAX, provides up to 12 hours of anti-leakage protection. Briefs on NorthShore.com vary in offering moderate, heavy or maximum absorbency for those with total incontinence.
Some men prefer to have a few tab-style brief options with a variety of absorbencies. This way, they can change out styles based on the severity of incontinence at different times throughout the day. At night, a more absorbent brief may be preferred while during the day, a lighter pull-on may be all that is needed. At NorthShore, up to 6, 8 and 12 hours of protection are offered.

Disposable adult diapers with tabs come with waterproof backing. Either plastic or cloth-like material allows men to wear them in total comfort and with discretion.
Use the comparison chart to find out which briefs are the best choice for your particular situation. Whether absorbency, odor control or breathability is the most important factor, it's easy to find a product at NorthShore.com.
It should be noted that is also possible, and highly recommended, to take advantage of 'Try Before You Buy' Sample Programs to test products and determine what is right for you or someone you care for.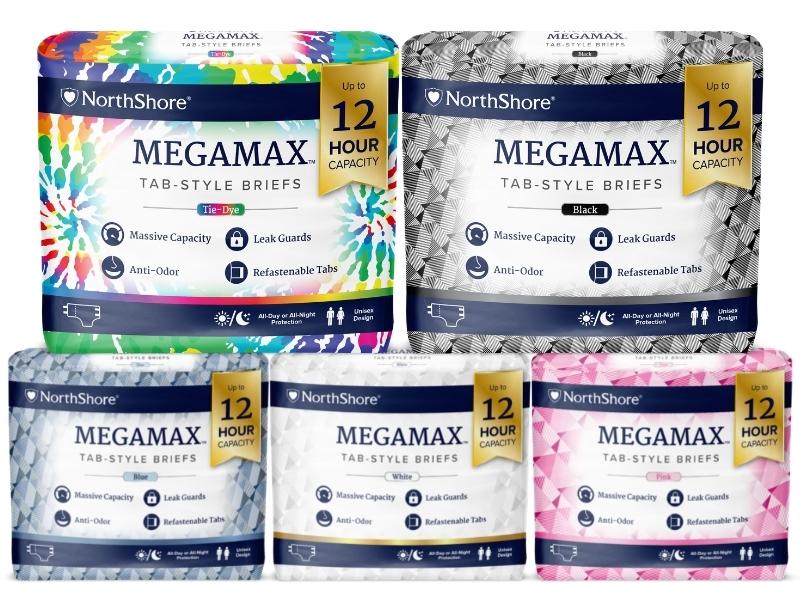 Pull-On Style Underwear for Men
Pull-on protective underwear is another popular option for men managing incontinence. Pull-ons closely resemble standard underwear. They come with elastic around the legs and waist, which is great at preventing leaks. Pull-up style products are available in sizes small through 3XL.
Protective underwear is specially designed for more active wearers. They help promote peace of mind while working, running errands, exercising and relaxing. It is vital to maintain daily routines and not let incontinence prevent living life to the fullest and enjoying activities.
Absorbency ranges from light to maximum protection to address individual needs. And, pull-ons can provide next-level discretion under clothes. FlexSupreme and GoSupreme options offer higher capacity and address more severe incontinence issues.
Managing incontinence is nothing to be ashamed of. Nonetheless, NorthShore delivers products in discreet packaging right to the front door. The Auto-Ship Subscribe & Save program means no more worrying about running out of supplies.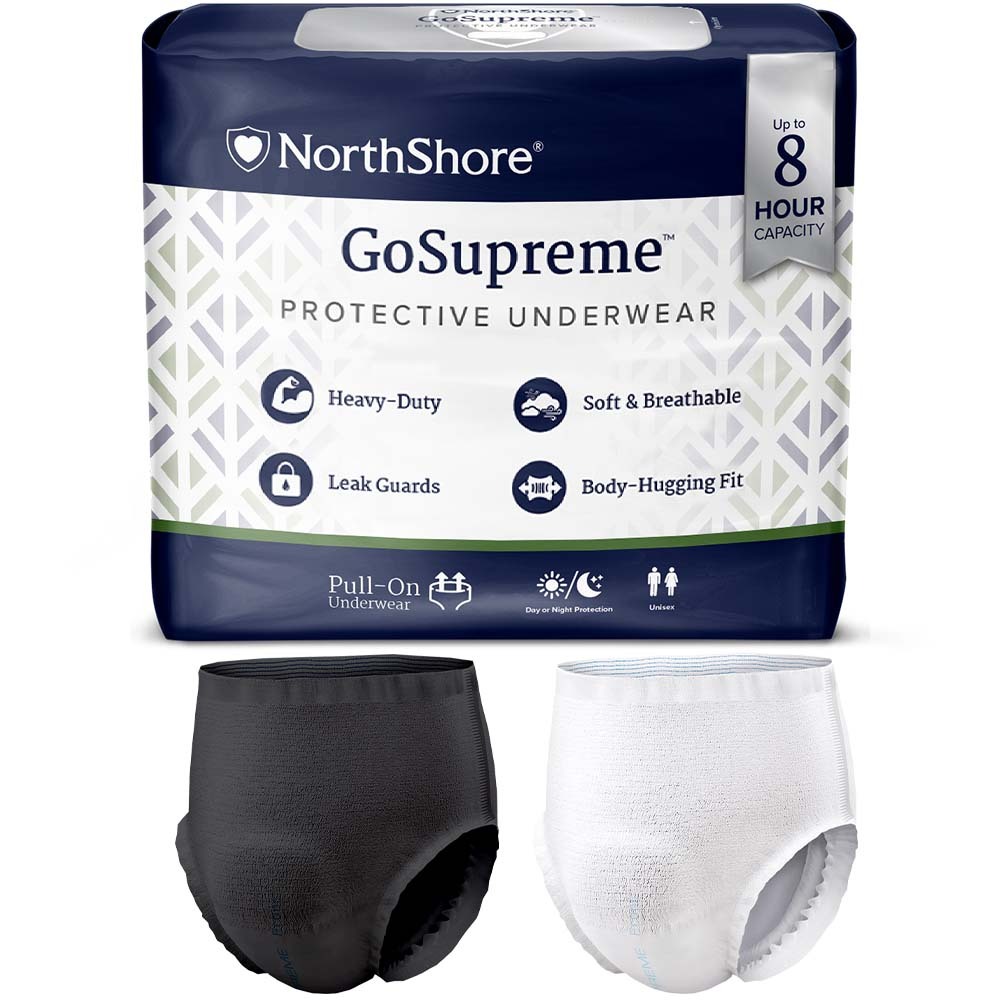 NorthShore GoSupreme Underwear
Guards for Men
Next up are male guards, ideal for men with lighter urinary incontinence and bladder control problems. They are also well suited for men recovering from prostate surgery.
At NorthShore, our male guards offer a lower profile than incontinence underwear. They provide leak protection without any added bulk and are very comfortable. They fit right into standard underwear and are easy to wear.
Guards can provide up to 16 oz. of absorbency and some styles offer waterproof adhesive backing to ensure a more secure fit. Some male guard options, like those offered by NorthShore, are slim enough to be placed in tighter-fitting underwear.

Check out the comparison chart to find out which guards come with adhesive backing, leak guards and other key features.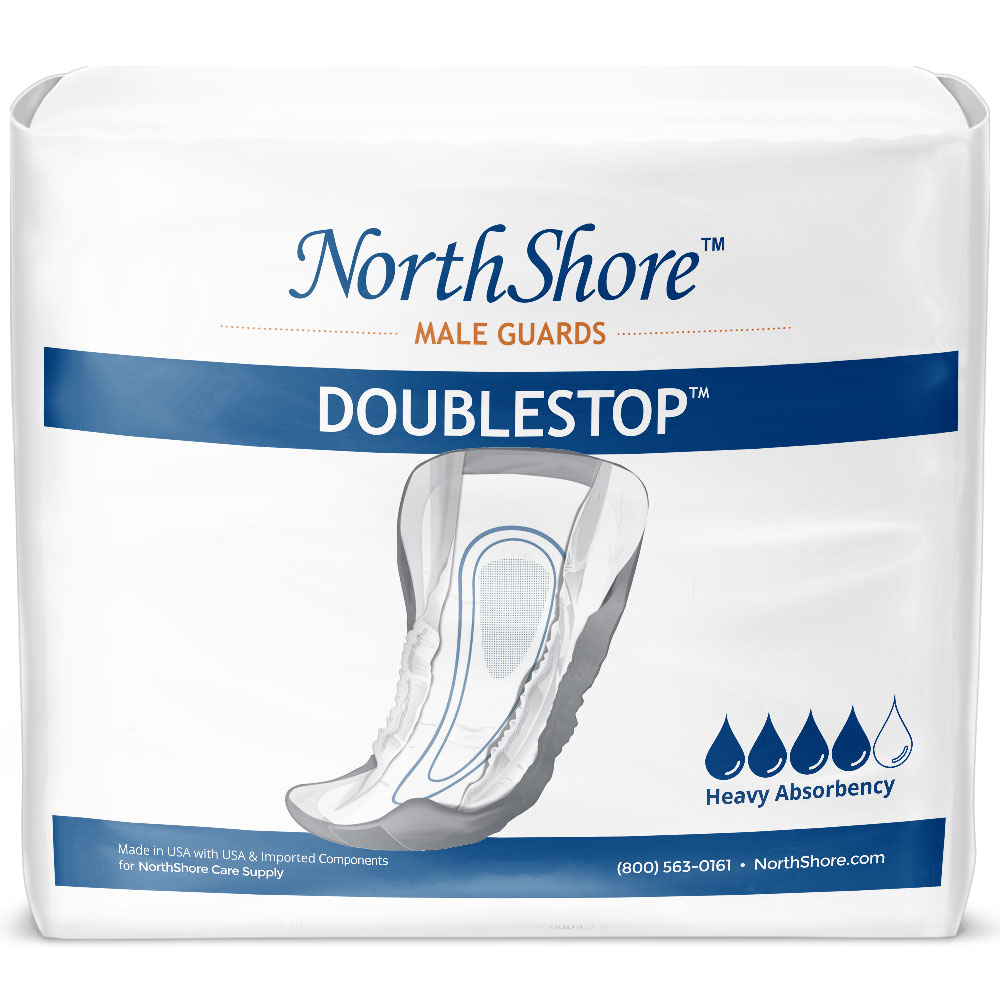 NorthShore DoubleStop Male Guards
Booster Pads
There are also NorthShore's booster pads to consider, sometimes referred to as inserts or doublers. They offer an extra level of protection for those managing heavier urinary as well as bowel incontinence. Wear them inside tab-style briefs or protective underwear. Booster pads provide an extra defense against leaks and added absorbency.
Boosters come with an adhesive backing that is not waterproof, allowing liquid to flow through to the absorbent brief or pull-on underneath. Several boosters or inserts can be used at the same time for added protection. NorthShore boosters come in a variety of sizes with different absorbencies, including heavy and maximum options.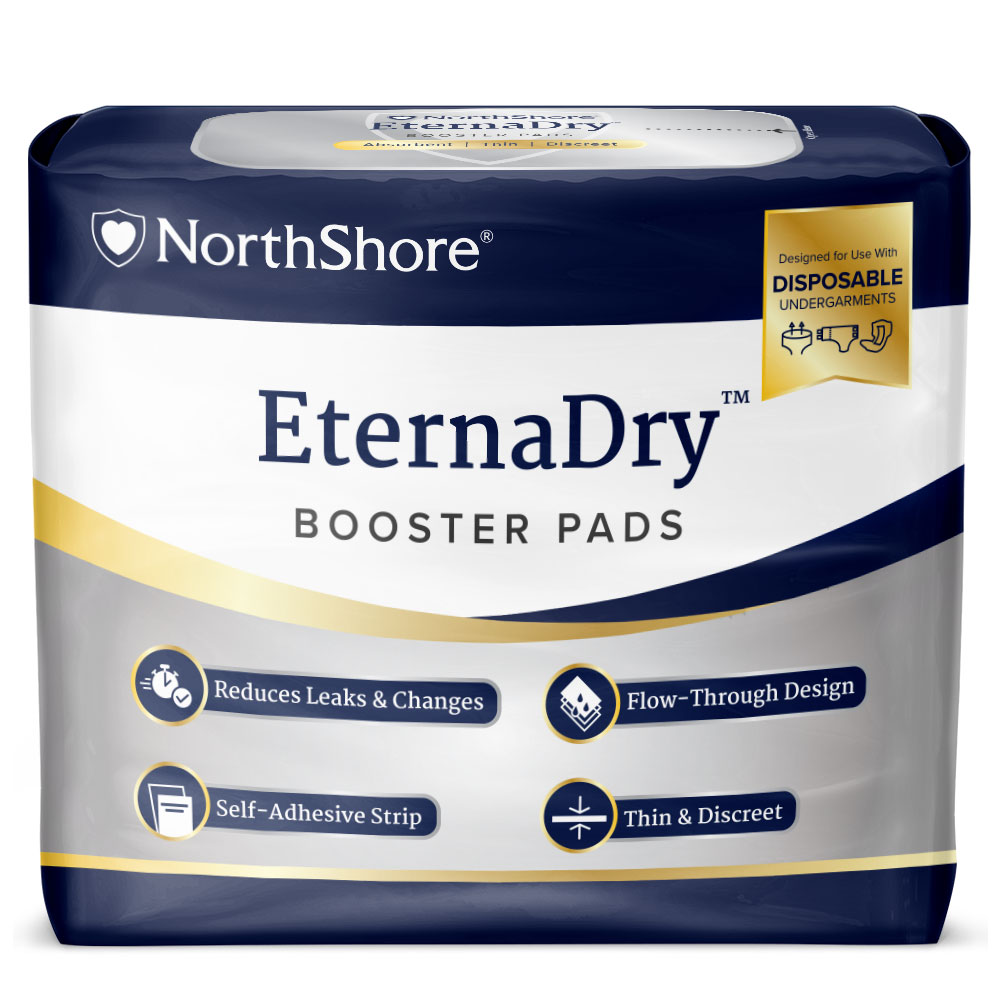 NorthShore EternaDry Booster Pads
Diaper Disposal Bags and Wipes
Finally, the last male urinary incontinence products to mention are handy disposal bags come with a large opening that makes them convenient and easy to use. They are opaque allowing for full discretion and the powder scent covers up unwanted odors.
Supreme Quilted Wipes are premium adult wipes for quick and easy cleanup. Heavy-duty, tear-resistant, quilted, unscented and hypoallergenic, the wipes are available in an extra-long size. They can be used on the face and body. Featuring aloe and calendula, the wipes are soft and gentle on the skin. Dispose of in a trash receptacle.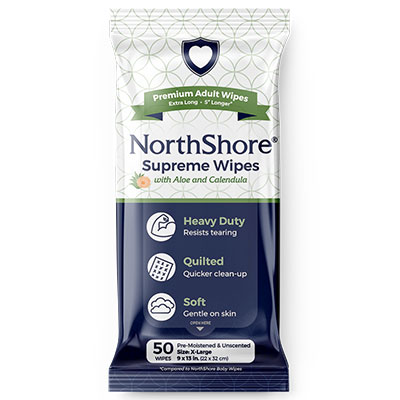 NorthShore Supreme Quilted Wipes

We've now explored the different options available for men affected by incontinence. The benefits of each product have also been explained. Nowadays, NorthShore's range and quality of male incontinence products mean that people managing incontinence no longer have to worry about leaks and can live life to the fullest.


Products Featured in This Article
Please login to access your saved items list. If you don't have an account, create one today to start your list.