5 Ways to Look Good While Managing Incontinence During the Holidays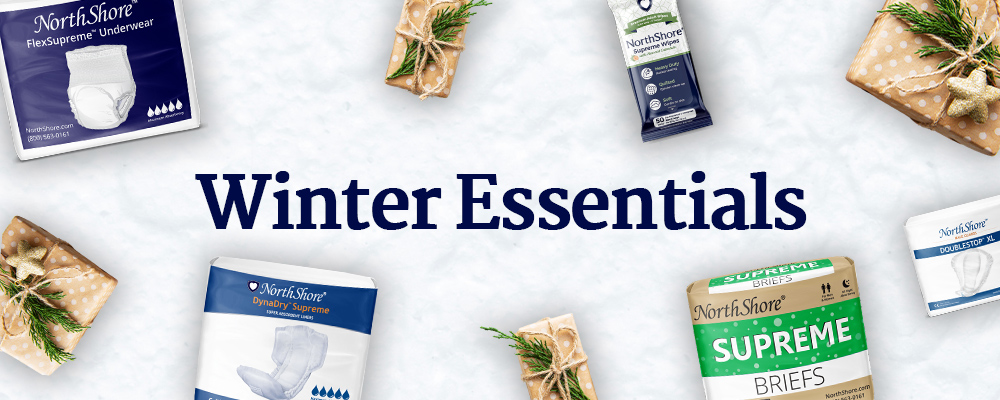 The holidays may look and feel different this year, but staying comfortable and looking festive remains top priority. Whether you're celebrating the holidays with family via Zoom or having a small intimate gathering at home, using the right products can make all the difference. Learn about our 5 looks (and products) to help you stay dry so you can enjoy more of the holidays.
This incontinence underwear offers a comfortable waistband, which stays close to the body. FlexSupreme Underwear offers up to 8 hours of protection if needed. Offering tall leak guards, a quick-wick lining and great protection, FlexSupreme is the total package in an absorbent pull-on. Wear it alongside your favorite dress, slacks or other outfit choice.
Northshore's very popular tabbed briefs also up to 8 hours of protection - if ever needed - and come in a variety of colors in addition to white. Supreme Briefs offer a strong plastic backing to help with odors, tall leak guards and are useful for managing heavier urinary and bowel incontinence.
Use this Heavy-Duty Liner in regular underwear. It's a great option for those managing bladder AND bowel issues. The contoured shape of the liner helps the product stay closer to the body for a more secure fit, along with the adhesive strip that keeps the liner in place.
Finally, discreet, comfortable and form-fitting protection for men! DoubleStop's triangular shape allows for more coverage in the front to capture any leaks. Built-in leak guards offer additional protection. Feel confident and stay dry with this popular male product.
Look good and get the best sleep this winter with our most popular briefs with tabs. MEGAMAX has heavy-duty refastenable tape tabs with a full landing zone to keep it in place all night (or day) long. With up to 12 hours of impressive protection, staying dry has never been easier! Available in blue, pink and white.
Don't forget about the accessories! For times when you may need to dispose of products discreetly, these Disposal Bags can help provide convenience and peace of mind. They are strong, tear resistant and feature a pleasant scent that helps control odors. Take along on trips or use them at home for quick, sanitary cleanup. Supreme Wipes are always a go-to product, regardless of the season. Quilted, strong, hypoallergenic, and premoistened with natural ingredients, Aloe and Calendula. These wipes are great to keep in the bathroom, car, work or in a bag for on-the-go use.
Individuals managing incontinence can enjoy winter to the fullest with these popular products and helpful tips.
Shop these and other

Winter Essentials

or call (800) 563-0161 for personalized recommendations.
Products Featured in This Article
You must have an account to save your Favorites List.