How to Find Incontinence Bed Pads for Your Lifestyle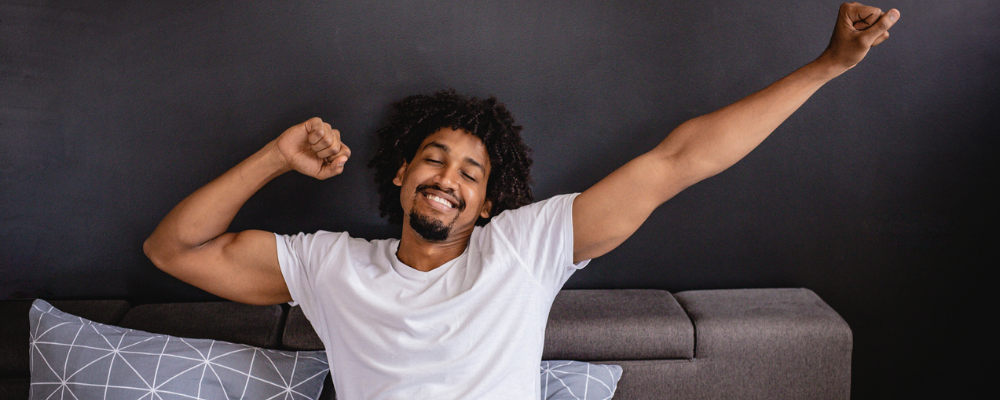 When was the last time you had a good night's sleep? Did you know that on average people spend about 25 years of their life sleeping? Incontinence bed pads or disposable underpads/chux are products that are used during the night as well as during the day for individuals managing incontinence as a form of additional protection for their sheets. How do you find the best incontinence bed pad for your lifestyle? Find out how much absorbency you need, measure your mattress and decide what material you prefer to use are just a couple of ways to find the best bed pad.
If you are looking for a new bed pad and are confused on how to pick the right one, let us help you with some tips below.
4 Ways to Select the Best Incontinence Bed Pads for Your Lifestyle

1. Washable or Disposable Bed Pad
This depends on your specific situation, the type of incontinence you're managing, and your personal preference. Some people use both types, some use one or the other.


Washable Bed Pads - Contain liquid with waterproof backing. Usually a cotton/poly blend material. Soft quilted top layer.
Pros - Long lasting (usually these pads last over 200 washings), better for the environment, usually more absorbent than disposable, more secure
Cons – Depending on the brand of underpad, it may be hot to sleep on
Disposable Underpads/Chux - Polymers absorb liquid into waterproof backing.
Pros - More hygienic, soiled pads can be tossed away easily right in the trash
Cons – Not the best for the environment, does not always stay in place
2. Absorbency

If you notice you're leaking a rather large amount while using your most absorbent undergarment, then we recommend getting the most absorbent washable bed pads or the most absorbent chux there are. The more protection you have, the less likely sheets will get soiled. If you feel like output isn't as heavy, using a moderate level bed pad/underpad may be a better choice.
3. Measure the Mattress
You want to select the correct size for your bed so measure your mattress first. Queen mattresses are a common size so we will use this for purposes of measuring. The dimensions of a typical queen mattress are 60" wide (152 cm) x 80" long (203 cm). You may be asking yourself, "What washable bed pad should I use for a queen mattress?"
If you want the most coverage for a queen mattress, then use the number that corresponds to the width of your mattress, in this case, the 60" (152 cm). Find a bed pad that fits as close to that number as possible.
Hospital-type beds and twin mattresses are narrower in width. Standard size for hospital beds is 38" wide (76 cm) x 75" long (190 cm). We recommend the Champion Tuckable Washable Underpad for this size of the mattress. The tuckable side panels fit perfectly for twin size or hospital mattresses.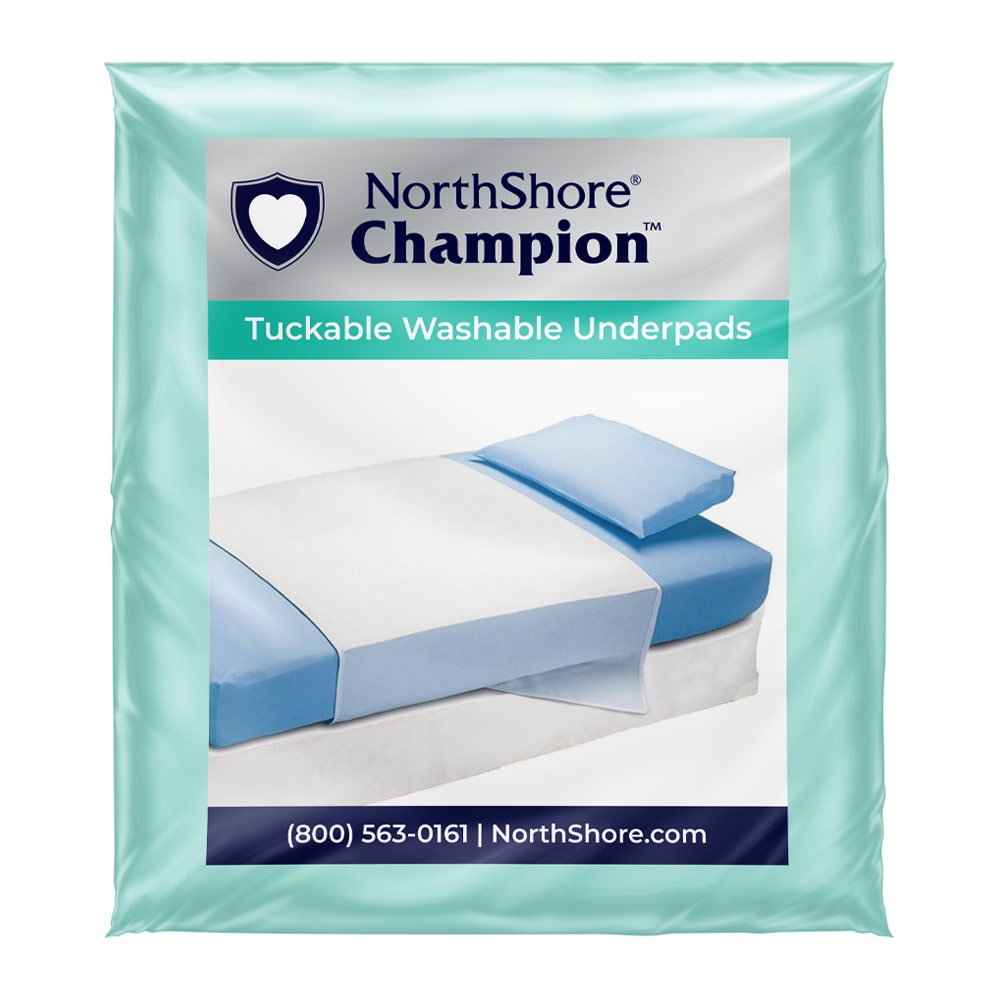 4. Skin Health

If you're experiencing bedsores, pressure ulcer or any other skin conditions, then we recommend using a breathable disposable underpad with a breathable back sheet that will help keep the skin protected. NorthShore MagicSorb Air is a great option that is ideal for those with allergies and skin sensitivities.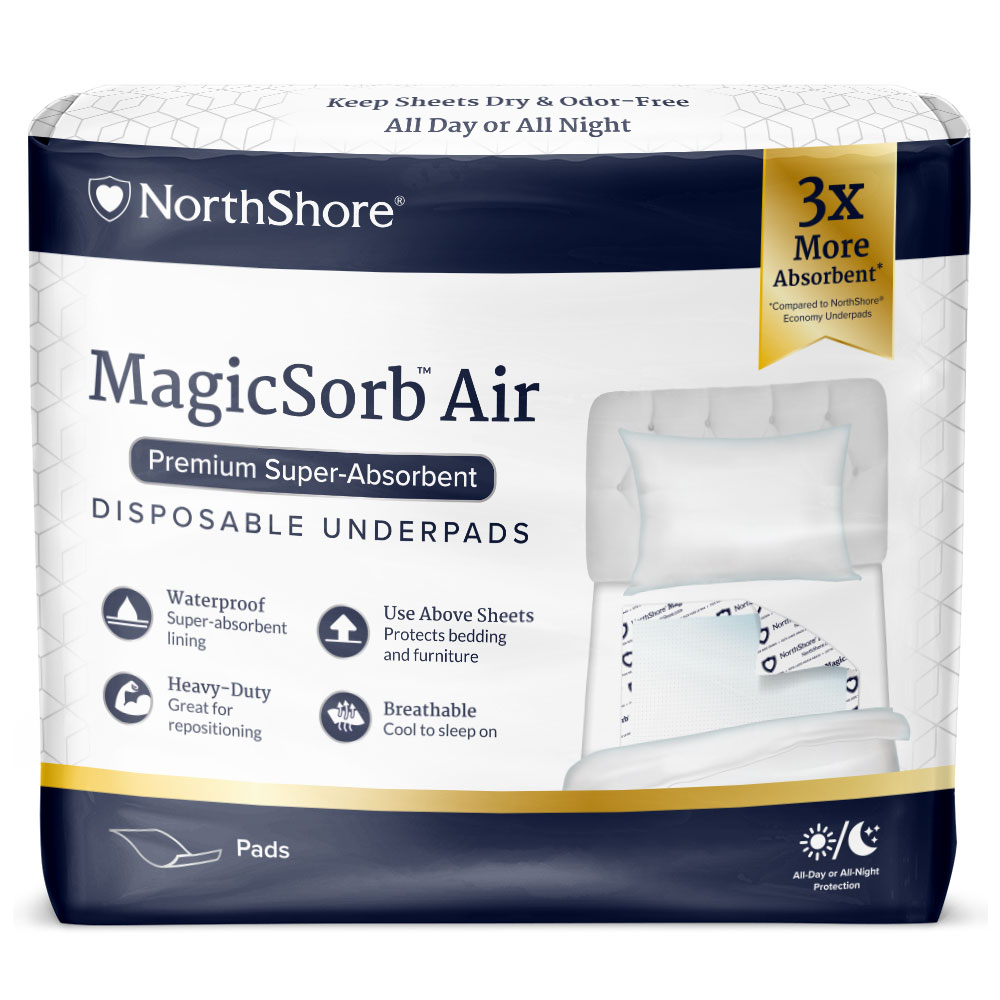 Finding a bed pad or underpad may seem difficult and overwhelming with all of the choices, sizes, types and materials. If you know what features are important, choosing one can be much more manageable.

Feel free to contact a customer care expert at NorthShore if you need assistance for yourself or a loved one.
Need help finding the perfect bed pad? Click here to view our top picks for

Overnight Protection

or call (800) 563-0161
Shop Products Featured in this Article
Staff Pick
Starting at $0.00 FSA/HSA Eligible
Top Seller
Starting at $7.50 FSA/HSA Eligible
Please login to access your saved items list. If you don't have an account, create one today to start your list.