Best Overnight Diapers for Adults
Light from a candle dances a dark bedroom. A woman unfolds the sheets of her bed and slips in as she begins to take deep breaths and closes her eyes. This is just one scene of someone's bedtime ritual. How do you prepare for sleep? Do you write your thoughts in a journal? Perhaps you take a bath or light a candle to get into relaxation mode. Imagine if your bedtime ritual could involve slipping into bed without the worry of leaks waking you up in the middle of the night. If you're managing some type of leakage, you'll want the best overnight adult diapers to keep you dry. We'll give you our best diaper recommendations so you can have the best nights of sleep this summer.
Best Overnight Adult Diapers with Tabs
NorthShore™ MegaMax™ Briefs – The absolute best absorbency for unparalleled containment of urine and bowel incontinence leakage.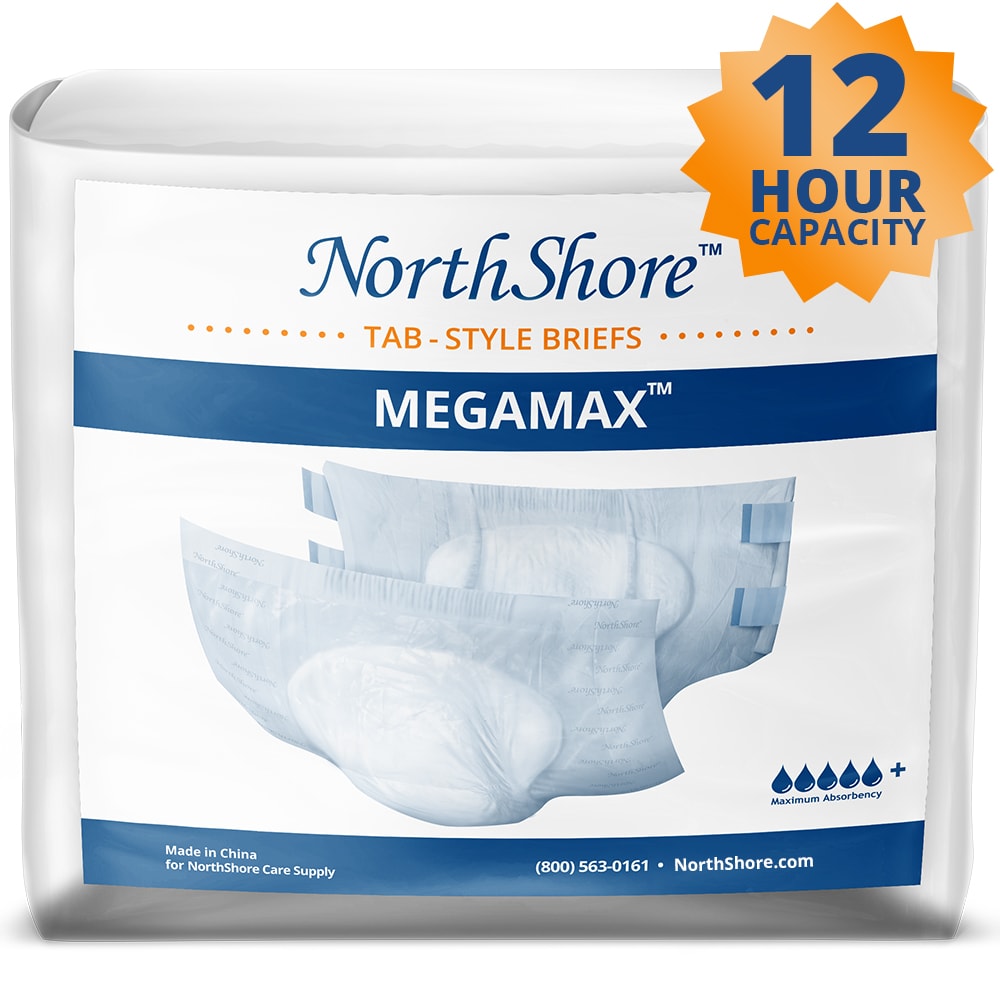 Features:
Ultimate absorbency – tested to last 12 hours!

Wide, strong tape tabs keep briefs fit securely & comfortably

3" longer landing zone allows for more room for tape tabs to stick on to
Ideal for people who:
Are side sleepers

Have extreme bowel and/or urinary leakage – heavy absorbency plus plastic exterior helps with bowel voids

Prefer to not use a booster pad or diaper cover
"These are the most absorbent and comfortable diapers I have ever used. All-day or all night. No leaks at all. So comfortable that I forget I'm wearing them!" - RickD
NorthShore™ Supreme Briefs - Our top-selling flagship briefs for over 4 years that have special wicking that keeps moisture away from the skin.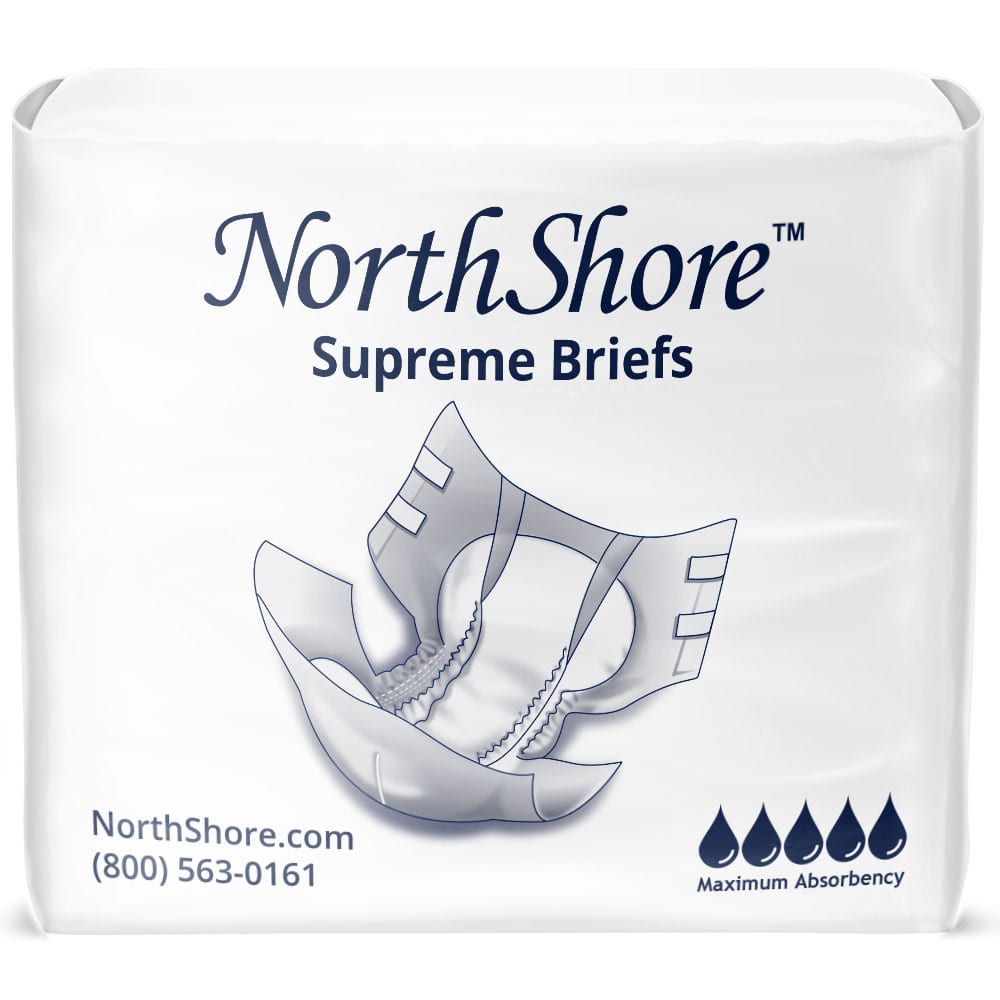 Features:
Super strong backsheet contains odors from escaping and doesn't sag when the diaper is full

Extra-wide coverage offers more protection in the front and rear

Elastic in the back keeps the diaper close to the body and keeps prevents leaks when laying down
Ideal for people who:
Are back and side sleepers

Have bowel and/or urinary leakage

Need a brief that helps with odor containment
"This product is truly effective. This product has made sleeping at night possible. I have MS and IBS and this is the best product I have tried." – Kimberly T
BetterDry Briefs – The brief with the smoothest plastic exterior and tallest leak guards available.
Features:
Elastics in front & back provide a more secure fit when moving or sleeping

Extra-large 1.75-inch tape tabs are easy to fasten when needed

Absorbent brief for day or night use, depending on the user's specific needs
Ideal for people who:
Are side and back sleepers

Require more protection in leg areas

Need moderate protection for bowel and urinary leakage
"I am a side sleeper and out of all the night time heavy wetting diapers these are the best! The way they are designed to contain a lot of urine while side sleeping is so awesome. I hope whoever sees this review, is smart enough to try it, you'll experience what I've shared." – Mr. Danny
NorthShore™ AirSupreme™ Briefs– The softest, most absorbent breathable tab-style adult diaper.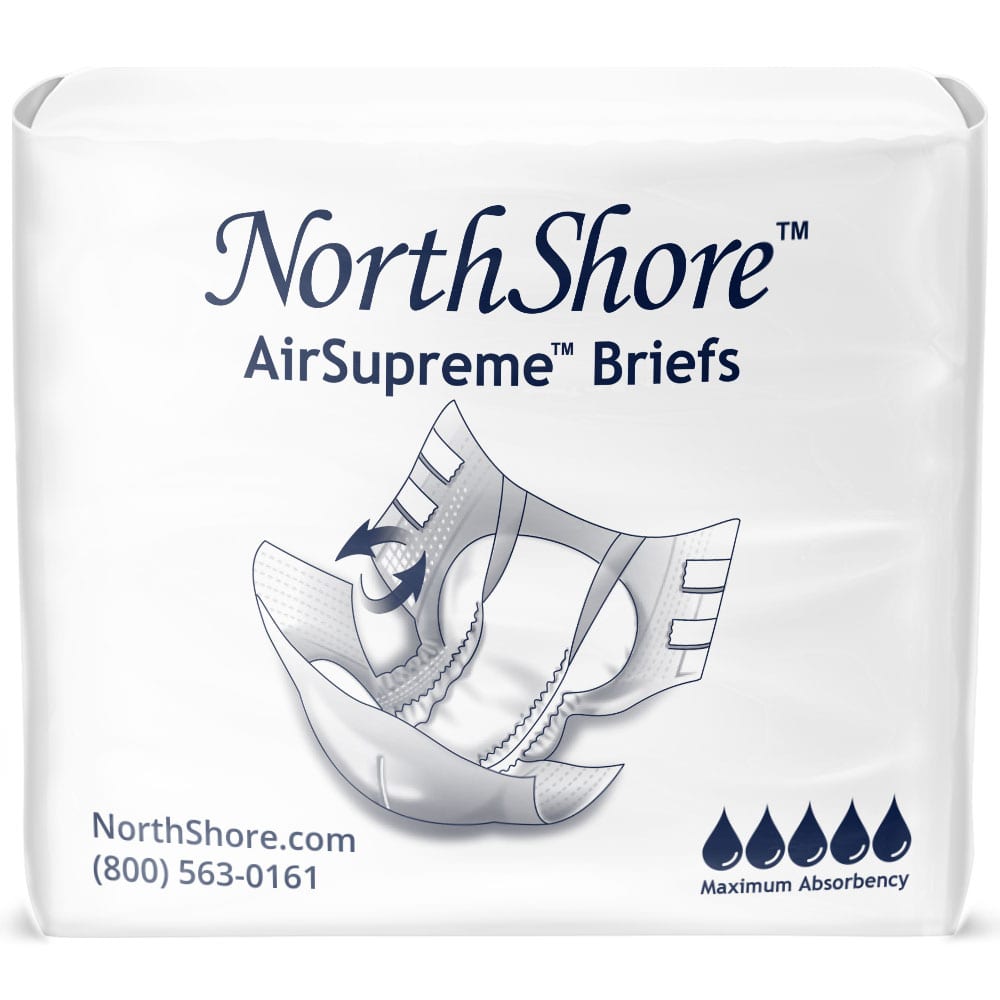 Features:
Hook and loop style tabs allow for multiple fastenings when needed

Breathable backsheet allows more air to flow to the skin

Activated leak guards provide more protection near the leg area
Ideal for people who:
Sleep in multiple positions

Have skin sensitivity

Are looking for a super-absorbent diaper for day or night

Have heavy bowel or urinary leakage
"We've tried different nighttime briefs for my husband and the AirSupreme™ Briefs have been the most comfortable! They are absorbent, leak-proof throughout the night, and feel "cooler" than plastic backed briefs. Thank you for a terrific product!" – Carolyn from FL
Best Adult Overnight Pull-Up Underwear
NorthShore™ GoSupreme™ Underwear– Most form-fitting pull-up style underwear on the site.
Features:
Improved leg elastics and narrow leg openings provide a snug fit

Extra-long contoured lining provides more coverage in the front and back

Dual leak guards provide extra coverage from leaks
Ideal for people who:
Are side sleepers

Have skinny legs/thighs & need a more secure fit around this area

Need more protection for urine and bowel containment
"These unisex pull-ons fit well for both my mother and my husband. The snug leg holes mean no more leaks, which means way less laundry for me! The fact that they're suitable for bladder and bowel, plus they hold 38 oz., making them ideal for our situation." – Jowls Magee
NorthShore™ FlexSupreme™ Underwear- The #1 pull up style underwear for urinary leaks.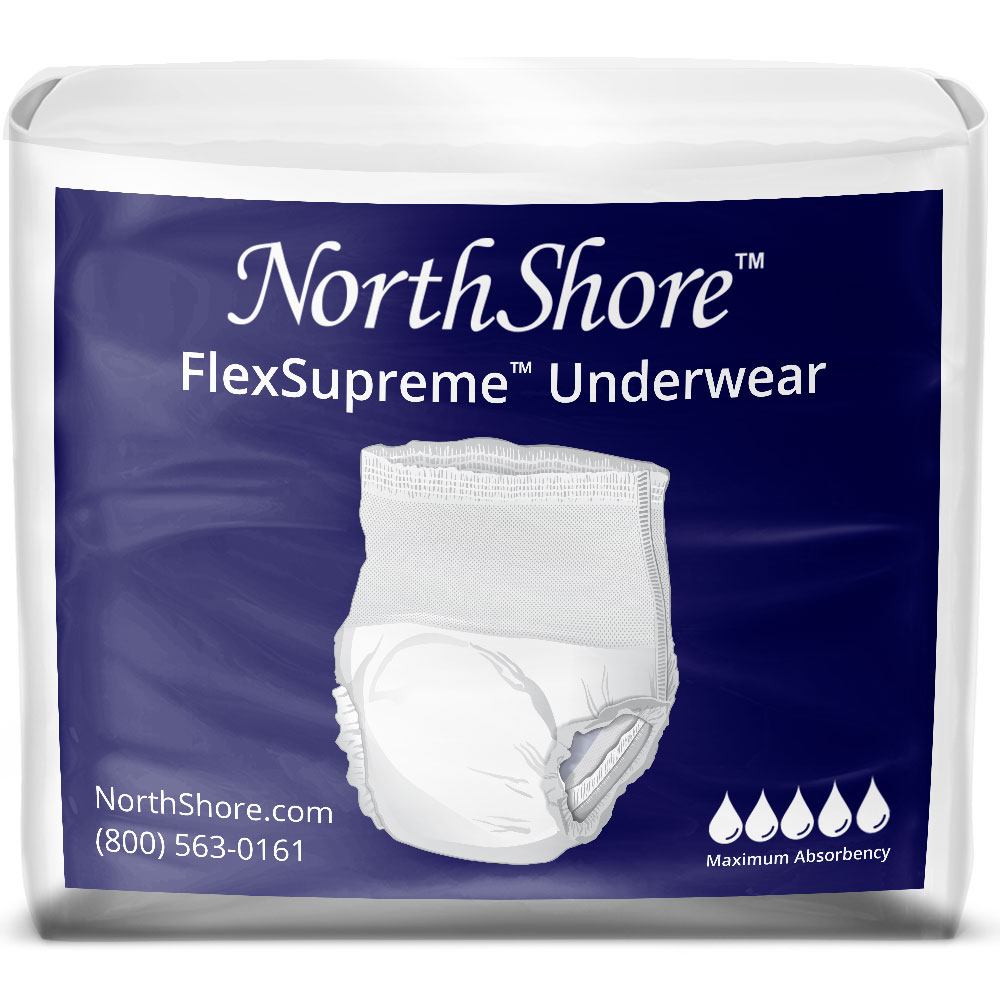 Features:
Maximum absorbency with quick-wicking technology that keeps skin dry

Flexible waistband keeps pull-on close to the body

Elastic waistband goes up to 2XL sizes for hips up to 80 inches
Ideal for people who:
Are side and back sleepers

Need larger sized in pull-ups

Looking for the most absorbent pull-on for urinary containment
"So far these seem to be absorbent enough that I haven't had any problems with leaks."- Sheldon1
Your quality of sleep depends on how well you prepare for it. Whether your bedtime ritual means lighting a candle, meditating, or reading your favorite book, make sure you go also to bed using the best overnight diaper. There are many overnight diapers in the tab-style and pull-on style that are available for your needs. To request samples of these products please call us at (800) 563-0161 or fill click the banner below.