What Are the Best Adult Diapers and Pull-on Underwear for Overnight Protection?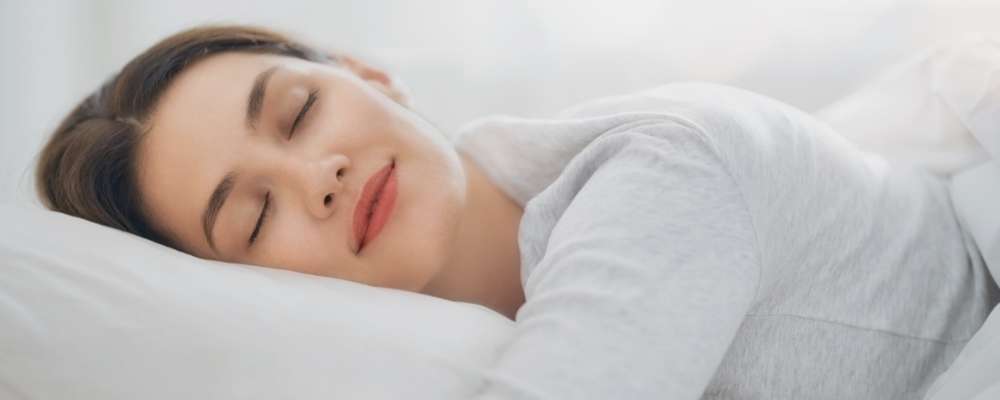 Do you worry about sleeping through the night without waking up to a wet bed the next morning? We all need sufficient sleep to function properly, but whether you are managing incontinence or you are an in-home caregiver, getting enough rest can be challenging.
Imagine if your bedtime ritual could involve slipping into bed without the worry of leaks waking you or someone you love up in the middle of the night. When managing incontinence, having the right protection can help you get the sleep you need.
So what is the best overnight diaper or incontinence product for adults? Quality products should offer superior leakage protection and maximum protection for bladder and/or bowel leaks. The right one for you or someone you care for comes down to a few key features.
Below, discover what matters when selecting all-night protection, and then review the most popular incontinence supplies, with testimonials from real customers.
What to Look For in Overnight Adult Diapers
Comfort, ease of use, absorbency and sizing are all important factors when choosing disposable overnight incontinence protection. Consider the following preferences when making a selection.
Decide Between Adult Diapers With Tabs or Pull-Up Style Underwear
Comfort matters for adult nighttime products, so the first way to narrow down choices is to decide on the style you or your loved one prefers.
Pull-ons are similar to underwear we're used to wearing throughout our lives, so people new to incontinence protection tend to start with these. Individuals who don't have trouble lifting their legs or bending over, or who can easily change their own clothing, sometimes prefer the pull-up style for ease of use and familiarity.
For those who aren't fully mobile or who have caregivers, overnight tab-style briefs can be easier to change without fully undressing. The wearer also doesn't need to bend over to assist with the change; they can remain lying in bed or sitting in a wheelchair (assistance may be needed). Most tape tabs are adjustable as well, so wearers can create a snugger fit.
Disposable briefs with tabs also have a strong backsheet for improved odor resistance, particularly with bowel incontinence.

Choose a High Level of Absorbency
Nighttime is usually the longest period of time individuals will go without a change so, the best incontinence products for overnight will protect against multiple, heavy voids and keep the wearer feeling dry and comfortable. If protection isn't strong enough, wearers may experience leaks or worse, skin damage or rashes.
Each of our most popular options below offers excellent overnight incontinence protection. The absorbency of tab-style briefs varies with size, going up to 49 oz. of absorbency, while our pull-on styles offer 38 oz. of protection.

Find the Right Size for the Best Nighttime Diapers
While it's easy to think that bigger means better when it comes to the most absorbent overnight supplies, the truth is that wearing products that are too roomy can cause leaks, particularly around the legs.
The best way to find the right size is to use a measuring tape to find the diameter of the widest part of the waist and hips to the nearest half-inch. Then, use the larger number to find the corresponding adult diaper size to give a snug, dry fit.
Each of our incontinence products has a size chart, so you can easily find the size that corresponds with the measurements taken. If the measurements fall between two sizes, start with the smaller size. And if the wearer loses or gains a significant amount of weight, measure again to be sure.
Learn more tips about measuring for the best fit.

Find a Product Gentle on Skin
Worried about skin issues related to wearing an incontinence product overnight? Skin can become irritated or develop rashes whenever it's exposed for too long to anything wet but using the right product that offers good wicking and materials that are gentle on the skin can help. The National Association for Continence (NAFC) also discusses tips to help prevent rashes, such as using barrier creams.
Popular Overnight Diapers for Adults
Below are some of our most popular adult incontinence supplies for men and women that offer maximum absorbency for those managing heavy and moderate to total incontinence.
Overnight Tab-Style Briefs
NorthShore MEGAMAX Briefs – These briefs provide up to 12 hours of absorbency and 49 oz. of capacity for massive containment of urine and bowel leakage. Plus, they come in several colors, including tie-dye.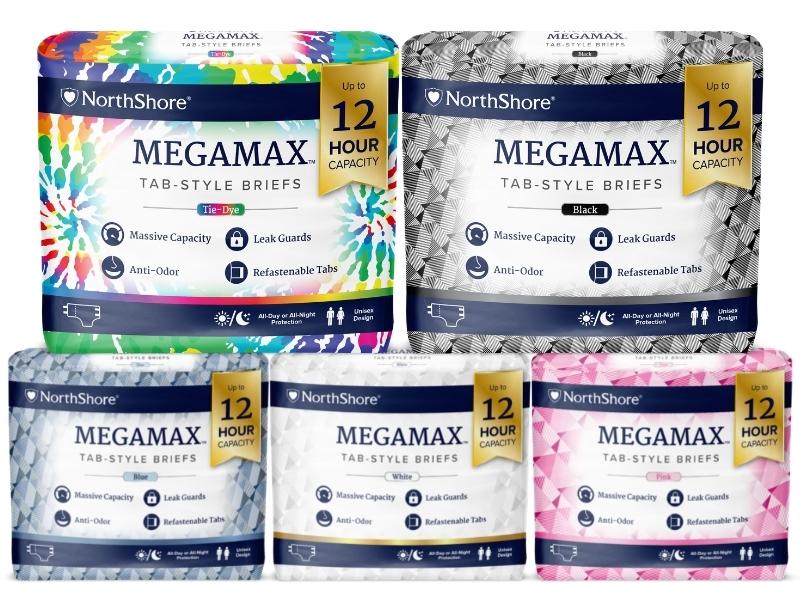 Features:
Massive Absorbency – tested to last up to 12 hours

Wide, strong tape tabs keep briefs secure and comfortable

3" longer landing zone
Ideal for People Who:
Sleep on their sides

Have heavy to total bowel and/or urinary leakage – heavy absorbency plus plastic exterior helps with bowel incontinence

Prefer to not use a booster pad or diaper cover for added protection
"These are the most absorbent and comfortable diapers I have ever used. All day or all night. No leaks at all. So comfortable that I forget I'm wearing them!" - Rick D., NorthShore Customer


NorthShore Supreme Briefs - These briefs feature special wicking to keep moisture away from the skin.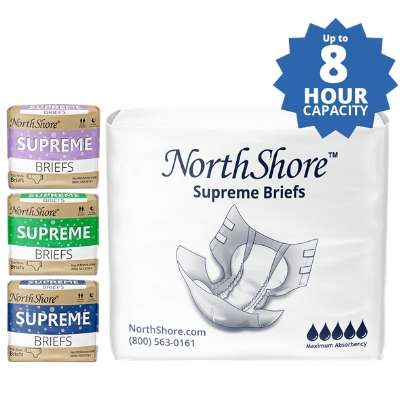 Features:
Maximum Capacity

Strong backsheet offers odor control and resists sagging

Extra-wide coverage offers more protection in the front and rear

Elastic in the back provides a comfortable fit and helps prevents leaks when laying down
Ideal for People Who:
Sleep on their side and/or back

Have bowel and/or urinary incontinence

Need a brief that helps with odor containment
"This product is truly effective. This product has made sleeping at night possible. I have MS and IBS and this is the best product I have tried." – Kimberly T., NorthShore Customer


NorthShore AirSupreme Briefs – Our softest, most absorbent and breathable tab-style adult diaper ranges in absorbency from 20-45 oz., depending on tab-style brief size.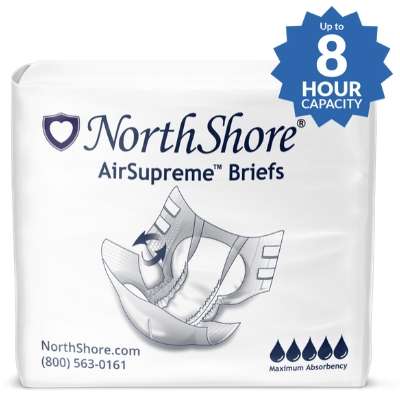 Features:
Maximum Absorbency

Hook and loop style tabs allow for refastening if needed

Breathable backsheet allows more air to flow to the skin

Activated leak guards provide more protection near leg areas
Ideal for People Who:
Sleep in multiple positions

Have skin sensitivity

Are looking for a super-absorbent diaper for day or night

Have heavy bowel or urinary leakage
"We've tried different nighttime products for my husband and the AirSupreme Briefs have been the most comfortable! They are absorbent, leak-proof throughout the night, and feel "cooler" than plastic-backed briefs. Thank you for a terrific product!" – Carolyn L., NorthShore Customer


Overnight Pull-Up Style Underwear
NorthShore GoSupreme Underwear – The most form-fitting, high-absorbency protective underwear offered by NorthShore, GoSupreme's sizes go up to 3XL for waist/hip measurements of 74-90 in. (188-229 cm).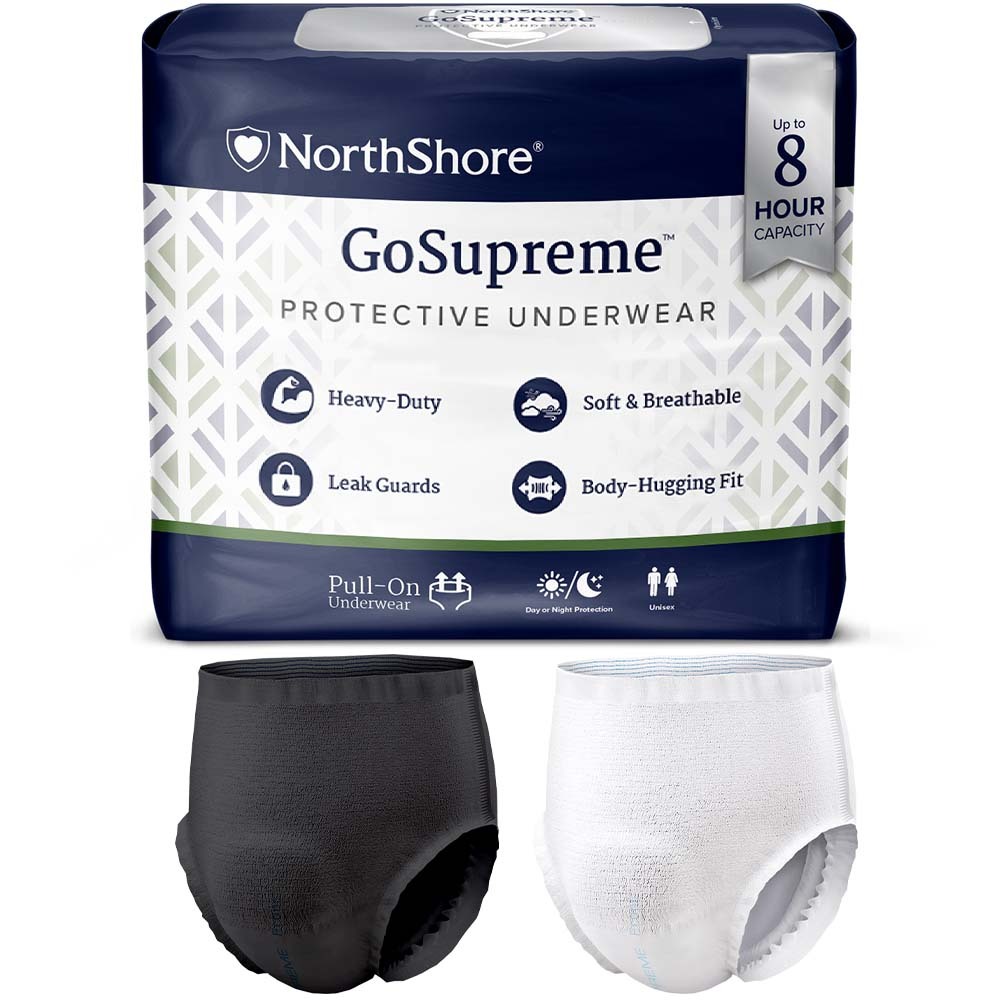 Features:
Maximum Absorbency

Improved leg elastics and narrow leg openings provide a snug fit

Extra-long contoured lining provides more coverage in the front and back

Dual leak guards provide extra coverage
Ideal for People Who:
Sleep on their side

Have thinner legs/thighs and need a more secure fit around these areas

Need protection for urine and/or bowel containment
"These pull-ons fit well for both my mother and my husband. The snug leg holes mean no more leaks, which means way less laundry for me! The fact that they're suitable for bladder and bowel makes them ideal for our situation." – Jowls M., NorthShore Customer


NorthShore FlexSupreme Underwear - A flexible pull-on for urinary leaks, providing up to 38 oz. of absorbency and protection.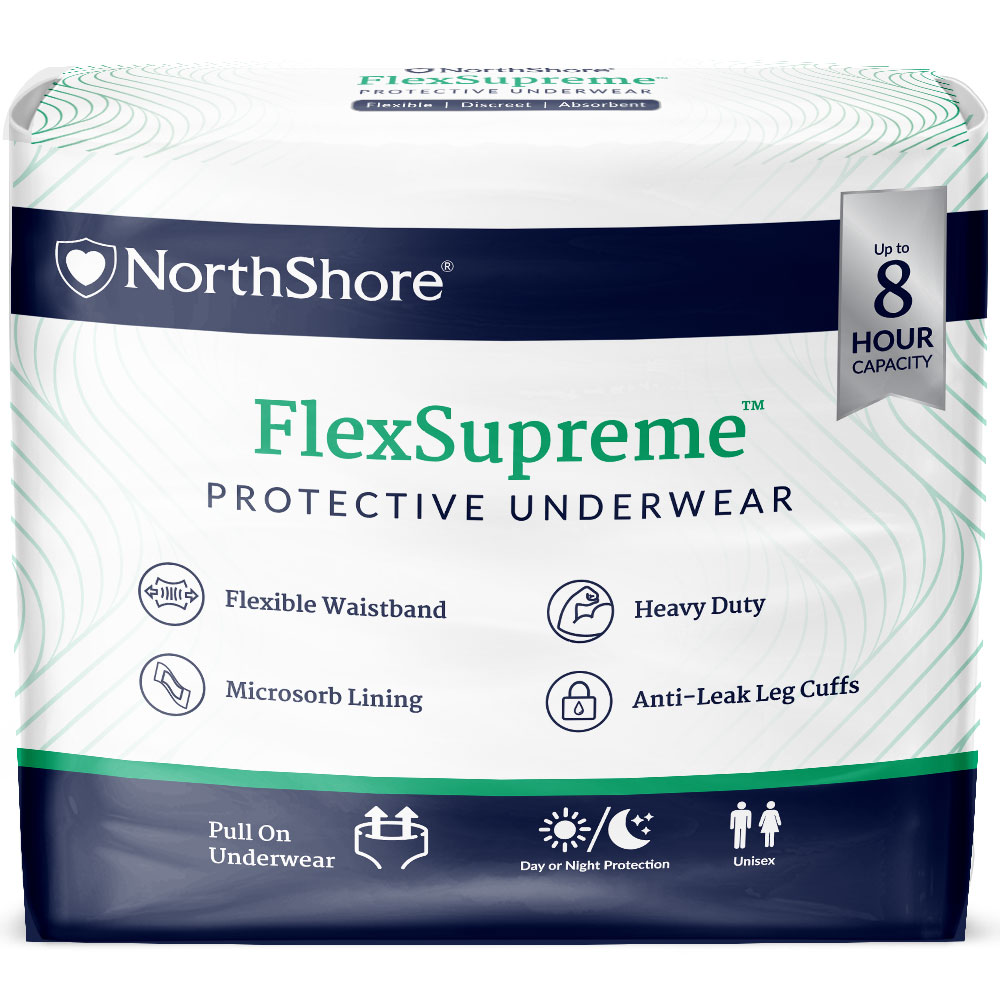 Features:
Maximum absorbency with quick-wicking technology to keep skin dry

Flexible waistband keeps pull-on close to the body
Ideal for People Who:
Sleep on their side and/or back

Need larger sizes

Want an absorbent pull-on
"So far these seem to be absorbent enough that I haven't had any problems with leaks."- Sheldon A., NorthShore Customer

Quality of sleep depends on how well prepared you are for it. Whether your bedtime ritual involves watching TV, lighting a candle, meditating or reading a favorite book, you will want to make sure you use the best overnight incontinence products available. Supplies should offer superior leak protection and offer maximum protection for bladder leaks and bowel incontinence. Stay dry and rested throughout the night and get the sleep you deserve. According to SleepFoundation.org, individuals need sufficient sleep to function properly.


Shop Products Featured In This Article
Please login to access your saved items list. If you don't have an account, create one today to start your list.