Top 5 Ways to Stay Cool and Dry When Wearing Breathable Adult Diapers and Pull-On Underwear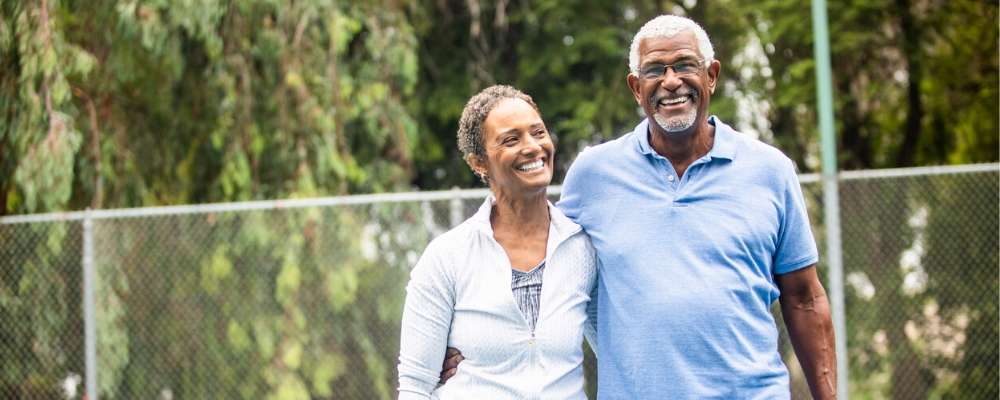 Wearing the right breathable, super-absorbent incontinence supplies can have many benefits. Products that allow the skin to breathe can reduce pressure sores and skin irritation as well as keep wearers cooler. Adding barrier creams and "no water needed" cleansing creams can also aid in maintaining skin health, according to Orlando Medical News.
Finding cooler absorbent adult diapers can also help with the mental burden managing incontinence can sometimes bring. When people can choose products that are comfortable and absorbent, they don't have to worry about accidents or skin issues holding them back. They're free to enjoy all that life has to offer. Discover the benefits of NorthShore incontinence products plus five ways to stay cool and dry over the summer.
Breathable & Absorbent Adult Diapers & Underwear
Premium incontinence products, like those offered by NorthShore Care Supply, can help to reduce the risk of urinary tract infections, or UTIs. A high-quality product offers a special absorbent core that locks in urine while decreasing bacterial growth and requiring fewer changes. Needing fewer changes can result in financial savings, resulting in a win-win situation all around.
The NorthShore GoSupreme Lite Pull-Up Style Underwear offers high-absorbency protection without the bulk. Featuring a comfortable form-fitting waistband, absorbent core and improved leg elastics, this underwear is great for active individuals managing moderate urine leaks.
Plastic-Backed vs. Cloth-Like Adult Briefs & Pull-Ons
Adult diapers and protective underwear have two different styles for their backsheet material, plastic-backed and cloth-like. A cloth-like backsheet helps the skin breathe while a plastic backsheet helps contain odors.
Both are effective in addressing incontinence, but typically briefs with breathable backsheets will help keep the skin cooler than plastic-backed adult diapers. The breathable zones on the products are typically on the side panels and tab areas as well as on the front and back of the product.
Whichever option you chose, pay close attention to the fit and absorbent capacity the product offers. Breathable briefs and pull-ons may be better options during high temperatures or for people managing skin conditions. We will review our top breathable products to help keep you or a loved one cooler and protected.
Most Comfortable Adult Diapers for Day & Night
Individuals may prioritize different features for wearing diapers under clothes during the day and sleeping peacefully throughout the night. A rustle-free diaper with a smoother profile may be important to adults wearing diapers for comfort while out with friends or running errands. But at night, maximum absorbency and wicking capabilities for longer wear between changing a wet adult diaper can feel essential.
Daytime Adult Diapers
Less bulky options are great for people wearing incontinence diapers throughout the day. NorthShore provides several styles to keep people secure while getting in and out of a car, waiting in lines, or simply taking a walk around the neighborhood.
NorthShore Supreme Lite Briefs are a great plastic-backed option for summer; they are 20% less bulky than the Supreme Briefs but offer up to 6 hours of protection for bladder and bowel leaks.
The NorthShore AirPremium Briefs are ideal for individuals managing moderate urinary incontinence. The soft, rustle-free backsheet offers a discreet fit. Tall leak guards near the leg areas prevent leaks for added security for restless side sleepers.
Overnight Adult Diapers
Super-absorbent incontinence products are also important in getting enough rest and sleeping through the night. Sleep helps with cell regeneration, tissue healing, hormone regulation and more. That's why having the right adult diaper or pull-on can keep someone drier longer so they can get much-needed sleep.
Read more about NorthShore's most popular overnight incontinence protection for adults, providing high-absorbency, powerful wicking capabilities and a snug fit.
5 Tips to Stay Cool & Dry
1. Wear Comfortable Clothing
It is best to wear clothing made of cotton or linen to increase breathability and airflow. Loose-fitting and lightweight joggers, sweatpants, capris, shorts, dresses or skirts are advised. Avoid tight-fitting clothes that can stick to the skin with an increase in activities.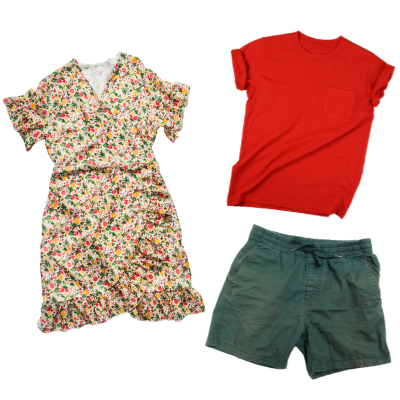 2. Use Personal Care Items
Skin health is essential when wearing adult diapers and skincare products can help keep skin integrity. Moisture barrier ointments and wipes help maintain freshness on the go or at home. Perspiration and smells can be distressing, so personal care products are handy in freshening up after a change or in between activities. Discreet disposal bags are also helpful when discarding soiled materials.
3. Use Breathable Disposable Underpads
If you experience moderate to severe incontinence, consider using disposable bed pads with briefs and pull-ons for an added barrier and protection. Those like NorthShore MagicSorb Air are breathable yet absorbent pads which promote effective airflow. Offered in larger sizes, these underpads provide more coverage while keeping the user cool and dry.
4. Pack a Gym/Beach Bag with a Towel
Use an easy-to-clean bag to carry extra supplies, underwear, pads or liners. Use the lightest incontinence supplies possible while getting the protection needed. And you don't have to be heading to the beach to keep a small- to medium-sized towel close by to help cleanse and cool off. If a cleanser or wipes are not available, use water for a quick wipe-down.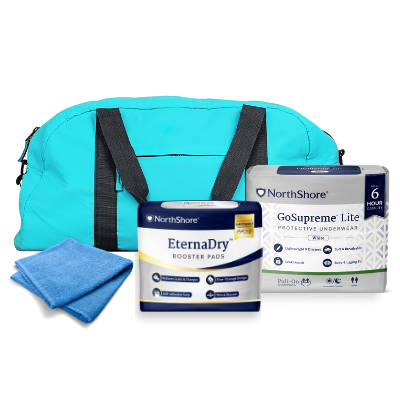 EternaDry Booster Pads & GoSupreme Lite Underwear
5. Stay Hydrated
Keep a water bottle nearby. Water helps not only with hydration, skin health and body temperature, but also control urine odors.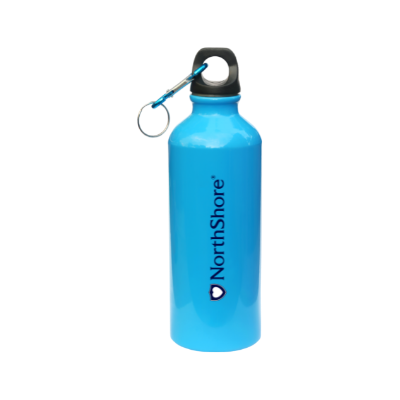 Choose NorthShore's Best Breathable and Absorbent Adult Diapers & Underwear
Those managing incontinence can enjoy all summer has to offer by using products offering quality protection and a comfortable fit. Products including leg gathers, cloth-like material and less bulk can help individuals enjoy the outdoors without the worry of leaks. NorthShore's breathable adult diapers offer protection with comfort in mind.
Shop Products Featured In This Article
Please login to access your saved items list. If you don't have an account, create one today to start your list.