Best 5 Adult Diapers & Incontinence Products for Spring 2023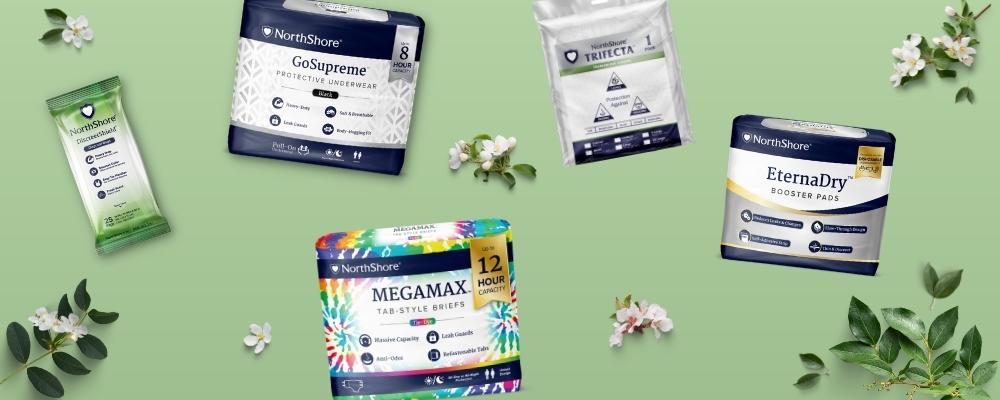 Spring is the season of new beginnings as well as warmer weather and increased daylight. Taking walks and seeing flowers in bloom are part of what makes spring so fun, according to Insider. But as people venture outdoors, answering the unexpected call of Mother Nature can be a challenge, according to AgingCare. If you are someone managing incontinence or caring for someone who is, consider this list of curated incontinence supplies and essentials for enjoying Spring 2023 to the fullest!
Stay protected in style this spring with NorthShore's top-selling, top-rated and most absorbent tab-style brief, MEGAMAX. Total lockdown protection against urinary leakage and bowel incontinence, anti-odor, leak guards, refastenable tabs and a 4.8/5 Customer Review. With up to 3x the absorbency of leading store brands, MEGAMAX is recommended for all-day and all-night protection. Five color choices and a variety of sizes. Be dry, protected and stylish with MEGAMAX.
On the Spring Essentials list for the second year in a row, EternaDry Booster Pads are a customer favorite. These diaper doublers have a flow-through design for extended leak protection. For use with a disposable undergarment such as a brief with tabs, protective underwear or liner for added absorbency and extra protection. EternaDry Booster Pads have a higher absorbency, more sizes and lower cost than most other brands. Slim, soft and super-absorbent with an adhesive backing that holds it in place and enables users to stack multiple boosters.
Now available in PINK!! Our popular pull-on is heavy-duty, soft and breathable. Features include extra coverage in the front and rear, a super-absorbent lining that locks in wetness and odors, heavy-duty waist and leg elastics for a discreet yet secure fit, tear-away side seams for easy removal and disposal and a wetness indicator. GoSupreme is offered in in three color choices and various sizes, from small to 3X-Large, and complements a variety of body shapes. Consider GoSupreme Lite - also available now in black - for the same protection with less bulk.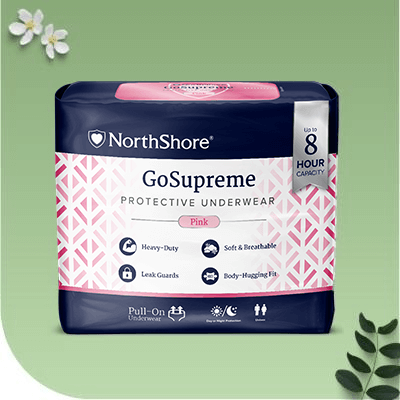 If you are looking for protection against leaks, odors and sagging this season, look no further than TRIFECTA. These premium waterproof briefs are designed to be worn over adult diapers, pull-on underwear or other incontinence products to keep clothing dry. Soft, breathable, washable and reversible. Offered in pink, blue, black and classic white as well as six sizes, from X-Small to 2X-Large. Use over any absorbent product for extra security and peace of mind.
DiscreetShield Disposal Bags offer easy and discreet disposal of incontinence supplies, pet waste or other items. The opaque navy color hides contents while a fresh scent masks odors. Easy-tie handles secure contents to protect against odors and leaks. DiscreetShield bags are resealable and conveniently fit in purses, bags and backpacks for on-the-go use.
Get ready to enjoy Spring with these top-rated product recommendations.
Shop Spring Essentials or call (800) 563-0161 for personalized product recommendations.
NorthShore Insider Tip:

For Spring travel with incontinence, it is essential to pack the right supplies to help you manage. Visit our, Spring Travel article to

learn more.




Thank you so much for reading our blogs!

Did you know NorthShore has helped millions of people manage incontinence with life-changing absorbent products? It's so amazing to hear their stories.

We also want you to know we have trained product advocates that provide a personal experience by working with each customer to find the best product for their situation.

Find out for yourself today!
To get in touch, simply provide your contact details below and your personal product advocate will reach out.


---
Products Mentioned in this Article
Please login to access your saved items list. If you don't have an account, create one today to start your list.