Protective Underwear or Liners: Which is Better?

If you're experiencing heavy or complete urinary or fecal incontinence, adult diapers are the best choice, hands-down. Nothing beats them for containment, coverage, fit and long-lasting, reliable protection. Period.
But most of the millions of Americans who experience incontinence deal with leaks, dribbles and the occasional 'oopsie' (medical term—I think it's Latin). Women and men who don't need a tab-style brief or adult diaper but need more than a pad to feel safe may be considering incontinence liners or protective underwear. But which is better?
Well, if there were just one answer for everyone, there wouldn't be so many options, now would there? But here's my experienced take on it.


The Contenders: Pull-Ons vs. Liners/Pads


Protective underwear, also known as pull-on or pull-style style, is a disposable garment with a built-in absorbent pad and stretchy "sock" that can be pulled on. For the purposes of this comparison, I'll be talking about NorthShore versions—GoSupreme, GoSupreme Lite and FlexSupreme. (Side note: Although they're categorized by waist size, I would argue that fit around the legs is more important.)
Incontinence liners fit inside regular underwear and come in a wide range of lengths, widths and absorbencies. Now, I'd be remiss if I didn't point out that the underwear MUST be snug-fitting, preferably with at least some Spandex, so it doesn't stretch and droop throughout the day, taking the pad farther and farther from your body. Here, I'll be talking about the NorthShore DynaDry Supreme liners.
In this comparison, we'll take a look at three criteria:
1. Appearance and fit
2. Ease of changing
3. Price
Let's get to it!
Appearance and Fit
Protective underwear may fit you perfectly, just like they show on TV. You may be one of the lucky ones shaped just like the mannequin the manufacturer used to design it, but most of us aren't. I'm not. Unlike the pull-ups made for kids, which need to stretch enough to accommodate mere inches of variation, we grownups can vary in size by literal feet. Try accommodating every body type and size with just 3 or 4 sizes and you'll see that it's hit or miss.
Liners have the distinct advantage of letting you use your own undies. That matters, since your skivvies will almost certainly be higher-quality (and more attractive) than disposable ones that were made to fit a wide range of bodies and then thrown away. A liner fits is used in addition to regular underwear, which is also a plus.
Advantage: Liners
Ease of Changing
I don't think I've ever found protective underwear that didn't have tear-away side seams, which makes them easy to remove, but putting them on? That can be a challenge:
Remove shoes

Remove pants

Remove soiled underwear (then clean up)

Pull on fresh pull-on underwear

Put on pants

Put on shoes

Take a nap ... just kidding
You see the problem. Changing a liner only requires you to pull down your pants and undies, and your shoes can stay on. This is much simpler, and waaay easier when you're away from home.
Advantage: Liners
Price
This one's a pretty simple calculation. The numbers will change with which underwear you compare with which liner, but in nearly every case, the DynaDry liners will be less expensive than NorthShore underwear with comparable absorbency, since what you're paying for is the absorbent pad and none of the stretchy fabric.
Advantage: Liners
One last thing I'll mention is coverage. NorthShore makes the best underwear out there, and I always have some GoSupreme undies in my supply closet. But the DynaDry liners offer a wide range of sizes and protection that no absorbent underwear can match, in my opinion. The larger sizes offer a wide pad in the back for those with fecal incontinence, or, if you're a guy, you can wear the wide part up front for coverage as good as any diaper.
What's right for you? Experimentation. That really is the only way to figure out not only the product that's best for you, but when to use what. With the right tools at your disposal, incontinence can be a mere inconvenience. It will take time to figure out what those "right tools" are for you, but NorthShore Care can help.
Call NorthShore at 800-563-0161, email or chat anytime and they will help find samples and products to try out, so you can live your best life.
Some years ago (I decline to say how many), life threw me a curveball and I found myself facing some new and frightening challenges, and having to navigate the confusing world of incontinence products alone. This was pre-internet and, frankly, pre-decent options. Through constant experimentation, I've found products that work for me—yes, many of which are sold by NorthShore Care—but the more important part of my journey has been internal. I've fought insecurity, isolation, paranoia that EVERYONE was staring at my butt, and fear that I'd never be able to return to the rich, full life I once had. I'm happy to say all of that was unfounded.

Part of the work I did to understand and accept myself included reading. A LOT of reading. I found articles that explained the different kinds of incontinence, blog posts about the various products that were available, and even pamphlets for drugs that offered to solve my problem. What I couldn't find was practical guidance on and honest thoughts about living with this embarrassing, confusing, and occasionally hilarious new "feature" my body had to offer.

NorthShore gets it, and that's why I'm here. NorthShore isn't just a business that sells incontinence supplies, it's a business built on a foundation of understanding of what you and I are dealing with every day.

I don't work for NorthShore (would it be too cheesy to say I work for you?) but this feels like the right place for a blog that addresses real-world issues around incontinence. Here I'll talk candidly, openly, and occasionally uncomfortably about the challenges we face, the products that can help us manage those challenges, and how to go about confidently getting on with our lives.

Let's get real.

—Bill Edwards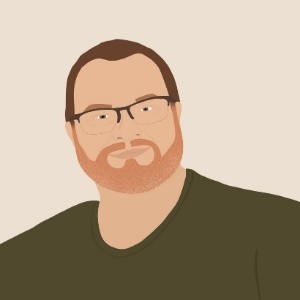 Products Featured in this Article
Please login to access your saved items list. If you don't have an account, create one today to start your list.