How to Select Adult Protective Underwear & Pull-Ons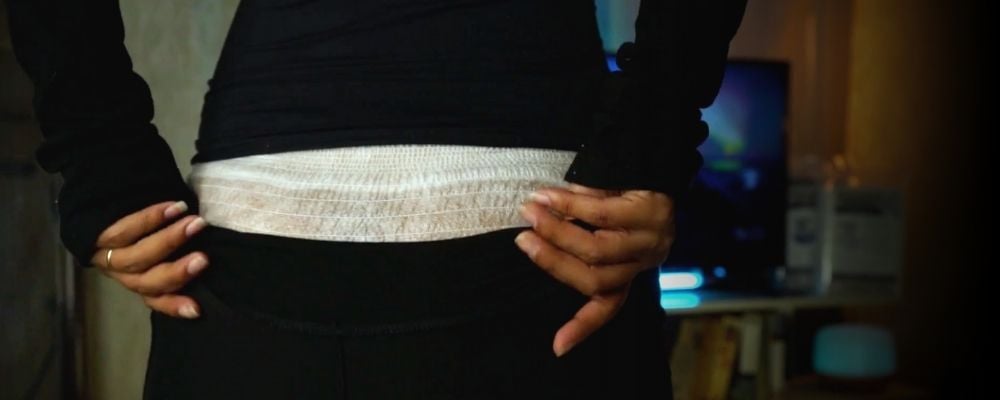 Pull-up style underwear and adult diapers with tabs are two of the most popular types of incontinence products on the market today. Both styles have benefits and are designed for varying levels of absorbency and sizes to suit a wide range of comfort preferences, protection needs, mobility levels and style specifications.
You or your loved one may be experiencing short- or long-term bladder or bowel leaks, and depending on the type of incontinence, there could be a range of treatments available. As you explore options, finding comfortable protection to help you or your loved manage incontinence and lead a full, confident life is essential.

Discover more about different types of adult incontinence underwear and how to select the best protective underwear for urine leakage.
Pull-Ons vs. Tab-Style Briefs
Both styles can be used to manage moderate to heavy incontinence. The primary difference between disposable adult underwear and diapers with tabs are the side seams. While both can be removed without taking off a person's pants, only tab-style briefs can be put on in this fashion because they feature fastenable tabs on the sides.

Adult incontinence briefs with tabs are usually worn by individuals with limited mobility and those who have caregivers. It is easier for caregivers to change loved ones because clothes do not have to be removed when the soiled undergarment is changed.
Pull-ons, designed to be worn like underwear, are ideal for individuals who are more active and want a product that is easier to change, less bulky, more discreet and quieter. Adult pull-up style underwear also offer a breathable exterior and secure leg openings that provide more freedom than other incontinence products.
Benefits of Adult Pull-Up Style Underwear
Pull-ons typically feature a comfortable, form-fitting elastic waistband, similar to regular underwear. Although adult diapers are usually featured on overnight incontinence lists, there are some pull-ons that can offer protection for up to 8 hours, like NorthShore's GoSupreme Underwear. Common features of adult pull-on incontinence underwear include:

Look and feel like traditional underwear

Tend to be easier to change than adult diapers

Often less bulky and more discreet

Usually made with cloth-like materials, which makes them quieter

Appropriate for those with moderate to heavy incontinence

Usually feature breathable panels and anti-leak guards
How to Choose Pull-On Underwear
When shopping for incontinence underwear, there are many choices available. Incontinence supplies offer a variety of features, which may vary from brand to brand. Each feature has a purpose; the key is to choose the pull-on that best meets a person's needs. Take the following features into consideration when choosing protective underwear:
Size - Absorbent undergarments come in a variety of sizes, usually based on waist and hip measurements. Some brands, like NorthShore, offer up to 3XL.
Absorbency - This refers to the amount of liquid the pull-on can handle, which usually ranges from light to massive capacity. Absorbency is typically expressed in ounces.
Design - Premium products are designed with delicate skin in mind and will be comfortable against sensitive areas for men and women.
Contour - How the pull-on fits the body is important. Special features such as leg cuffs help make the product fit more snugly and comfortably.
Odor Control - Absorbent products usually offer odor control technology that is unique to each brand. Premium brands tend to offer better odor control.
Moisture Wicking - Absorbent products, such as pull-ons, "wick" moisture away from the body to keep the wearer dry and comfortable.
5 Questions to Consider When Choosing Adult Incontinence Underwear
1. How much absorbency is needed?

For heavier incontinence, finding a pull-on that can absorb a large amount of liquid is important. Products that say they can absorb up to 20 ounces or more are considered high absorbency. The higher the ounces, the more absorbent the pull-on. NorthShore underwear offers up to 3x the leak protection of leading store brands. NorthShore's website provides a convenient droplet count for most products to make it easy to determine capacity. The more droplets, the more a product can absorb.


2. How large are the leg openings?

Choose thinner or thicker leg openings as needed. The goal is to be as comfortable as possible while moving, so leg openings should not be too small or too wide. If used for sleeping or sitting for long periods of time, a pull-on should offer a secure fit around the legs for leak protection.
Pull-ons with larger leg openings: NorthShore FlexSupreme™
Pull-ons with smaller leg openings: NorthShore GoSupreme™
3. When will the pull-on be worn?

If wearing at night or for long periods during the day, choose a product designed for extended usage that has an extra tall elastic waistband for added protection.
4. How much leakage protection is needed?

If the current product is not containing leaks, consider using a pull-on with tall leak guards. This special feature helps prevent leaks by providing added protection around leg openings and an added barrier where liquid is contained.
5. Will there be layering?

If regular underwear, a bodysuit, diaper cover or anything else is going to be worn over a pull-on, select one with a soft waistband to avoid discomfort. Premium brands usually offer softer, cotton-like waistbands.
Top-Selling Pull-Ons
NorthShore offers a variety of pull-up style incontinence underwear, including the popular NorthShore GoSupreme with up to 8 hours of protection for day or night use. GoSupreme offers a broad range of sizes and is available in white. Other NorthShore absorbent underwear offer between 6 to 8 hours of capacity as well.

Here are the top-selling pull-ons: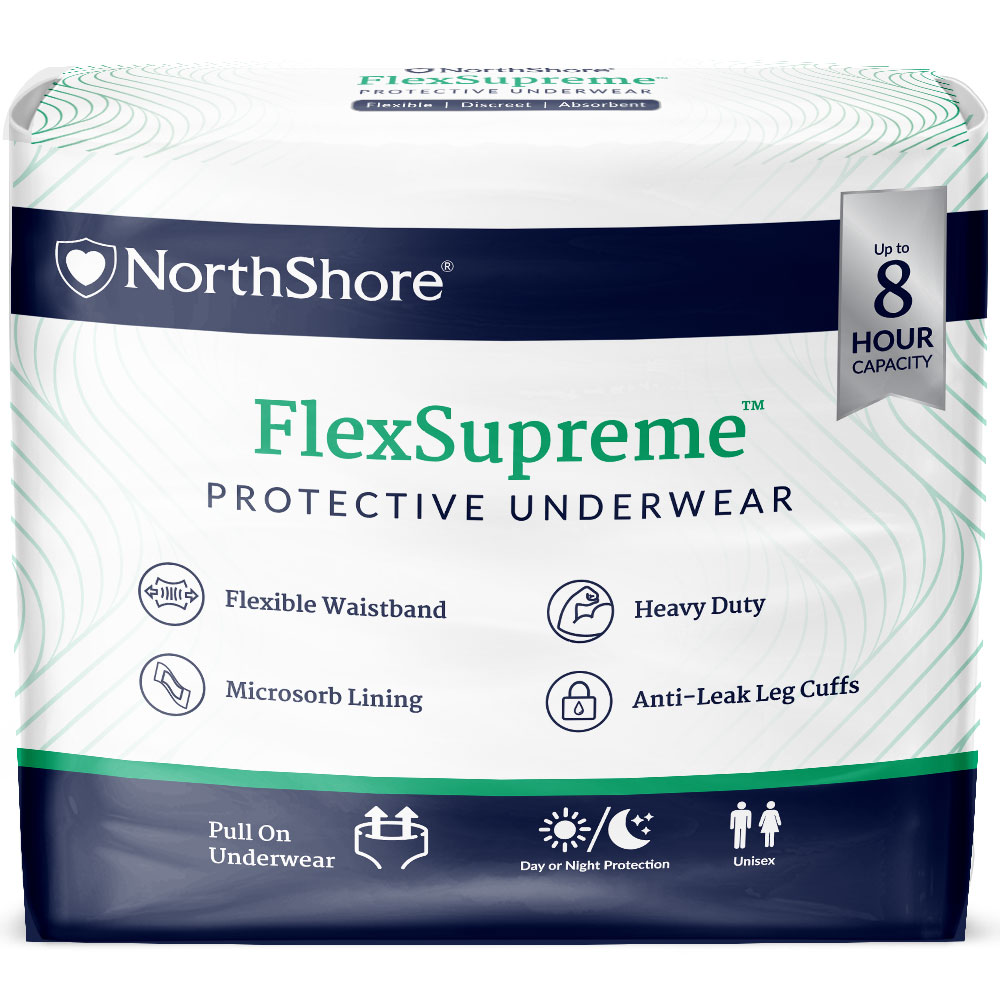 SHOP FLEXSUPREME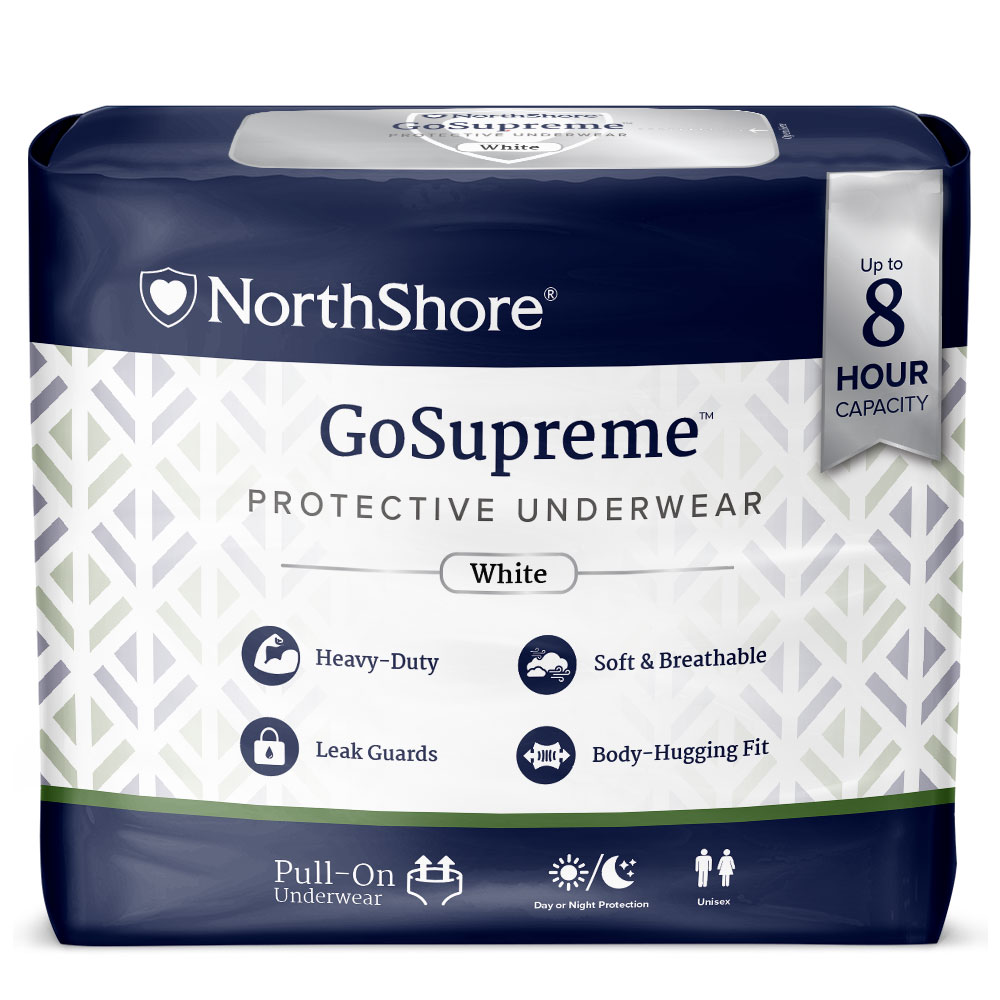 SHOP GOSUPREME
Just like regular underwear, disposable underwear should be comfortable when worn. Managing bowel or urinary incontinence can be challenging, so finding the right pull-on is important. Compare products based on important criteria such as that presented in this article and additional research.

Watch our video to learn more about GoSupreme!
Shop

Pull-up Style Underwear

or

call (800) 563-0161 for personalized assistance.
Shop Protective Underwear
Starting at FSA/HSA Eligible
$26.75 Now $22.74 Save 15%!
FSA/HSA Eligible
Top Seller
Starting at $8.99 FSA/HSA Eligible
Staff Pick
Starting at $7.25 FSA/HSA Eligible
Please login to access your saved items list. If you don't have an account, create one today to start your list.