Which Types of Incontinence Products Are Available?
People managing bladder or bowel leaks for the first time, or their caregivers, may not realize there are multiple types of incontinence products beyond adult diapers. The wide range of protection includes everything from light incontinence support and adult bed pads that protect mattresses and furniture to incontinence supplies for moderate and total incontinence.
Whichever type of incontinence condition, NorthShore provides supplies to help live life without worrying about leaks. Explore various types of incontinence products below.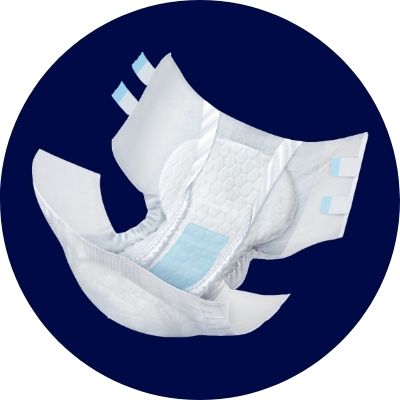 Adult Diapers/Tab-Style Briefs
Briefs with tabs offer protection for heavy urinary or bowel incontinence, and typically resist odors, leaks and sagging for up to many hours at a time. NorthShore's MEGAMAX Briefs offer up to 12 hours of massive capacity. The adjustable tape tabs on adult diapers help provide a snug fit around the waist and leg openings to contain leaks. They also feature a waterproof backing.
Because these can be changed without having to completely remove clothing, tab-style briefs are a top choice for those who care for people with mobility concerns.
The ability to conveniently change makes tab-style briefs ideal for adults with heavier incontinence who simply don't want to take off their shoes and pants in public restroom stalls to change out of a soiled undergarment and put a new one on. The tabs enable easy slip off and on without much fuss.
Because tab-style offers a more comfortable fit for those with skinnier legs, they're an excellent option for wearing during the day or throughout the night, particularly for side sleepers.
NorthShore offers a selection of adult diapers, some of which include:

Pull-Up Style Underwear/Pull-Ons
Shaped like regular underwear, but with an absorbent lining and leak guards. Often referred to simply as disposable underwear, pull-on underwear protects against incontinence and usually offers reduced bulk and absorbency than briefs. NorthShore pull-up style underwear choices offer massive absorbency to fight leaks and odors. Some styles protect against both urinary and fecal incontinence, while others may be designed to absorb only urine.
When someone is experiencing incontinence for the first time, pull-on underwear is usually the first step to exploring options to fight leaks.
Popular NorthShore pull-on underwear products include:

Adult Incontinence Liners
For those who don't want wraparound protection, adult liners are worn inside regular underwear to absorb bowel and/or bladder leaks. They shouldn't be combined with disposable undergarments such as adult diapers or pull-on underwear.
While these are worn in the same way as sanitary napkins, incontinence liners are specifically designed for the rapid flow of bladder or bowel leaks. They also wick moisture away to help skin feel dry so the wearer can stay comfortable.

NorthShore's DynaDry brand of liners offers two types of absorbent, comfortable protection:

Male Guards
Guards for Men have wider coverage at the top and inner leak guards to provide security for light urinary incontinence. These are worn inside regular underwear and should not be combined with adult diapers or pull-ons. Male guards can be especially useful for men recovering from prostate surgery or experiencing bladder control issues.
NorthShore's male guards include:

Adult Underpads/Bed Pads
Choose from washable or disposable waterproof underpads and bed pads to place on furniture or bedsheets to catch leaks, minimize laundry and protect upholstery. Washable bed pads can help save money, as they can last for dozens or even hundreds of washings. Because reusable underpads are heavier than chux, they're less likely to shift and slide on bedsheets as a person moves.
Most have three layers: a waterproof, non-skid backing; a super-absorbent layer in the middle; and a fabric topsheet that's soft against the skin. NorthShore offers a variety of washable and disposable underpads, including:

Booster Pads & Waterproof Diaper Covers
For additional security and confidence, you or your loved one can combine certain incontinence products with tab-style briefs or pull-up style underwear, including "diaper doublers" and waterproof adult diaper covers.
Adult booster pads have a unique, flow-through design to increase absorbency. Liquid flows through to the protective underwear or incontinence brief. Switch these out to minimize leaks and diaper changes as well as to keep skin dry and comfortable.
People can also wear more than one booster pad at a time to increase absorbency, but remember that these are only to be worn with adult diapers, pull-ons or liners. They don't provide protection when worn with regular underwear. Designed with customer feedback in mind, NorthShore EternaDry Booster Pads offer sizes and absorbencies other brands don't, and at an attractive price point. They can be used for extra protection against both urinary and bowel incontinence. Absorbent polymers in the MicroSorb lining lock wetness away in an odor-free gel.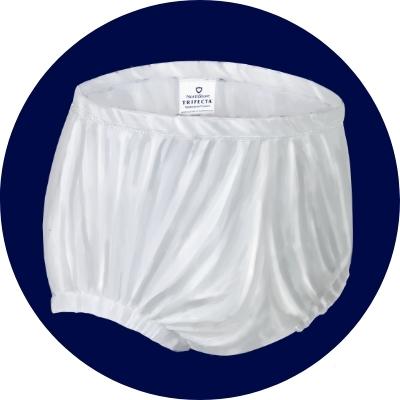 Adult diaper covers are also helpful in addressing accidental leaks. Waterproof and reusable, diaper covers are designed to be worn over absorbent undergarments to help resist sagging, odors and leaks in unexpected situations. NorthShore waterproof covers provide protection with soft, breathable PUL (polyurethane laminated polyester) to help keep skin cool, and a higher backing to stay dry at night.
The more form-fitting style comes in a wide range of sizes for a variety of body types as well as colors.


Accessories
There are a few personal care items — including wipes, disposable bags, creams and powders — to help promote skin health and gain more privacy when changing incontinence products. Extra-large NorthShore Supreme Quilted Wipes can be used on the entire body. Formulated with aloe and calendula to soothe skin, the wipes are absorbent and latex-free. They're heavy-duty yet extra soft to cleanse skin after changes.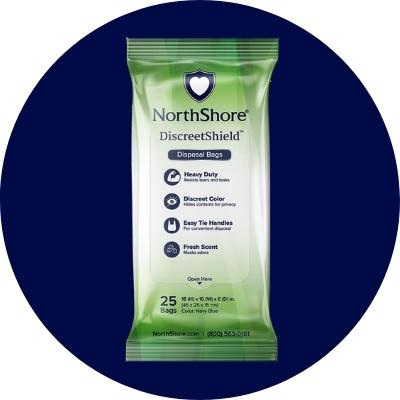 For easy disposal while going out or for privacy at home, consider using DiscreetShield Disposal Bags. Designed for easy incontinence product containment and disposal with easy-tie handles and a fresh powder scent.
Where Can I Find Incontinence Supplies?
While grocery stores and pharmacies typically carry a small selection of adult incontinence supplies, it can be difficult to find the best size and absorbency. Check out brands that offer samples such as NorthShore and enjoy selecting the right supplies in the comfort and privacy of home.
NorthShore products offer up to 3x the leak protection of leading store brands as well as a broad range of sizes and colors. And we offer discreet shipping in unmarked boxes as well as free shipping within the contiguous U.S. on orders $149+ (exclusions may apply). Plus, you can read reviews from real customers.
To learn more about any of the items featured in this blog or to get help selecting the

best incontinence products

for you or your loved one, use our handy online

Product Finder

or call (800) 563-0161. Customer Care & Service experts have in-depth knowledge on every product to help you find the most comfortable and secure options.
Top Rated Incontinence Products
Please login to access your saved items list. If you don't have an account, create one today to start your list.