The Special Covers To Keep You Drier During the Day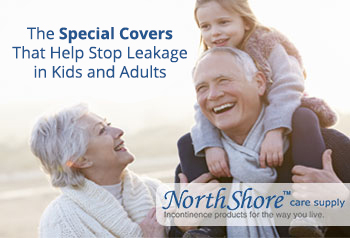 Have you ever experienced a time in your life when you traveled or went to a doctor visit and had an accident? It can be very humiliating when leakage occurs. For those of us who are managing incontinence, it's important to make sure that we are prepared and protected. Being prepared with the right product can lessen the chances of leakage. Diaper covers can assist with giving you the extra boost of confidence when at home or out with family or friends. Depending on the brand of the diaper cover, it may help children as well. Let's discuss features in our diaper covers along with pros and cons to look out for when selecting the right diaper cover for your needs.
Diaper Cover Features
• Worn over current disposable undergarments
• Waterproof breathable material for all day/night comfort
• Soft cotton elastics around waist and legs
• Cost effective since they are reusable and washable
• Perfect for daytime or night use
NorthShore™ Care Supply is proud to carry unisex waterproof cover-ups which are also referred to as plastic pants or diaper covers. Diaper covers may last anywhere between 80-120 washings which make them a great money saver. When washing, use warm water and tumble dry low. Its recommended to not use any fabric softener or bleach as this will cause the material to fray. When trying to find the best cover-up for you or a loved one, it's important to get a waist, hip and thigh measurement. This will ensure the appropriate size is ordered. If the product is too big around the leg openings leakage will occur. Depending on the brand, diaper covers may help adults and youths managing incontinence. We would like to discuss with you the diaper covers that could help protect you or your loved ones.
Pros
• More sizes offered for children and adults
• The brand with the most color options
• Higher material in the back for protection during day or night
Cons
• Specific sizing chart that fits limited figures
Pros
• Options available in the snap-on style and pull-on style.
• Soft cotton covered elastics in legs and waist
• Great for people in between sizes
Cons
• Does run bigger compared to others
Diaper covers can provide that peace of mind when the unexpected occurs and could allow you to continue to do the things you love. It's nice to have a peace of mind at home or on the go and diaper covers could be the extra protection you or a loved one is looking for. Diaper covers are just one of the accessories you can add to your line of disposable undergarments. Absorbent adult diapers such as the NorthShore™ GoSupreme™ Underwear, NorthShore™ AirSupreme™ Briefs or the NorthShore™ Booster Pads can also assist in added protection at home or when you're on the go.
If you have any questions regarding the products mentioned in this article or need assistance with sizing please contact us at (800)-563-0161 to speak with a care expert.
We're always happy to help!
Want to learn more about diaper covers? Watch this quick 2 minute video!