Crinklz - the Brief Designed for Adults with Special Needs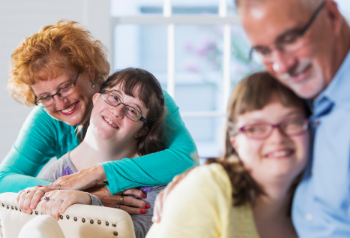 Do you have an adult child that requires adult-sized diapers? Is your child using the best product that keeps them dry and comfortable at home and in public? We are pleased to announce our newest product, Crinklz. The plastic-backed brief that helps keep odors inside and your child dry all day long. Crinklz briefs feature a soft plastic exterior with extra padding for maximum absorbency. Since this product is a tab-style (opens on both sides) it allows for easier changing for family caregivers. This is helpful for adults that are bedridden or wheelchair-bound. Care experts often receive calls from parents with adult children and explain the difficulty of finding better products and sizes for their child to use. The reality is that the products that are available at local stores are not sufficient enough for their child's needs.
6 Features of Crinklz That Parents Will Love
1.) Extra thick padding - Comfort, and security during daytime and nighttime use.
2.) Plastic exterior - Works great for urinary and bowel containment.
3.) Elastics in front and rear - Stretchy material allows for better comfort around the waist.
4.) Leak guards - Tall leak guards provide additional protection against leakage around the front, middle and back portion of the brief.
5.) Friendly patterns - Appealing patterns of animals for adults with special needs.
6.) Strong tabs - Oversized 1.5 inch re-fastenable tape tabs that are easy to grip and adjust for larger bodies.
We understand the difficulty that arises when finding the best product for your child's needs. It's important for them to be comfortable in their incontinence briefs and for you to see that they are. We are confident that this brief will provide your loved one with superb protection and comfort they deserve. Being a parent is hard enough already, so have your child use a dependable brief to make your life a little easier.

If you need any assistance with choosing the right size please call us at (800) 563-0161. We're always happy to help!