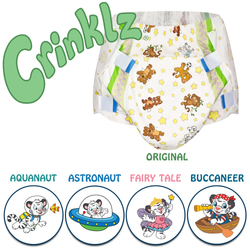 Crinklz Tab-Style Briefs Adult Printed Diapers
NorthShore Item:

Select Option
Model:

Select Option
Extra Thick Padding in Colorful, Playful Designs!
With extra thick padding and a colorful printed plastic exterior, Crinklz provide excellent protection all day or all night long with fun, playful designs ideal for special needs adults or anyone looking for a fashionable alternative. Premium diaper for absorbency, fit and leakage protection for urine and/or bowel incontinence.
Customize Your Own Case & Get 10% Off!
Choose 4 or more packs of adult diapers in any style or color!
---
Customer Reviews / Questions & Answers
Please login to access your saved items list. If you don't have an account, create one today to start your list.