Fun-derwear: Incontinence Protection Doesn't Have to be Boring

When I was 14 or 15 years old, my mother bought me some new underwear. I was never all that into fashion and to me, underwear served pretty utilitarian purposes and should be white with a stripe or two around the waistband. That was pretty much the full extent of my consideration of underwear.
But this new underwear was different. They were made from a softer, higher-quality material, were dark blue with an enclosed waistband that sat lower around my hips. They were—dare I say it—stylish.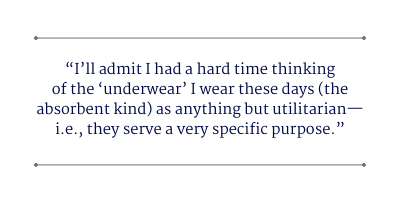 I had a hard time reconciling the reality that something no one would ever see or even know about could make me feel different. It made no sense. But it was kind of like my little secret, and it made me feel good. Smart gal, my mom.
The reason I'm telling you this—yes, surprisingly, I do have a point—is that I'll admit I had a hard time thinking of the "underwear" I wear these days (the tape-on, absorbent kind, mostly) as anything but utilitarian—i.e., they serve a very specific purpose. For years, I wore adult diapers in every shade of industrial blah you can imagine, from white to beige to hospital green. They are to fashion what linoleum flooring is to interior design, but it's not like I had a lot of choices.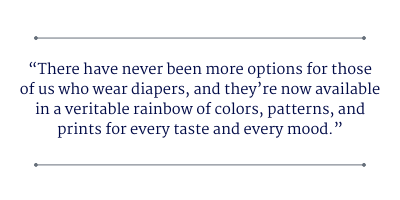 Recently, as more and more options have become available, I've rediscovered the idea that my underwear doesn't have to be boring. There have never been more options for those of us who wear diapers, and they're now available in a veritable rainbow of colors, patterns, and prints for every taste and every mood. Every day I have a choice to make and I have to say, I kinda dig it.
Yes, no one is going to see my diapers but me, my wife, and occasionally my doctor, but I find that the right choice can change how I feel. I've even begun matching my diaper to each occasion:
Do I have important meetings that day? Blue NorthShore Supremes or Black MEGAMAX. (So businesslike)

Weekends? The tie-dye MEGAMAX, man. They're groovy and fun.

St. Paddy's Day? Earth Day? Arbor Day? Green Supreme.

Doctor appointment? Okay, for that I stick with white, since he's kind of old-school.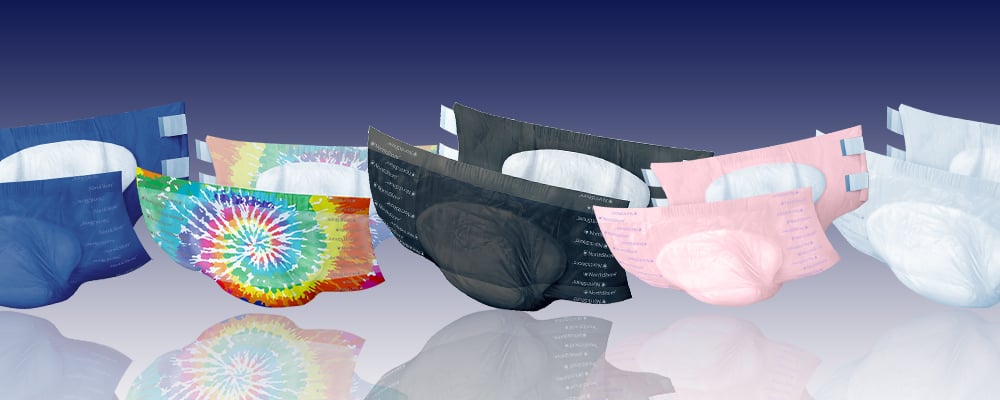 NorthShore offers several colored tab-style brief choices


Pink, blue, green, purple, black, tie-dye, with (tastefully subtle) polka dots or without—heck, I even have some Crinklz diapers for when I'm feeling … whimsical (or just goofy).
We are living in the golden age of incontinence solutions. There have NEVER been so many excellent options, and the fact that we can now choose not just the level of protection but also colors to match our mood, the occasion, or our outfits is something I plan to take advantage of.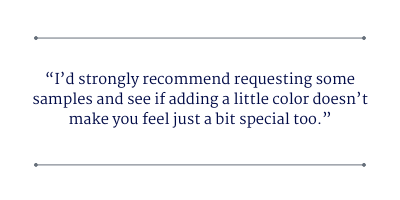 You can wear regular ol' white if you want to—NorthShore has those too—but I'd strongly recommend requesting some samples and see if adding a little color doesn't make you feel just a bit special too. I bet it does.
Check out NorthShore's colored briefs or call (800) 563-0161 for personalized recommendations and assistance.
Some years ago (I decline to say how many), life threw me a curveball and I found myself facing some new and frightening challenges, and having to navigate the confusing world of incontinence products alone. This was pre-internet and, frankly, pre-decent options. Through constant experimentation, I've found products that work for me—yes, many of which are sold by NorthShore Care—but the more important part of my journey has been internal. I've fought insecurity, isolation, paranoia that EVERYONE was staring at my butt, and fear that I'd never be able to return to the rich, full life I once had. I'm happy to say all of that was unfounded.

Part of the work I did to understand and accept myself included reading. A LOT of reading. I found articles that explained the different kinds of incontinence, blog posts about the various products that were available, and even pamphlets for drugs that offered to solve my problem. What I couldn't find was practical guidance on and honest thoughts about living with this embarrassing, confusing, and occasionally hilarious new "feature" my body had to offer.

NorthShore gets it, and that's why I'm here. NorthShore isn't just a business that sells incontinence supplies, it's a business built on a foundation of understanding of what you and I are dealing with every day.

I don't work for NorthShore (would it be too cheesy to say I work for you?) but this feels like the right place for a blog that addresses real-world issues around incontinence. Here I'll talk candidly, openly, and occasionally uncomfortably about the challenges we face, the products that can help us manage those challenges, and how to go about confidently getting on with our lives.

Let's get real.

—Bill Edwards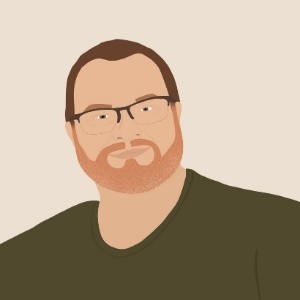 Products Mentioned In This Blog
Please login to access your saved items list. If you don't have an account, create one today to start your list.