The Best Products for Different Types of Urinary Incontinence
Experiencing leaks, extra nighttime urges or sudden urination with no warning? Urinary incontinence can occur for different reasons at any age, and there's no need to suffer in silence.
While not often talked about, urinary incontinence affects many people. The Urology Care Foundation estimates that as many as one-third of Americans are suffering from urinary incontinence.
Learn about what differentiates the types of incontinence, as well as products that can help. Then make a plan to speak to a doctor or healthcare provider for details about your specific situation and potential treatment options.
What are The Types of Incontinence?
Adults can experience incontinence of the bowel or bladder, and each of these has several different types, causes and potential treatments. For the best tips and products for fecal incontinence, check out "All You Need to Know About Managing Bowel Leakage" on the NorthShore Blog.
The National Association for Continence (NAFC) discusses several different urinary incontinence types in its blog, including stress incontinence and overactive bladder (OAB). Talk to a doctor or healthcare provider if you're experiencing symptoms of any of these types of incontinence:
Stress Incontinence: More common in women than men, stress incontinence occurs when pressure on the bladder causes urine leakage. Laughing, sneezing, running, coughing or even lifting heavy objects can cause this pressure.

OAB: Symptoms of OAB include sudden urges to urinate, urinating eight or more times a day, and urinating two or more times at night.

Urge Incontinence: This occurs when a sudden urge to urinate is followed by leakage. It can be a symptom of OAB, but OAB doesn't necessarily include urine leakage.

Reflex Incontinence: This is caused by a muscle spasm—the same as with urge incontinence—but a person may experience no urge to urinate before the leakage.

Overflow Incontinence: This type is more common in men than women. The main cause is when urinary retention prevents people from fully emptying their bladder. The "overflow" may leak out later; it also can cause frequent urinary tract infections (UTIs).

Functional Incontinence: This is when physical or mental impairment keeps people from making it to the bathroom in time, as opposed to any issues with the bladder.
Both men and women can also experience mixed incontinence, which is when someone suffers from two or more types of urinary incontinence such as stress incontinence and OAB.
Is There Treatment for Urinary Incontinence?
A doctor or healthcare provider may decide to run a number of tests depending on symptoms. The first step might be a bladder diary, which records how much fluid and how often you drink, trips to the bathroom, leaking incidents and more.
With that information, a physician may choose tests that include urinalysis, bladder stress, X-rays or ultrasounds, pad tests that weigh the amount of urine leakage and more to learn specifics about your individual incontinence. There are various treatments for incontinence, depending on the cause and type.
For example, sometimes overflow incontinence can be caused by an enlarged prostate. A treatment for male incontinence in such cases may include medications that help relax muscles inhibiting the flow of urine.
Treatment for female incontinence can include a urethral insert before activities that may trigger stress incontinence to prevent leakage or a pessary for those whose incontinence is caused by a prolapse.
There are also surgeries, catheters and interventional therapies like injections to help treat urinary incontinence. A healthcare provider can provide details about all of these and help decide which could be most effective.
While women are more likely to experience factors that weaken their pelvic floors, both men and women managing urge or stress incontinence can benefit from exercises to strengthen the pelvic floor muscles. The Mayo Clinic describes how to perform kegel exercises to strive for less frequent urine leakage.
Do Different Products Work Best for Different Types of Urinary Incontinence?
Before, during and after visiting the doctor to assess your particular condition, staying dry, comfortable and odor-free are top priorities. There are a number of incontinence products that offer full protection so you can feel confident and secure.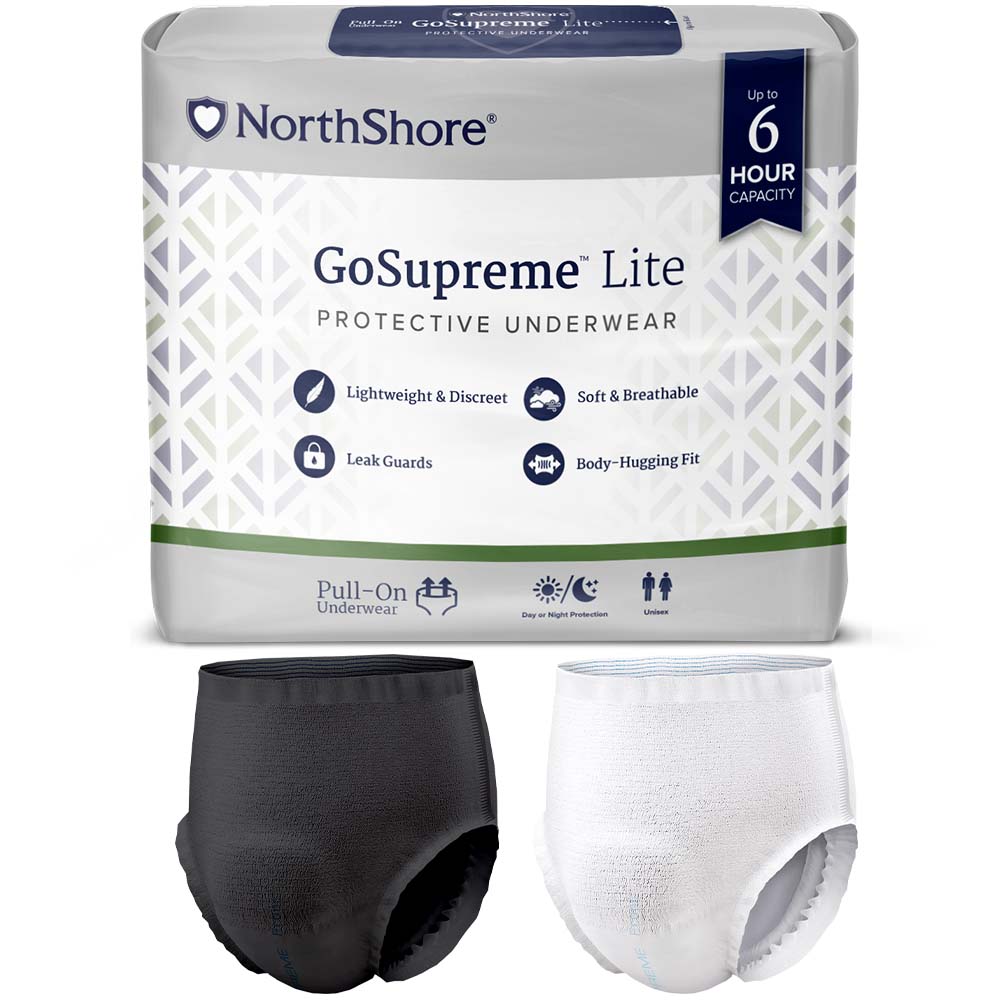 For those managing reflex or functional incontinence that's a bit heavier, NorthShore GoSupreme Lite Pull-On Underwear offers extra protection in the front and rear with about 30% less bulk than the popular 8-hour GoSupreme protective underwear. This super-soft option features dual leak guards and heavy-duty leg elastics for a secure fit.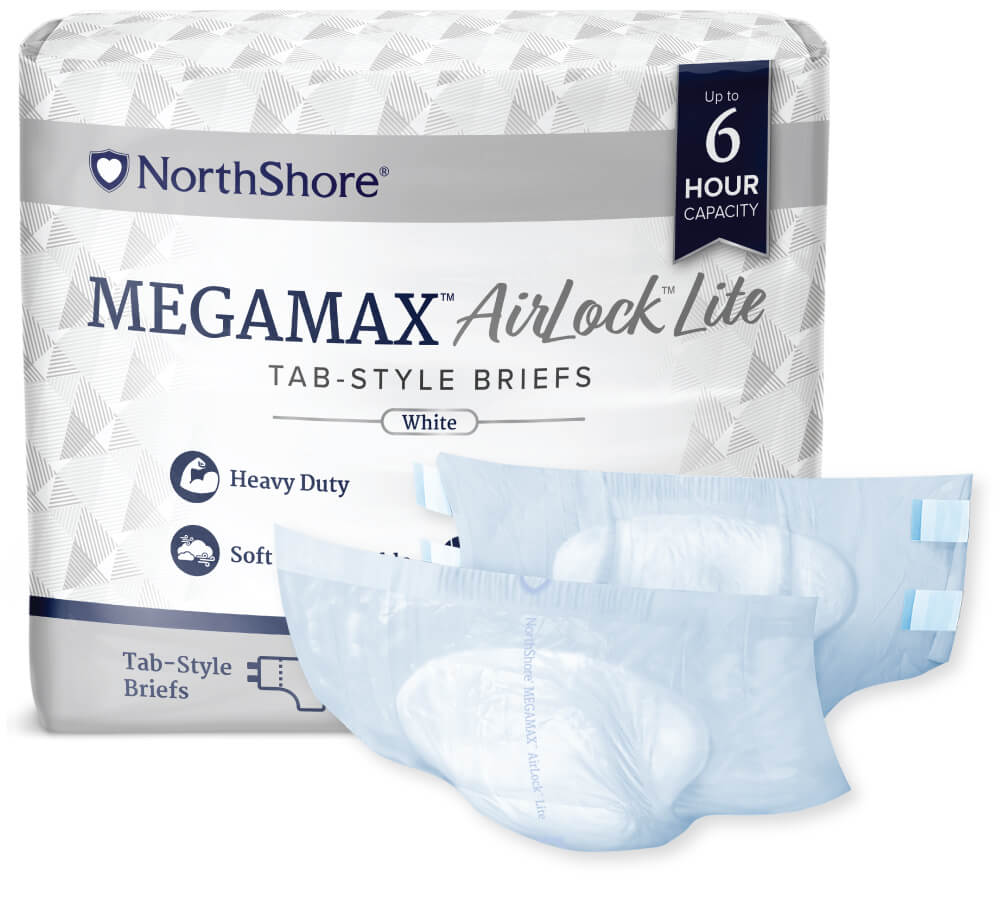 For a tab-style brief offering moderate absorbency, NorthShore MEGAMAX AirLock Lite Tab-Style Briefs offer up to six hours of protection and a smooth plastic exterior. They offer refastenable tape tabs and stand-up leak guards, as well as elastic in the rear waistband, so you can have full protection with reduced bulk.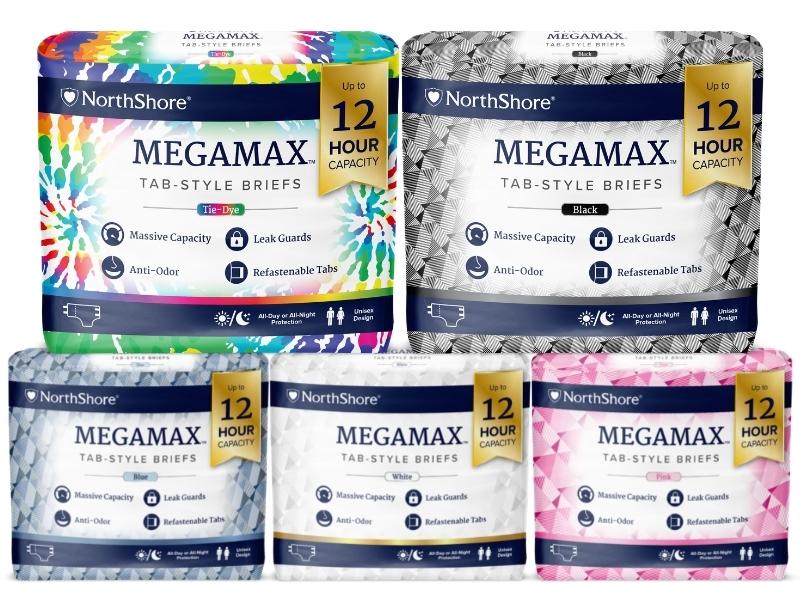 With massive absorbency and wicking ability, MEGAMAX Adult Diapers offer MEGA protection—up to 12 hours to help ensure a good night's rest or all-day coverage. The refastenable tape tabs are large and heavy-duty, and the briefs stay snug and comfortable with a full landing zone. Plus, the smooth plastic exterior helps resist odors and sagging.
NorthShore's pads, liners, and guards offer a range of protection for lighter urinary incontinence. These are ideal for stress, urge, and overflow incontinence, with heavier options available when you want to feel extra secure.
The NorthShore Blog offers lots of helpful information and articles about living life to the fullest while managing urinary incontinence. For more details about any of the products featured in this article or other incontinence supplies, call (800) 563-0161.
This content is not intended to be a substitute for professional medical advice, diagnosis or treatment. Always seek the advice of a physician or other qualified healthcare provider with any questions.
Shop Featured Products
Staff Pick
Starting at $7.25 FSA/HSA Eligible
Starting at $0.00 FSA/HSA Eligible
Top Seller
Starting at $13.99 FSA/HSA Eligible
Please login to access your saved items list. If you don't have an account, create one today to start your list.