Tips to a Healthy and Fun Fall for Seniors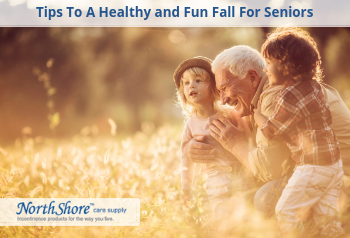 Can you remember the last time you went for a walk? How about sitting next to a bonfire roasting some tasty s'mores? Let's get our fuzzy, warm and cozy sweaters out so you can do just that and more. Here are some fun tips on how you can make this fall a healthy and fun one by preventing illness, keeping skin protected, enjoying indoor/outdoor activities and incorporating healthy foods in your lifestyle.
Preventing Sickness In the Elderly
Get Vaccinated - Vaccinations help protect people around you, including those who are more vulnerable to serious flu illness, like babies, seniors, and people with certain chronic health conditions.

Drink Water - It's important to make sure you and your relatives stay hydrated this season. Drinking water can help increase your energy and help relieve fatigue. It also helps to flush out any toxins that may later develop into kidney stones and UTI's. Being hydrated can also help as a natural headache reliever.

Eat the right foods – Foods with probiotics such as yogurt and dark chocolate will help to boost your immune system. Probiotics are bacteria that line your digestive tract and support your body's ability to absorb nutrients and fight infections. These are essential for us because they not only boost our immune system but they also help with depression, anxiety, cholesterol, and blood pressure.

Vitamin C – Helps to relieve symptoms of asthma, prevents cancer and heart diseases.

Vitamin B6 – Boosts metabolism and helps with arthritis.

Vitamin E – Contains a unique antioxidant that is an anti-inflammatory. It repairs skin, improves vision and helps to balance hormones.
Please note that you will always want to speak with your healthcare professional before taking any medication or vitamins.
Enjoying Indoor/Outdoor Activities with Loved Ones
Board Games/Card Games - These types of games can be enjoyable for the whole family, they keep relationship bonds close and they can also keep the mind sharp.
Checkers

Bingo

21 or Blackjack
Fun Fact: A study done at the University of Oxford has shown that more than 1,500 children showed that those with a high level of grandparental involvement had fewer emotional and behavioral problems. Engaging in some of the activities mentioned can help to keep your family close.
Baking - Decorating and baking goods can be another activity that draws a relationship closer to loved ones. Do you have any grandchildren? Making cookies from scratch and adding your own decorations can be a fun activity for you and your grandkids.
Walking – This helps improve circulation, mental sharpness, and joint support. It can also help to increase your balance and stability. Walking for 30 minutes a day certainly has its benefits, both emotionally and physically.
Keep Skin Protected During Cold Temperatures
Wash in Luke warm water – Hot showers and baths might feel great during colder temperatures but when washing your face or hands you will want to be sure to use only lukewarm water. Lukewarm water will prevent stripping necessary oil from the skin.

Moisturize Immediately Afterwards - Medline Remedy Skin Repair Cream Moisturizer contains a blend of nutrients beneficial to skin cells. It's best to apply lotion to damp skin to help seal in the moisture. Keep a tube or bottle of lotion in your bathroom.

Protect your face and hands - Gloves and a scarf can prevent skin irritation against cold winds and temperatures.

Use a humidifier - Humidifiers put moisture back into the air and in turn help to prevent skin from drying out.
Incorporate Healthy Food in Your Diet
Cabbage - Cabbage is a great source of Vitamin C! It is actually richer in Vitamin C than oranges! Cabbage works well to treat ulcers, some cancers, and depression.

Carrots - This vegetable can help boost immunity since it is also rich in Vitamin C and it helps with digestion.

Cauliflower - Good source of dietary fiber for digestive health. It has also been known to boost cognitive function.

Eggplant - Improves overall bone health. It helps to prevent anemia which can cause headaches, migraines, fatigue, and depression.

Kale - Contains folic acid and Vitamin B12 which may help prevent Alzheimer's.

Squash - This vegetable can help improve lung health since it has a high content of Vitamin A. Squash helps those with diabetes by managing the metabolism of sugar in the body.
We can see how taking the right precautions and being active and healthy can really have a big impact on our overall physical and mental health. All of these tips are recommended so that you and your family can enjoy a safe and fun time this year and for future years to come.