Tips to a Healthy and Fun Fall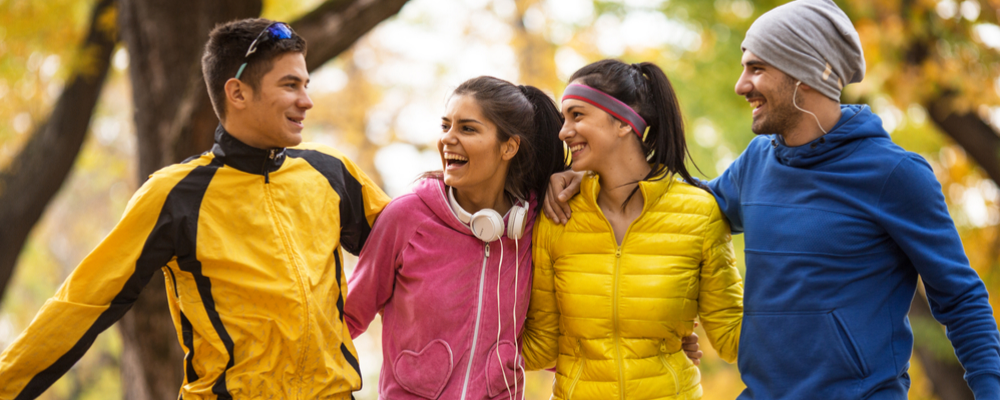 Can you remember the last time you went for a pleasant walk outside? How about the last time when you sat next to a bonfire roasting some tasty s'mores?
Here are some fun tips on how you can make this fall a healthy and fun one by preventing illness, keeping skin protected, enjoying activities and adding nutritious foods to your daily menu.
Maintaining Your Well-Being & Immunity
Get Vaccinated - We all know vaccinations are important for children and older adults. According to the Centers for Disease Control and Prevention, what many people may not know is that adults are actually at a greater risk for different diseases such as shingles. Adults should keep their vaccinations up to date because immunity wears off. You may want to talk to your health care provider about the vaccines you need based on your age, health, career and lifestyle.
Drink Water - It's important to make sure you stay hydrated this season. Drinking water can help increase your energy and relieve fatigue. It also flushes out any toxins and decreases your chances of developing kidney stones and UTIs. Staying hydrated can also help as a natural headache reliever.


Eat the Right Foods - Now that we are in the cold and flu season, staying healthy may be more of a challenge. Eating the right foods often helps with maintaining your well-being and energy levels. Everyone knows fruit and vegetables are good for you but adding foods with probiotics such as yogurt and dark chocolate can also help boost your immune system.
Essential Vitamins - According to the Cleveland Clinic, there are eight vitamins and minerals necessary for a healthy immune system, including Vitamins A, C, D and E as well as folate/folic acid, iron, selenium and zinc. It is usually best to get your vitamins and minerals from fresh foods rather than in pill form.
A healthy immune system depends on a balanced mix of the right foods, exercise and sleep. Living as healthy a lifestyle as possible may even help improve your mood and health.
Enjoying Activities with Loved Ones
Board Games/Card Games - Games can be an enjoyable way to spend quality time with family and friends as well as keep the mind sharp. According to the University of Oxford, children who interact with their grandparents are happier and experience fewer emotional and behavioral problems.
Baking - Decorating and baking can be another fun activity. Making cookies from scratch and adding festive - and tasty - decorations can be a fun activity for all.
Walking - Walking has so many benefits, which include improved circulation, mental sharpness and joint support. It also can help with balance and stability. Walking for 30 minutes a day has many emotional and physical perks. Stay engaged in your walks with reliable products such as the NorthShore® GoSupreme™ Lite Underwear or AirPremium™ Brief. Both products offer daytime protection and are less bulky. Use these products during those beautiful crisp fall walks outside or while you're at the local pumpkin patch!


Keeping Skin Protected


Lukewarm Water - Hot showers and baths might feel great when you are cold, but washing your face and hands in lukewarm water is ideal. While hot water can cause skin sensitivity and dry out your skin, lukewarm water is ideal because it preserves your skin's natural oils.
Moisturize Moisturize Moisturize - Use a lotion containing a blend of nutrients beneficial to maintaining your skin's healthy balance. It's best to apply lotion to damp skin to better seal in moisture.



Protect Your Face and Hands - Use gloves and scarves to prevent skin irritation against whipping winds and colder temperatures.
Use a Humidifier at Home - Humidifiers put moisture back into the air and in turn help to prevent skin from flaking and drying out.
Incorporating Seasonal Foods
Cabbage - Cabbage is a great source of Vitamin C! It is actually richer in Vitamin C than oranges. Cabbage works well to treat ulcers, some cancers and depression.



Carrots - This vegetable can help boost immunity since it is also rich in Vitamin C and helps with digestion.
Cauliflower - A good source of dietary fiber for digestive health, cauliflower has also been known to boost cognitive function.
Eggplant - Improves overall bone health, helps to address anemia and usually lessens headaches, migraines, fatigue and depression.
Kale - Contains folic acid and Vitamin B12, which may impact the symptoms of Alzheimer's and other diseases that cause dementia.
Squash - This vegetable can help improve lung health since it has a high content of Vitamin A. Squash helps those with diabetes by managing the metabolism of sugar in the body.
We hope you enjoy these recommendations and enjoy a safe and fun time this fall season!
* Please speak with your health care provider before taking any vitamins or minerals, starting a new exercise routine or eating any foods that may cause an allergic or other reaction.