The Most Comfortable Adult Diapers for Moderate Incontinence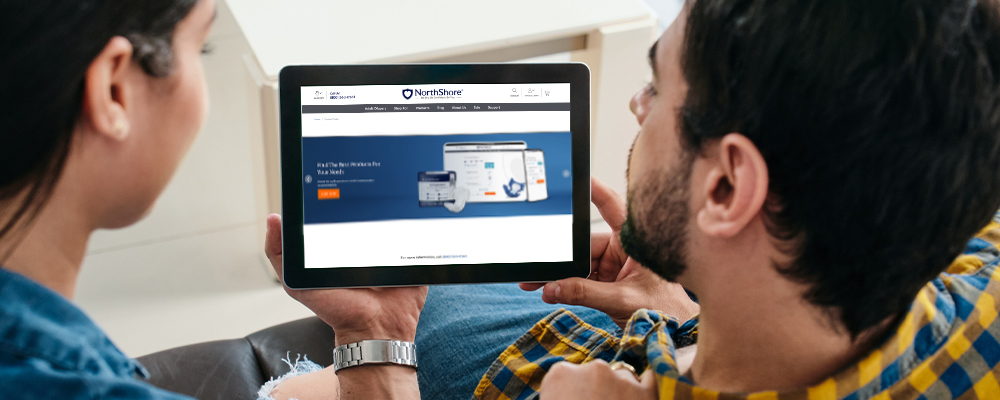 Men and women managing moderate urinary incontinence lead active lives and need absorbent products that can keep up. Finding the right types of adult diapers for you or a loved one depends on the volume of urinary or bowel incontinence, activity levels, style preferences and more.
So how much volume is typical with moderate incontinence? It's usually more than just light drips caused by coughing or sneezing. Moderate incontinence can generate enough fluid to leak through regular undergarments or less protective pads, wetting the outer garments like clothing.
People managing urged or mixed incontinence may need a higher level of absorbency than thin pads can provide a higher level of absorbency than thin pads can provide. While some store brand products have gotten thinner and possibly less reliable, NorthShore Care Supply caters to those managing moderate and heavy incontinence, with a strong focus on security and leak protection.
The best incontinence products for moderate incontinence not only provide full protection, but also are gentle on the skin through a range of activities. From tab-style briefs to pull-on underwear, discover the NorthShore incontinence supplies designed for everyday confidence and comfort.
Supreme Lite Briefs Offer Colorful Options & Excellent Odor Control
NorthShore Supreme Lite Tab-Style Briefs offer reduced bulk for those with moderate incontinence. These disposable briefs with tabs are available only in Medium and Large, and they provide up to 32 oz. of absorbency and up to six hours of protection for urinary leaks and bowel incontinence.
A number of features make these adult diapers ideal for active individuals. Similar to NorthShore Supreme Briefs, NorthShore Supreme Lite Briefs offer the same extra-wide coverage in the front and rear for increased security and tall, stand-up leak guards to prevent drips from the sides.
The adhesive tape tabs are refastenable to make quick bathroom trips easier, and strong elastic in the rear waistband keeps the fit snug to the body during activities while preventing leaks in the back.
A super-soft, highly absorbent Microsorb lining pulls liquid away and locks in wetness, helping keep skin dry and comfortable to support freedom of movement. Plus, the latex-free briefs are excellent for odor control, with a smooth plastic, waterproof exterior to resist sagging and leaks.
Best of all, NorthShore Supreme Lite Briefs come in four different colors. Choose from classic white, blue, green and purple.
The briefs are available in two sizes. To find the best fit, measure across the widest part of the stomach, at or below the belly button:
Medium fits measurements of 28-44 in. (71-112 cm) and offers 25 oz. of absorbency.

Large is for measurements of 40-58 in. (101-147 cm) and provides up to 32 oz. of protection.
For active adults or youth as well as restless sleepers, Supreme Lite Briefs offer colorful confidence.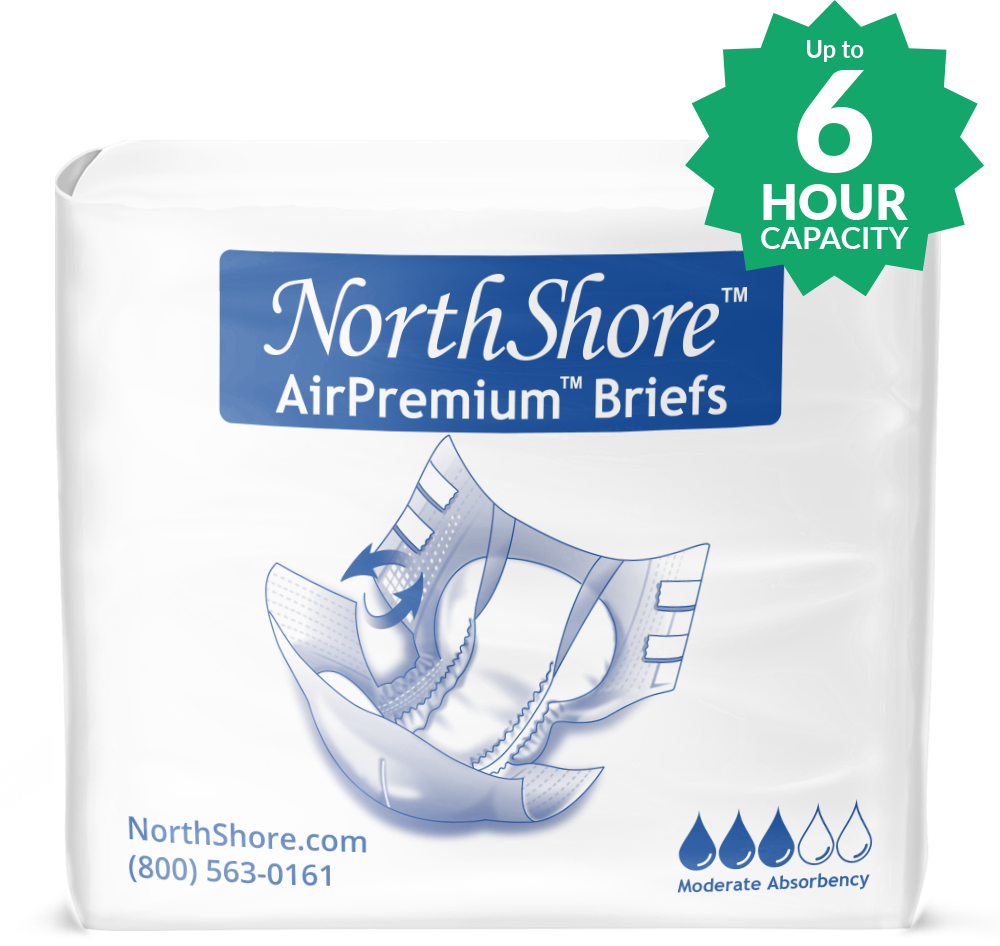 AirPremium Briefs
AirPremium Briefs Promote Healthy Skin
Looking for breathable adult diapers for women and men? NorthShore AirPremium Tab-Style Briefs are available in a range of sizes with up to 32 oz. of absorbency. Great for day or night use, AirPremium adult diapers provide up to six hours of protection for urinary and bowel incontinence.
NorthShore specially designed this tab-style brief to provide extra-wide front and back coverage and airflow breathability at a reasonable price. The waterproof cloth-like exterior means the briefs are quiet and rustle-free during movement, making them ideal for exercising and group activities.
The tabs are refastenable with a flexible combination of hook and adhesive tapes. To protect against leaks, AirPremium Briefs feature stand-up leak guards, elastic in the rear and 4-strand leg gathers for a close fit.
The product's breathability helps promote healthy skin as well—the Microsorb lining locks away wetness to stay soft and dry even after a long day or night. That makes these briefs beneficial for those who are prone to having skin issues, bed sores or diaper rash.
AirPremium briefs come in classic white and are available in sizes Small to X-Large. Remember to measure across the largest area of the stomach, whether that's the waist or hips, to find the best fit:
Small is for measurements of 22-32 in. (56-81 cm) and provides 20 oz. of absorbency.

Medium is best for 28-44 in. (71-112 cm) with 25 oz. of protection.

Large fits measurements of 40-58 in. (101-147 cm) and offers 30 oz. of absorbency.

X-Large covers measurements of 48-64 in. (121-162 cm) with 32 oz. of capacity.
For those with moderate incontinence, AirPremium provides quiet, breathable confidence.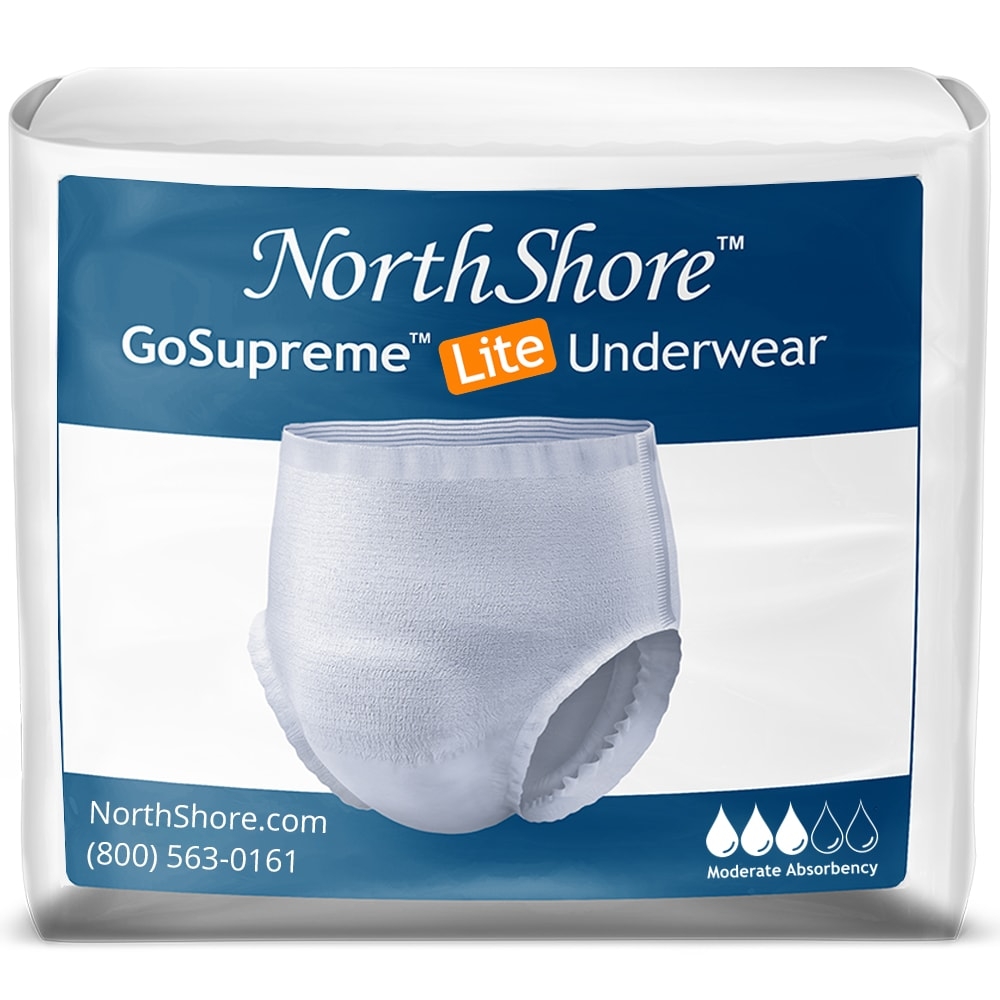 GoSupreme Lite Underwear
GoSupreme Lite Brings Breathability to a Pull-Up Style
For those looking for something more lightweight, GoSupreme Lite Pull-On Underwear offers excellent protection for moderate incontinence. The range of sizes goes up to 80 in. (203 cm), with each absorbing up to 28 oz.
Pull-on underwear offers a slimmer profile than many tab-style options, which make them a great choice for exercise and activities, and when wearing more fitted clothing. But with GoSupreme Lite, reduced bulk doesn't mean less security. The protective underwear has a strong elastic waistband for a body-close fit.
In addition, these pull-ons for women and men have improved elastics around leg openings to limit leakage, which helps them stay snug even for those with thinner legs. They also feature dual leak guards and an extra-long lining contoured for added protection in both the front and back.
The disposable underwear tear away at the sides for easy removal and come with tape in the rear to assist with discreet, sanitary disposal. Simply roll them up, tape them closed and place them in a trash receptacle.
With a cloth-like, waterproof exterior, GoSupreme Lite Underwear is also quiet. The feel is super soft to the skin, and the breathability allows for healthier skin.
Again, measure the widest part of the body, waist or hips, to find the right size. Each offers the same absorbency of up to 28 oz.:
Medium is for measurements of 30-40 in. (76-101 cm)

Large is best for 36-48 in. (91-121 cm)

X-Large covers measurements of 44-56 in. (112-142 cm)

2X-Large corresponds to measurements of 56-80 in. (142-203 cm)
GoSupreme Lite is an excellent choice for low-profile, moderate absorbency.

The Right Products Can Be Life-Changing
While individual preferences vary, people managing moderate incontinence every day deserve security to lead a full life, and protection that's comfortable in the long term. NorthShore offers a range of life-changing absorbent supplies to help everyone do just that.

Explore all of these incontinence products today, or call our Customer Care Experts at (800) 563-0161 for extra assistance.
Products Featured in this Article
Starting At: $30.50 FSA/HSA Eligible
Staff Pick
Starting At: $30.50 FSA/HSA Eligible
Staff Pick
Starting At: $7.25 FSA/HSA Eligible
Please login to access your saved items list. If you don't have an account, create one today to start your list.