Incontinence Pads for Women: Which One Should You Consider?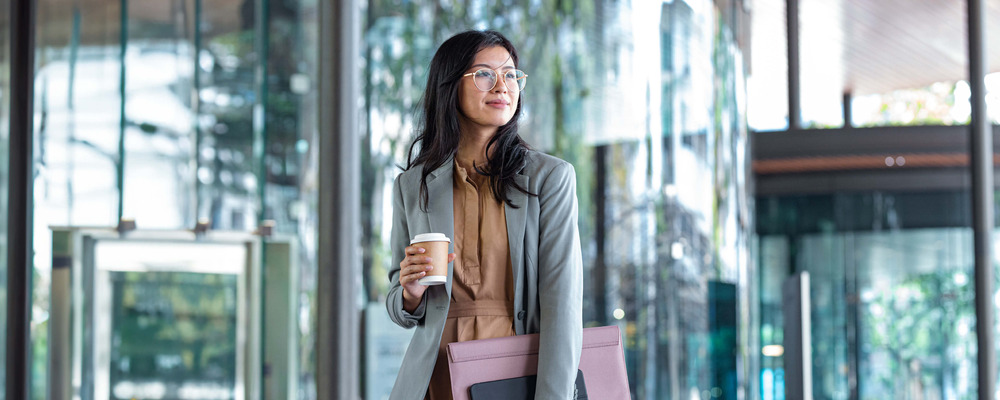 The feeling of a gush or leak can be one of the most irritating sensations to experience as a woman. Your first memory may have been during pregnancy or later in life.
The truth is that over 50% of women manage incontinence. Menopause, childbirth, and other medical conditions can cause bladder and bowel leakage.
Most women are familiar with stress incontinence, the type of leakage that results from laughing, sneezing, and coughing. Urge incontinence is also common and is the sudden need to urinate without warning. No matter where you fall, know there are products to keep you protected.
Most female incontinence pads offer protection against light urine leaks. Incontinence pads offer more protection for heavier bladder and bowel leaks. Studies show older women manage more severe incontinence while younger women face other types of incontinence too. The bottom line is leakage is common in all age groups!
Education on the types of products available can mean less leaks and more confidence. Learn about top women's incontinence pads to have drier days ahead.
Incontinence Pads - More Protection For Women
NorthShore specializes in higher-absorbency products for adults needing more protection. If you are a woman looking for absorbent incontinence pads, know there are options for you. We understand that women want a pad that feels comfortable and secure, yet is discreet when worn.
Most of all, we understand that you don't want the feeling of wet underwear from a leak.
We will explain the differences between our most common incontinence pads. By the end of the article, you will find which product works for your situation. If you need more help or have questions, call us at (800) 563-0161.
Panty Liners vs. Incontinence Pads
What is the difference between female incontinence pads and panty liners? Simply put, panty liners absorb vaginal discharge or menstrual flow. Incontinence pads absorb urine and or bowel voids. Panty liners, even in their largest size, are thinner and less absorbent.
Both types of pads look similar in shape, but ultimately how much they absorb and the consistency of the leaks is what sets them apart.
Incontinence Pads for Women - Things to Consider
An incontinence pad is more than a product that contains leaks. There are features to help you stay dry and feeling your best. Below are features to consider when selecting your incontinence pad.
Absorbency - Pay attention to the ounces the product absorbs. The more absorbent material (superabsorbent polymers) the pad has, the more liquid it can absorb.
Dryness - All absorbent products have a top layer that wicks away moisture from the skin. Because wetness causes skin breakdowns and irritation, you want to look for a pad with a quick-drying top layer.
Size - Incontinence pads come in various shapes. Some pads are figure 8, and others are more rectangular. The shape can affect how the product fits and feels when worn. You don't want bunching up between your legs or extra product - this can cause discomfort.
Leak Guards - Leak guards act as a barrier to contain leaks. You'll notice them sewn into the pad around the leg areas and are usually made of elastic.
Note that not all incontinence pads offer leak guards, but they are a top feature to look for.
Elyte Cotton Incontinence Pads are a top choice for women looking for a natural pad. Elyte pads are 100% cotton, hypoallergenic, and fragrance free. Elyte pads are known to neutralize pH levels. These pads offer patented technology to absorb urine and odors.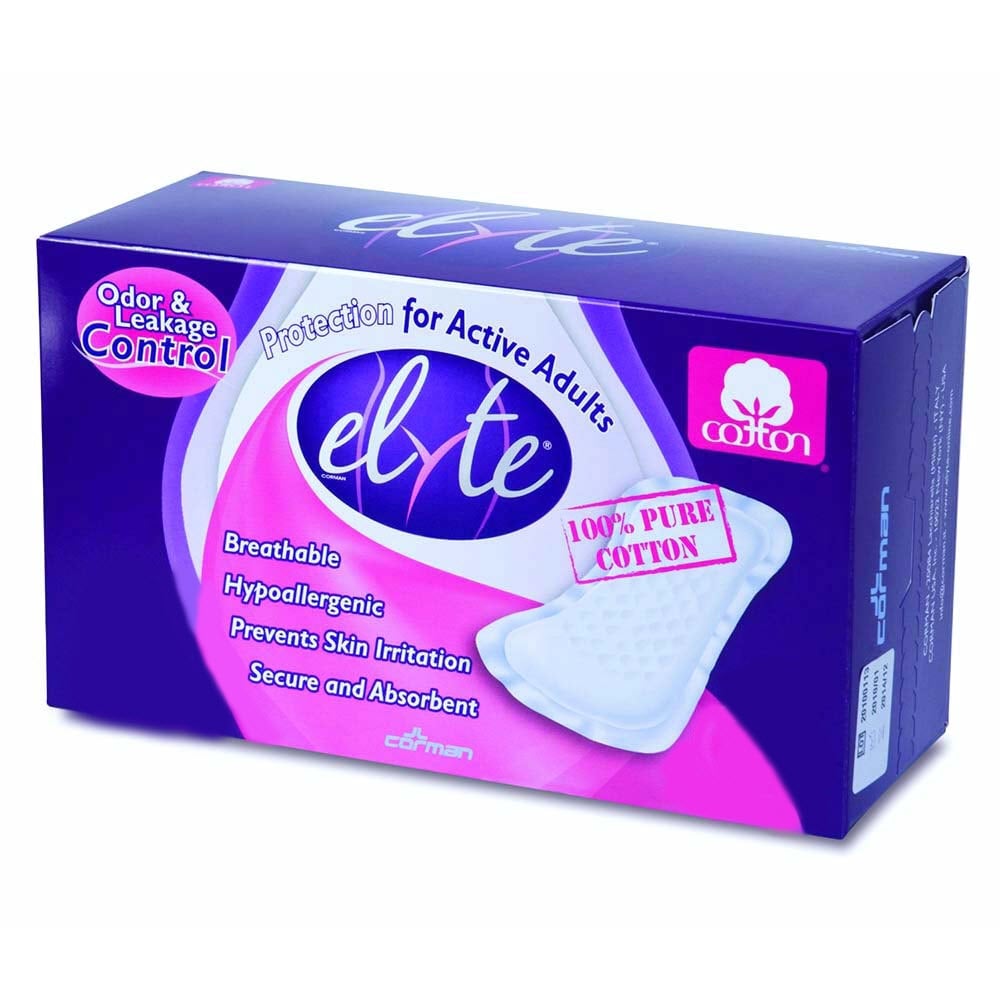 Absorbency - Light to moderate
Adhesive Backing - Yes
Dryness Rating - Good
Pad Shape - Figure 8
Sizes available - Mini, Normal, Extra, Super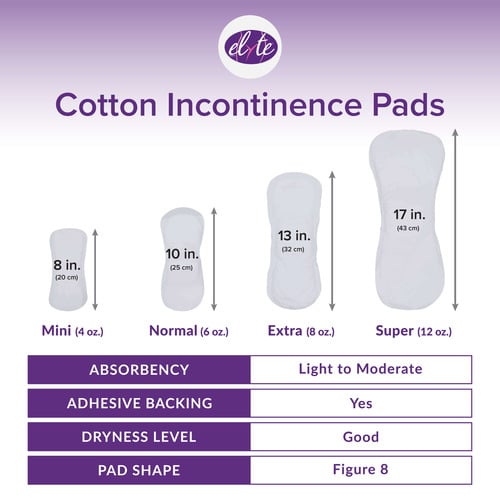 Leak Guards? No
"I have been using Elyte pads. They are the best incontinence pads for maximum absorbency to keep my mom dry."
- Felicia, Verified Buyer
Women looking for a more absorbent incontinence pad should consider DynaDry Pads, Ultimate. DynaDry Pads contain heavier urine leaks. DynaDry incontinence pads are available in one size - Ultimate - 7 x 5 x 7 inches, offering up to 15 ounces of absorbency. Like most incontinence pads, they have an adhesive backing that fastens into underwear.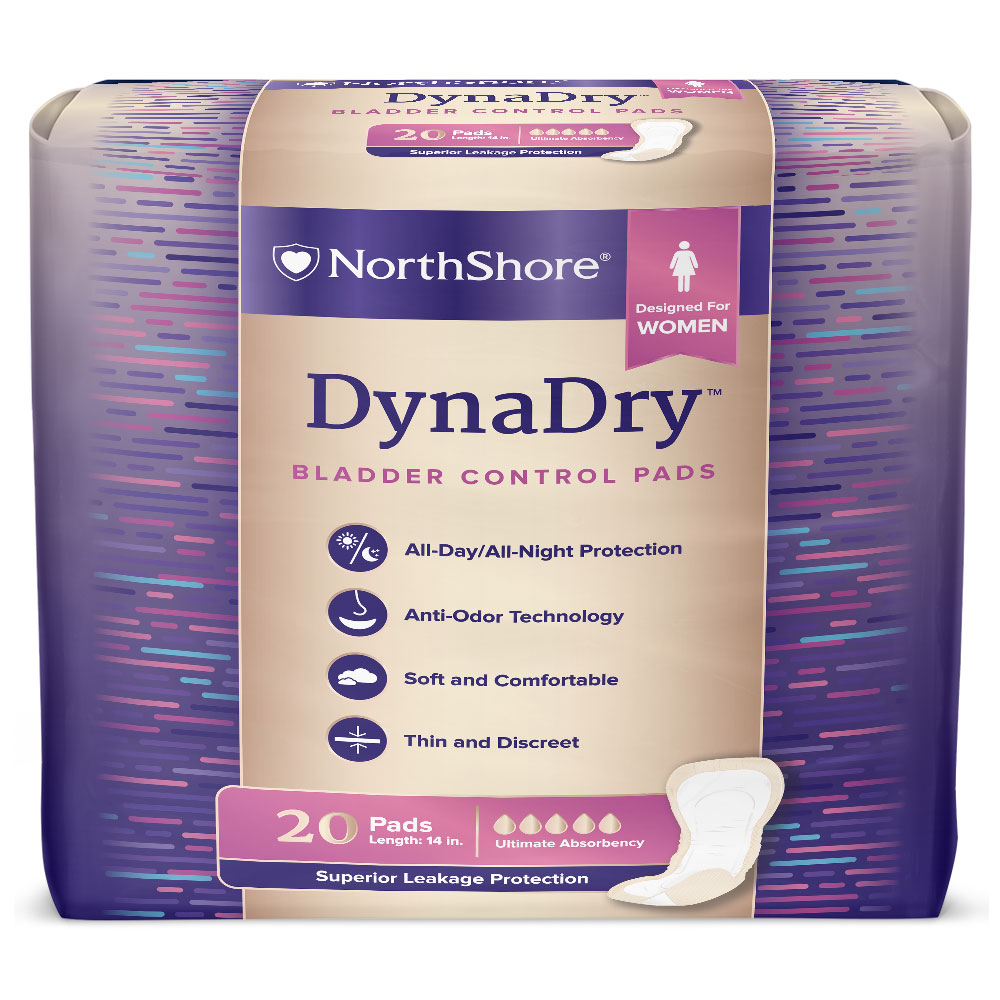 Absorbency - Moderate to Maximum
Adhesive Backing - Yes
Dryness Rating - Good
Pad Shape - Figure 8
Sizes available - Ultimate - 7 x 5 x 7 inches
Leak Guards? Yes
"Best product for added nighttime protection."
- Carole, Verified Buyer
Women looking for the most absorbent incontinence pads should consider DynaDry Supreme Liners. These pads fall into the absorbent category and are quite thick pads. DynaDry Liners are longer and more absorbent than the previous pads mentioned. The liners offer added coverage in the front and rear for bowel containment.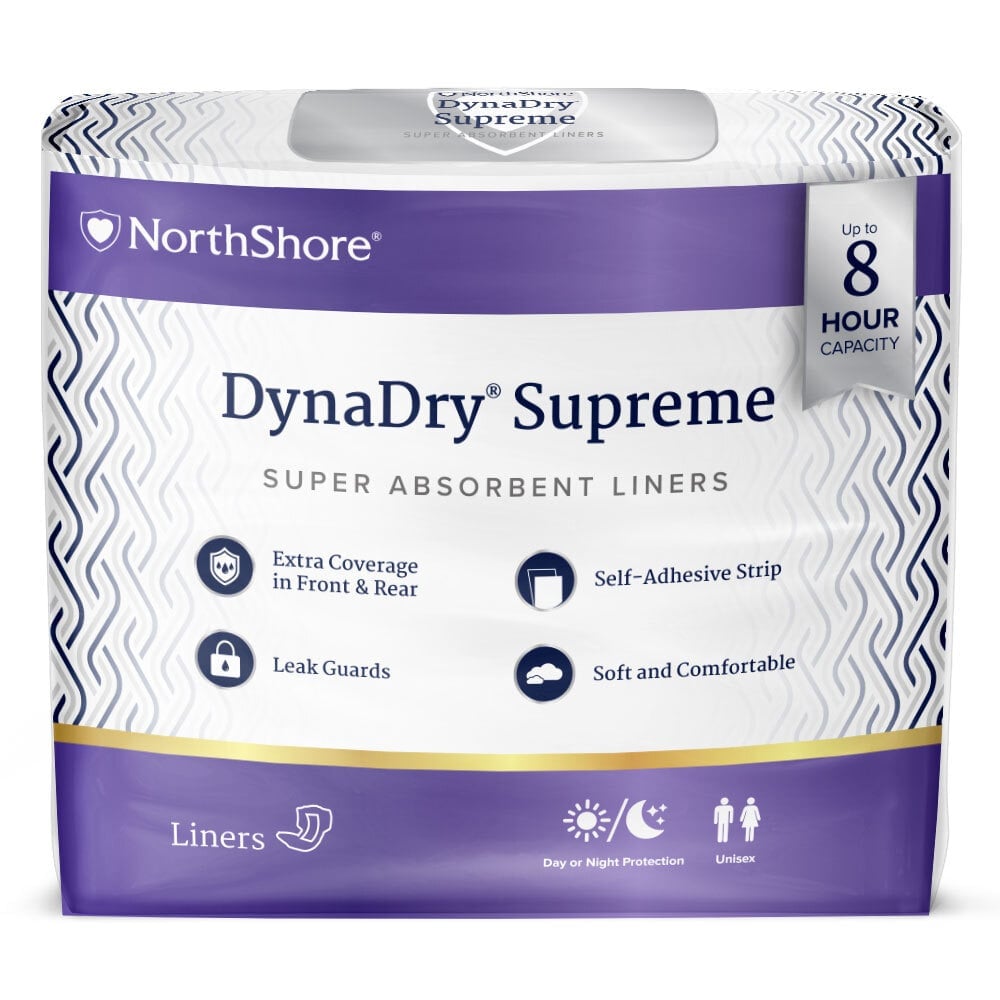 Absorbency - Maximum
Adhesive Backing - Yes
Dryness Rating - Exceptional
Pad Shape - Figure 8
Sizes available - M, L, XL, 2XL
Leak Guards? Yes
"These liners are the most absorbent we have tried. We used to have to change the sheets every day, but not anymore."
- Linda, Verified Buyer
Incontinence Pads Mean More Protection
Selecting the perfect incontinence pad may seem difficult, but with trial and error, it is possible. Many times you need to try different brands and sizes to see which one works best for you. NorthShore offers product samples for you to try. You can call us at (800) 563-0161 or request samples online. Our mission is to help you find a product that works!
Say goodbye to the leaks and embarrassing moments. The right products can help you live a life without the fear of leaks. Learn more about our incontinence pads for women online and get the confidence you deserve - without the leaks!
---
About the Author
Belinda is a freelance content writer and marketing consultant. Belinda specializes in content writing for B2C e-commerce brands. She has worked in customer support, content creation, and digital marketing for over ten years. Belinda is passionate about writing human-centered copy for consumers. In her free time, she loves to explore new parks with her dog, Ollie.

Thank you so much for reading our blogs!

Did you know NorthShore has helped millions of people manage incontinence with life-changing absorbent products? It's so amazing to hear their stories.

We also want you to know we have trained product advocates that provide a personal experience by working with each customer to find the best product for their situation.

Find out for yourself today!
To get in touch, simply provide your contact details below and your personal product advocate will reach out.


---
Products Featured In The Article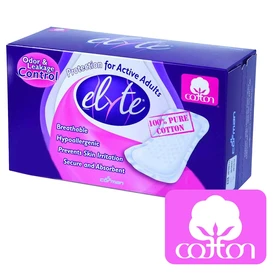 Starting at $15.50 FSA/HSA Eligible
Staff Pick
Starting at $3.99 FSA/HSA Eligible
Top Seller
Starting at $4.99 FSA/HSA Eligible
Please login to access your saved items list. If you don't have an account, create one today to start your list.