Incontinence Liners That Contain Urine and Bowel Leaks
Table of Contents
Finding a reliable incontinence product these days is a challenge.
Supplies, such as incontinence liners, have to fit comfortably. Most importantly, they need to be able to protect against leaks. Adults managing incontinence may want to use pads or liners to contain leaks.
You may still be looking for that one perfect liner. Maybe your current liner is too short or bunches between the legs. The liner may not absorb enough or cause discomfort.
If you are managing heavier leaks, you want a reliable product. A product that you can wear during the day or night. A liner that can give you peace of mind wherever, whenever. The last thing you want to worry about is an accident.
Learn about the incontinence liners that can give you more protection and peace of mind.
What Is an Incontinence Liner?
Incontinence liners are long, absorbent pads worn inside regular underwear. Like panty liners, they have an adhesive strip that sticks and holds the pad in place. Liners are available in various absorbencies and sizes.
NorthShore specializes in heavy absorbency products, so our incontinence liners hold more liquid. If you want more protection, heavy-duty liners might be the perfect solution.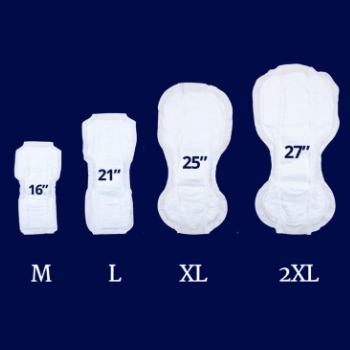 What Is the Best Incontinence Liner?
The best incontinence liner depends on your level of protection. If you are looking for a liner that can hold more than Always or Poise, consider DynaDry Supreme Liners. The liners are available in M-2XL, are comfortable, and are much more absorbent.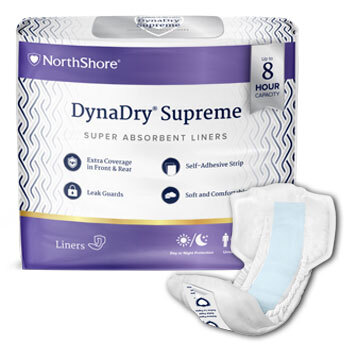 What Are the Best Incontinence Pads for Heavy Leakage?
The best incontinence pads for heavy leakage are extra long and can hold urine or bowel voids. DynaDry Supreme Liners are the ones to consider.
These liners offer full front and rear coverage, are contoured, and have tall leak guards. The contoured area in the back contains bowel movements. Use an absorbent liner that wicks away and absorbs liquid.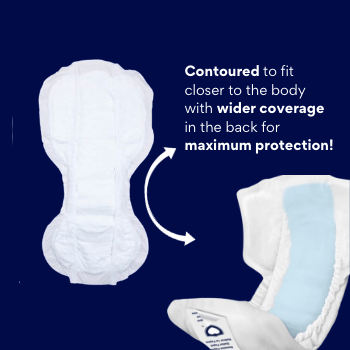 The main benefit of DynaDry Supreme Liners is that you can use them for both urinary and bowel leakage. Use them for whatever option you need. They are waterproof, cloth-like, and can hold up to 32 ounces of liquid. Expect comfort and protection in this liner.
Available in multiple sizes, men, women, and youth can wear these products. Use them in form-fitting underwear but not in disposable diapers.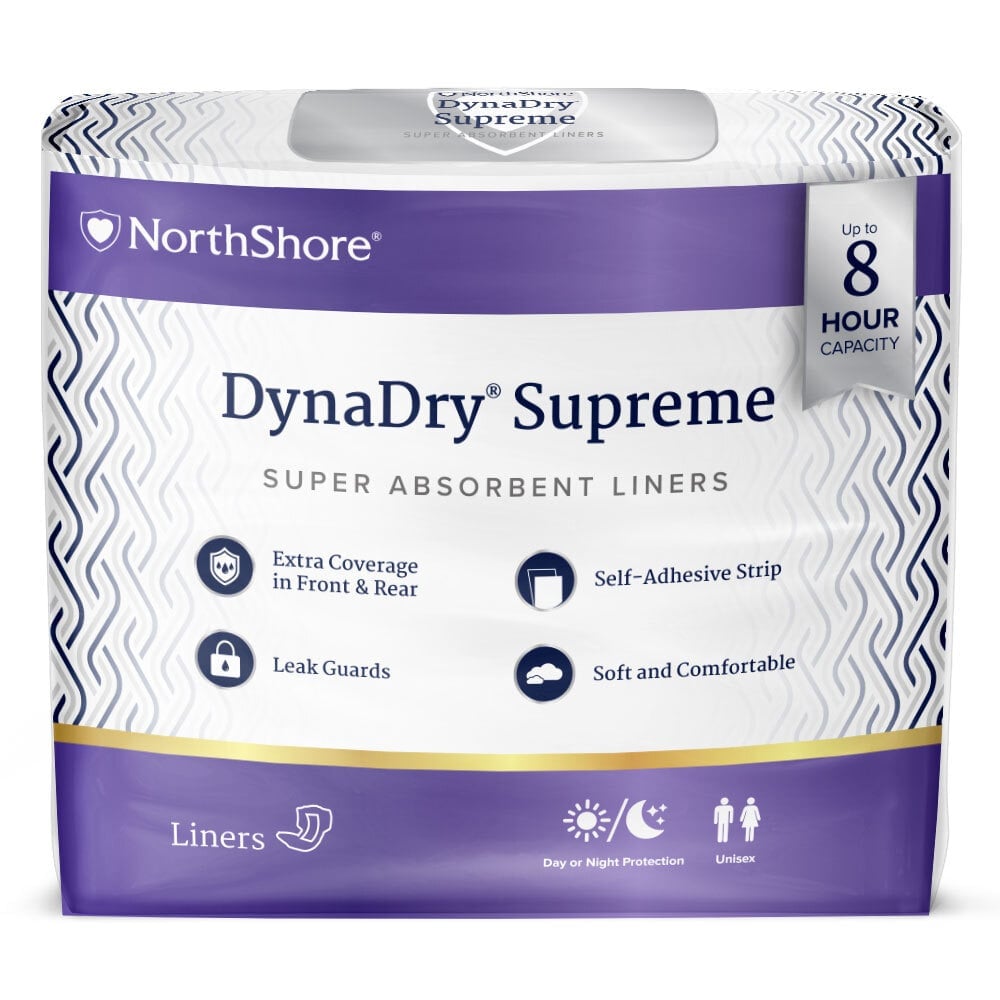 Improved Features of DynaDry Supreme Incontinence Liners
NorthShore takes pride in improving its products thanks to customer feedback and reviews. We hope our products will better help customers stay active while managing incontinence. Our mission is to help individuals manage incontinence with life-changing products.
What are the recently improved features of DynaDry Supreme Liners?
Longer, full-length adhesive on the back to stay securely in underwear

Taller leak guards on all sides for improved leakage protection

Faster drying top sheet for maintaining healthy skin and absorbency
With these improvements, you can expect a product that dries faster, offers more protection, and stays secure.
What Customers Say About DynaDry Supreme Liners
"As a young person, I had no thought about this product. After stomach surgery - I had some BM issues. But when I tried DynaDry Supreme Liners, I was very happy. The fit of large or medium works well."
- Cathy
"Great underwear liners! These hold an incredible amount of liquid! I get the longer length pads in this style when I need a solution that requires a slim profile."
- Dustin
"I bought these to have something more discreet to wear in town. The liners run front to back in your underwear like a mini diaper. I was not expecting much, but I have been pleasantly surprised. They took complete flooding with no leaks."
- Paul
People prefer incontinence liners because they may not like protective underwear or briefs. Sometimes it is because liners are more discreet. Regardless of where you fall, there are options. DynaDry Supreme Liners are a great option.
DynaDry Supreme's leak guards and other features help you stay protected. If you're still looking for that one product, consider DynaDry Supreme Liners today. Request DynaDry Supreme Liners Samples online. Stay dry and say goodbye to leaks.
Products Featured in This Article
Top Seller
Starting At: $4.99 FSA/HSA Eligible
Please login to access your saved items list. If you don't have an account, create one today to start your list.