Learn More About the 2 Most Common Incontinence Products: Liners & Pads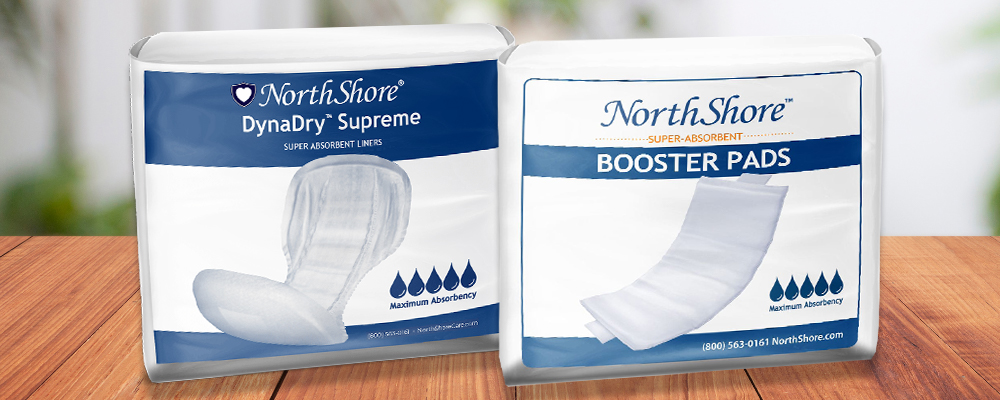 Many people use more than one incontinence product to help manage symptoms. One of the most asked questions, according to the NorthShore.com Customer Care & Service team, is which product offers the most absorbency to stay dry. The answer? It depends on each customer. Every person's incontinence is unique to them. Everyone experiences different leakage concerns, health histories, mobility levels and lifestyles.

There are many absorbent products on the market today from light and moderate to heavier and total incontinence coverage. NorthShore specializes in moderate, heavier and total incontinence protection. Our goal is to help identify the most effective product. A good place to start for many people is with a liner, which offers lighter coverage. For individuals with heavier incontinence who want added protection from a disposable undergarment such as an adult diaper or pull-on underwear, adding a booster pad is a great way to double absorbency.


Liners & Booster Pads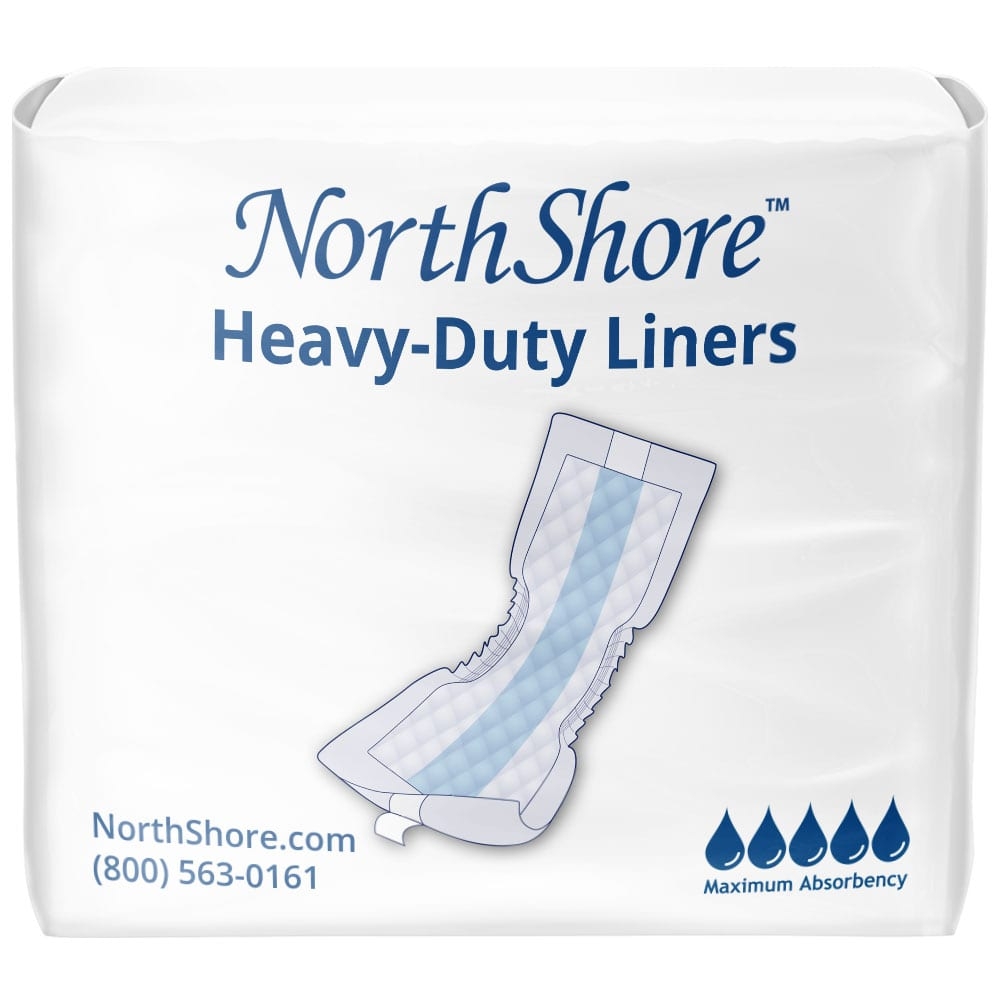 A liner, also known as an incontinence pad or largely shaped pad, has a plastic backing. They come in a variety of shapes and sizes and are designed to be worn in regular underwear. The plastic backing helps keep clothing dry.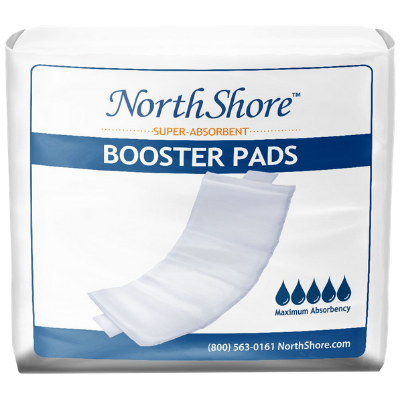 A booster pad, also known as a diaper doubler, is basically the same thing but without the plastic backing. And, it is designed to be used in combination with other incontinence products such as a tab-style brief or pull-up style disposable underwear. A helpful way to remember what a booster pad does is to remember it actually boosts the absorbency of any disposable undergarment. When urine touches the booster pad, it "flows through" to the brief or pull-on underneath, holding more liquid than it usually would be able to hold.
Advantages of Booster Pads
So what is the advantage of adding an incontinence pad? Additional capacity! There are two ways to get more capacity when needed, either move up to a more absorbent diaper/pull-on or add a booster. We find many customers use a variety of products for various needs. At home, sometimes a lower absorbency product is used on weekends when the bathroom may be close and convenient.
At night or when away from home, either a higher absorbency product or a booster is the preferred solution. Adding the extra absorbency allows the wearer to sleep through the night and wake up dry. When out in public, a booster can provide added security against embarrassing leaks.
Tip: You can add multiple boosters if necessary, just stack them as needed. The adhesive backing on NorthShore Booster Pads will help them stack and stay in place. Wet boosters can easily be peeled up to remove and the diaper/underwear below will still have plenty of capacity and use left.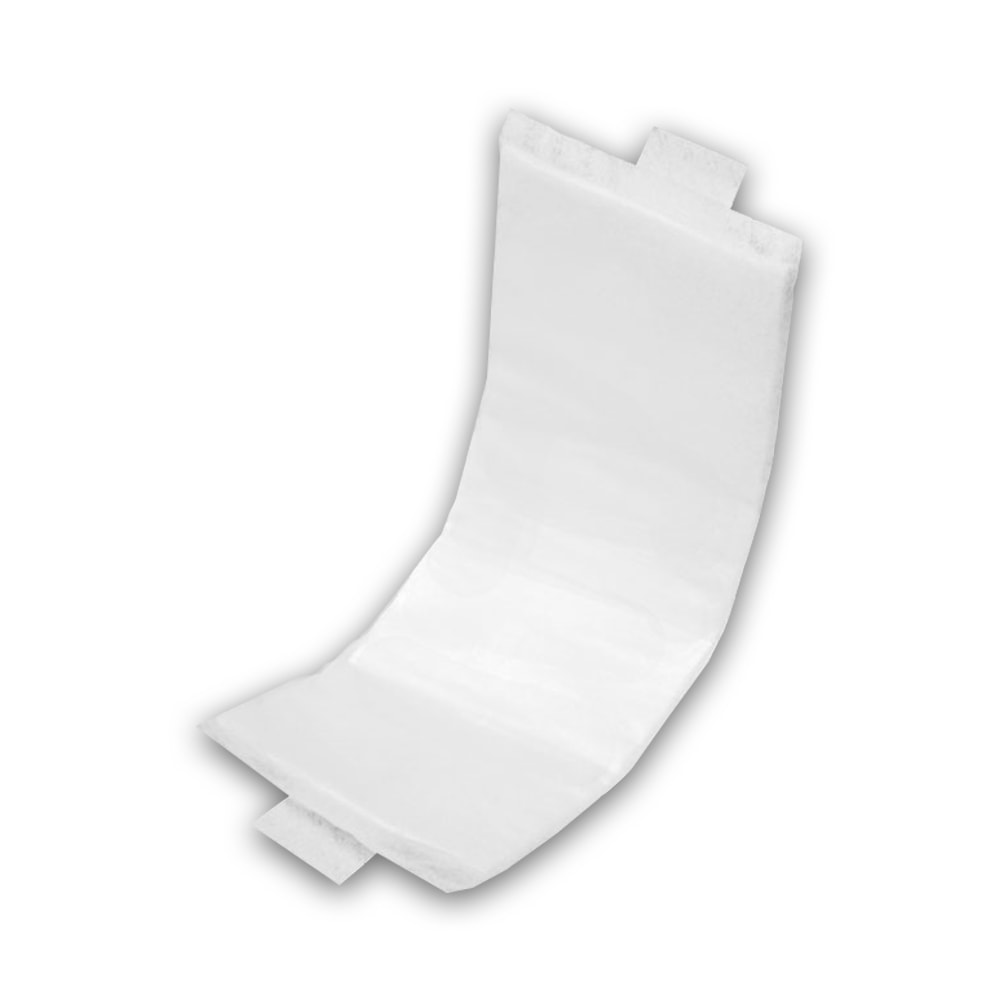 Advantages of Liners
What is the advantage of a liner? They are lightweight! Liners don't have the bulkiness of a lot of fitted briefs and pull-ons. Individuals looking for a liner that is more absorbent than most of the ones found in retail stores should consider DynaDry Supreme Liners by NorthShore. They are a great option when someone wants a little more protection.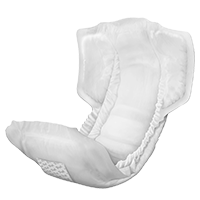 Tip: Liners can be great for individuals who have bowel incontinence and are not ready to transition into protective underwear or a fitted brief. Liners such as DynaDry provide additional protection in the rear to contain any bowel movements. If a liner doesn't offer needed protection, then consider an adult diaper or protective underwear.
The following How-To Video further explains the features and differences between Liners and Boosters:
Remember, booster pads are meant only to be worn inside disposable underwear. Liners are designed to be worn inside regular underwear. Which is best depends on individual preference and needs.

Want more coverage? Just starting to shop for incontinence products? Browse our wide selection of Incontinence Supplies or call (800) 563-0161 for personalized product recommendations.
Products Featured in This Article
Top Seller
Starting At: $20.99 FSA/HSA Eligible
Starting At: $13.99 FSA/HSA Eligible
Top Seller
Starting At: $9.99 FSA/HSA Eligible
You must have an account to save your Favorites List.