The 5 Most Important Questions to Ask Yourself When Selecting an Adult Plus Sized Diaper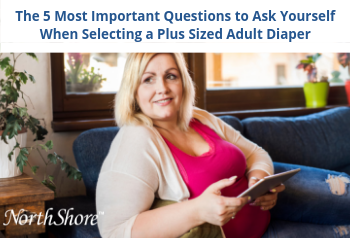 Do you know your current waist measurement? Truth is, not many people know, but it's a very important question in selecting an adult diaper, and especially for bariatric diapers. Some people fall into the 35-45 inch range, some are in the 50-55 inch range, but what about the people that are over 64 inches? Individuals in this range require sizes beyond extra-large. These sizes are not easy to find in retail stores. Fortunately, NorthShore offers XXL, 3XL, and 4XL sizes in fitted briefs and sizes up to XXL in the pull-on style underwear. What is the best bariatric adult diaper for you? These questions will help you better select the most appropriate product.
1. What is my current waist/hip measurement? - This is one of the most important questions to ask yourself. Adult diaper brands vary across the board with sizes, so be sure to measure first rather than guess your "size." Most men and women know their pant size, but specific waist and hip measurements are what's needed for incontinence product sizing. You might be an extra-large in one brand of diapers, but a large in another.
Tip - It's important to measure the widest part of your waist and your hip for the most accuate size. For instructions on how to measure correctly, refer to our infographic here. If you're unable to measure yourself, have a family or friend help you.
2. How much absorbency do I need? – Am I having full urinary and/or bowel voids? Is this just once in a while or is this happening on a regular basis? According to Livestrong.com, an adult can have an output of urine anywhere from 400 to 2,000 mL daily. This is equivalent to around 67 fluid ounces of the latter. Bariatric products (depending on the size) can hold anywhere from 24-38 ounces. If this is just an infrequent issue with small to moderate voids, then you may only need to use a liner that can be worn in regular underwear.
Tip - Monitor during what time of the day you're experiencing these voids. Is this happening before or after a meal? During a stressful activity outside, or when you're in a restful position? Log this information daily, and notice any patterns you might see.
3. What style of adult diaper suits my lifestyle? – For individuals that are bedridden or wheelchair bound, a fitted brief will be the easiest product to take on and off with the use of refastenable hook or tape tabs. Caregivers also like these tab-style briefs since they do not require all clothes to be taken off from the people they care for.
Tip –The Tranquility Bariatric Brief offers a Hi-Rise option that provides comfort and security for individuals with skin folds around the stomach and lower abdomen.
Tab-style brands that offer 3XL and 4XL sizes: Dignity®, Tranquility­®
Individuals who are more active and mobile may prefer the pull-on style underwear that resembles regular underwear. These pull-ups offer a stretchy, form fitting elastic waistband which offers comfort and security.
Pull-On Style underwear brands that offers the 2XL sizes: NorthShore­™­­­
4. What other products are available to me in larger sizes? – Depending on how much protection you need there are underpads, diaper covers and booster pads that can help for additional protection.
We carry large sized washable and disposable underpads that can fit across most mattresses.
We also carry waterproof diaper covers go up to the 5XL size. These covers act as a leak barrier between the undergarment and the person's clothing. Any liquid or stools that may come out of the diaper are contained in this cover.
NorthShore ™ Booster pads are also great to have on hand when using a fitted-brief or pull-on underwear, especially outside the house. These can be used inside these products to boost the absorbency of the product. These come in sizes from XL all the way up to a XXL.
Tip – If interested in the GaryWear, make sure to measure around the thigh, this is the most important measurement for this product. Leaks occur mostly in this area, so it should be as secure as possible.
5. What makes me the most comfortable? To find the best bariatric adult diaper you'll have to try out the products out yourself. Find the one you feel the most confident and protected in. Is the leg area too loose when standing? Are the tabs cutting in too your hips when seated? Make sure to be aware of all the feelings when trying these products out.
Tip - Feel free to request a sample to try of these products by calling us at 800-563-0161. Most of these products mentioned are available as a sample, so just ask, we're always happy to help.
We understand it can be difficult to find bariatric adult diapers, but we have options for you. Whether you're looking for an adult diaper or other absorbent products. It may take time sampling different products, but remember to keep these questions in your mind while going through the process. You'll eventually find the product that suits your needs.
Click the shop now button below to view our page for obesity care and bariatric incontinence products.