4 Must-Have Puppy Pads and Other Helpful Products for Dog Owners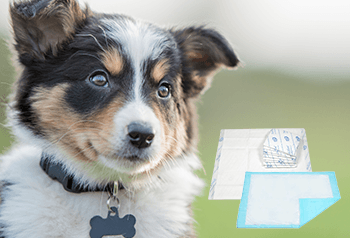 Are you a pet owner that lets your pooch sleep in bed at night? Or maybe you're the pet owner that leaves the tv on during the day for your dog to keep them comfortable along throughout the day.

According to an article from Joybird.com, 77% of pet owners let their pets roam around freely in their home. If you have a puppy or even an adult dog you've probably purchased some kind of puppy pad at some point. Unfortunately, not all puppy pads are created equally.

Along the years, pet owners have become familiar with the wet spots on the floor or carpet from not-so-great puppy pads that just didn't cut it. Dog owners, now it's time for a change to your puppy pads. Say goodbye to wet spots and messes on your floor. We'll list our top 4 puppy pads that you can use day or night for your dog.
Puppy Training Pads for the House
NorthShore™ Premium Puppy Pads, Blue – Two sizes available (17 X 24 & 23 X 36) Great for smaller dogs like Chihuahuas, Teacup Yorkies, or miniature Pomeranians. A great option for beginner puppy owners, this could be your new favorite puppy pee pad.



NorthShore™ Premium Puppy Pads, Peach- A great pad option for medium-sized city dogs such as Boston Terriers, Beagles and Cocker Spaniels that may not have the option to go outside for long periods of time. These peach pads are more absorbent and larger than the premium blue puppy pads mentioned above.



NorthShore™ MagicSorb™ Disposable Underpads – A must have pet pad for owners of labs, Golden Retrievers, Great Danes, Bernese Mountain Dogs, Saint Bernards and other big dogs that weigh over 100 pounds. Leave the pad in any area of the house. The pad is great at locking in odors, wicking away urine and the pad's lining prevents urine from spilling over the edges once it's saturated. No more stepping in wet spots at home!


Pet Pads for the Car
NorthShore™ Champion XD Washable Underpad- An overall great pad that even dogs can use. Bring the pad in the car when you're finished at the dog park or between vet visits. The pad is absorbent, soft and machine washable! Available in large, xl and 2xl sizes, for all sized pups!
Other Pet Products to Use at Home
Urine-Off Multi-Purpose Odor and Stain Remover Spray- This spray can do wonders! It helps clean stains and odors left over from your dog, can be used on carpets and floors.



Protect-A-Bed Mattress Protectors- If you're the owner that allows your dog to sleep with you, then you'll want to invest in a heavy-duty mattress protector to keep your mattress free or urine! The mattress protector is 100% waterproof and comfortable to sleep on.


We know you love your dog, but you also love your floors. Don't let another spot or puddle of your dog's waste get on them. Use the right puppy pee pads, we have all sizes for your breed of dog.

The NorthShore™ MagicSorb™ is large enough you don't have to double up on other pads. One pad is all you'll need to keep your floors dry and your house odor-free. The NorthShore™ Champion XD is a heavy duty washable pad you can use for really anything you can think of. Fresh-sacks and the Urine-Off Spray are products that will help keep odors down and the house smelling clean! We know you love your pet so make sure that you have all you need to keep the memories going while keeping your house clean! To request samples of our disposable puppy pads please call us at (800) 563-0161 or fill out our online request form. We're always happy to help!