Explore the Best Protection for Light Incontinence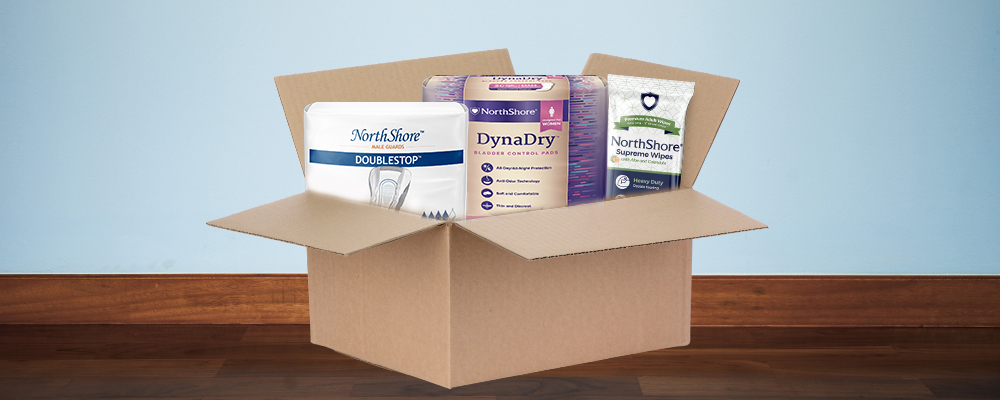 Urinary leaks happen, and individuals managing light urinary incontinence still need secure protection to stay active and confident throughout the day. Finding the right absorbent supplies can help people lead their lives without constant worry on their minds.
So what is light incontinence and what causes it? Of the types of urinary incontinence, stress incontinence can cause relatively mild urinary leaks in both men and women. Stress incontinence leaks may occur when pressure — or stress — is put on the bladder, such as when coughing or sneezing, lifting something heavy, exercising or bending over.
The National Association for Continence (NAFC) explains that in men, stress incontinence can occur after prostate cancer treatment, while in women it is usually experienced after childbirth or menopause. These conditions can lead to weakened muscles in the pelvic floor or the urethral sphincter.
When managing stress incontinence, some may try to avoid appropriate protection by changing underwear and clothing often or using feminine hygiene products. Not only do these solutions keep urine leaks on the mind constantly, but they can also lead to accidents and insecurity.
NorthShore offers a range of breathable diapers and incontinence products, but those experiencing lighter or occasional leaks may not need the heaviest absorbency. Below, discover the bladder leak pads, liners and guards for mild incontinence that provide both men and women discreet peace of mind.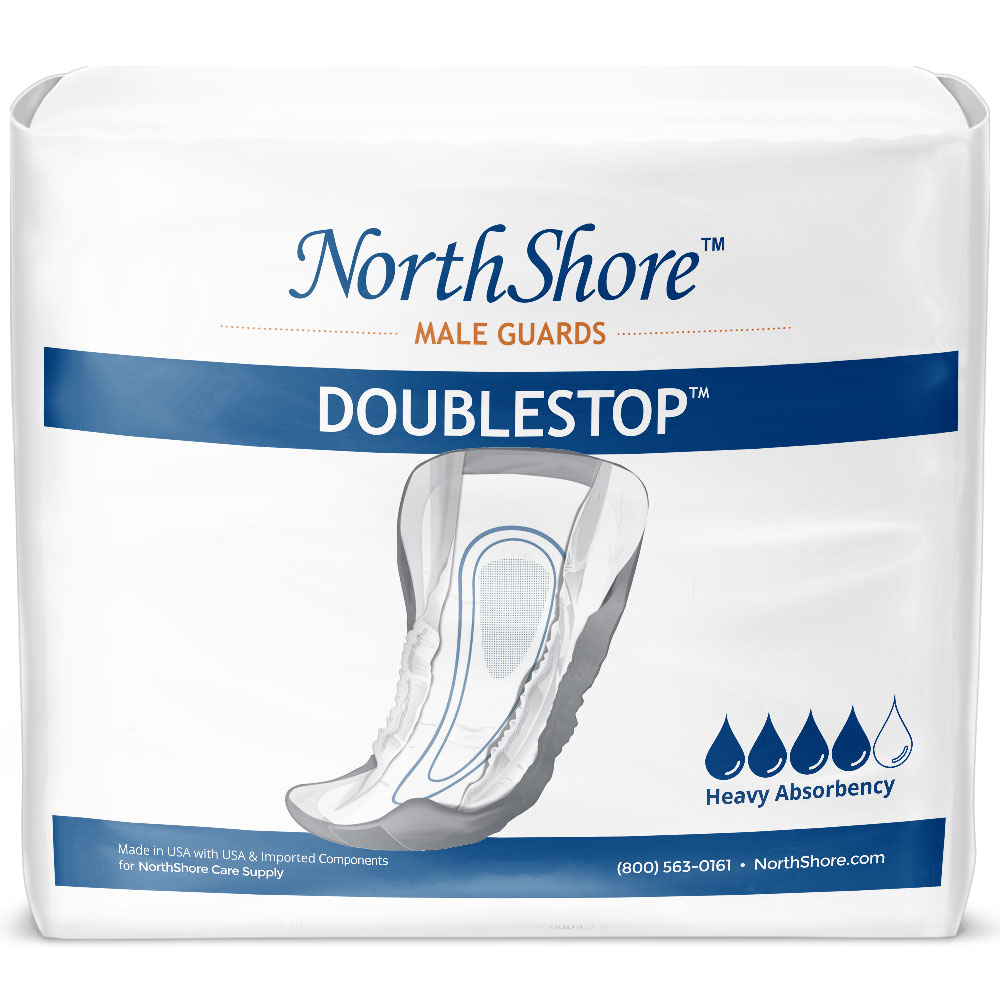 DoubleStop Male Guards Offer Discreet Protection for Men
For men managing light drips after prostate treatment or for any reason, NorthShore DoubleStop Male Guards are effective in staying dry and odor-free. These incontinence liners have an adhesive strip to resist shifting or slipping in regular briefs during exercise and movement.
The male guards feature a dual core with super-absorbent microbeads that lock in moisture for optimal protection. The triangular shape provides wider coverage at the top and inner leak guards to protect from side leaks.
DoubleStop Male Guards are individually and discreetly wrapped so they can easily slide into a pocket or backpack for changes on the go. The gray-colored backsheet means easy concealment under clothing and the soft, latex-free material means they're less noisy as well as gentle against the skin.
With 12 ounces of absorbency and a generous absorbent zone, DoubleStop Male Guards are an excellent choice for active men who want to manage dribbling or light incontinence with confidence.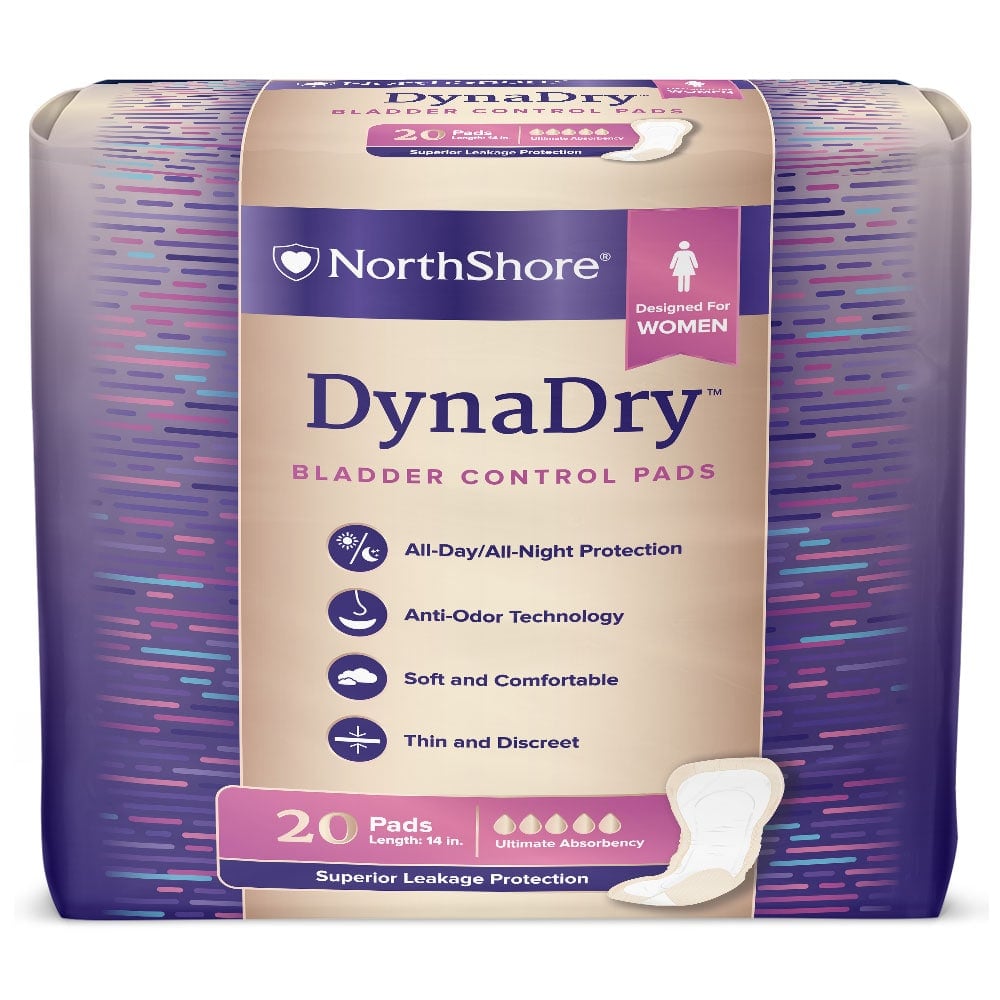 DynaDry Pads Provide Incontinence Protection for Men & Women
With absorbency up to 15 ounces, NorthShore DynaDry Pads Ultimate offer simple, secure protection against urinary incontinence. The wide adhesive strip holds the pad securely in place in regular underwear during exercise and movement, and the pad is contoured with four gentle elastic bands to curve to the body for greater comfort and protection.
The absorbent lining of the DynaDry Pads is in an hourglass shape and wicks away fluid, distributing it evenly throughout the pad to lock it in quickly.
DynaDry Pads have a cloth-like, waterproof backsheet to keep the pad quiet, rustle-free and discreet. Unlike DoubleStop, these aren't individually wrapped, but they can still be taken for on-the-go changes using resealable storage bags.
DynaDry Pads are available only in one size, small, which makes them a quick choice for light urinary incontinence protection for men, women and youth.
It may be worthwhile to try different types of supplies to find the best one for your situation - and added peace of mind.
Incontinence Pads vs. Menstrual Pads: What's the Difference?
Because many women are used to menstrual pads, it's easy to assume they're acceptable for mild incontinence protection as well. Incontinence products aren't interchangeable with feminine hygiene supplies. Urinary leaks require an incontinence product for the right protection. NAFC discusses a few of the reasons why in an article, including:
Because the flow of urine is much faster than menstrual flow, using feminine hygiene supplies for incontinence can lead to more leaks.

The materials and gels used for absorbency in incontinence products are often designed to lock in odors in ways that menstrual pads don't.

Urine is more acidic than menstrual blood, and the special materials used for incontinence pads help protect the skin from rashes.
The right incontinence supplies don't just help prevent leaks, but are also gentle on the skin. Menstrual products can't offer the same protection.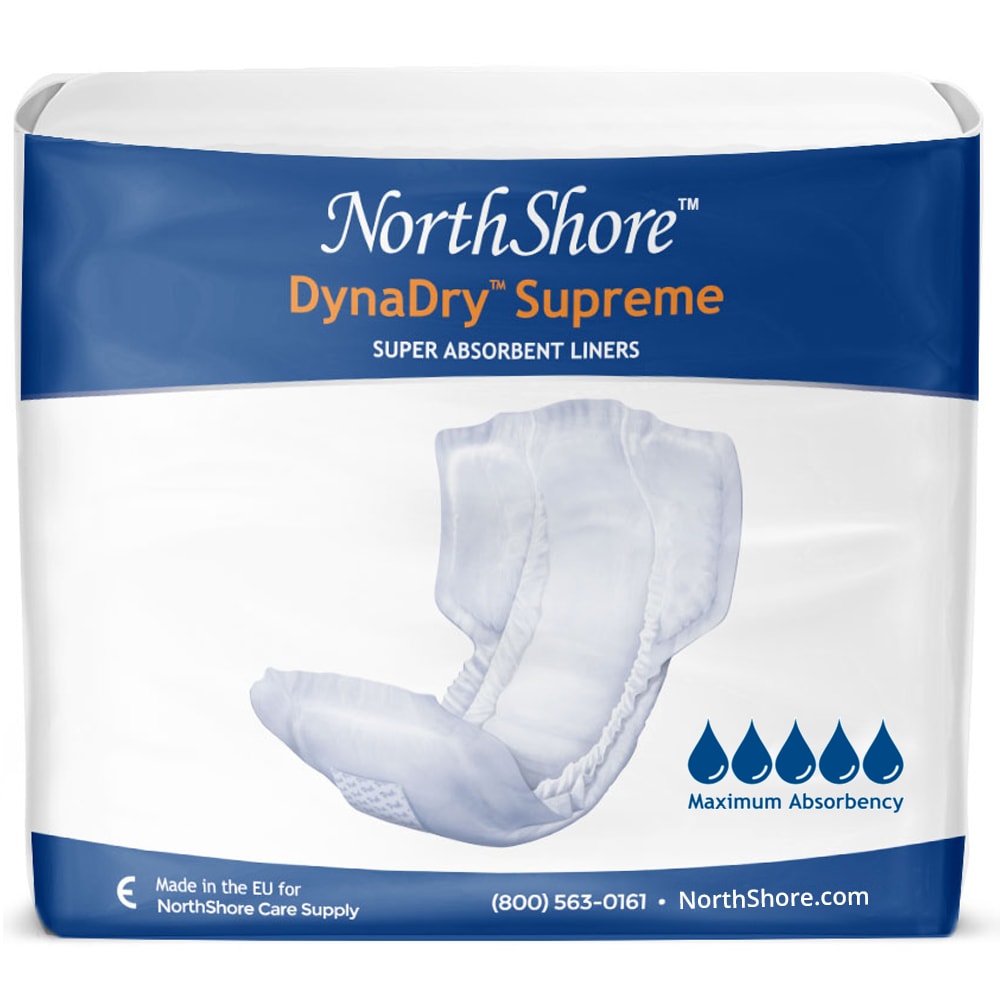 DynaDry Supreme Liners Feature Extra Protection & More Sizes
For men, women and youth managing mild urinary and bowel incontinence, NorthShore DynaDry Supreme Liners offer protection against both, with larger sizes and absorbency ranging from 17 to 32 ounces. The strong, wide adhesive strip helps hold the liners in place in regular underwear, and they also feature stand-up leak guards to better protect against accidents.
The absorbent lining shape is a Figure 8 and locks in fluids to keep the wearer secure and confident. The waterproof backsheet is also cloth-like for the same soft, rustle-free protection as the DynaDry Pads, but these liners come in classic white instead of peach.
Like the pads, the DynaDry Supreme Liners are contoured to fit various body shapes. Because they offer larger sizes, they're an ideal next step up from Poise, Tena and Tranquility. The liners are available in four sizes:
Medium has an absorbent zone of 14.5 in. (36 cm) with 17 ounces of absorbency.

Large provides a 17.5 in. (44 cm) absorbent zone and 19 ounces of absorbency.

X-Large has 22 in. (56 cm) of an absorbent zone with 24 ounces of absorbency.

2X-Large has an absorbent zone of 24 in. (61 cm) with 32 ounces of absorbency.
In addition to wider coverage, X-Large and 2X-Large provide taller leak guards. For active people who don't feel a need for adult diapers, DynaDry Supreme Liners are an excellent choice for security and confidence.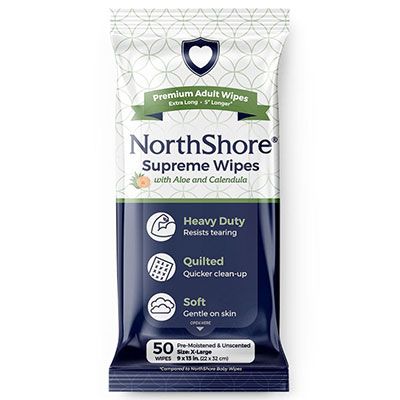 Satisfy Sensitive Skin with NorthShore Supreme Quilted Wipes
Incontinence wipes are essential for active people managing bladder leaks. When changing liners or pads while out and about, rinsing with soap and water to protect the skin isn't always convenient or even available.
NorthShore Supreme Quilted Wipes are durable yet gentle for use in sensitive areas, including on the face. Premoistened with soothing aloe and calendula, these cleansing wipes are also alcohol- and irritant-free, unscented and hypoallergenic. They're heavy-duty, so they don't fall apart as easily as other wipes.
The pop-up dispensing is perfect for easy one-handed use in tight quarters, and the lid helps keep wipes from drying out. X-Large wipes are 9 x 13 in., and baby wipes are 7 x 8 in., so people can choose the sensitive skin protection that fits their needs best.
Stay Secure & Confident with NorthShore
Even for lighter incontinence, finding the right products is an important step toward living life to the fullest. And with NorthShore's delivery options, there's no reason to search through the limited options in grocery store aisles for the protection that best fits your needs.
Explore
incontinence products

such as

liners

,

pads

,

wipes

and more or call (800) 563-0161

to speak with a

Customer Care & Service Expert today.
Shop Products Featured In This Article
Please login to access your saved items list. If you don't have an account, create one today to start your list.