Is Incontinence Common with Alzheimer's & Memory Loss?
Everyone forgets things from time to time. One in nine Americans aged 45 and older report they experience declines in their thinking ability, according to WebMD. As people age, a decline in memory may become more common. Some memory issues are the result of treatable conditions while others, including Alzheimer's disease and dementia, are more serious and require diagnosis and care by a physician.
According to the CDC, noticing a decline in mental abilities, also known as cognitive decline, is one of the earliest signs of impending Alzheimer's disease or dementia.
Mild Cognitive Impairment
Mild cognitive impairment doesn't have to prevent people from living full, productive lives. If someone misplaces car keys from time to time, that may not be a reason to be alarmed. Small changes in memory are usually manageable and do not disrupt one's ability to work, live independently and maintain a social life.
For many, though, mild cognitive impairment eventually progresses in people with dementia due to Alzheimer's disease or other conditions.
Dementia
The word "dementia" is often used to describe a set of symptoms, including impairment in memory, reasoning, judgment, language, problem-solving and other thinking skills. Symptoms of dementia usually begin gradually, worsen over time, impair a person's ability to work as well as impact social interactions and relationships.
Often, memory loss that disrupts someone's life is one of the first or more recognizable signs of dementia. Other early signs, according to the Mayo Clinic, may include:
Asking the same question repeatedly

Forgetting common words when speaking

Mixing words up — saying "bed" instead of "table," for example

Taking longer to complete familiar tasks, such as following a recipe

Misplacing items in inappropriate places, such as putting a wallet in a kitchen drawer

Getting lost while walking or driving in a familiar area

Having changes in mood or behavior for no apparent reason
Dementia & Alzheimer's
Many different types of dementia exist, and many conditions can cause it. Alzheimer's disease accounts for 60-80% of dementia cases, according to the Alzheimer's Association.
Alzheimer's is an irreversible, progressive brain disorder that slowly destroys memory and thinking skills and, eventually, the ability to carry out tasks. Early-onset Alzheimer's, though rare, usually occurs between 30 and 60 years of age. Most people have late-onset Alzheimer's with symptoms first appearing in their mid-60s.
With Alzheimer's, symptoms gradually worsen over time and include disorientation, confusion and behavior changes. Eventually, speaking, swallowing as well as walking become difficult. There is no known way to prevent, cure or slow Alzheimer's disease.
Alzheimer's & Incontinence
Many people will experience bladder control problems, also known as incontinence, in the later stages of memory disorders, including Alzheimer's. In fact, between 60-70% of individuals with Alzheimer's also experience urine and fecal incontinence issues, according to Bladder & Bowel Community.
Incontinence can be caused by many factors, including an inability to recognize the need to use the restroom and forgetting where the bathroom is located. Others include physical limitations when removing clothing and constipation.
Generally, urinary incontinence occurs first, followed by fecal incontinence. There are many ways to manage incontinence and retain a sense of dignity. In the beginning, incontinence can often be managed by more frequent toileting when a person does not seem to be able to make it to the bathroom in time. As the disease progresses, highly absorbent products and personal care accessories can be helpful.
Tips for Managing Incontinence
Establish a schedule – Go to the bathroom first thing in the morning, at key intervals during the day, after meals and before bed.

Wear comfortable clothes – Choose a wardrobe that is easy to remove and clean.

Make the bathroom easy to find – Place colored dots on the floor or wall leading to the bathroom, put a sign of a toilet on the bathroom door.

Make the toilet safe and easy to use – Raise the toilet seat if necessary, install grab bars on both sides, use nightlights.

Remove items – Keep the path to the bathroom clear.

Remove throw rugs – Anything on floors can cause trips and falls.

Another helpful tip is to consider using incontinence products such as waterproof mattress covers, adult diapers, pull-ons, underpads, diaper covers, bed pads, male guards and liners.
Incontinence Products & Accessories
Absorbent protection to stay dry and leak-free is important when managing incontinence. Look for tab-style briefs and pull-ons with built-in protection, like those offered by NorthShore Care Supply. Many of these items look like regular underwear, but absorb urine and keep wearers dry. NorthShore Care Supply also offers super-absorbent bed pads, underpads and mattress protectors to keep furniture and surfaces clean.
NorthShore offers products with innovative technology and features to resist leakage and sagging. From light to total incontinence, NorthShore has a product to meet your and your loved one's needs.
Recommendations for individuals managing incontinence with Alzheimer's and other memory care issues include:
Underwear and Briefs
Tab-style briefs, or diapers, are easier to put on and take off but many people prefer pull-up style underwear so here are two recommendations for effective daily protection:
Top-of-the-line comfort, absorbency and a silky-smooth fit with up to 8 hours of protection.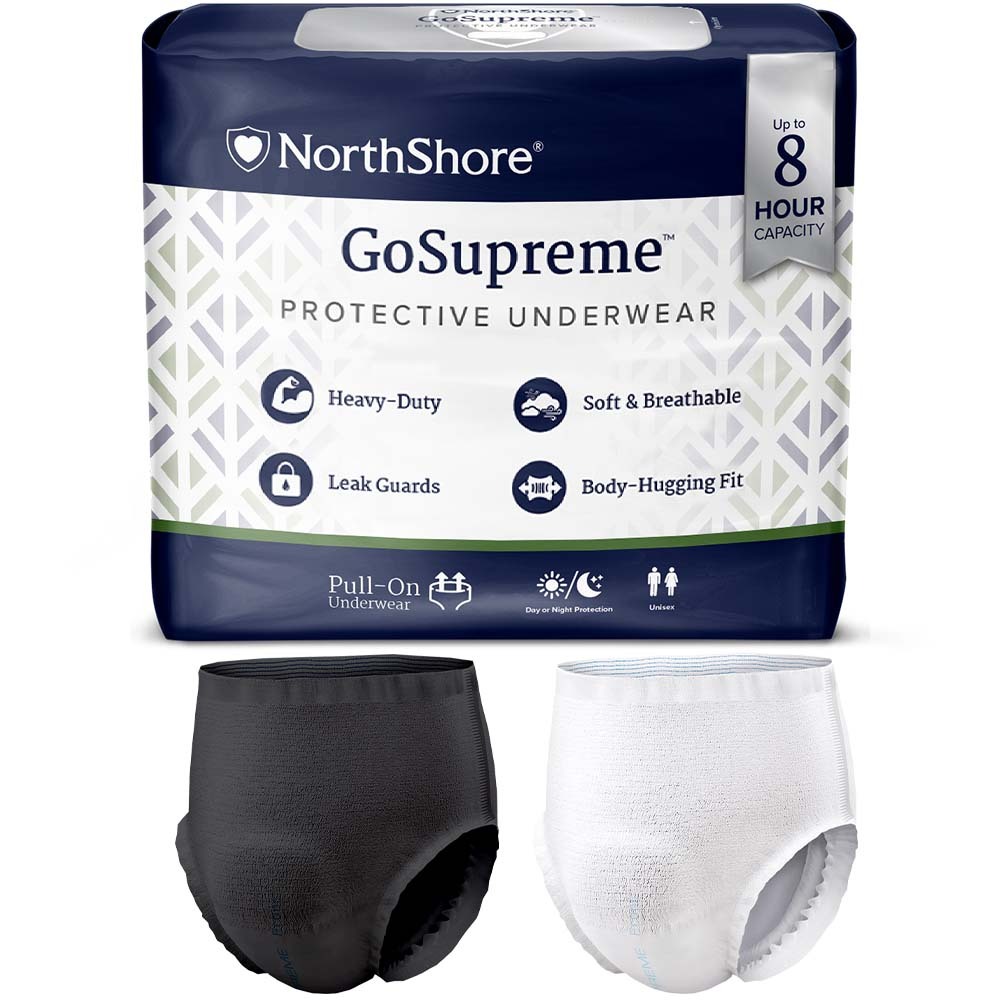 Supreme Tab-Style Briefs (Adult Diapers with Tabs)

Offering up to 8 hours of protection with tall leak guards and the same front and back coverage of European-style diapers.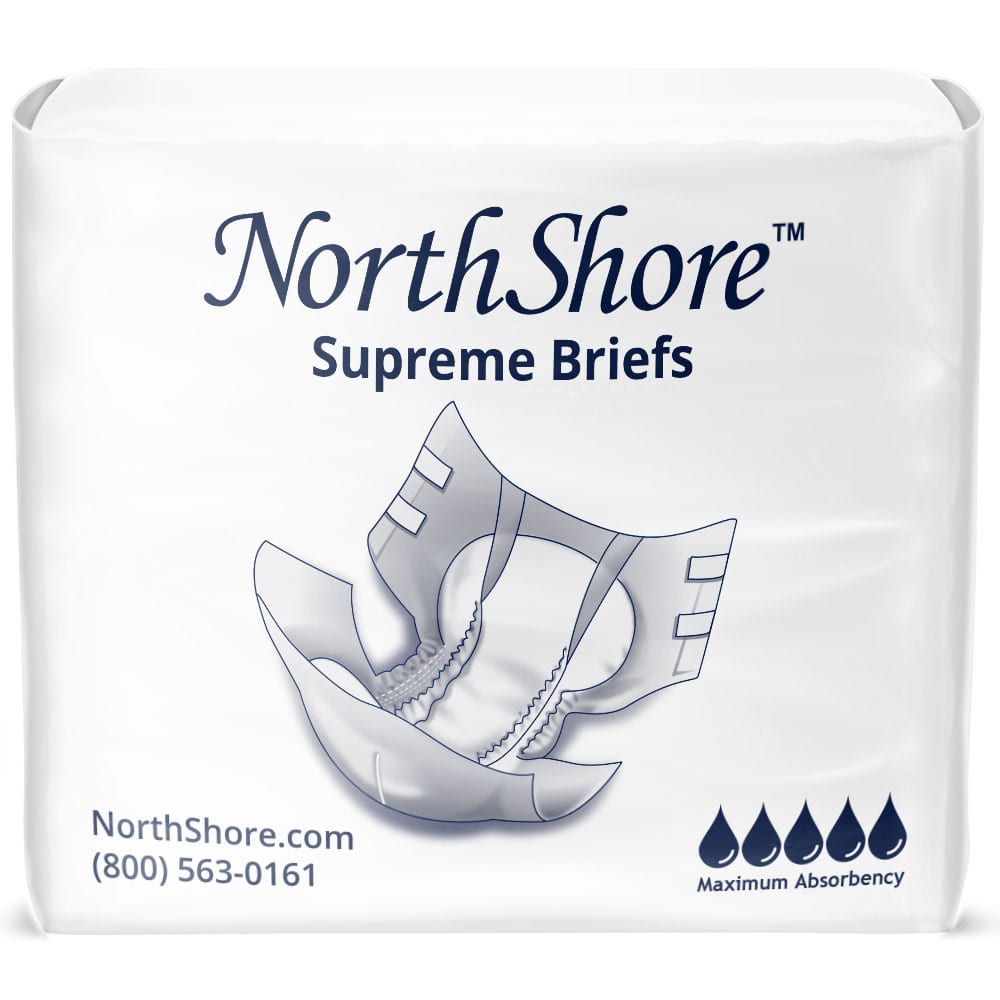 Other Premium Incontinence Products
The highest-rated booster pad we carry! A diaper and underwear doubler designed to add absorbency to minimize changes, especially at night. The special Microsorb lining is designed to fill to capacity and then flow through to the diaper or pull-on underneath.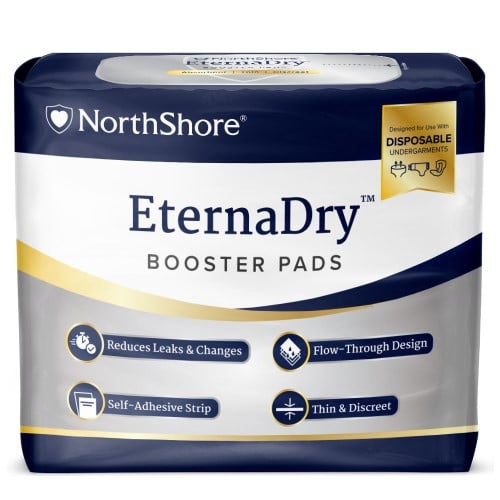 TRIFECTA can be worn over pull-on underwear or absorbent briefs to provide an extra layer of protection. These premium diaper covers are waterproof and breathable. Available in a variety of colors and sizes.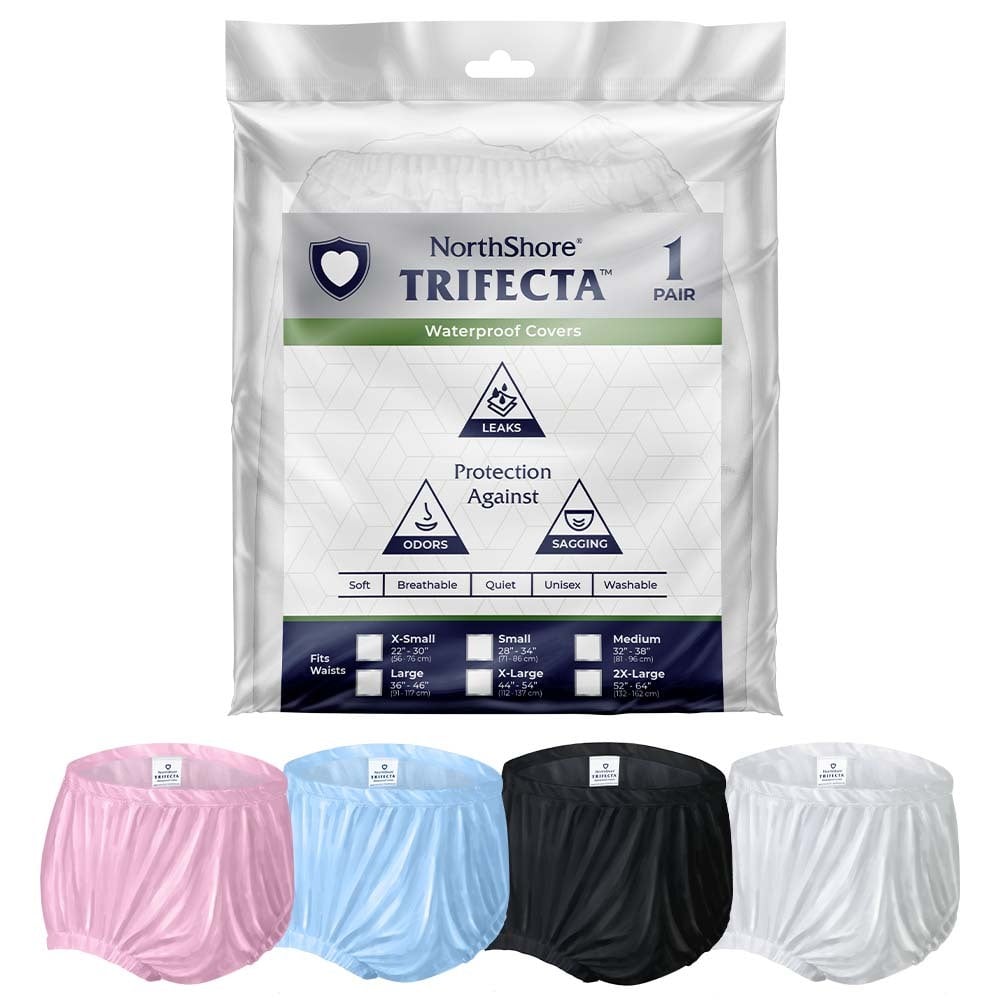 Heavy-Duty Adult Wipes
Exclusive Supreme Quilted Wipes from NorthShore are premium, extra-long adult wipes (5" longer than NorthShore Baby Wipes) built for quicker clean-up, soft and gentle on the skin with aloe and calendula, unscented, hypoallergenic and designed for face and body use.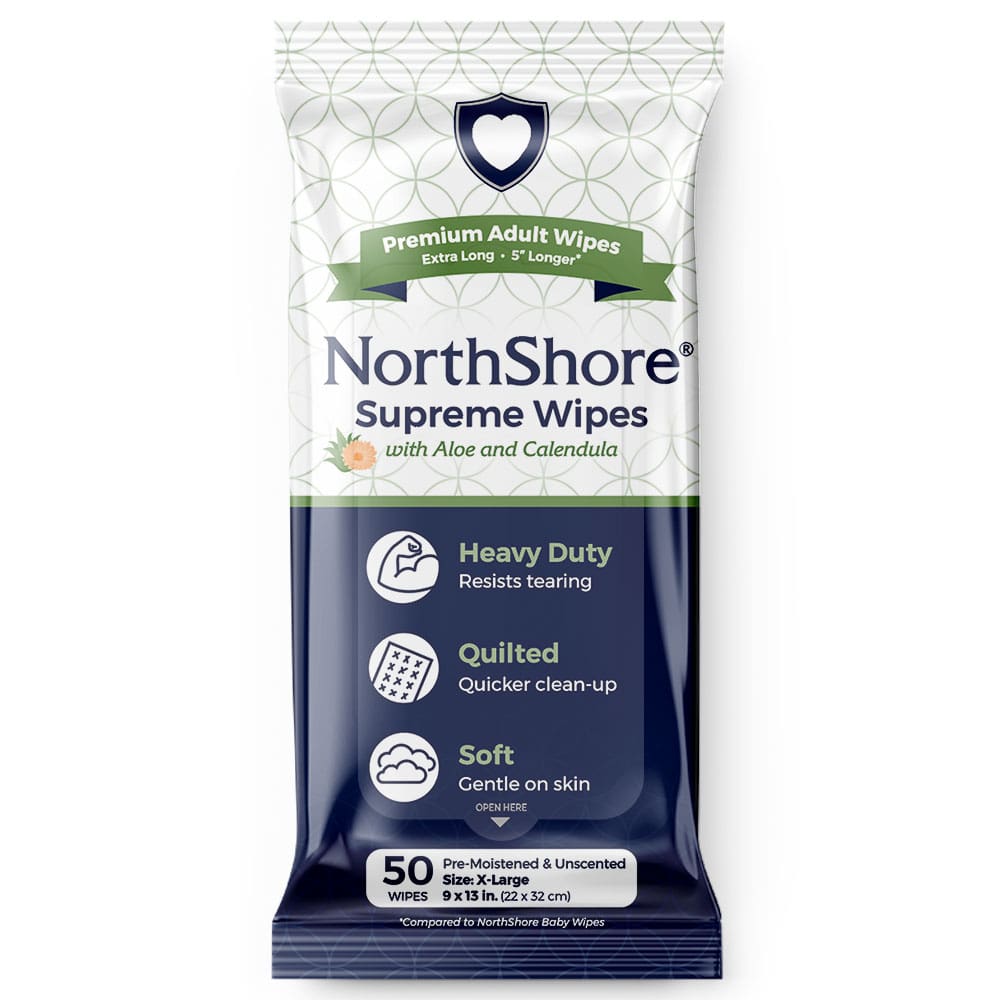 MagicSorb Air Disposable Underpads
All-day or all-night waterproof maximum absorbency pad with special wicking and an odor-absorbing liner. Heavy-duty construction with side leak guards eliminates the need for using more than one at a time. Choose from three extra-long sizes for beds, furniture and other surfaces. Washable underpads are also available.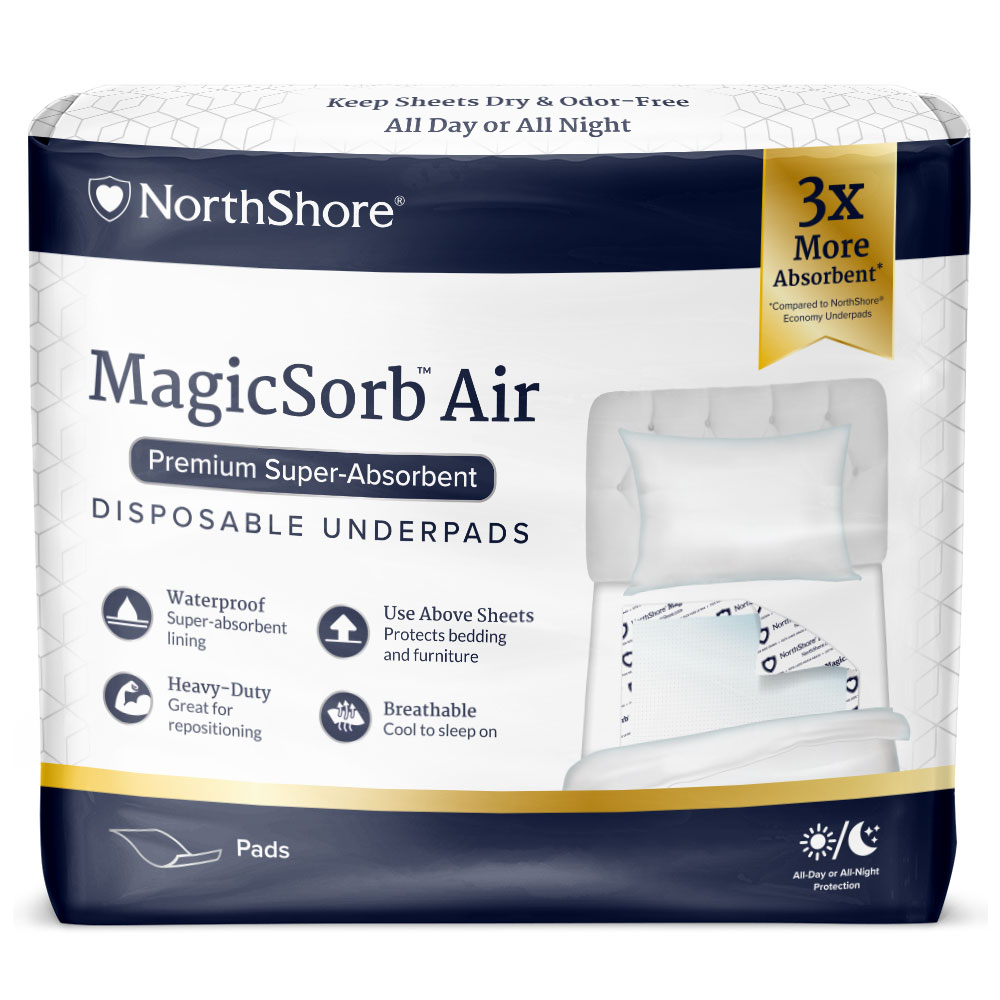 Activities of daily living such as showering and eating become more and more difficult as Alzheimer's progresses. It can affect people in different ways, so it is best if a physician is involved treatment. This can help the individuals have a greater quality of life, while managing incontinence.
Learn more about products that can help manage urinary and fecal incontinence or call the Customer Care & Service Team at (800) 563-0161.


Products Featured in this Article
Please login to access your saved items list. If you don't have an account, create one today to start your list.