Looking for Better Incontinence Products? Request Adult Diaper Samples at NorthShore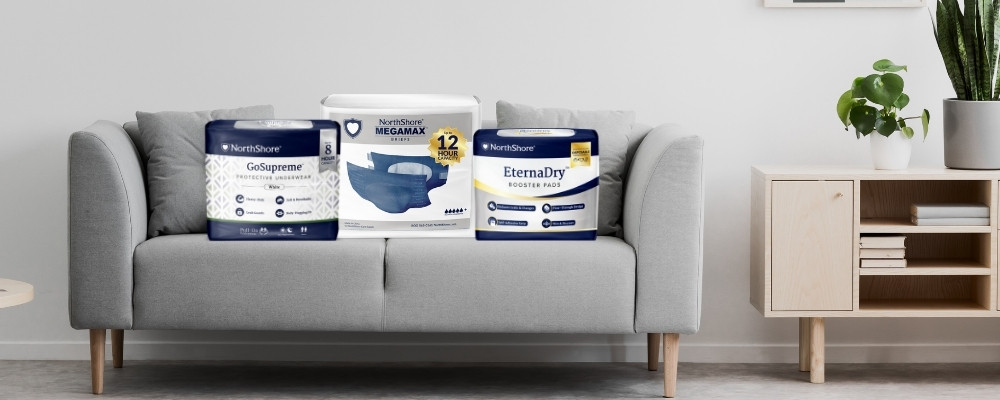 Millions of Americans experience incontinence, yet some do nothing to manage it. It may be due to embarrassment or lack of knowledge of products available. It can be hard to talk about incontinence with loved ones and friends.
How do you find which adult diapers will work for your needs? Product samples.
Those managing incontinence, as well as family members and professional caregivers, can take advantage of adult diaper samples at NorthShore. It can be hard to determine what size and style to select. Like clothing, individuals need to try on the product first to see if it is a good fit. Plus, diaper samples save customers on product and shipping costs.
If you have been struggling to find a product that works and contains leaks, then request samples online. Discover how to sample diapers from NorthShore and other helpful ordering information.
Why Does NorthShore Offer Adult Diaper Samples?
At NorthShore, we understand that managing incontinence is a challenge. We know that some adults have just begun their journey with incontinence, let alone are unfamiliar with how adult diapers work. It can be confusing to sift through the selections of incontinence products.
Our sample program allows you to try adult diapers, pads, liners, and other disposable items without any commitment. Our mission is to help people managing incontinence find a product that works.
Not all incontinence products are created equal. NorthShore products have been tested and specifically designed for individuals of all shapes and sizes. Unlike other brands, NorthShore products are for individuals with heavier urinary and bowel incontinence.
At NorthShore, you can expect products with 3x the leak protection of leading store brands. We create high-absorbency products with more protection to help individuals, caregivers, and families get more sleep without leaks.
You will notice the sizing of our products is different from what you will see at a medical supply store. For example, GoSupreme Underwear is a form-fitting incontinence underwear for individuals with thinner legs, with up to 8 hours of protection.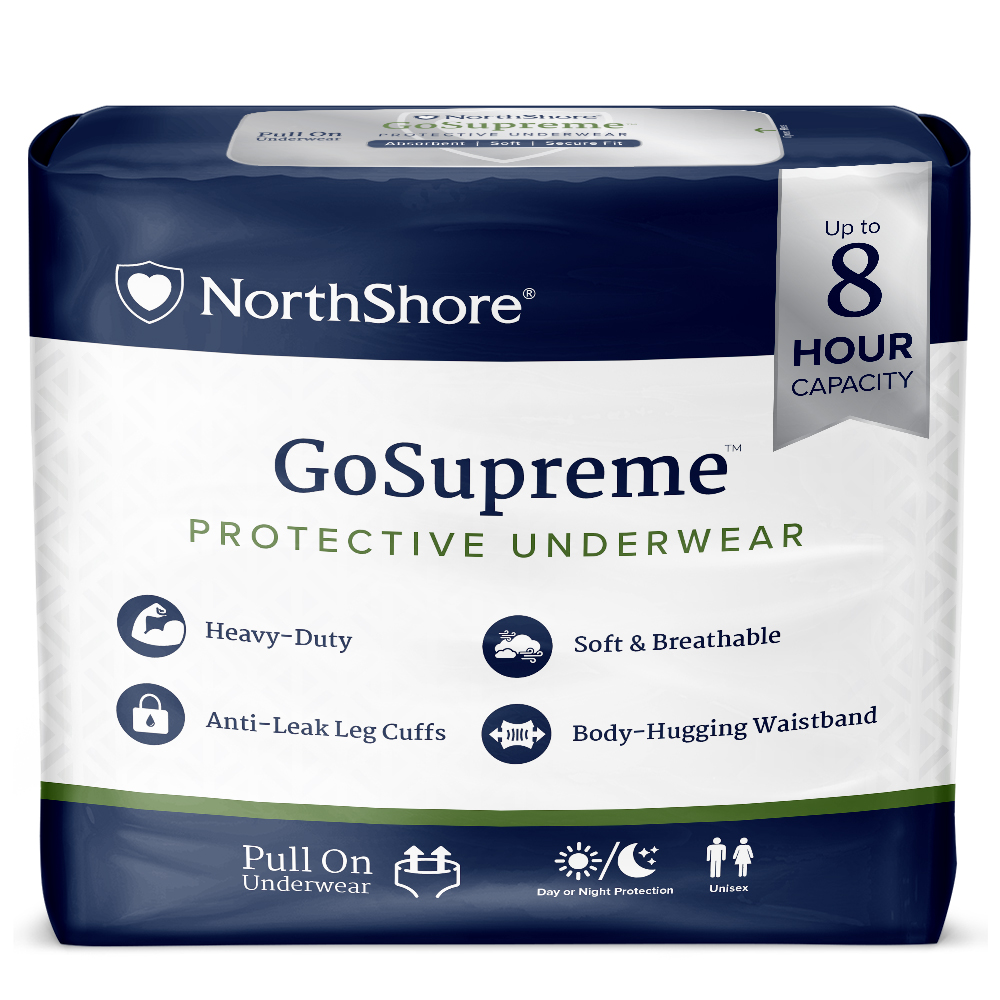 Who Can Get Adult Diaper Samples?
Diaper samples are available to new and existing customers* who want to try new products, styles, and absorbencies. Incontinence needs can change, and individuals may need to try new products to accommodate new situations.
*Exclusions may apply.
Which Products Are Available to Sample?
Adult diaper samples are available for most disposable items on NorthShore. Washable bed pads, diaper covers, and skin care items are not eligible to sample.
Here are the categories of products you can sample:
How Can I Get Diaper Samples?
You can get diaper samples online or over the phone at (800) 563-0161. When using the form online, we will ask you questions about your needs and incontinence level.
Once you enter your information, you will see personalized product recommendations. Select the products you want to sample, you will see the checkout page. Lastly, you will enter your shipping information and finalize your order. Shipping rates apply.

Visit our Sample Form to answer a few questions in 5 easy steps.

Choose from our expert recommended products and simply add to cart.



Place Order. Same Day Shipping on orders placed weekdays by 7pm Central
If you call directly, a customer care expert will handle these steps and ask you for your contact and shipping information.
Things to keep in mind:
Before ordering samples, review our product brochure. Make sure to have your waist and hip measurements handy. Accurate measurements help us to find your best size.
Tip:
Read Getting the Best Fit and Measuring for Adult Incontinence Products blog, it offers helpful information and a measuring guide.
Shipping information
Your privacy is important to us. Shipments arrive via FedEx in unmarked boxes. You can also choose a FedEx "Hold at Location" to schedule your pickup order at a participating FedEx location.
What If I Need A Lot of Diapers?
There are diaper banks throughout the U.S. for those who need financial assistance for adult diapers. The Simon Foundation for Continence offers a directory of U.S. diaper banks for absorbent products.
How Can I Pay for Adult Diapers on NorthShore?
We are confident the samples will help you find a product that works. If you would like to make a future purchase, you can do so with the following payment methods:
Visa

Mastercard

American Express

Discover

PayPal & PayPal Credit

FSA & FHA debit cards - check with your HR department for eligibility first
How Does Shipping Work?
Orders placed only or over the phone by 7 pm CST ship out the same day.
Does Medicaid or Medicare Pay for Adult Diapers?
We suggest checking with your insurance company to determine whether they provide coverage. If you are covered, you will be responsible for submitting your receipt and requesting reimbursement from the insurance company.
Incontinence is manageable. The right products and supplies can help. Individuals can stay active and live fulfilling lives with products that fit correctly and protect against leaks. Take advantage of adult diaper samples. Our premium products contain the heaviest leaks so that you can stay worry-free and live life to the fullest.
To find the best incontinence products, request diaper samples today. Answer a few quick questions, and we will handle the rest.
If you have any questions on the sample program, call our customer care team at (800) 563-0161.


Thank you so much for reading our blogs!

Did you know NorthShore has helped millions of people manage incontinence with life-changing absorbent products? It's so amazing to hear their stories.

We also want you to know we have trained product advocates that provide a personal experience by working with each customer to find the best product for their situation.

Find out for yourself today!
To get in touch, simply provide your contact details below and your personal product advocate will reach out.


---
Shop Premium Incontinence Products
Please login to access your saved items list. If you don't have an account, create one today to start your list.