7 Reasons Why NorthShore Is the Preferred Supplier for Family Caregivers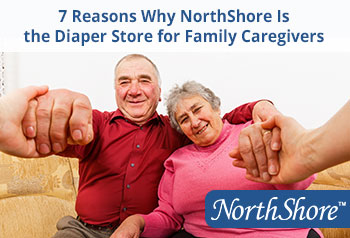 The former first lady, Rosalynn Carter once said, "There are only four kinds of people in the world. Those who have been caregivers. Those who are currently caregivers. Those who will be caregivers, and those who will need a caregiver." In today's world, this statement can't be any truer. Some caregivers today may be caring for their parents, while others may care for their child or even their spouse. Whichever type of caregiver you are, whatever age you are, we are here for you.
Caregivers spend hours upon hours of their waking time making sure their loved ones are happy as can be. If they're not administering their medication, then they're taking them to their regular doctor visits. If they're not preparing their breakfast in the morning, then they're washing their clothes for the week. It seems like the "to-do" list for a caregiver never ends! Luckily NorthShore is here for all types of caregivers. NorthShore is committed to offering the best quality incontinence products available, so caregivers don't have to be up all night changing sheets.
If you're new to NorthShore then let us explain the 7 benefits you'll get when you use us for your family's incontinence needs.
1. Super-absorbent overnight incontinence products- Changing bedding sheets, clothing and diapers can cause loss of sleep at night. Do you know how much fatigue and sleep deprivation affects caregivers? In order for caregivers to provide adequate care to their loved ones they too need rest. NorthShore offers tab-style adult diapers and pull-on style absorbent underwear that can help give caregivers some extra hours of sleep that they truly need. Some of the most absorbent adult diapers we carry are located in our overnight incontinence products page.
2. More options of adult diapers for bed-bound relatives- NorthShore has an extensive list of fitted briefs known as tab-style diapers to help family members who are bed-bound. Ninety-six percent of family caregivers help their loved ones during daily activities such as getting in and out of bed, dressing and bathing. Caregivers, be sure to shop our fitted briefs for your loved ones who may need help getting out of bed.
3. One-stop-shop for incontinence products-If you're needing other incontinence products such as gloves, adult cleansing wipes, no-rise body cleansers or even heavy-duty bed pads, look no further. NorthShore has all of the caregiving essentials. You won't have to worry about ordering from numerous places, order your loved one's diapers, booster pads and any even wipes with us. NorthShore also has an Auto-Ship program to make sure your loved one never runs out of their incontinence supplies.
4. Frequently added incontinence products-If you're not happy with the current incontinence product your loved one is using, consider others. New incontinence products are updated on our site so be sure to check often. Some recently added products include Alyne Underwear, 4Care Bodysuit Diaper Covers and the NorthShore™ DoubleStop™ XL male Guards. These products were all released within the past 6 months! What new products will we have in the next 6 months?
5. Free samples-We understand that trying these types of products on before purchasing is important. Call us with your loved one's current waist and hip measurements, some background information and we will recommend the best product for their situation. Please note we do not offer samples of washable incontinence products like diaper covers, mesh pants, and washable bed pads.
6. Personalized consultation- Care experts will ask special questions to ensure your loved one is getting the best product for their needs. Whether your loved one is experiencing urinary incontinence or bowel incontinence, we will give our recommendations on what products to use to keep them dry, protected and secure.
7. Early morning & late night support- Caregivers rarely have a free moment during the day to make calls, so NorthShore adjusted support hours to meet caregiver's busy schedules. Caregivers may get in touch with care experts from 6am-9pm, Monday through Friday and 8am-8pm on the weekends. Call, text, email or chat with us!
Caregivers, we know you have a lot on your plate every day but we're here to help you. NorthShore cares about you and your loved one, so use us for your incontinence supply needs. That's why we're here. We offer quality, absorbent incontinence products that your loved one can use. Some of our most absorbent tab-style briefs are the NorthShore™ Supreme Briefs. We also carry super-absorbent protective underwear such as the NorthShore™ FlexSupreme™ Underwear. We have many options of products in different styles and sizes. Free samples, personalized consultation and extended hours are just some of the reasons why we are your diaper store. Remember that you're not alone, we're just a call away! We can be reached at (800) 563-0161.
We're always happy to help!