Nurses Week: Celebrating Our Healthcare Heroes and How You Can Help
It's Christmas Eve, at 10 pm, and Miki, a Registered Nurse, is ready for sleep. But suddenly, she hears a ring on her phone. Her Charge Nurse sends a text that reads, "Are you able to come in early today?"
Her Charge Nurse asks her to come in around 3 am the following day. Miki, being the passionate nurse she is, accepts.
Miki needs to wake up at 2 am and get ready for her shift. Her morning routine includes moisturizing her face, applying concealer, and putting on her Apple Watch. In her bag, she packs her nursing badge, stethoscope, gum, and snacks to keep her energized during the 16-hour shift that awaits.
Miki works in the pediatric ICU, and due to a shortage of staff, Miki has to come to work earlier on this day. This is what a real morning of a Registered Nurse looks like. A nurse who goes above and beyond to help children in need.
Her story is a common scenario for many nurses. The late call or text to come in to help patients in need. The willingness to work earlier to help patients is one of the many characteristics that make nurses our healthcare heroes. Nursing is a challenging but rewarding job. Nurses are compassionate, loving, and kind healthcare professionals. They give patients the needed attention and care they need.
At NorthShore, we believe nurses play a crucial role for our customers and the healthcare industry. For Nurses Week, we want to educate our readers on the different types of nurses, such as WOC (Wound, Ostomy, and Continence) nurses and how you can support nurses in your community.

So what can you do to support a nurse?
How to Support Nurses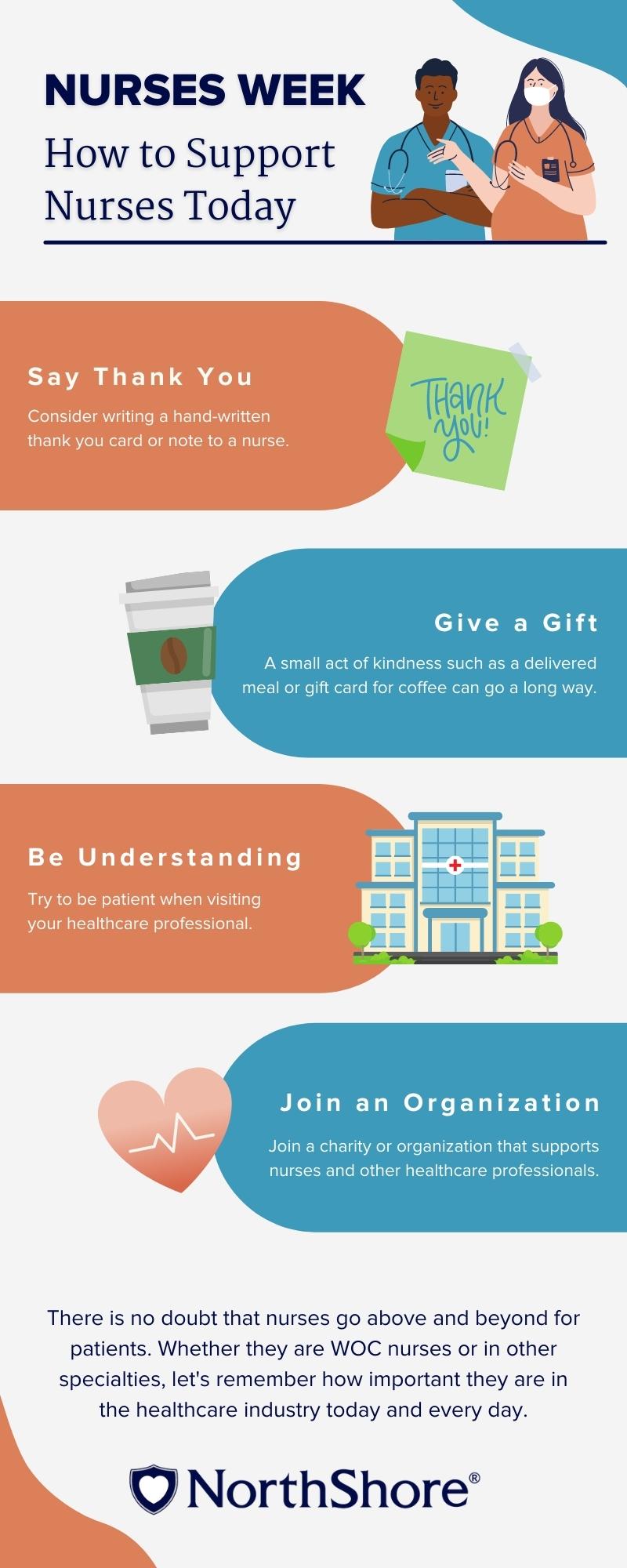 Nursing Specialities
Do you know that there are over 16 types of nursing specialties? Some include Nurse Practitioners, Oncology Registered Nurses, Nurse Case Managers, and WOC (Wound, Ostomy, and Continence) nurses.
According to MinorityNurse.com, WOC nurses help patients better understand their conditions relating to gastrointestinal disorders and continence disorders. Bladder and bowel leaks can be symptoms of these conditions. WOC nurses are passionate about educating clients about their wounds and other injuries. Nurses in this specialty play a role for individuals who may be using abdominal stomas, fistulas, and ostomy bags. Watch this video to learn more about WOC nurses.
If you or a loved one is managing incontinence, remember NorthShore offers absorbent adult diapers and pull-ons to help with bladder and bowel leakage.
Bladder Leakage Products
NorthShore MEGAMAX AirLock is the most breathable, absorbent adult diaper (with tabs) on the site. The brief offers 9-hour protection, tall leak guards, and a cloth-like exterior to keep skin dry. MEGAMAX AirLock is for individuals with moderate to total bladder and bowel leakage. Offering heavy-duty tabs, a comfortable elastic waistband, and an extra absorbent core, MEGAMAX AirLock is the complete package in leakage protection.
NorthShore GoSupreme is a pull-on or underwear-style product. GoSupreme offers up to three times the absorbency of store brands! The low-profile design, close-fitting waistband, and secure leg elastics make this the most comfortable underwear on the site.
There are also many styles and shapes of our absorbent pads you can use in regular underwear.
If you're a nurse or caring for a loved who one has bladder or bowel issues, please be sure to visit our incontinence products page.
Please login to access your saved items list. If you don't have an account, create one today to start your list.